Like many things sweet, saucy, and (sole)-stirringly delicious, M.Gemi was dreamt up on the cobblestone streets of Sicily, Italy. But unlike other luxury labels, M.Gemi is determined to preserve timeless Italian handcrafting methods, while seeking new ways to push the boundaries and lower price tags. And although M.Gemi continues to make big moves against fast fashion, that doesn't necessarily make M.Gemi slow—at least when it comes to innovative technologies, e-commerce theatrics, and new designs (which they release every week). We're calling it slow fashion for a fast-paced lifestyle. 
At a glance 
| | |
| --- | --- |
| Brand: M.Gemi | |
| Founded: 2015 | Founders: Maria Gangemi, Cheryl Kaplan, Ben Fischman |
| Origin: Italy | Industry: Fashion |
| Collections: Women's and men's footwear, handbags, and small leather goods | Website: mgemi.com |
| Shipping: USA | Headquarters: Boston, United States |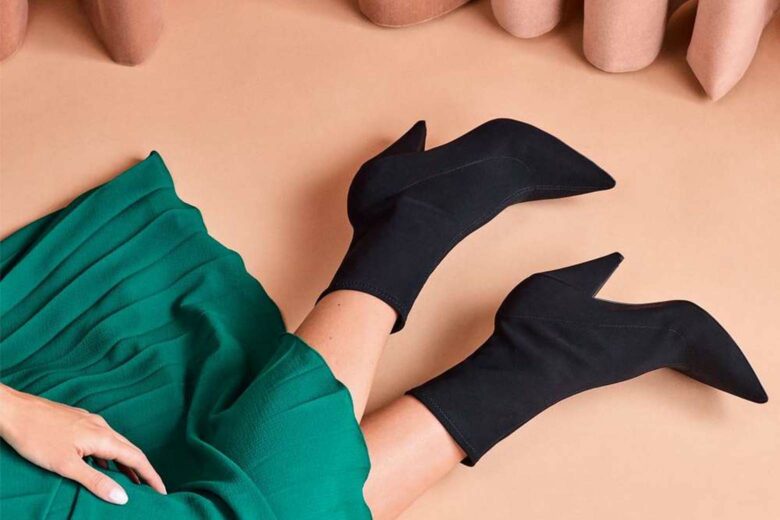 Behind M.Gemi
History of M.Gemi
Co-founder, Maria Gangemi grew up in Sicily, where she developed an appreciation for the passion, art and historical significance that was poured into a single pair of Italian shoes. Unlike mass-producing factories, each pair was hand-stitched with purpose and care as the artisanal trade passed down from generation to generation. After moving to the US, Maria was determined to preserve the century-old craft and livelihood of these makers. Partnering with co-founders Cheryl Kaplan and Ben Fischman, she set out to achieve this through the luxury brand, M.Gemi.
Staying true to the "Made in Italy" cachet, M.Gemi specialized in creating high-quality handcrafted women's footwear produced exclusively throughout Italy. And whilst they manufactured their shoes in the same family-run factories as other affluent labels, they cut out the middleman and pioneered ways to price their products at a much more accessible price point.
Unsurprisingly, M.Gemi began selling out their limited edition collections fast. And they soon expanded to men's footwear, belts, and handcrafted handbags. Today, M.Gemi continues to marry the age-old generational craft with cutting-edge technologies and data-driven designs. They are distinguished by their relatively low price points, as well as their unique commitment to authenticity and sustainability. 
Learn more about the history behind M. GEMI's brand and their shoes.
Interesting facts about M.Gemi
M.Gemi (pronounced "M je-mee") doesn't follow the rules when it comes to breaking down design dichotomies. Marrying the old with the new, they are equally determined to preserve traditional Italian craftsmanship, as they are pioneering cutting-edge e-commerce theater. On the one hand, you have skilled artisans weaving through thick leathers with a needle and thread, whilst expert moccasins burn away loose threads at the edge with a tiny flame. And on the other, you have a team of data scientists and tech geeks innovating new ways to win our hearts and (soles).
Merging slow fashion with fast processes, M.Gemi is driven by sustainable ideologies yet committed to staying ahead of the times. Unlike most other luxury labels, M.Gemi's products never end up in landfills. This could be attributed to their overnight sell-outs and timeless aesthetics, but also their impossibly efficient turnaround times and small-batch production. The data-driven brand designs, creates, and models in record time to introduce styles that are relevant and instantly desirable. Our best-kept secret: they do release new styles every Monday. Now you know how we start every work week (and it's not a Headspace meditation). 
Last (and certainly not least), M.Gemi has maintained its promise to deliver high-quality footwear at relatively low prices. Yes, the rumors are true: M.Gemi shoes share their small family-run factories with other affluent labels. And whilst we can't reveal exactly who, we're almost certain that they're the first and second names that come to mind when you think of "luxury brands."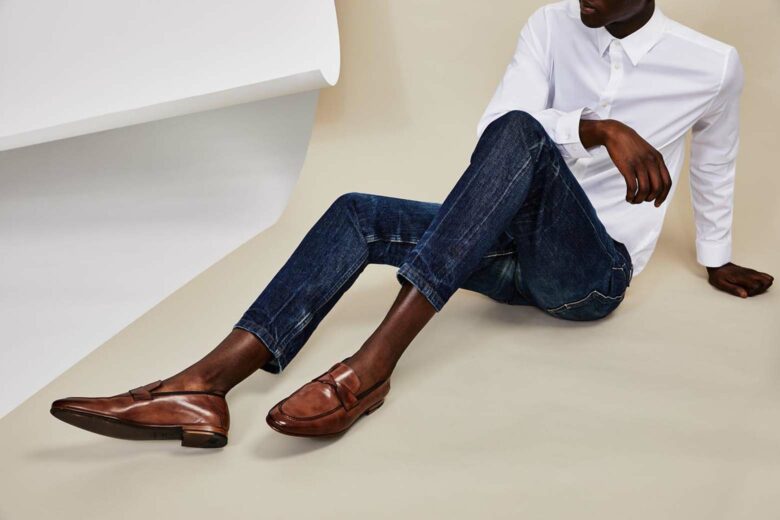 M.Gemi product range 
Each week, M.Gemi releases new, limited-edition designs in small batches (which means limited surplus inventory). So as you can imagine, their collection of luxury, handcrafted Italian shoes and handbags knows no bounds. From the most comfortable heels (looking at you, Esatto and Lustro) to seasonless women's Chelsea boots, their ladies' designs continue to raise our (already soaring) standards. And even their most comfortable flats—the iconic M.Gemi loafers—are tailored with an air of elevated elegance. 
On the men's side, you'll find professional shoes for standing all day, as well as some of our top boots and suave dressy shoes. Affordable luxury footwear remains the brand's signature offering, although their men's line also includes some of our best belts. While their partnership with Angelo—the owner of a small artisan handbag factory in Abruzzo—inspired a range of timeless totes and sumptuous handbags.
Signature materials and craftsmanship
M.Gemi's sustainability efforts are quite simple—yet endlessly impactful. They source high-quality Italian leather and other innovative materials. They manufacture limited editions that are driven by data and are almost guaranteed to sell out. And they empower real people (rather than machines) to share their centuries-old skills and generational craft. 
Born from the determination to preserve Italy's artisanal heritage, M.Gemi only manufactures its products in Italy (yes, that means from sourcing to stitching). As a result, M.Gemi shoes are of the highest quality, reflecting meticulous attention to detail and flawless precision. Not only does this mean that the timeless pieces are able to endure endless hours on foot without seeing a landfill, but it also empowers small family-run businesses around Italy. M.Gemi is serious about embracing diversity, and all of their employees and partner artisans are treated with the utmost care and respect as they seek to build bonds that extend beyond business. 
It goes without saying that creativity and craftsmanship are inherent to M.Gemi. Yet they are simultaneously driven by data and meeting consumer desires. Their quick turnaround times and limited edition collections ensure that the data captured remains relevant. And as a result, they eliminate excess stock, reduce waste and minimize their carbon footprint. M.Gemi also occasionally uses their designs as a platform to raise awareness for various social causes such as the National Breast Cancer Awareness Foundation.
Where is M.Gemi made? 
Very seldom is the cachet "Made in Italy" meant so literally. But in the case of M.Gemi, traditional Italian craftsmanship is at the very core of the brand, meaning that every single one of their products is handcrafted in the iconic artisanal country. Similarly, all materials are locally sourced from around Italy, ensuring the highest quality fabrics and standards.
Brand values 
| | |
| --- | --- |
| Vegan options | No |
| Carbon-neutral | No |
| Gives back | Yes |
Our favorite finds from M.Gemi
M.Gemi The Esatto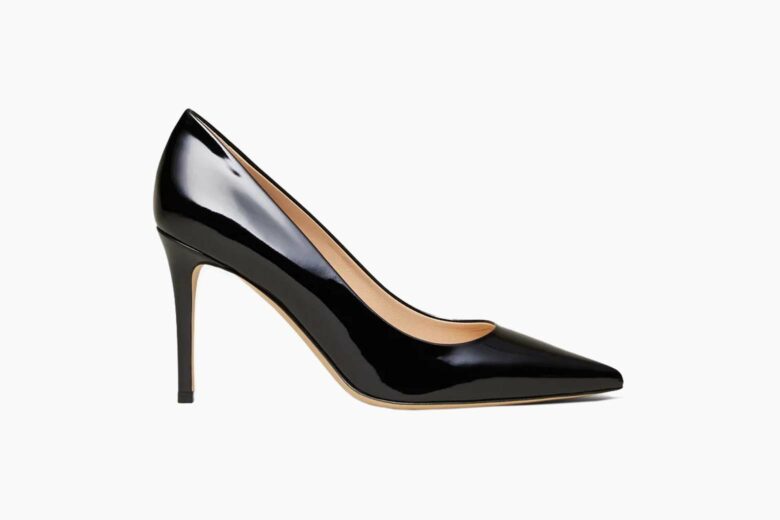 Any professional woman already knows that finding a comfortable pair of elegant heels is no small (feet). In fact, if you've written off the notion as a fallacy, we don't blame you. But we do implore you to give these M.Gemi heels a chance to prove their existence. 
Choosing a pair of heels is usually a delicate dance of compromise—comfort, height, or sophistication—pick two. But the M.Gemi The Esatto is quite the opposite. The 90mm long graceful heel instantly makes legs soar (not sore). The padded leather insole cushions each step. And the clean lines, hand-painted edges, and pointed toe are effortlessly sophisticated. Forget the sneaky pair of sneakers, The Esatto is perfectly engineered to dance the night away.
M.Gemi The Lustro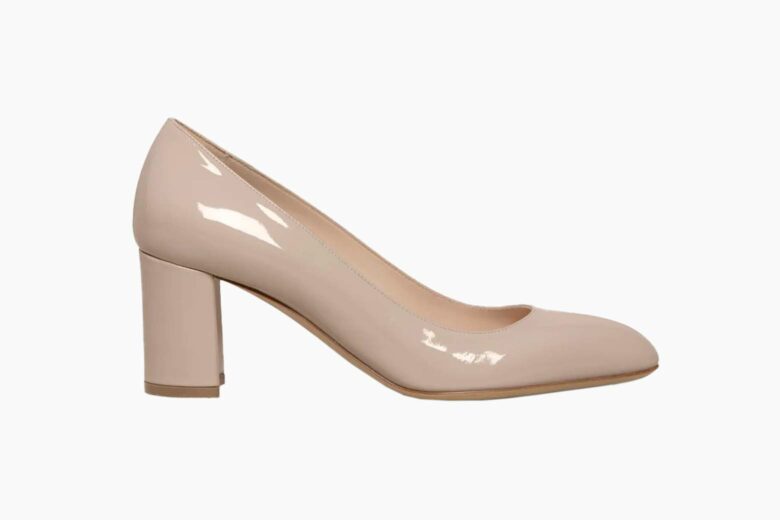 These boots heels are made for walking. Oh, that isn't how it goes? Sorry, we were too busy prancing to our own tune to notice. 
Jokes aside, M.Gemi The Lustro heels really are designed for walking, skipping—and yes, maybe even jumping. The 90mm (now also available in 70mm) block heel is ultra-supportive and endlessly struttable. The padded insole makes long commutes and coffee runs a breeze. The elegant almond-shaped toe is loved by feet and style aficionados (that's us) alike. And the neutral hues—gray, beige, and black—mean that you can literally wear the same pair daily. We're calling The Lustro the everyday office essential—for boss-like confidence and promotion-worthy pitches that is.
M.Gemi The Filare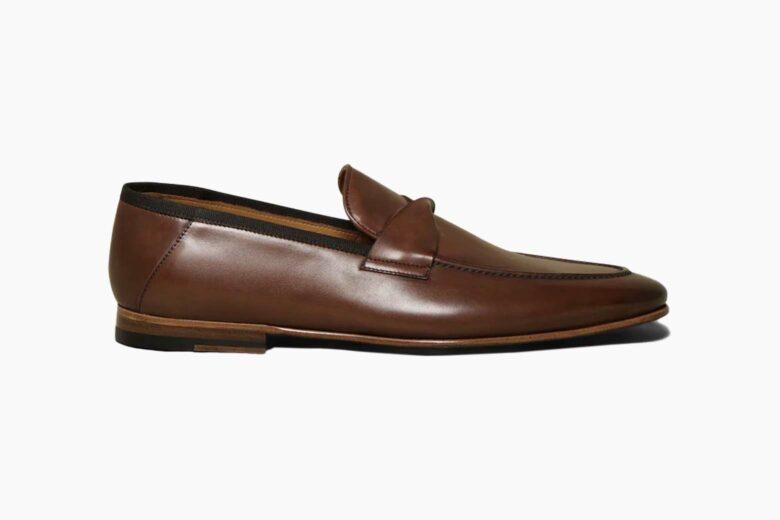 When it comes to men's formal footwear, it's all about first impressions. You want to exude elegance and class, without trying too hard. And ideally, you want to be able to wear the same pair of suave shoes on many different occasions—especially if shopping isn't really your forte. 
Cue M.Gemi The Filare! The hand-burnished finish and luxe calf leather silhouette is a sophisticated take on the laid-back penny loafer. The grosgrain binding accommodates endless hours on foot, without the blisters to show for it. And the stacked sole leather speaks to timeless longevity, meaning you won't be popping out to replace them regardless of how much wear they receive. Yep, these Italian shoes are an investment—one with a high return. 
Where to buy M.Gemi
To view all of the label's current collections in every available size and colorway, we recommend shopping on M.Gemi's official site. But if you're shopping outside the U.S and wish to ship internationally, some of M.Gemi's hand-crafted Italian shoes can be found on Amazon, as well as boutique resale sites such as Vestiaire Collective.
M.Gemi price
The one thing that really distinguishes M.Gemi from other luxury brands is the relatively low price point. And M.Gemi strives to make high-quality luxury footwear accessible to every hard-working professional. Their signature drivers are priced at around $250. While the most expensive pair of boots are priced at $450. 
If you're looking for even better bargains, you'll want to keep a close eye on the Before They Go sale section on M.Gemi's official website, which features fan-favorite styles up to 70% off.
M.Gemi shipping
M.Gemi offers free shipping to anywhere in the U.S, as long as you've signed up for their Client Rewards, which is also free. Deliveries are fast, and you can expect to see your order on your doorstep within 3-6 business days. 
If you haven't signed up for Client Rewards, the standard shipping rate is $8. 2-day deliveries are priced at $20 and next-day delivery is at $30. Currently, they do not ship outside of the U.S. However, Amazon does offer international shipping for M.Gemi products, although styles are limited. 
M.Gemi return policy
M.Gemi returns are very reliable. The brand guarantees a money-back policy within 14 days of receiving your order, provided that the shoes have not been worn. If you wish to return your order due to a quality defect, you should email the brand within 48 hours of receiving your order so that they don't assume the defect is a result of wear. However, we highly doubt this to be the case.
M.Gemi social media profiles