Italy is a whole other world—steeped in magic.
Poetically known as Il Bel Paese (The Beautiful Country), Italy is a tonic for the soul. 
Even the most seasoned travelers to the land of eternal style and luxury discover new surprises with every visit—whether within the breathtakingly beautiful landscape, an exquisite new dish—or perhaps, a stunning wardrobe piece. Indeed, just when you think you know Italy, it reveals yet another wonder. On that note, we're about to (re)introduce you to one of our favorite sources of stylish escapism—so clear a space in your closet.
Luca Faloni is a most authentic Italian destination, yet not one you'll find on any map—making it a true mecca for those seeking out Italy's fashion secrets. Showcasing Italy's world-famous craftsmanship and timeless style, Luca Faloni's Italian Landscapes AW22 campaign extends the luxury menswear brand's ever-dashing hand, illuminating the path to a journey of discovery. You'll explore Italy's stunning scenery—in style.
Embodying Italy's most sought-after attributes—timelessness, unassailable allure, and effortless finesse—Luca Faloni sews its pieces with these common threads, ensuring the essence and beauty of its home country is present in every shirt, belt, and shoe. Inspired by Italy's aesthetic beauty—from the manicured cypress-lined avenues to those rolling Tuscan hills, its snow-capped mountains to its pristine sun-sparkled shores—Luca Faloni weaves together wardrobe staples as timeless as the Italian landscapes on which they're designed.
But whether the Amalfi Coast or the charmingly-cobbled streets of Lecce and Turin are in your travel schedule or not, Luca Faloni makes sure everyone, everywhere, can enjoy a piece of Italy for themselves. 
And the best part? Luca Faloni's permanent collection (read: destination) has no low season, nor is it teeming with throngs of tourists. Sounds like a dream, right? But we assure you: the reality of quintessential Italian style is well within your reach. 
Just like every trip to Italy, Luca Faloni never fails to inspire us. Making every road a runway, every pathway a piazza, and every commute a compendium of smart style, Luca Faloni's permanent collection infuses beauty into the everyday—just where it should be.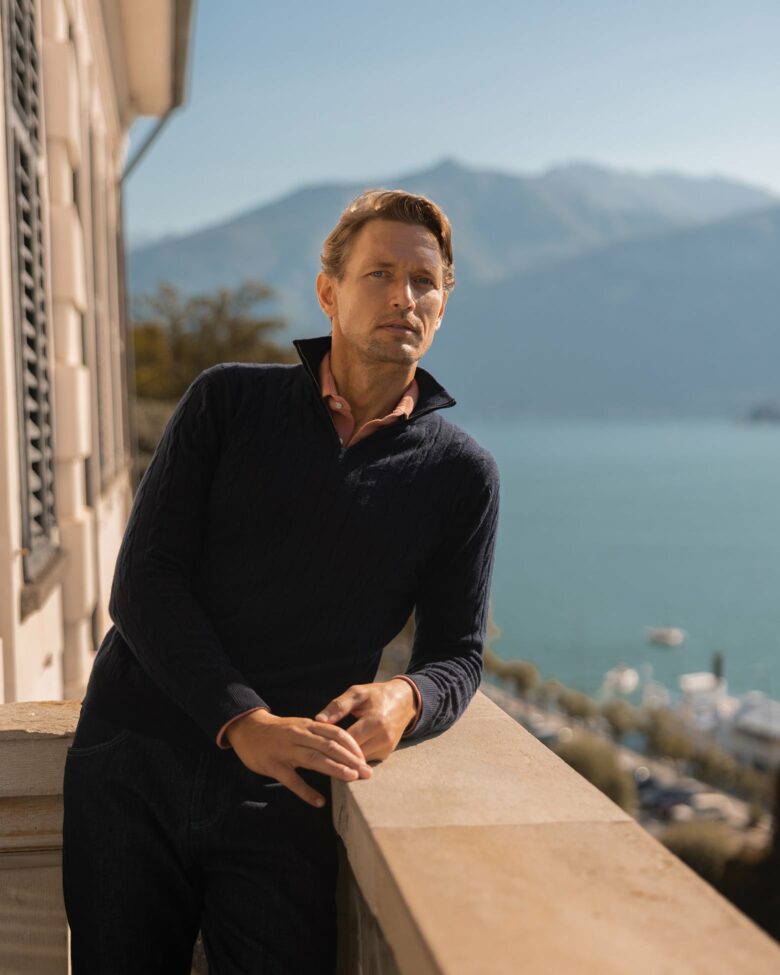 Wonders of Italy in your wardrobe
Capturing not only the spirit of Italy but its exquisite artisanship, too, each item is made 100% in Italy by local craftspeople and family-run businesses. Not only that, but the carefully-chosen materials are meticulously sourced from all corners of Italy, too. Supporting the beating heart of Italy by way of its talented artisans and salt-of-the-earth traditions, Luca Faloni is nothing if not the country's most exuberant cheerleader.
Featuring luxurious materials like the 100%-pure 2-ply cashmere (from the exclusive Cariaggi Fine Yarns Collection) to the finest quality cottons hailing from the oldest Italian mills of Northern Italy, every stitch is exquisite.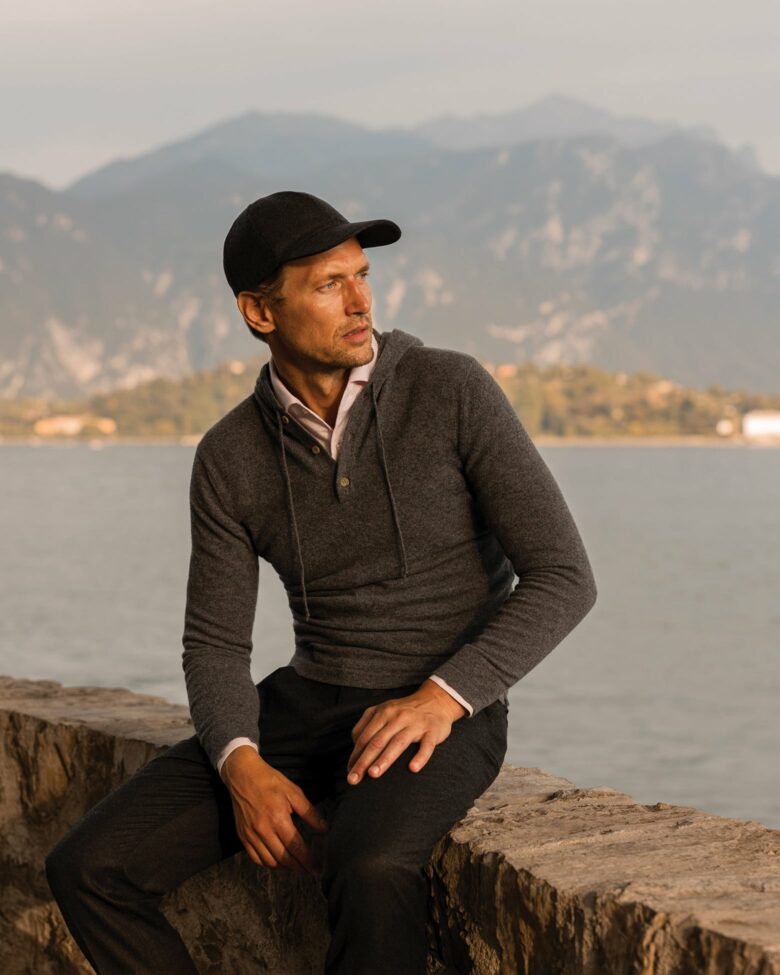 Traditional tales, new narrators
Italians just know how to create a staple wardrobe. Like their affinity with fine art and delicious cooking, inherent style runs through their veins. Thus, Luca Faloni presents an evergreen collection of luxury menswear classics, where your final outfit will not reflect how little time you had to put it together.
No, you won't find a hint of scruff here. Instead, you'll discover the ingredients for a capsule wardrobe of mix-and-match essentials to be dressed up or down, easily tailored to a low-key day off or a sky-high night out. Spearheading the "buy less, buy better" ethos, your new pieces will outlast trends and leave your fast-fashion impulse buys out of the equation.
After all, as lovers of Italy, you should do as the Italians do: savor life at a slow pace—and with sartorial taste. 
Effortlessly blending the old and the new, Luca Faloni cherishes age-old traditions while giving the fits and silhouettes a decidedly modern twist. 
Each polo shirt, pair of chinos, and leather shoe is a real piccoli momenti Italiani—like our daily espresso and our evening aperitivo. And you needn't be in Italy to take a sip; Luca Faloni helps secure la dolce vita even further into our everyday via sartorial escapism, elevating and inspiring every moment. Indeed, one look at Luca Faloni's permanent collection, and you're sure to fall in love with Italy all over again. 
Painting from an artist's palette of timeless hues like deep-ocean blues, Dolomiti greys, cobblestone creams, alpine greens, lava reds, and earthy pastels, each piece complements the others with a stroke of effortless Italian flair. 
Indeed, no matter which wardrobe essential you wish to explore, Luca Faloni will ensure la vista è mozzafiato (the view is breathtaking).
Madre Natura as muse
Lush countryside: A fresh take on essentials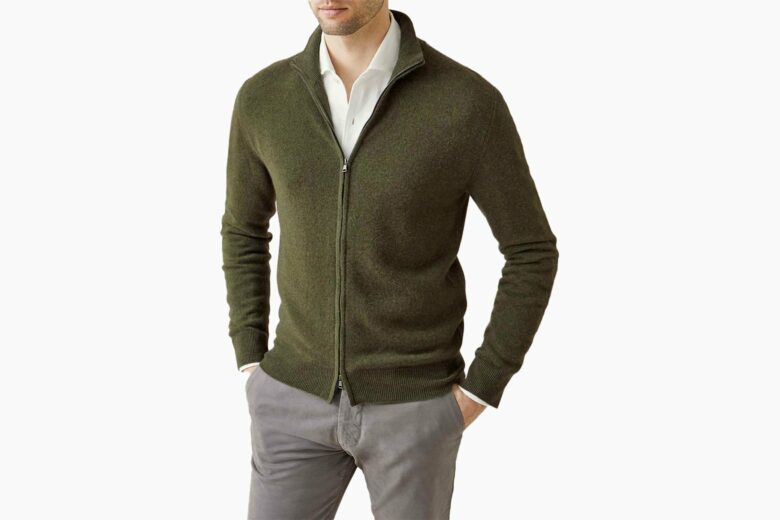 Available in laid-back shades echoing the natural hues of the Italian Campagna, the Pure Cashmere Zip Cardigan is put-together in its overall finish, and exemplary in its details.
Leaving no feature by the wayside, even the zip is crafted with wear-resistant ruthenium made by talented Raccagni artisans. And, since you'll be rocking this cardigan throughout the seasons, that zip's going to see lots of action. Soft, smart, and endlessly cozy, this understated outerwear will be your go-to.
Best for: The perfect balance of luxe and laid-back.
Dolomite mountains: Foundation stone of warmth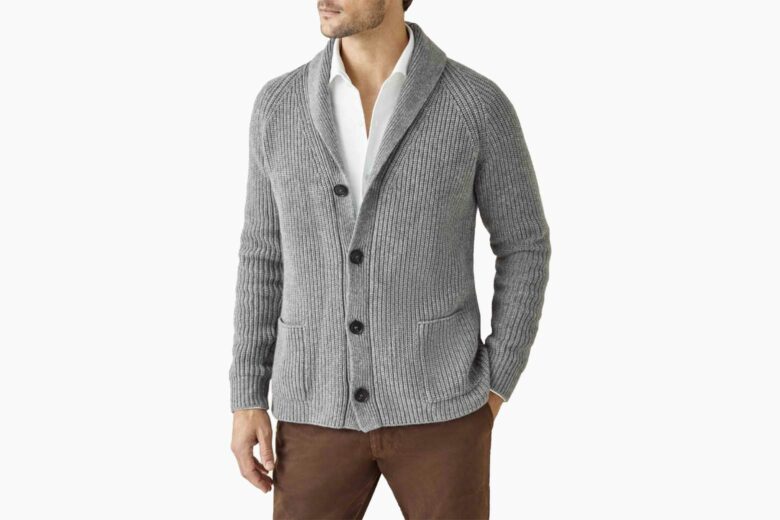 Wrap your form in 100% 4-ply cashmere just once, and you'll never want to wear anything else. Oozing superior softness thanks to the Cariaggi Fine Yarns Collection, the Dolomiti Grey Chunky Knit Cashmere Cardigan takes your average cardigan and raises it.
The shawl collar takes center-stage (just as you will), and the double-front pockets serve as handwarmers on those cooler days. Closed with premium horned buttons to add a touch of luxe, this is the knit of our dreams.
Best for: Elevating your warmth without sacrificing your style.
Sandy shores: Stretches of pure comfort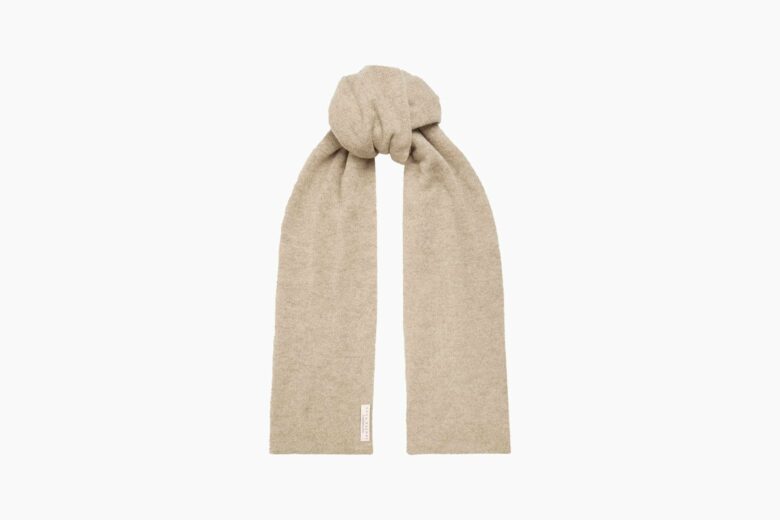 Your scarf can make or break your outfit, so you'd better make sure you've got a quality one. Enter: the Pure Cashmere Scarf by Luca Faloni, the epitome of relaxed style. Minimal in bells and whistles but maximum in impact, this cloud-soft scarf wraps your neck and shoulders in pure, unafflicted comfort.
Knitted with 100% Cariaggi cashmere, your neck has never known such luxury. Throw it on over your polo for a European vibe, or bundle it up with your trench for a man-about-town winter look.
Best for: Embodying European elegance in one flourish.
Mighty volcanoes: Hot—in every sense of the word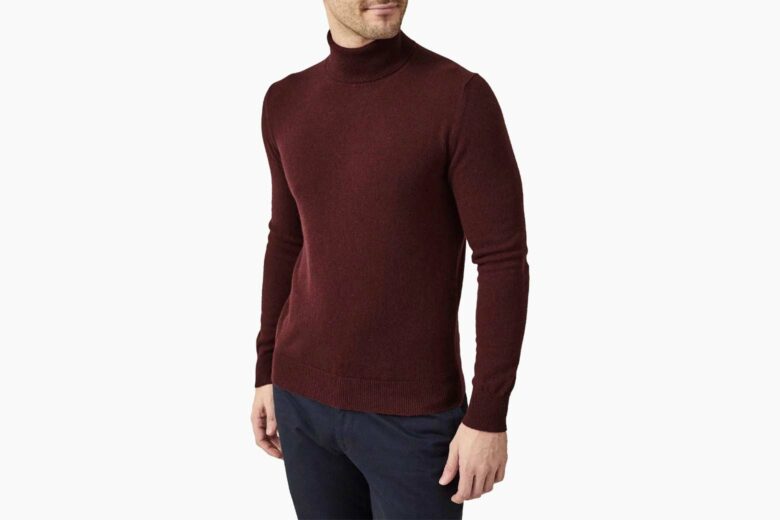 We've all got a bit of Italian suave in us. Coax yours out with the Pure Cashmere Roll Neck, effortlessly streamlining your torso and creating an instantly sophisticated aesthetic.
Of course, the Dolcevita neckline is the icing in this cannoli, but the opulence of 100% 2-ply cashmere makes a worthy bid for center-stage, too. Combining to form a truly cultivated look and feel, you'll ooze cosmopolitan panache with this layer.
Best for: Smart softness and smooth subtlety.
Alpine lakes: Reflections of relaxed refinement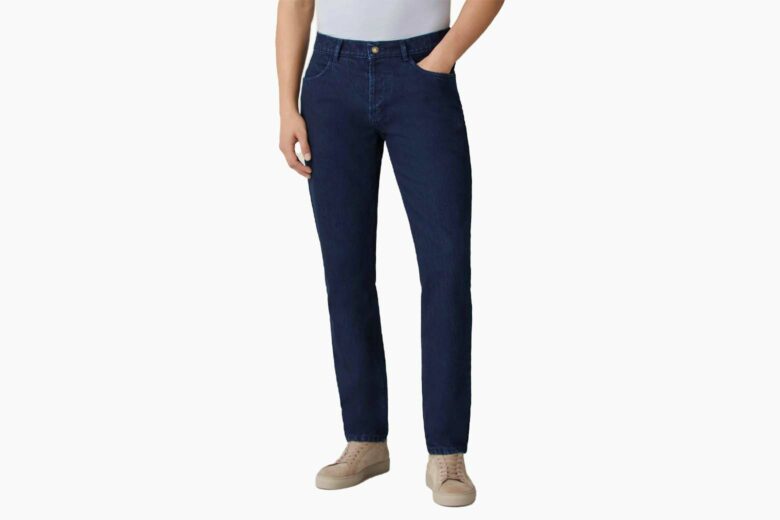 Refreshing, refined, and confidently cool, Luca Faloni Jeans are undisputable closet cornerstones. Woven from premium, mid-weight cotton from pretty Padua, these jeans carry over a century of denim expertise. 
Stylish in their simplicity, we love the slightly worn-in style for a devil-may-care aesthetic, while the tapered silhouette lends itself to both upmarket and low-key occasions. Wherever you're headed, you'll be comfortable in a pair of Luca Faloni Jeans.
Best for: A dreamy take on denim—The number 1 sartorial staple.
Ridges and valleys: Elongated elegance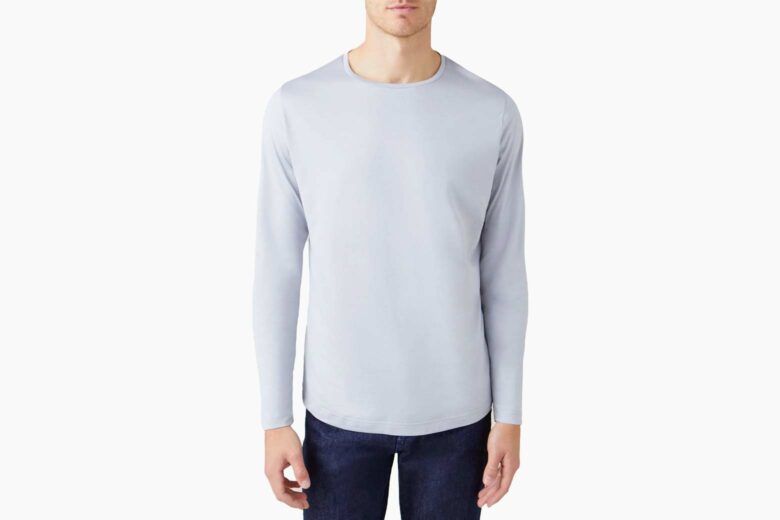 You haven't experienced heaven until you've felt the graceful softness of this Long-Sleeve Silk-Cotton Shirt by Luca Faloni. Designed to transcend the seasons, this easy-wearing shirt cleverly regulates your body's temperature, so you'll be in total comfort whether you're at an Apres Ski or a sun-kissed rooftop.
Made in Brescia, Northern Italy, this lightweight shirt features cloud-soft Piedmont cotton jersey and featherlight silk. Finished with a concealed double stitch and a gauge 28 knit, it'll be your multi-seasonal staple for time to come.
Best for: Layering up in divine luxe.
Vineyards and olive groves: A terroir of timelessness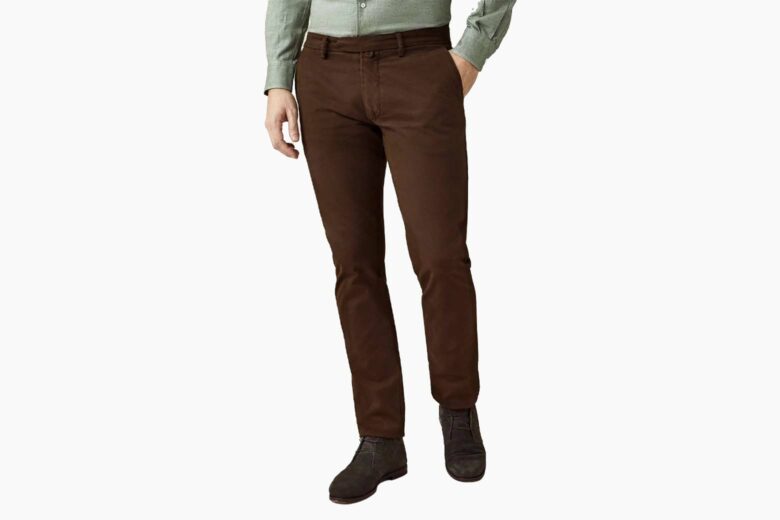 As easy to throw on as your joggers—but infinitely more stylish—the Cortina Cotton Chinos will walk you through fall to spring in warmth and pizzazz.
Another Northern Italy native, these chino trousers are woven from stroke-worthy cotton twill, with a drop of elastane to give you that easy-breezy stretch. Bejeweled with subtle details like the triple-horn button closure and a discreet inner waistband to keep your shirt in line, these chinos are ready for your day-to-day.
Best for: Elevating your day (and night) to sublime new levels.
Snow-capped Alps: The crisp coolness of white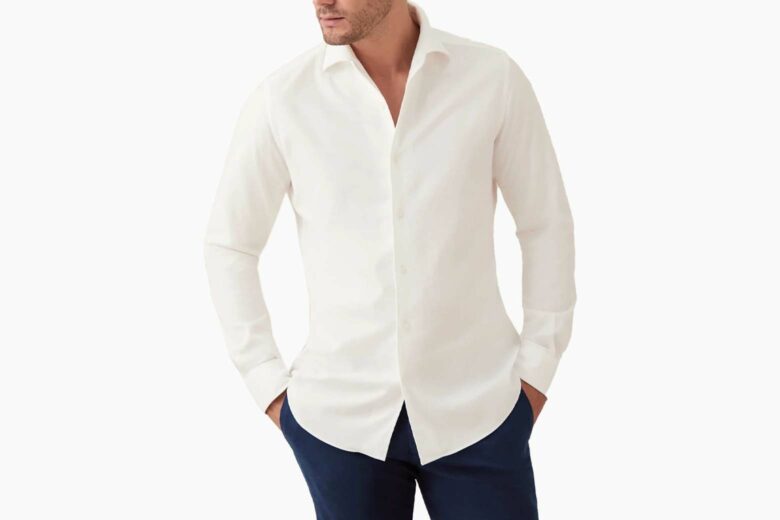 No permanent wardrobe is complete without a classic white shirt. You don't need us to tell you. However, allow us to steer you in the direction of the White Brushed Cotton Shirt by Luca Faloni, the ultimate staple to elevate your everyday.
Come glitzy night out or Monday morning meeting, this white shirt is integral to a mindful wardrobe. Crafted in Bergamo and creating a smart blank canvas (of the highest quality Italian brushed cotton, of course) on which to build the rest of your look, this shirt is guaranteed to see lots of airtime.
Best for: The fresh-faced factotum of your capsule wardrobe.
Enchanting oceans: A rhythmic journey of softness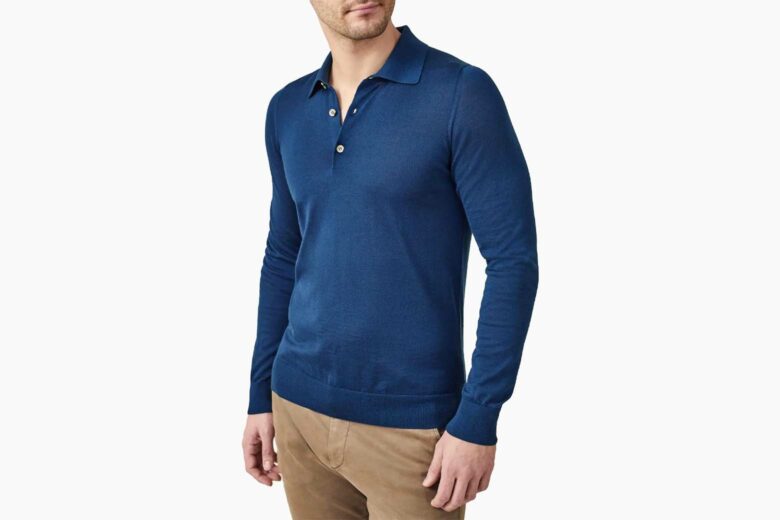 Perfect for fending off a winter chill or leaning into a gentle fall breeze, the Fine Silk-Cashmere Polo is blended from Italy's own Cariaggi Collection silk-cashmere blend. Falling highly agreeable over your torso, this effortlessly flattering polo not only drapes you in silk, but in confidence, too.
Gorgeous on the skin and a natural companion to smart jeans or laid-back chinos, this polished polo can be worn with that suave button closure open or closed to match your vibe.
Best for: The one-step solution to your daily what-to-wear conundrum.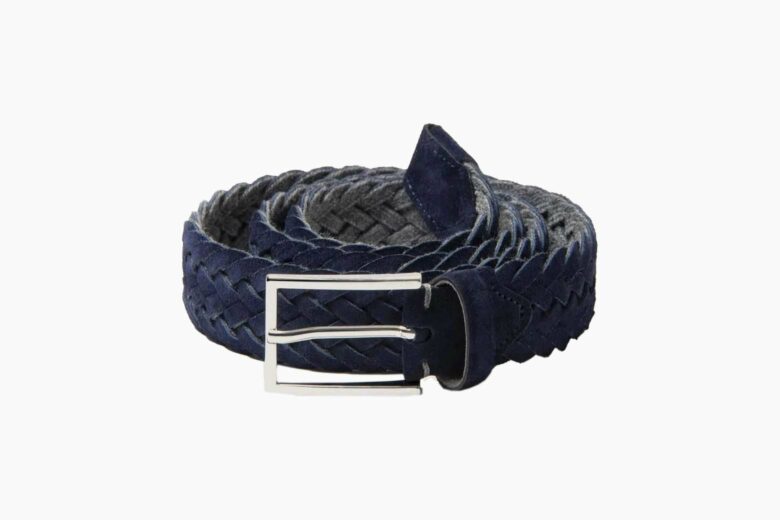 Buckle up—it's going to be a stylish ride. The unsung hero of any outfit, your belt quietly keeps your look together. But the Woven Suede Belt exceeds expectations, adding a wink of timeless suave to your get-up, too.
Available in Navy, Brown, Dark Brown, and Grey, the pared-down palette is offset by shiny metal—a charming concoction, without a doubt. Keen travelers rejoice: the metal won't set off the airport security alarms, and you can pop it into the luxury dust bag for when it's off-duty.
Best for: A handstitched masterpiece of Italian craftsmanship.