Styling long-bearded vegan yogis and equally long-legged chic supermodels alike, Alo Yoga is determined to spread zen-like luxury through their studio to street apparel. Manifesting the idea that mindfulness is a lifestyle that continues off the mat, the brand's flexible silhouettes are engineered to elevate your Downward Dog whilst simultaneously designed to raise your street-style game. 
With that, let's say Alo to seamlessly living in activewear and spreading infectious smiles as we bid farewell to stomach-squishing negativities. 
At a glance
| | |
| --- | --- |
| Brand: Alo Yoga | |
| Founded: 2007 | Founders: Danny Harris and Marco DeGeorge  |
| Origin: Los Angeles  | Industry: Fashion |
| Collections: Women and men's activewear, athleisure and accessories | Website: aloyoga.com |
| Shipping: International | Headquarters: Los Angeles, United States |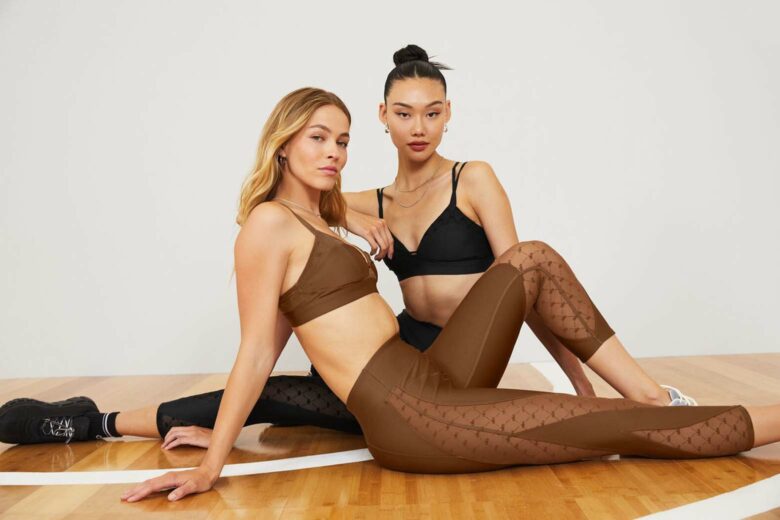 Behind Alo Yoga
History of Alo Yoga 
The Alo brand was founded in 2007 in Los Angeles by childhood friends, Danny Harris and Marco DeGeorge. After partnering in clothing manufacturing and distribution for over seventeen years, the duo was passionate about creating a brand with "spreading goodness and kindness" at its core. Voila, Alo Yoga was born. 
Alo Yoga was created to inspire people around the world to bring yoga into their lives. After experiencing the physical, emotional and mental benefits of the practice first-hand, Harris and DeGeorge believe that yoga holds the power to transform lives both on and off the mat. They believe that mindful movement leads to better living, as it inspires a love for yourself, others, and the earth. And in this way, the brand's mission statement—from studio to street—manifests the idea of taking in-studio consciousness onto the streets by spreading courage, confidence, and kindness in your everyday life. 
Based in LA, the burgeoning brand's workout clothes caught the attention of star-studded celebrities and activewear enthusiasts alike. Unsurprisingly Alo Yoga's Moto leggings catapulted to cult-status when supermodels seemingly declared the flawlessly designed stretch pants as their official off-duty uniform. Whilst vegan yogis similarly added their stamp of approval for the brand's sustainable efforts and yoga-endorsing designs. Today— although still inspired by Cali life—the Alo Yoga stretches far and wide as people around the world are more empowered than ever to perfect their Downward Dogs and flow into Voguish Vinyasas. 
Interesting facts about Alo Yoga 
Pronounced 'Ah-l-oh', Alo stands for air, land, and ocean. And it reflects the brand's deep-rooted respect for nature. Every detail of Alo is engineered to promote environmental sustainability. Their flagship store in Beverly Hills runs entirely on solar power. Electric car charging stations promote the use of eco-chic vehicles. Paper-free warehouses and innovative recycling programs minimize waste. Alo store cafes are plant-based and 100% organic. And all production is sweatshop-free. 
Besides the sustainable brand's pledge to the planet, Alo is also devoted to uplifting small communities and spreading kindness through a plethora of social initiatives. Their non-profit, Alo Gives, aims to introduce millions of children to the benefits of yoga and mindfulness for free. Their Scholastic-approved videos are designed to be used in the classroom or at home. They are aimed to equip children with the necessary skills to calm their minds, mute negativity, and promote learning. 
Alo doesn't just talk the talk when it comes to raising awareness of the benefits of mindful movement, they walk the walk (or rather, they flow the flow). The brand's headquarters in LA have yoga sessions twice a day for employees to still their minds and bring clarity to their days. Passionate about sharing the brand's philosophy, many of the world's most influential yogis hangout and teach in Alo's dog-friendly work environment and meditative zen gardens. Clearly, no one's vouching for a WFH policy here.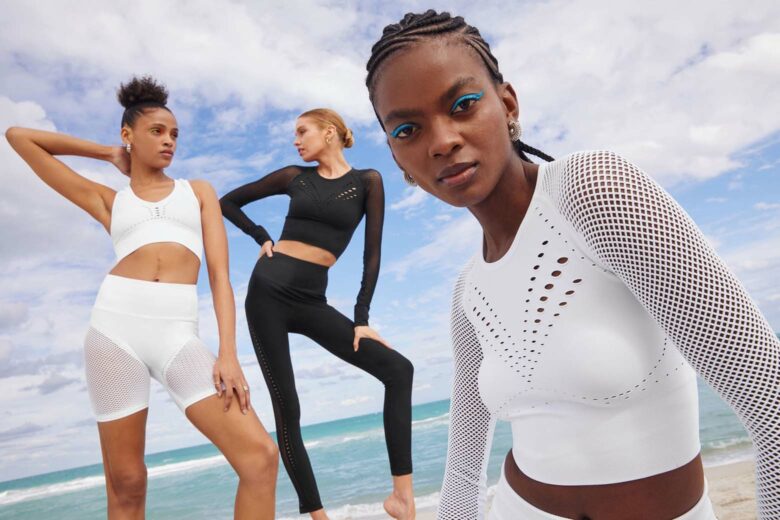 Alo Yoga product range 
Launched in 2007, Alo's hallmark remains their comfortably stylish yoga clothes and accessories. The brand's yoga line includes men's and women's yoga pants in a myriad of silhouettes—including high-waisted, capris, flared, and shorts. Yoga tops include bras, tanks, crops, and full-lengths with short sleeves or long. And when it comes to accessories, elevated essentials such as Alo yoga mats and gym bags are engineered to make your workouts seamless. 
Since its debut, the brand has extended to Alo workout clothes and everyday apparel. Other workout outfits include tennis dresses, skirts, and boxing shorts. Alo clothing further includes luxe loungewear like sweats and cable knit shawls, as well as sherpa trenches and puffer jackets. Their sunglasses, hats, shoes, and underwear are also worth adding to your rotation. While a range of essential oils infuses calming aromatics into your daily routine. 
Signature materials and craftsmanship
Alo Yoga consciously incorporates its wellness culture into every aspect of the business model including manufacturing practices and sourcing sustainable materials. And whilst the products are made around the world, the Alo brand is uncompromising in treating everybody with kindness and respect. They deeply care about who their products are made by and where they are made, and every one of their facilities has an Alo employee overseeing day-to-day practices. Alo is 100% sweatshop-free, meaning that all workers are adults, paid fair wages, expected to work reasonable hours, and work in healthy conditions. And by maintaining such rigorous standards, they are platinum certified by WRAP—the largest watchdog for ethical manufacturing globally. 
Alongside a love for people, Alo's respect for the planet is intrinsic to their designs, materials, and manufacturing processes. Designed in their LA headquarters by a team of experts, the space is entirely run on solar energy. They're also in the process of building a solar farm to harvest enough energy to continuously light 100,000 bulbs when the sun's out. When it comes to picking materials, the brand is constantly seeking new ways to achieve maximum comfort with minimal environmental impact. Their eco-friendly alternatives include recycled polyester and non-toxic dyes. And thanks to a cutting-edge recycling program and sustainable manufacturing practices, they've managed to keep their total waste down to that expected from a small household. We're impressed.  
Where is Alo Yoga made? 
Inspired by a Cali lifestyle, Alo Yoga apparel and accessories are designed in the brand's headquarters in LA. And whilst the brand guarantees that they are 100% sweatshop-free, different items are manufactured in different countries depending on what materials and resources are necessary for that particular product. These countries include the U.S, Turkey, Indonesia, Portugal, Vietnam, and China.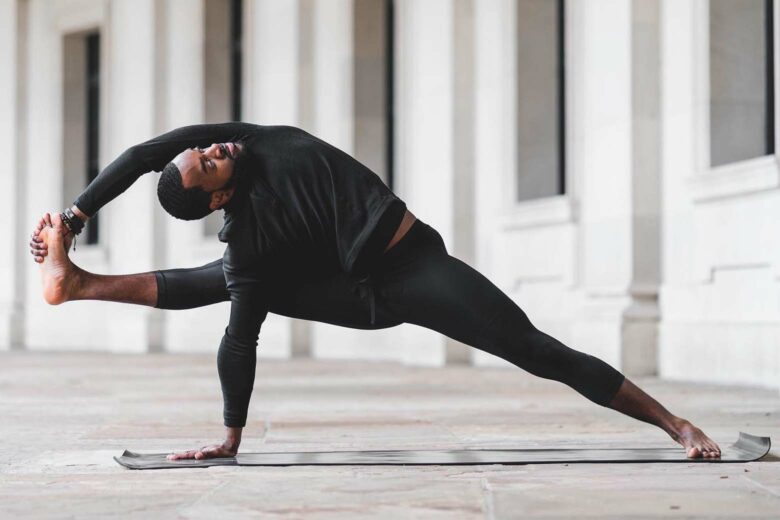 Who wears Alo Yoga?
Spotting celebrities in leggings is nothing new—especially when they're by Alo Yoga. Co-signing the mindful brand as the official supermodel off-duty uniform, Kendall Jenner, Hailey Bieber, Candice Swanepoel, Gisele Bündchen, and the Hadid sisters have proven their affiliation to Alo leggings on more than one occasion. Alexandra Daddario may have acquired Alo sets in every hue (perhaps that's all it takes to become Baywatch-ready). And even Martha Stewart seems to have adopted the athleisure trend, sporting a matching two-piece in icy blue. Not to mention, Shawn Mendes' iconic post-gym Alo-inspired tank and sweats style.
However, despite its obvious approval from A-list celebs, Alo Yoga's price tag is targeted at the much-less-famous but comfort-focused and style-conscious consumer. In fact, their collections of activewear, athleisure apparel, and loungewear deem it perfectly acceptable for almost anyone to live in leggings. After all, lying horizontal is a pose too isn't it?
Brand values 
| | |
| --- | --- |
| Vegan options | Yes |
| Carbon-neutral | No |
| Gives back | Yes |
Our favorite finds from Alo Yoga
Alo Yoga Warrior Mat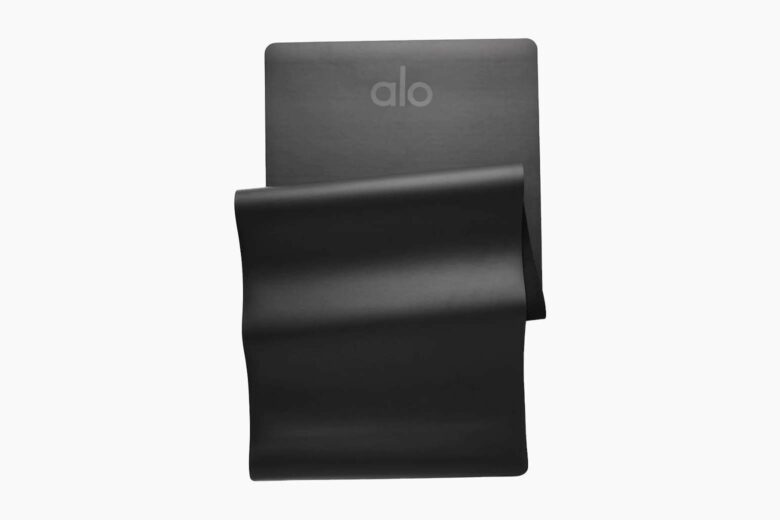 Considering how much the right mat can save you in therapy expenses, we think it's well worth investing in the best yoga mat out there—that being the Alo Yoga Warrior Mat. Yes, it's beautiful to look at in ten different colorways. But the real question comes down to how well it performs. The first thing that really stood out for us was the extra long length. It seems simple enough, but if you're taller, you'll know how frustrating it is to have to choose whether to prioritize your hands or feet. The other distinguishing feature is the mat's non-slip, moisture-wicking rubber. And whilst many brands may advertise these qualities, we're yet to find a mat as slip-free as these Alo Yoga mats. 
Alo Yoga High Waist Airlift Leggings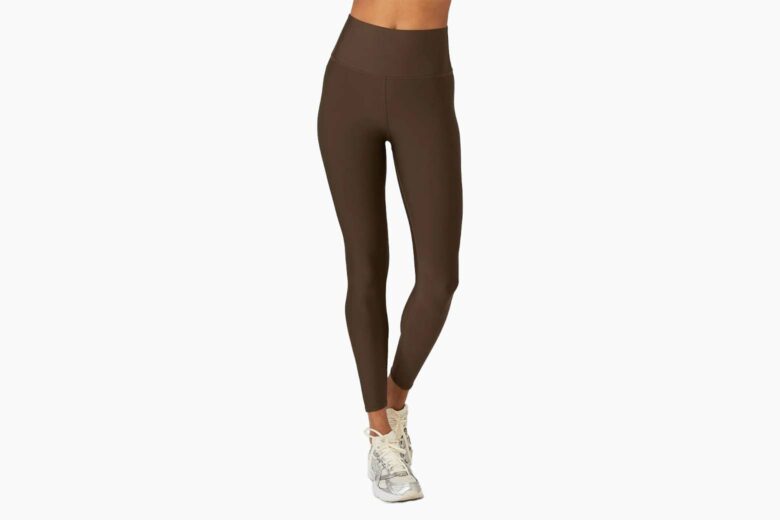 If you're the kind of person who rips off their office pants as soon as they get home, the High Waist Airlift Leggings are worth adding to your arsenal—if not for you then for the delivery guy who catches you in an oversized tee and underwear. As our best yoga pants for women, the seamless high-waisted fit is all about embodying that naked feel. Yet, the brand's signature micro-performance double-knit fabric is effortlessly smoothing and sculpting. The only problem is that when achieving that Insta-influencer form is as easy as putting on a pair of Alo Yoga leggings, it's almost tempting to skip the studio. But we won't encourage that. 
Alo Yoga Wild Thing Bra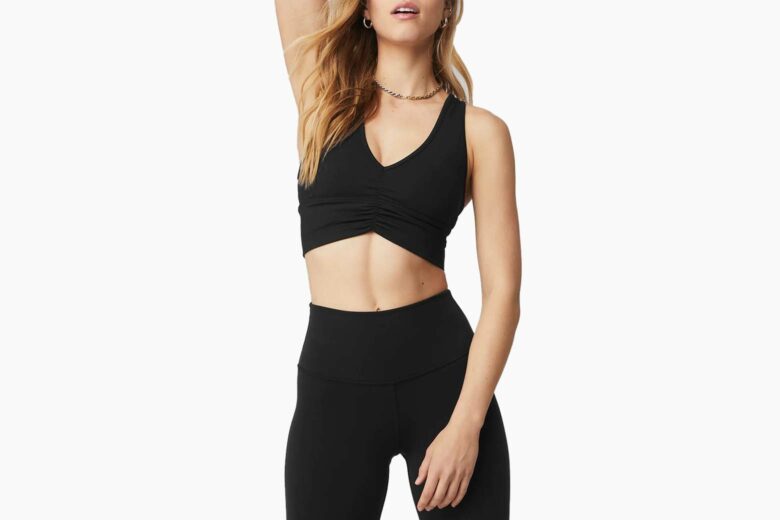 It may be one of our best sports bras, but with a pair of high-waisted leggings, the Wild Thing Bra is refined enough to wear alone as a top. Daring you to take the plunge, the deep V-neck is super flattering. And we really love the ruched detailing in the front for a slightly more sophisticated workout look. The brand's signature Airbrush fabric also makes it super soft on the skin without over-compressing or digging in. And whilst it's not the most supportive bra for heavy workouts, the Wild Thing bra is perfect for yoga, other light exercises and just living in from day to day. 
Alo Yoga High Waist Biker Shorts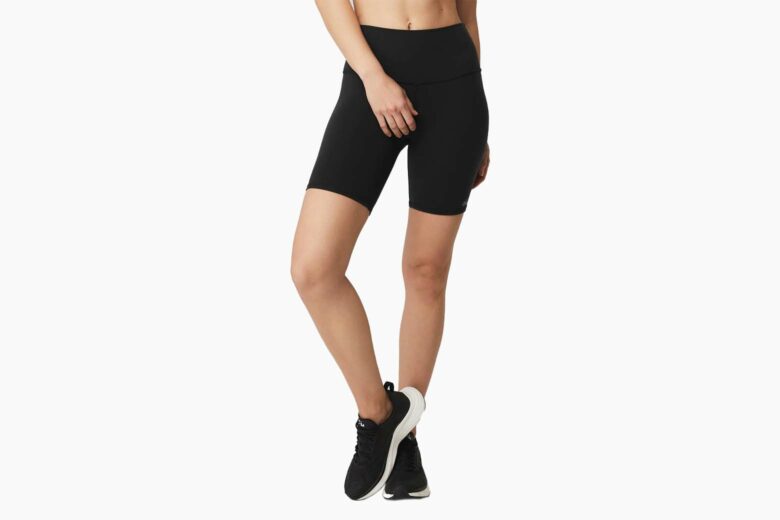 When it comes to biker shorts, a good fit makes all the difference. The biker silhouette is a game-changer for warmer climates, but it isn't always flattering. If they're too long, your legs end up looking stubby. And if they're too short, they just ride up. The Alo Yoga High Waist Biker Shorts hit that sweet spot flawlessly. They rest comfortably on the thigh and stay in place throughout your workout. The high-waisted silhouette is both comfortable and stylish. And the brand's signature Airbrush fabric is effortlessly sculpting, yet still soft and light. Ultimately, these Alo Yoga shorts are the Goldilocks of biker shorts—just right. 
Where to buy Alo Yoga 
Alo Yoga only has a few stores, all of which are located in the United States and Canada. However, the brand's e-commerce store ships all around the world. Alo Yoga is also featured on reputable luxury platforms such as Farfetch and Luisaviaroma. But to prevent buyer's remorse—the realization that there are other colorways, styles, or sizes—we recommend shopping on the brand's official website. It's seamless to scroll through, filter, and check out.
Alo Yoga price 
Alo Yoga is a lifestyle brand with products that are designed to endure in style, durability, and comfort. Therefore you can expect to pay more than your fast-fashion knockoffs. However, once you try on their pieces, we're pretty sure you'll agree that they're worth it. Alo Yoga leggings range from $88 to $138. Tops range from $28 to $325. Shorts range from $48 to $150. And yoga mats are priced at $128. 
Alo Yoga leggings vs Lululemon leggings
Both Alo Yoga and Lululemon are renowned for their luxury leggings. And whilst both labels are unparalleled in comfort and quality, the real difference comes down to style. In our opinion, Alo Yoga leggings are more fashionable and flattering, making them our top choice for wearing to the studio and running errands.
However, if you're opposed to wearing leggings outside of the gym, Lululemons are slightly more affordable, have pockets, and come in many different lengths for taller or petite sizes. 
Brand
Alo Yoga
Lululemon
Price range
$$$
$$
Payment options
Credit card, Amazon Pay, PayPal and Afterpay
Credit card, PayPal and Klarna
Product range
Activewear, athleisure, loungewear, apparel, and accessories
Activewear, athleisure, loungewear, apparel, swimwear, and accessories
Pros
More fashionable
More smoothing
More sculpting
Cheaper
More length options
Pockets
Cons
More expensive
Less fashionable
Less flattering
Alo Yoga discount code
Alo Yoga is all about spreading love through mindfulness and yoga. And to show their appreciation for the people who allow us to pop into the studio after work, the Alo Yoga Pro Program offers 25% off on all Alo Yoga apparel to all certified instructors who are actively teaching. They also offer a 10% discount off all first orders when you sign up for their newsletter. 
Alo Yoga shipping
Alo Yoga offers free worldwide shipping and deliveries are expected to take between 1-7 business days. Second-day delivery costs $15. And next-day delivery costs $25.
Alo Yoga return policy
Alo Yoga guarantees a full refund on all items that are returned unworn within 30 days of purchase. They also cover the shipping fee of U.S returns. However, customers outside of the U.S will be responsible for the shipment and cost. All final sale items, including bodysuits and underwear, cannot be returned. 
Alo Yoga social media profiles
Frequently asked questions about Alo Yoga
Is Alo Yoga good quality?
Alo Yoga products are of excellent quality. Premium materials are used for comfort and durability. Their considered silhouettes are engineered to sculpt and smooth for a super flattering fit. And their celebrity-approved fashionable designs are renowned for their wearability both in and out of the studio.
Who is the owner of Alo Yoga?
Childhood friends Danny Harris and Marco DeGeorge co-founded Alo Yoga in 2007 in Los Angeles. In 2022, Alo Yoga remains a private company owned by Color Image Inc.
Is Alo Yoga Canadian?
Although Alo Yoga is wildly popular in Canada, it was started in Los Angeles. The LA-based brand was inspired by a Cali lifestyle but has gained global traction and now ships internationally. In 2021 all thirteen Alo Yoga stores were located in the U.S with four of them found in New York. But in 2022, the brand opened its international flagship store in Toronto.
Is Alo Yoga same as Lululemon?
Alo Yoga and Lululemon are both luxury activewear brands. And whilst they target a similar market, there are a few key differences when it comes to their designs. Alo Yoga silhouettes are much better suited to a studio-to-street lifestyle. And they are more flattering and fashionable for everyday wear. On the other hand, Lululemons are slightly more affordable, so if you seldom wear leggings outside of the gym, you may opt for this brand.