A New High-Tech Skin Trick for Winter Glow
Created with Droplette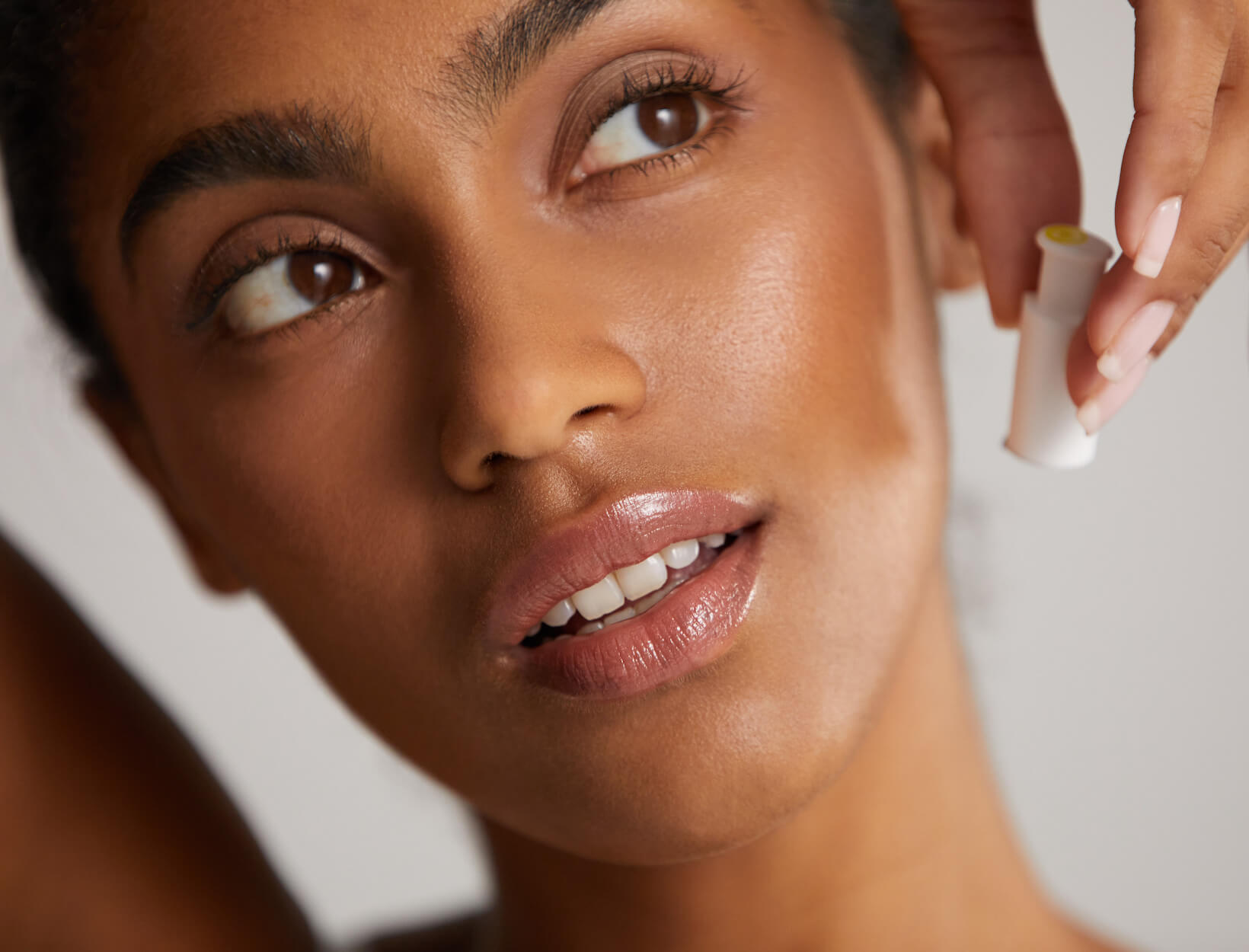 Walk out the door in the morning with skin that's fresh, plumped with moisture, and glowing and you move through the entire day differently. The secret—whether there doesn't seem to be a cream on earth cushiony enough to quench your
dry skin or you're tackling rough texture—is layering your skin care so it really sinks in and can get to work smoothing the appearance of lines, softening the look of imperfections, and boosting radiance.
How can you get skin care to melt in? Start with the lightest-textured treatments and layer up to the thickest to help all of them absorb more easily. Always apply a formula to clean, damp skin—it's more porous than dry skin. And now this brilliant at-home device is an option, using next-level clinically tested technology to help skin care best absorb into your skin.
Droplette delivers active ingredients up to 90 percent more effectively than fingers alone. First, it uses electronic vibration to reduce the size of skin-care particles, which makes them much more absorptive. Then it expels them at a high velocity into the skin's outermost layers. The brainchild of MIT-trained scientists, this tool is designed to be used with the brand's daily serums—
we love the one for brightening and targeting uneven skin tone (shown)—which come in capsule form. Each capsule is single-use and recyclable, and they come in packs of 14 or 30. Drop one into your Droplette and the tool aerosolizes the serum into a micromist that transports the active ingredients into the skin's outermost layers. Droplette itself is adorable—it resembles a miniature spaceship—and sleek and compact enough to throw in a makeup bag and travel with.
Both the tool and serum fit easily into any routine and work no matter your skin type. They're especially great for giving skin a boost during the colder months; always use the serum as your first layer, smoothing in richer moisturizers on top.
---
A 4-Step Routine for Brighter, More-Even
Skin—Even in the Dead of Winter
1. Cleanse with gentle exfoliators.
Applying any treatment—whether it's a powerful micromist layer of serum, face oil, or cream—to a clean face makes it easier for good-for-skin ingredients to sink right in. Loaded with fruit enzymes, bitter orange peel, and nourishing omegas and vitamins, this jelly cleanser polishes away impurities and feels beautifully silky as you massage it on.
2. Brighten and treat uneven tone.
This great-for-all-skin-types superserum combines luminizing tranexamic acid, hydrating niacinamide, and dark-spot-targeting arbutin (an extract of bearberry) to replenish skin. Apply it daily by dropping a serum capsule into your Droplette to transform it into a micromist that infuses skin with moisture. To home in on the eye area, pair your device with the Droplette app, which has an under-eye mode for addressing dark circles and hollowness.
3. Layer on the moisture.
Not only are you sealing all the active ingredients in; you're also giving skin an instant refresh. Moisturizer makes skin look better immediately—smoother, glowier, more alive—as well as in the long term; dry skin leads to irritation and inflammation, which disrupts healthy collagen. Choose the formula that best suits you, and if you need extra nourishment, layer multiple treatments until your skin feels cushiony.
Firming Cream




goop Beauty

GOOPGNES All-in-One
Nourishing Face Cream

goop, $98/$86 with subscription

SHOP NOW
4. Exfoliate with some grit a few times a week.
This whipped face polish uses a combination of physical and chemical exfoliants to smooth away the top layer of dead skin, oil, and debris so pores appear smoother, skin looks instantly more radiant, and any active ingredients smoothed on afterward can better absorb.