We're witnessing a surge in the electrical vehicle market, and Tesla is leading the charge. One can only imagine what Nikola would think if he were around to witness his name showered across the world.
What started with an impressive two-seater sports car has now transitioned into Tesla's dominance in the ever-growing EV segment. With multiple sedans, SUVs, and a soon-to-be-released pickup truck, Tesla is proving that it has what it takes to compete with the world's best. And is willing to defy convention around every corner while doing so.
At a glance
| | |
| --- | --- |
| | |
| Name: Tesla | Industry: Automotive |
| Founded: 2003 | Founders: Martin Eberhard, Marc Tarpenning, Ian Wright, Elon Musk, and J. B. Straubel |
| Headquarters: United States | Parent organization: Tesla, Inc. |
| Revenue: $53.8 million USD | Website: tesla.com |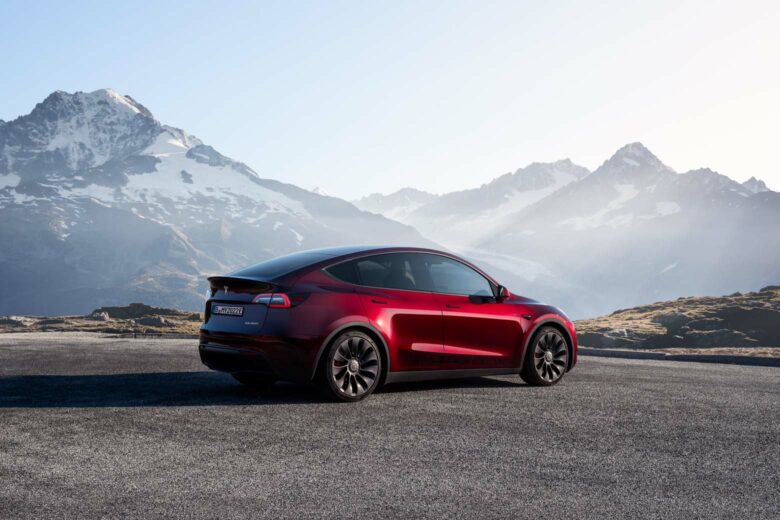 Tesla price
How much does a Tesla cost?
Tesla's flagship Model S is a luxurious option that still requires more than $100,000 for any version, but the Model 3 sedan is designed to be a more affordable option, starting at $46,990 for the rear-wheel drive variant.
Tesla's Model Y compact crossover SUV is another comparatively reasonable option, starting at $65,990 for an all-wheel drive EV with a range of over 300 miles. And when it's released, the Tesla price of the Cybertruck is expected to be listed at $39,900, making it the lowest-priced model from the automaker.
What is the most expensive Tesla?
To get maximum performance and luxury amenities, you'll want to opt for the Plaid versions of Tesla's top models. These include the Tesla Model X Plaid seven-seater SUV, starting at $138,990, and the Tesla Model S Plaid four-door sedan, starting at $135,990.
If that doesn't sound exclusive enough, hold out for the new Tesla Roadster. While it isn't as high as the Bugatti price list, the Roadster's base price starts at $200,000. To reserve your spot in line, be ready to put $50,000 on the table.
It might not surprise you to discover two of these models made it to our list of the best electric cars.
How much does the cheapest Tesla cost?
Those sticking to a budget should check out the Tesla Model 3. The starting price is $46,990, and it still brings a host of luxury features on a seriously fast and safe platform. When you factor in the gas savings and all the incentives, you can drop that initial cost to $40,390.
Take it easy on the options, though. The Tesla Model 3 Performance requires you to fork over more than $62,000. In return, you get an additional motor with all-wheel drive and a zero to 60 mph time that's just about sliced in half.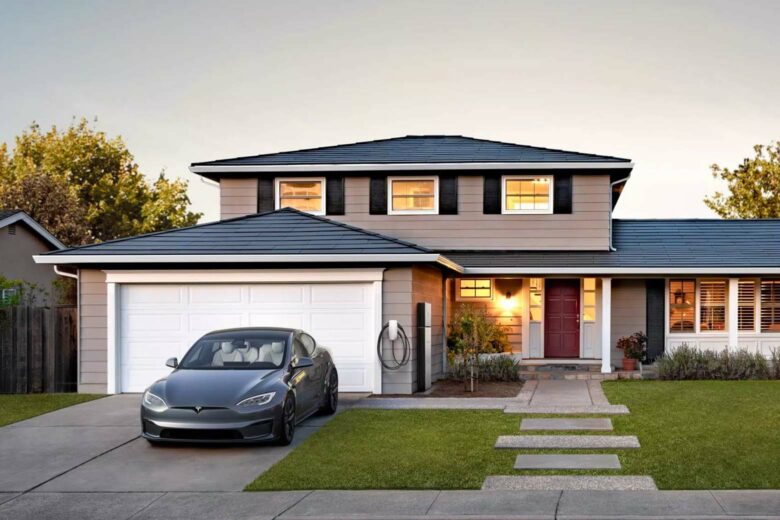 About Tesla
History of Tesla
There are few things as ingrained into American DNA as automobile manufacturing. Although some US automakers have been around for more than a century, the new kid on the block is coming in strong. Tesla is one of the top luxury car brands online, despite its short history.
Martin Eberhard and Marc Tarpenning were the first two Tesla founders, with three others joining later. The boisterous Elon Musk brought a bucket of cash along for the ride in 2004 with a $6.5 million investment.
The first Tesla electric car was the two-seater Roadster, shattering EV expectations with its 245-mile range and incredible acceleration. It didn't quite cut our list of the best classic cars, but it's still a historic feat.
When the Model S four-door sedan came out in 2012, it kept up the momentum by delivering a widely popular product that drove exponential growth. EVs were no longer a fringe endeavor, transformed into a viable alternative to internal combustion engine vehicles.
The innovative brand continues to propel itself and the world forward with a full lineup of two sedans and two SUVs to meet most budgets and needs. The Roadster model is making a voracious comeback, and Tesla is breaking new ground in the pickup truck world with its love-it-or-hate-it Cybertruck.
Understanding Tesla's car range
Tesla sticks to a naming convention that's easy to digest. The flagship Tesla vehicle is the Model S sedan, while the Model 3 is a smaller sedan alternative. The Model X is a mid-size SUV, and its compact SUV sibling is the Tesla Model Y.
If you allow a slightly adolescent take on the model lineup, you'll discover they're not just attractive. The Tesla vehicles are downright S3XY.
The initial Tesla Roadster was a two-seater sports car produced from 2008 to 2012. It is now coming back as a four-seater supercar. The Cybertruck brings Tesla's wild imagination to the pickup segment, poised to compete with heavy-duty trucks while breaking all stylistic conventions through a categorically angular shape.
Additional variants include the Plaid ultra-high performance, Long Range with larger battery packs, and Performance with more powerful motors.
Surprising facts about Tesla
Despite selling fewer cars than some other automakers, Tesla's valuation dwarfs every carmaker around. Tesla electric cars might not be the most expensive, but it is the most valuable car company.
And there's no doubting Tesla's dominance in the electric vehicle segment. It currently produces about 70% of the EVs sold in the United States, showing its dominance in the segment against the best American car brands.
It also does impressively well in countries that have accepted EVs with open arms, pulling away from the competition in Denmark and Norway, where ICE vehicles are now the minority of new car sales.
Tesla models explained
Here are all the current Tesla models in production:
Let's now take a closer look at each model and their technical specs.
Tesla Model X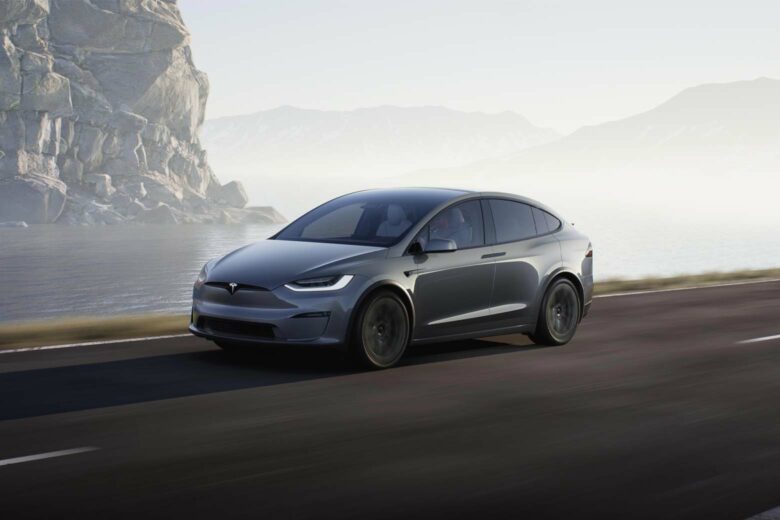 Sticking to your safe space isn't for the revolutionaries. And when it comes to the first SUV introduced under the Tesla brand, all bets were off.
Not only did the Tesla Model X prove it's possible to make a stylish battery-electric SUV, but it also blasted through convention with insane power and range. And to top it off, the Model X has Falcon Wing doors reminiscent of a supercar.
Don't expect the usual items in any Tesla, even down to the basic functions. The Model X uses a unique yoke steering wheel to provide an unobstructed view of the road. It also has HEPA air filtration.
| | |
| --- | --- |
| Price: | Starting at $120,990 |
| Release year: | 2015 |
| Motors: | Two AC synchronous motors |
| Top Speed: | 155 mph – 249 km/h |
| 0-60 mph: | 3.8 sec |
| Power: | 670 hp |
| Torque: | 713 lb-ft |
| Range: | 348 miles – 560 km |
Tesla Model X Plaid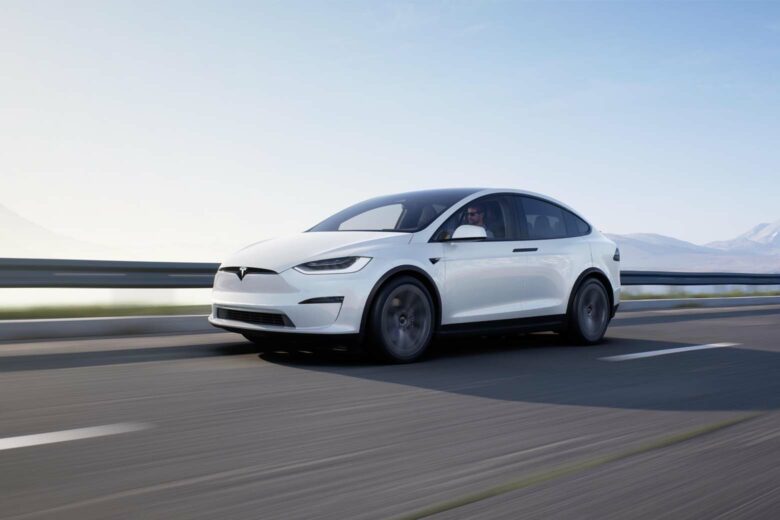 To get your hands on a seven-seater SUV that can fly past most other cars on the road, opt for the high-performance Tesla Model X Plaid variant.
It adds another electric Tesla motor, creating a combined 1,020 horsepower. The quarter-mile times under ten seconds used to be reserved for a select few. Now, this family-friendly SUV can accomplish the same feat in just 9.9 seconds.
There's no wonder why we included it on our list of the best luxury SUVs.
| | |
| --- | --- |
| Price: | Starting at $138,990 |
| Release year: | 2022 |
| Motors: | Three AC synchronous motors |
| Top Speed: | 163 mph – 262 km/h |
| 0-60 mph: | 2.5 sec (excl. rollout) |
| Power: | 1,020 hp |
| Torque: | 752 lb-ft |
| Range: | 333 miles – 536 km |
Tesla Model Y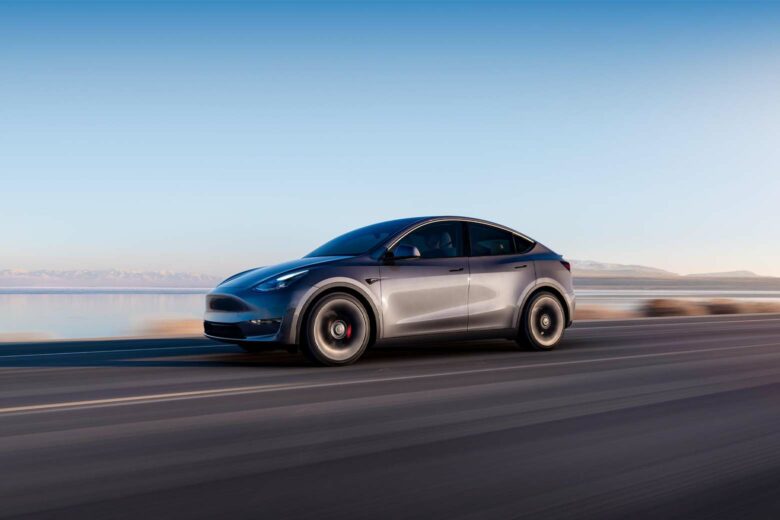 As the compact luxury crossover SUV segment flourishes, Tesla positioned itself to tag along for the ride. The Model Y tackles all-wheel drive performance in a sleek package with sufficient cargo space, room for seven passengers, and a reasonable price tag.
Like most Teslas, the Model Y is available in two variants. For the Model Y, these are Long Range and Performance. Both come with the futuristic features expected from the Tesla logo, including a single monitor that handles everything from speedometer readings to climate control.
For an added touch of individuality, the Model Y features an all-glass roof, providing the visibility you'd find in a convertible. It's heavily tinted so you can be comfortable even in the sunniest states.
| | |
| --- | --- |
| Price: | Starting at $65,990 |
| Release year: | 2020 |
| Motors: | One AC synchronous motor rear & one AC induction motor front |
| Top Speed: | Up to 155 mph – 249 km/h |
| 0-60 mph: | 4.8 to 3.5 sec (excl. rollout) |
| Power: | 425 to 455 hp |
| Torque: | 475 to 497 lb-ft |
| Range: | 303 to 330 miles – 488 to 531 km |
Tesla Model 3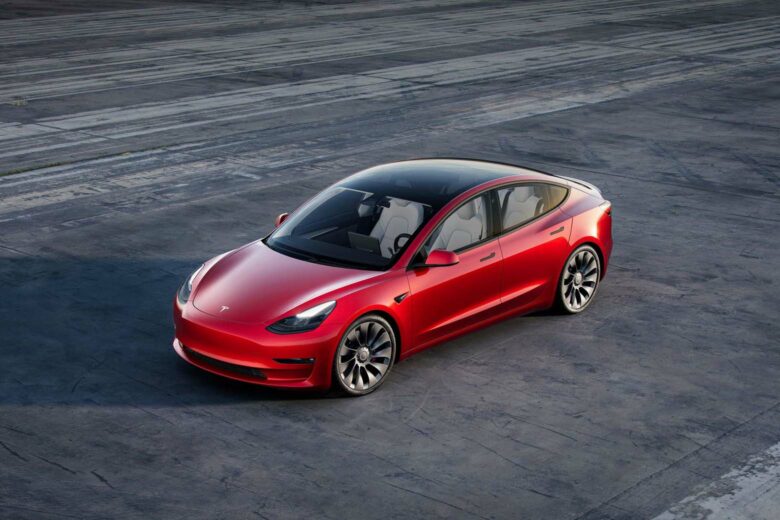 Creating an affordable electric vehicle people actually want to drive has proved to be a challenge for the entire auto industry. But once again, Tesla wasn't afraid to venture where others wouldn't.
Tesla's Model 3 may not have fully delivered on the promise to sell at $35,000, yet it still beats out the competition while staying close to that ballpark price. And it's significantly lower than the average electric vehicle selling point, bringing the emissions-reducing tech to people with a lower budget.
It does so without sacrificing much. This Tesla car still has stunning acceleration and impressive range, with top ratings in all crashworthiness tests. The base model has one motor and rear-wheel drive, but the Performance variant adds an extra motor and, as the name suggests, enhanced all-around performance with all-wheel drive.
| | |
| --- | --- |
| Price: | Starting at $46,990 (Rear-wheel) or $62,990 (Performance) |
| Release year: | 2017 |
| Motors: | One AC synchronous motor rear & one AC induction motor front (Performance only) |
| Top Speed: | 140 to 162 mph – 225 to 261 km/h |
| 0-60 mph: | 5.8 to 3.1 sec |
| Power: | 283 to 450 hp |
| Torque: | 317 to 471 lb-ft |
| Range: | 272 to 315 miles – 438 to 507 km |
Tesla Model S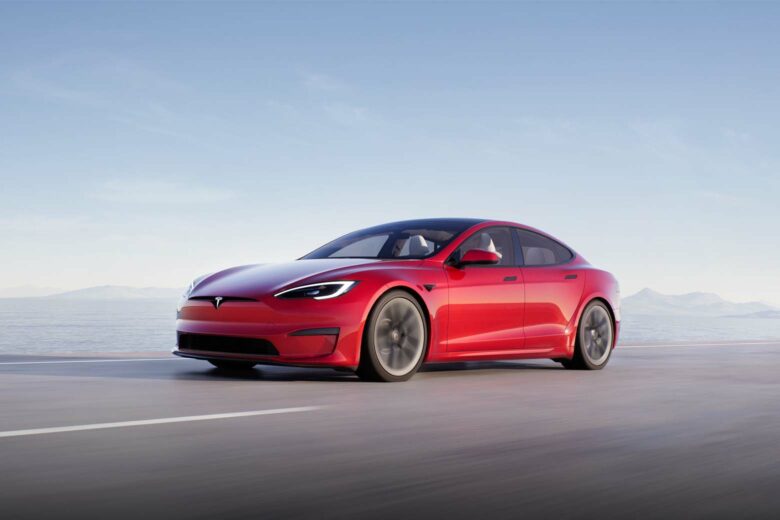 Tesla wasn't the first carmaker to venture into electric vehicles. But the Tesla symbol was clear on its initial sedan offering, hitting the world with reckless abandonment. And forever changing the way people view electric cars.
The Tesla Model S remains the flagship offering and breaks the mold by providing ridiculous interior features, such as an infotainment system capable of delivering a cinematic experience and console-grade gaming. The rear seats fold flat to make ample space for your gear.
Is there anything the Model S can't do? We'll discover what's left out as future versions with the Tesla logo continue to push the boundaries of what it means to create a luxury electric vehicle.
| | |
| --- | --- |
| Price: | $104,990 |
| Release year: | 2012 |
| Motors: | Two AC synchronous motors |
| Top Speed: | 149 mph – 240 km/h |
| 0-60 mph: | 3.1 sec |
| Power: | 670 hp |
| Torque: | 713 lb-ft |
| Range: | 405 miles – 652 km |
Tesla Model S Plaid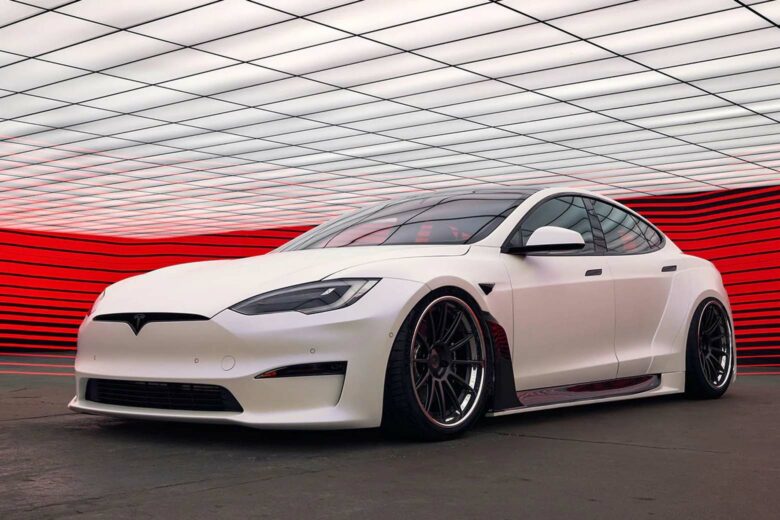 Even though the Roadster has been off the production line for some years, that didn't stop Tesla from releasing a car with downright insane performance. One that is probably best kept far away from any teenage drivers.
The electronically-limited top speed keeps it off our list of the fastest cars, but the Tesla Model S Plaid reaches 60 mph in less than two seconds. Its three AC Tesla motors pack a 1,020 horsepower punch.
What is Tesla's recipe for success? Maddening power on an elegant platform.
| | |
| --- | --- |
| Price: | $135,990 |
| Release year: | 2021 |
| Motors: | Three AC synchronous motors |
| Top Speed: | 200 mph – 322 km/h (with upgrades) |
| 0-60 mph: | 1.99 sec (excl. rollout) |
| Power: | 1,020 hp |
| Torque: | 752 lb-ft |
| Range: | 396 miles – 673 km |
Tesla Cybertruck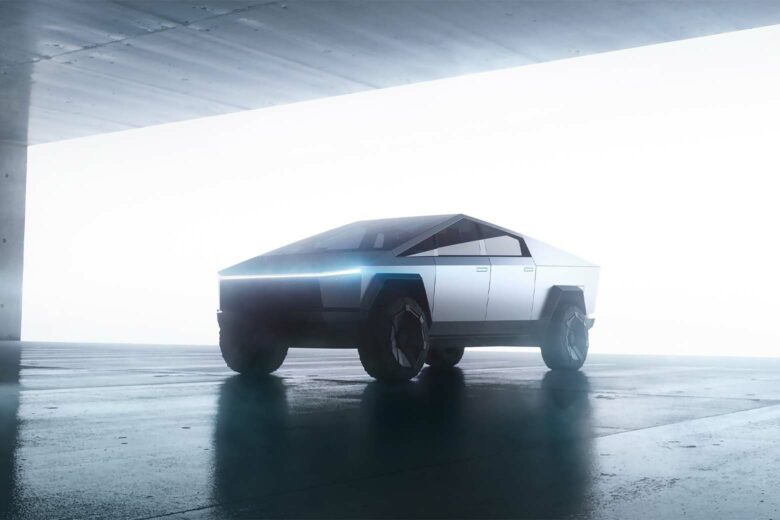 It's no secret that Americans love their pickup trucks. And even though the Tesla Cybertruck hardly resembles anything else on the market, Elon Musk reports that Tesla has received more reservations than it can fill for the first three years of production.
Blasting beyond the best hybrid pickup trucks and into the fully-electric platform, the Cybertruck disregards tradition.
The angular shape isn't the unique thing about the Cybertruck. It's made with Ultra-Hard 30X Cold-Rolled stainless-steel structural skin and Tesla armor glass. While Elon pushed the concept car's glass beyond its capacity at an awkward moment in a 2019 unveiling, the production electric truck should be up to the task.
Some might stick to the pavement, but this is a fully-capable truck that fits in with heavy-duty classmates. A 3,500-pound payload, over 14,000-pound towing capacity, and 100 cubic feet of exterior, lockable storage are at your disposal. Easily capable of towing the best off-road camping trailers.
You don't need one of the best electric motorcycles to get some serious speed, but the bed can handle your two-wheel toy too.
| | |
| --- | --- |
| Price: | Starting at $39,900 |
| Release year: | 2023 |
| Motors: | One to three electric motors |
| Top Speed: | 130 mph – 209 km/h |
| 0-60 mph: | As little as 2.9 sec |
| Power: | 800 hp (est.) |
| Torque: | 1,000 lb-ft (est.) |
| Range: | 500 miles – 805 km |
Tesla Roadster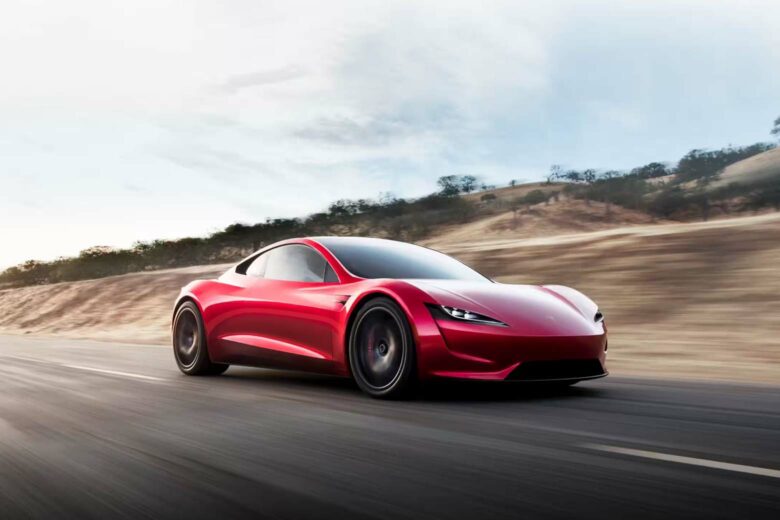 Tesla's first offering, the Roadster, is set to make a return as a high-performance stallion. And it's holding nothing back. You'll need to drop a cool $50,000 to hold your spot in line, but those who do can expect to get what Tesla is calling the quickest car in the world, reaching 60 mph in less than two seconds.
Tesla also reports 10,000 Nm of wheel torque, a unique measurement multiplying the usual force by the gearing ratio. Some experts have calculated the Roadster should have about 700 lb-ft when conventionally measured, with at least 1,000 horsepower.
And it's doing all that on a supercar platform with a removable roof and seating for four. The whole family will be able to join in the open-air fun, or you can let the little ones have their own ride with one of the best electric cars for kids. There's even a version of the Tesla Cyber Truck as a ride-on car.
| | |
| --- | --- |
| Price: | Starting at $200,000 |
| Release year: | 2023 |
| Motors: | Three electric motors |
| Top Speed: | Over 250 mph – 402 km/h |
| 0-60 mph: | 1.9 sec |
| Power: | 1,000 to 1,400 hp (est.) |
| Torque: | 700 lb-ft (est.) |
| Range: | 620 miles – 998 km |
Tesla customer service number
Tesla doesn't list a general customer service phone number. Yet you can send a message through the contact page and request a callback. It's also worth browsing the support page to find answers to many questions.
If you want to speak with someone immediately, locate a nearby store to give them a call.
Tesla social media profiles
Keep up to date on Tesla's offerings and news by following them through their official social media profiles:
Frequently asked questions about Tesla
How many Tesla models are there?
There are currently four Tesla models on the market, including the Model S and Model 3 sedans, plus the Model X and Model Y SUVs. The Cybertruck pickup and an all-new Roadster are expected to roll off the production lines in 2023.
Which is the best Tesla model car?
The best Tesla model car based on overall performance is their flagship Model S Plaid. It has a top speed of over 200 mph and acceleration to 60 mph in less than two seconds, excluding rollout. The Tesla Model X Plaid SUV also has incredible performance, reaching 60 mph in 2.5 seconds and harnessing over 1,000 horsepower.
What is the fastest Tesla?
The fastest Tesla currently available is the Model S Plaid, going from zero to 60 mpg in just 1.99 seconds, excluding rollout. The Tesla Roadster is expected to hit the market soon with an estimated zero to 60 mph time of 1.9 seconds and a top speed of over 250 mph.
Who owns most of Tesla?
Retail investors own most of Tesla, holding nearly 80% of the public company's stock. Elon Musk is the largest individual shareholder, with approximately 5% of Tesla's stock. Another 9% is owned by other Tesla insiders and about 6% by institutional investors.