When you're out and about in the colder months, there's only one thing standing between you and the elements: the best women's winter coat.
Selecting a warm, durable (and not to mention, totally stylish) winter coat is of the utmost importance, so you can glide through the cooler months in a warm, wrapped-up cocoon of comfort.
There's a vast array of warm winter coats for women on the market. So, there's simply no excuse for being underprepared. Start thinking warm, and be ready for the chilly days and blustery nights that lie ahead.
So, whether it's going to be a parka, a long down coat, or a fluffy-hood affair, we've got you covered. Literally.
Ride winter out in style, comfort, and rosy-cheeked warmth with our ultimate guide to the best winter coats for women. Because, news flash, ladies, winter comes around every year. Whether you're ready or not.
The 19 best winter coats for women
To help you find the jacket that's best for you, check our style guide to choose the best winter coats for women after the list.
Axel Arigato Rhode Down Jacket: Overall best women's winter coat
Axel Arigato may be best known for its luxury sneakers (we are obsessed with the brand's minimalist white sneakers), but we must say, you definitely shouldn't sleep on the rest of the Swedish label's offerings. 
Proof that the best puffer jackets for women shouldn't make you look like the Michelin Man, the Rhode Down Jacket by Axel Arigato is easily one of the season's most stylish women's winter coats. 
The drawstring ties at the waist make this fashion-meets-function number looks surprisingly polished, while the hood and the quilted silhouette feel like you are taking your coziest duvet to the streets—it's that comfortable and warm. 
This black puffer jacket is also sustainable: it's made from lightweight recycled polyester filled with reused down and feathers. 
Best for: Feeling on top of the world amid bitter temperatures.
| | |
| --- | --- |
| Colors: | Black, Pale Beige, Grey, Dark Brown |
| Shell material: | Lightweight recycled polyester |
| Insulation: | Reused down and feathers |
| Hood: | Yes |
Gucci Wool Coat: Best designer winter coat for women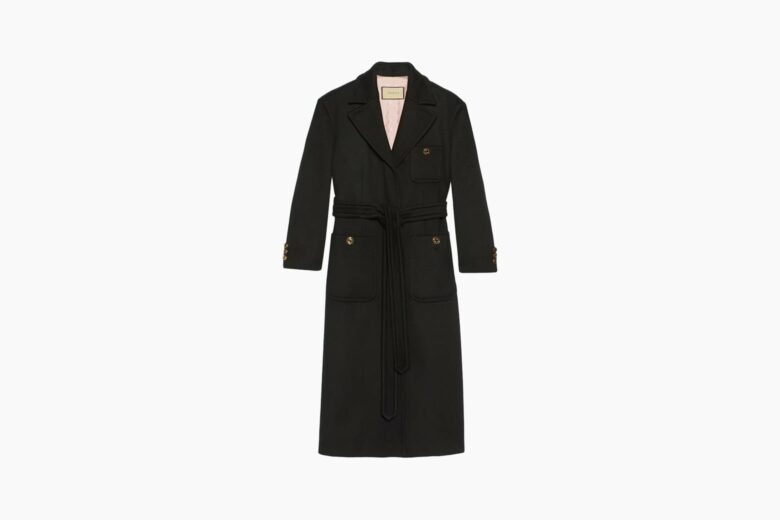 A warm winter coat is an investment. Gucci is an investment. And together, they make an asset that we're sure will only appreciate in value over time—with style and utility.
Iconically made in Italy, the black trench silhouette comprises 100% wool. The natural fiber is inherently moisture-wicking, keeping you dry in volatile climates. Snug but not stifling, this coat is one of the warmest winter coats, whilst maintaining that all-important breathability. 
Timeless and versatile, this classical winter coat subtly nods toward Gucci's heritage with vintage interlocking gold G buttons. The breast pocket and double front pockets pay homage to the trench's military roots. And the removable belt does that fit and flare thing, we adore, with effortless sophistication.
Best for: Being the belle of the winter ball.
| | |
| --- | --- |
| Color: | Black |
| Material: | 100% Wool |
| Hood: | No |
Columbia Heavenly Long Hooded Jacket: Best value winter coat for women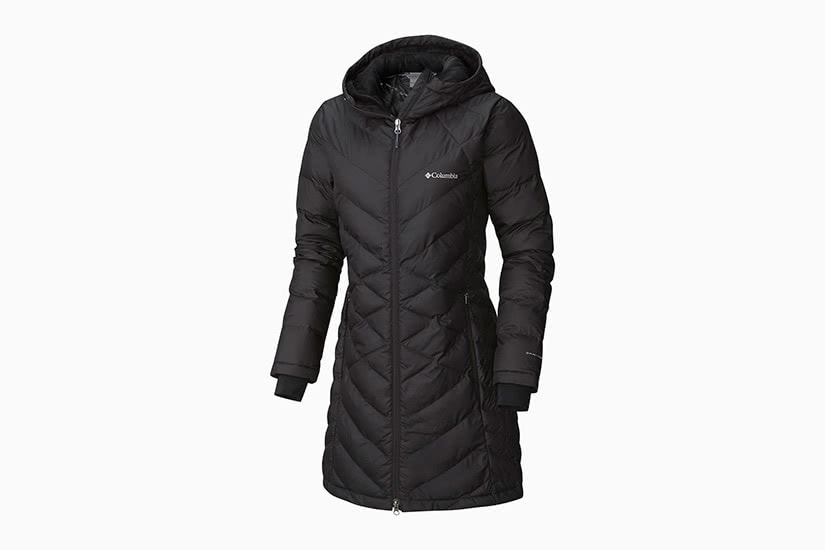 Columbia winter coats need no introduction. The Pacific Northwestern outdoor experts have been keeping shivers at bay since 1938. 
As such, the Heavenly Long Hooded Jacket is a product of decades of refinement, resulting in one of the best women's winter coats on the market. And, unlike severe frostbite, it won't cost you an arm and a leg.
The long jacket features an Omni-Heat Reflective 100% polyester lining, which works to reflect your body's heat keeping you cozy and dry.
Of course, the Columbia Heavenly Long Hooded Jacket is water-resistant (these guys are from Oregon, after all). Plus, the hood, comfort cuffs complete with thumb-holes, and zipped pockets work together to ensure you're protected from the chill of the Great Outdoors at all times.
Best for: A toasty winter treat at an affordable price.
| | |
| --- | --- |
| Colors: | Black, Pink, Blue + More |
| Shell material: | 100% Polyester |
| Insulation: | Synthetic Down |
| Hood: | Yes |
Anine Bing Dylan Coat: Best women's wool winter coat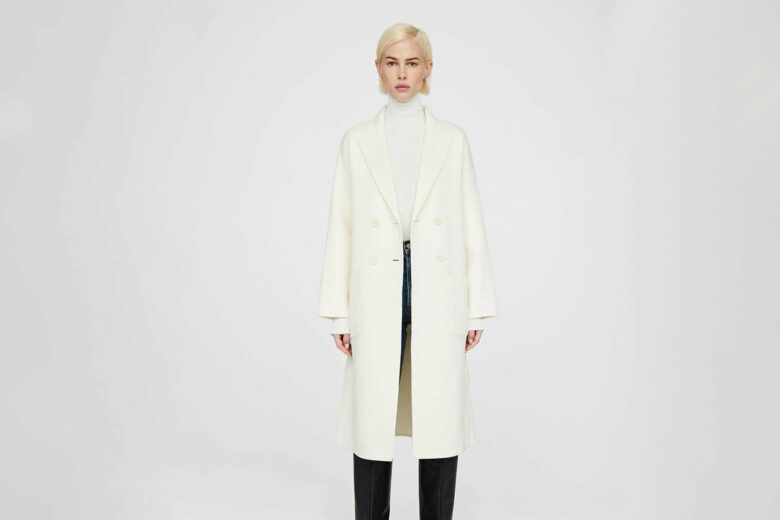 Ah, pure wool—every sartorialist's aspirational fabric when it comes to choosing a coat. Ok, so this one is only 90% wool. But when the other 10% is cashmere, we're obviously not complaining.
Naturally moisture-wicking, breathable and insulating, we're not surprised that wool is the most coveted (and often the most expensive) coat fiber. And after using yours over the many icy winters to come, we highly doubt you'd ever regret the timeless purchase. 
Elevated by the subtle addition of cashmere, Anine Bing's Dylan coat is even softer and more sumptuous than other luxury wool coats.
Whether you opt for white, black or camel, we can see this sophisticated wool coat slipping into your daily routine as smoothly as your everyday tote. 
Best for: Tying the knot with timeless sartorial essentials.
| | |
| --- | --- |
| Colors: | White, Black, Camel |
| Material: | 90% Wool, 10% Cashmere |
| Hood: | No |
Canada Goose Expedition Parka: Best women's winter coat for extreme cold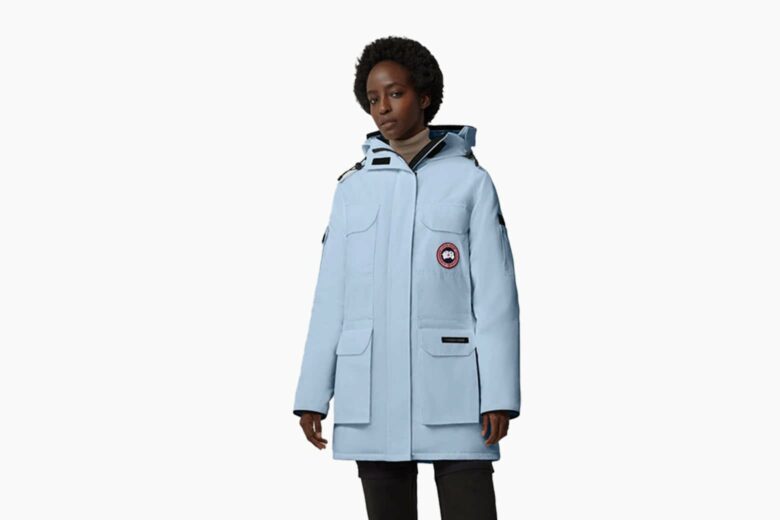 Ok, so we don't all take frequent trips to the South Pole. But many of us do spend most of our winters cocooned in blankets and sweats. And whilst there's nothing wrong with embracing the excuse to curl up with a good book, if you're itching to experience nature's scintillating beauty in icy climates, this Expedition Parka is your cue to do so.
Engineered for scientists working in the Antarctic, the waterproof exterior doesn't give unexpected downpours a fighting chance. And the goose down interior proves that you can enjoy -30º with the right equipment. 
Plus, we appreciate that Canada Goose equips The National Science Foundation to conduct the research necessary to protect our beloved polars from extinction. 
Best for: Powering your next icy outdoor expedition. 
| | |
| --- | --- |
| Colors: | Black, Stormy Sky, Limestone, Dawn Blue |
| Shell material: | Arctic-Tech (Polyester and cotton blend) |
| Insulation: | Responsibly Sourced Duck Down |
| Hood: | Yes |
Canada Goose Alliston: Best long down winter coat for women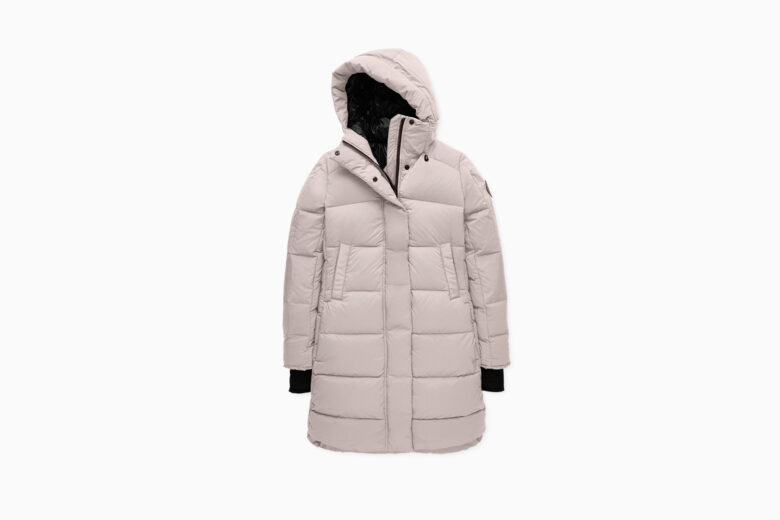 Just one look at the Canada Goose Alliston down coat is enough to reassure you of its warming capabilities. It's like wrapping your winter duvet around you, but like, with heaps more style.
Crafted from reinforced Cordura shell, which is quilted and padded with super-insulating down, this coat doesn't give winter freeze a fighting chance. 
The internal drawstring waist allows you to adjust the coat, so it fits as snugly or as loosely as you prefer. To top it off, the extended cuffs feature a hand-guard, so there's no risk of chilly hands. For extra coziness, pair the Canada Goose Alliston down coat with a decadent mug of hot chocolate to warm those fingers.
Despite its robust appearance, this coat is designed to fold into its own front pouch pocket. So, it's perfect for those trips into the mountains, when the weather's a little on the sporadic side.
Best for: A packable duvet in coat form.
| | |
| --- | --- |
| Color: | Black, Silver, Navy |
| Shell material: | 100% Nylon (with a water-resistant finish) |
| Insulation: | 750 Fill Power Responsibly Sourced Duck Down |
| Hood: | Yes |
Orolay Thickened Down Jacket: Most popular women's winter coat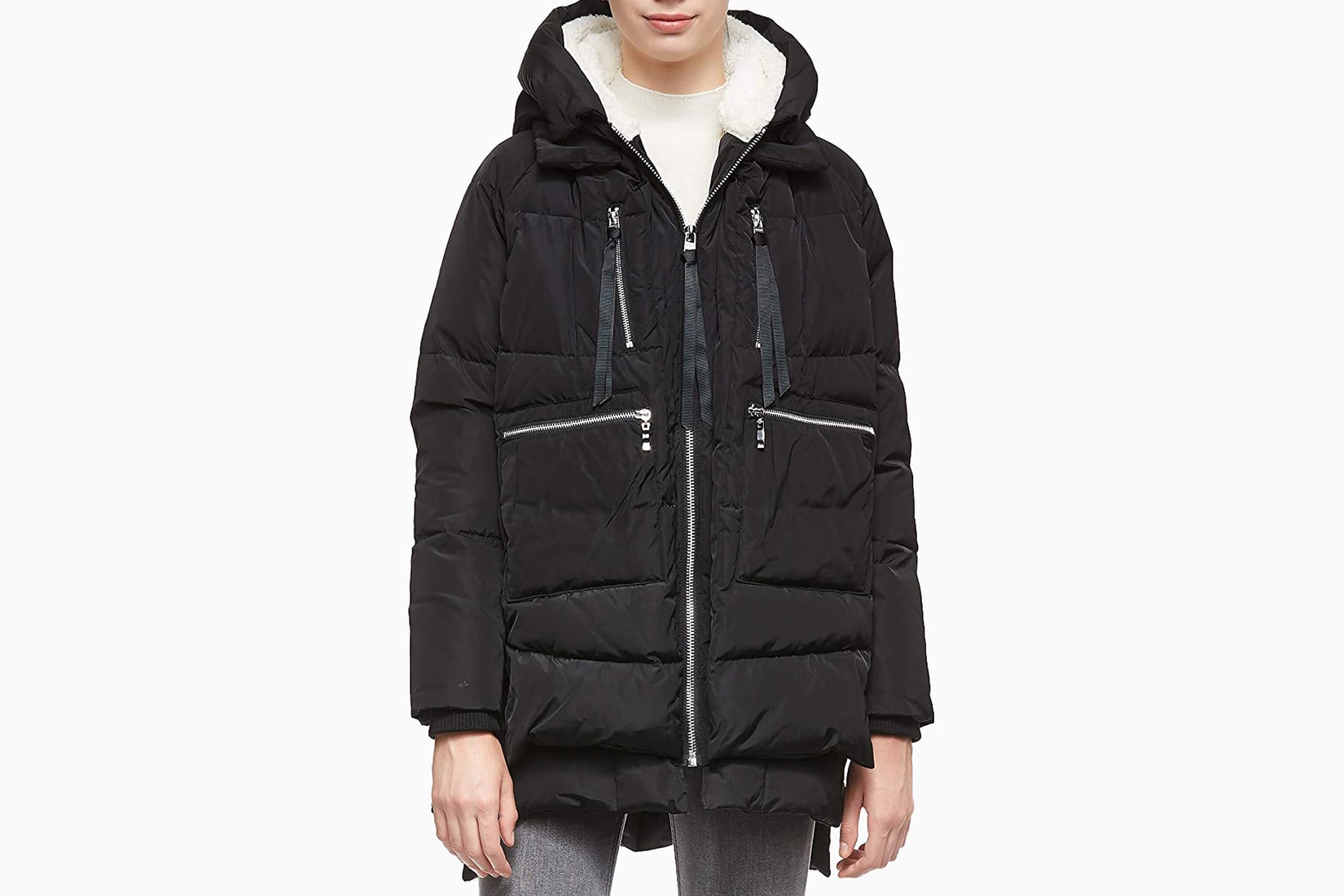 Although crafted by Chinese outdoor brand Orolay, the Thickened Down Jacket has affectionately become known as 'the Amazon coat'. Yep, when a coat has earned a nickname amongst its fans, you know it's a winner.
The 90% duck down, 10% duck feather coat is both windproof and water-resistant, complete with a fleece-lined hood and six large pockets for ultimate practicality. The shell lining with ultra-dense polyester (60% higher than most on the market) ensures you'll stay toasty, no matter the weather.
Perhaps the most unique feature of the Orolay Thickened Down Jacket is the side zips: For optimal freedom of movement, you can adjust for a close or lighter fit, depending on your needs of the day. So, whether you're trekking the Andes or kicking back on a ski lift, you can make the Amazon coat work for you.
Best for: An Amazon favorite.
| | |
| --- | --- |
| Colors: | Black, Pale Beige, Grey, Brown |
| Shell material: | 100% Polyester |
| Insulation: | 90% Duck Down , 10% Duck Feather |
| Hood: | Yes |
Moncler Moka Down Puffer Coat: Best women's winter down coat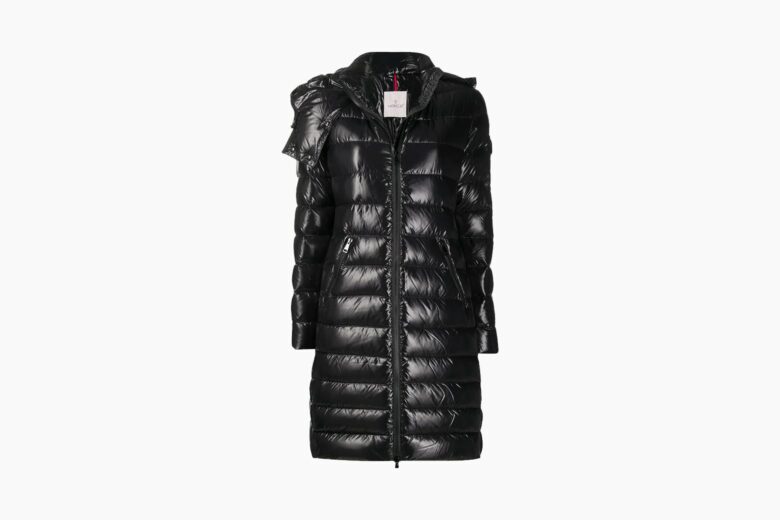 As one of the best winter jackets for women, the Quilted shell down jacket by Moncler is everything a good winter coat should be, and much more.
Filled to the brim with insulating down and goose feathers, Moncler's down coat will have you feeling like you're sat near a roaring fire– even when you're out on the slopes. Plus, the funnel neck is perfect for encapsulating your body's warmth where you need it most.
Far from sacrificing style for functionality, the Moncler Moka down puffer is cleverly crafted with zipped pockets at the waist to create a feminine silhouette. As winter-faring women will know: body contours have a devious way of getting a little lost under padded jackets. Thankfully, not with the Moncler down coat.
Best for: The Rolls-Royce of puffer coats.
| | |
| --- | --- |
| Colors: | Black, Navy Blue |
| Shell material: | 100% Polyamide |
| Insulation: | Goose Down |
| Hood: | Yes |
Cuyana Wool Draped Collar Coat: Best long winter coat for women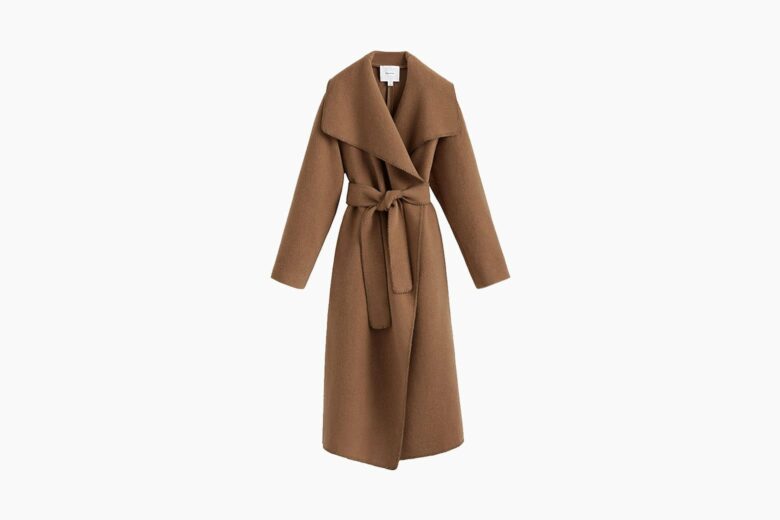 When it comes to the warmest winter coats, more is always more—in length at least. And we particularly adore this elongated iteration by our queen of capsule wardrobe classics, Cuyana. 
Living up to the luxury label's fewer, better mantra, this military-inspired trench plays double duty as a style statement and utility piece. Timelessly trendy, you can throw the versatile black or camel silhouette over anything—yes, including sweats—and look fantastic. The removable tie effortlessly cinches the waist with an air of relaxed nonchalance. And when styled without it, no one would ever guess you'd worn the same coat twice (or thrice) in a row. 
Not only does Cuyana style our day to day with quintessential staples, but they do so sustainably. Case in point, this eco chic winter coat is made from 100% recycled wool.
Best for: Elongated elegance meets fashionable featherlight footprints.
| | |
| --- | --- |
| Colors: | Black, Pale Beige, Grey, Brown |
| Material: | 100% Recycled Wool |
| Hood: | No |
The Frankie Shop: Best women's winter trench coat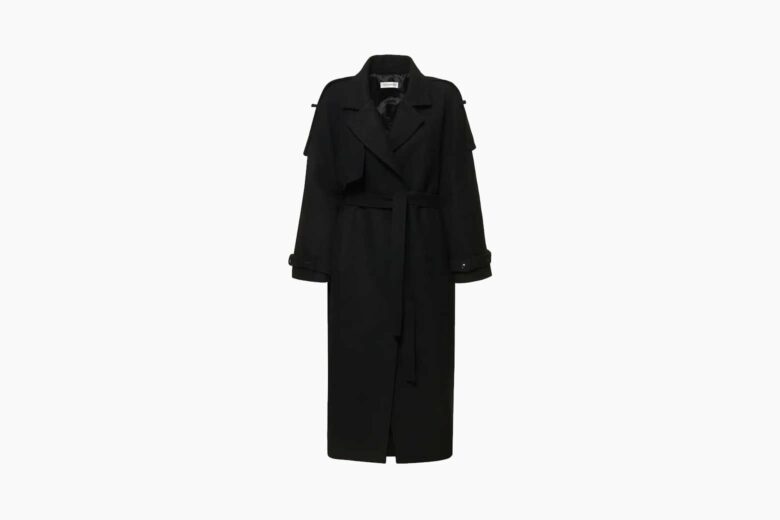 Digging its way out of the war trenches and into our collection of quintessential winter coats for women, the military-inspired silhouette is equipped to battle fighting colds and volatile trends. 
Practically designed to prevent water from slipping into the coat, the exaggerated storm flap and vented back is both a fashion statement and a utility piece. The belted shoulder and sleeve cuffs get a medal of honor (in our book, at least) for paying homage to the silhouette's original design. Whilst the removable belt cinches in the modernist oversized fit.
As one of our best winter coats for women, this black coat by the Frankie Shop (just like any of the best trench coats for women) can be thrown over absolutely anything for a look that is effortlessly stylish, snug, and sustainable. 
Best for: Digging your way out of the fast fashion trenches.
| | |
| --- | --- |
| Color: | Black |
| Material: | 60% Wool, 15% Polyester, 15% Nylon, 10% Acrylic |
| Hood: | No |
Alo Yoga Gold Rush Puffer: Best puffer winter coat for women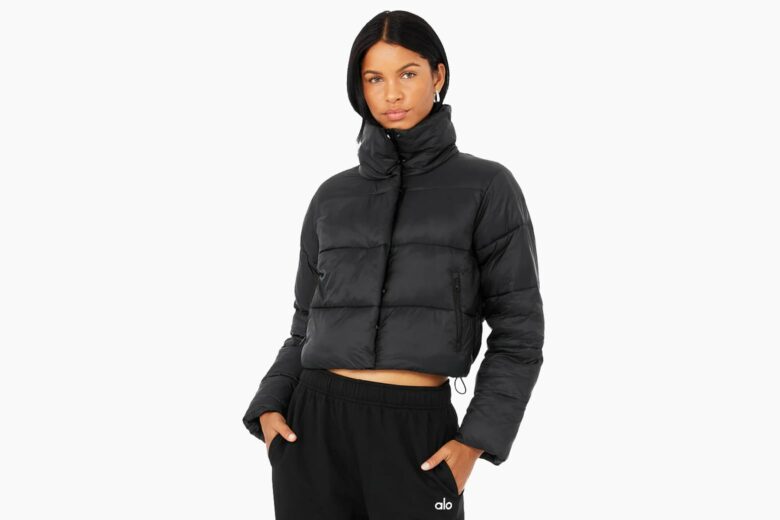 With a brand like Alo Yoga, we're far too zen to get caught up in semantics. Call it a coat. Or refer to it as one of the best winter jackets for women. Either way, you won't find a puffer that rivals this one in style or comfort. 
This chic silhouette is effortlessly flattering with an adjustable cinched waist drawstring and cropped waist length. We love the black rendition for timeless everyday styling. But if you prefer to add a vibrant step to your studio trips, the pink and blue iterations are fun and fashionable. 
When it comes to warmth, the weather-ready puffer is inherently snug and easy to layer. And made from recycled ripstop, we equally appreciate that Alo Yoga is stretching the limits when it comes to sustainability in the industry.
Best of all: from street to studio, this cropped puffer is as flexible as you'll be after a couple more Vinyasa flows.
Best for: Being puffed up—and righteously so.
| | |
| --- | --- |
| Colors: | Black, Blue, Pink |
| Material: | Recycled DWR ripstop |
| Hood: | No |
Alpha Industries N-3B W Parka: Best women's winter parka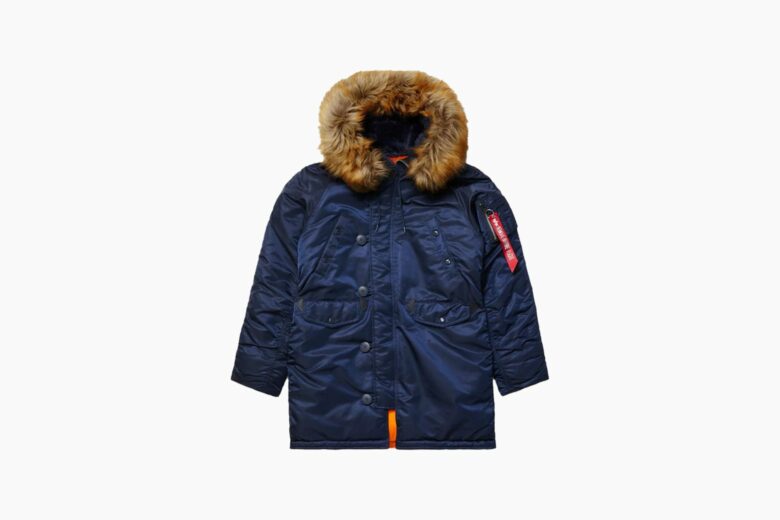 Carefully engineered to tackle extreme cold weather with comfort, the N-3B by Alpha Industries features all the necessary details needed to protect us from all the elements. The flight nylon shell is water-resistant and wind-bearing. The full length storm flap prevents rain from seeping through cracks. The adjustable hood is framed by impossibly snug faux fur. Whilst the channel quilted lining insulates body-generated warmth. 
Featuring Alpha Industries signature "Remove Before Flight" flag and utility pocket on the sleeve, this aviation-inspired coat pays homage to the warm jackets engineered to keep pilots warm in the pit. But we also just think it's cool—especially with trendy neon orange lining contrasted against versatile navy blue or black hues. 
Best for: Flying high in fashion and functionality. 
| | |
| --- | --- |
| Colors: | Black, Blue |
| Shell material: | 100% Flight Nylon |
| Insulation: | 100% Polyester |
| Hood: | Yes |
The North Face Carto Triclimate Jacket: Best women's winter coat for hiking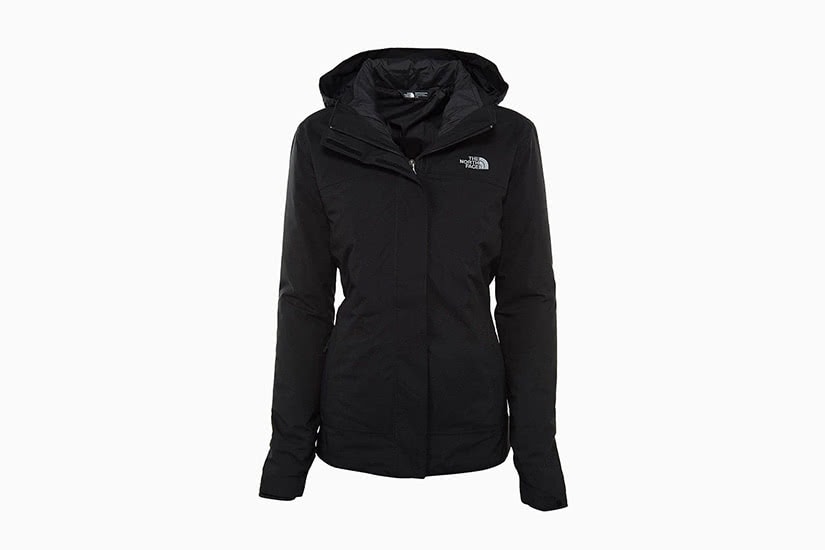 Okay, so not everyone's idea of a memorable winter is scaling up mountains, or navigating undulating hills. But if that sounds like you, who else to trust with your warmth and comfort than the very best of winter jacket brands: The North Face.
The North Face winter coats have been at hand to help adventurers achieve their trekking goals since 1966. So yes, they know a bit about keeping people warm at high altitudes.
The PrimaLoft Black Insulation is on hand to keep that cherished body heat in, while the DryVent shell will keep the rain out.
North Face achieves uniting practicality with minimalist style. As such, the North Face Carto Triclimate Jacket is complete with secure zip hand-pockets for easy access to your hiking essentials, and the exposed zip allows you to cool off if things get a little too hot to handle.
Best for: Everyone stepping foot on a mountain (or hill).
| | |
| --- | --- |
| Colors: | Black, White, Pink + More |
| Shell material: | DryVent |
| Insulation: | PrimaLoft |
| Hood: | Yes |
Naked Cashmere Wyatt Peacoat: Best winter peacoat for women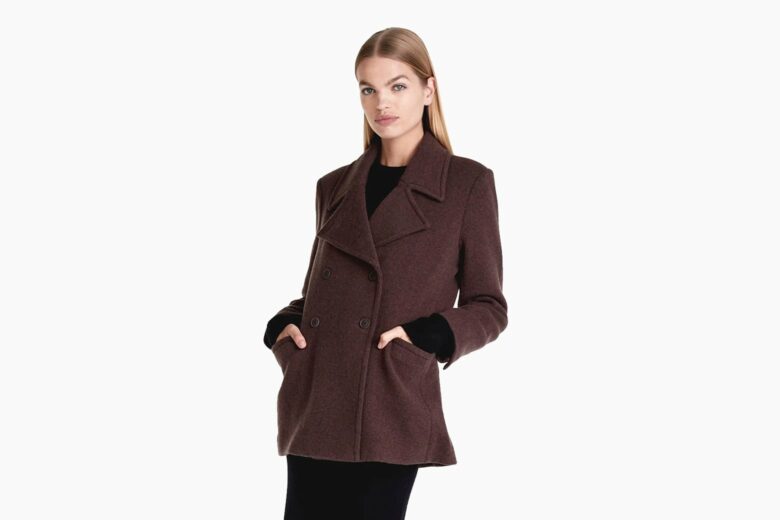 As strong advocates for the perennial peacoat, we firmly believe that no collection of women's winter coats is complete without one of these sailor-inspired classics. 
And as a timeless staple that can be enjoyed by many generations, we're also big proponents for investing in the best of the best—that being this Wyatt peacoat by Naked Cashmere. Made from 100% cashmere with a 100% silk lining, there's no doubt about the integrity of the luxury premium materials. The brand's signature cashmere and silk are renewable, biodegradable, and ethical. And both of the natural fibers are breathable and impossibly soft against the skin. 
Stay true to the original navy blue sailor hue. Or keep it Parisian chic with minimalist black. Either way, this seasonless peacoat is one your grandchildren are sure to fight over. 
Best for: Peacocking perennial classics. 
| | |
| --- | --- |
| Colors: | Chocolate Brown, Midnight Blue |
| Material: | 100% Pure cashmere |
| Hood: | No |
Max Mara Teddy Cape: Best winter cape for women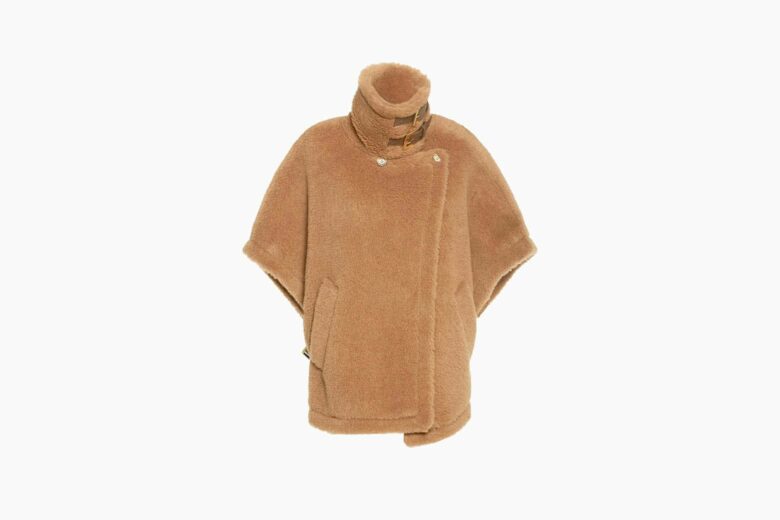 Casual yet sophisticated, we love a cape on almost any occasion. But add in teddy fur—like this one by Max Mara—and you may not see us in anything else. 
The snug teddy fur is reminiscent of childhood comforts and reassuring hugs. But it's also one of the trendiest fabrics in current winter collections. 
Borrowed from the Victorian Era, there is nothing outdated about this statement piece. And whilst the traditional double buckle and slanted welt pockets pay homage to the original design, an exaggerated, oversized high neck and leather laces maintain an avant-garde attitude. 
Paired with anything from distressed denims to jersey dresses, we can already see how this camel cape coat will metamorphose your entire arsenal. 
Best for: Cocooned in comfort; stepping out in style.
| | |
| --- | --- |
| Color: | Camel |
| Material: | 88% Camel, 12% Silk |
| Hood: | No |
Asos Design Curve Puffer Coat: Best plus size women's winter coat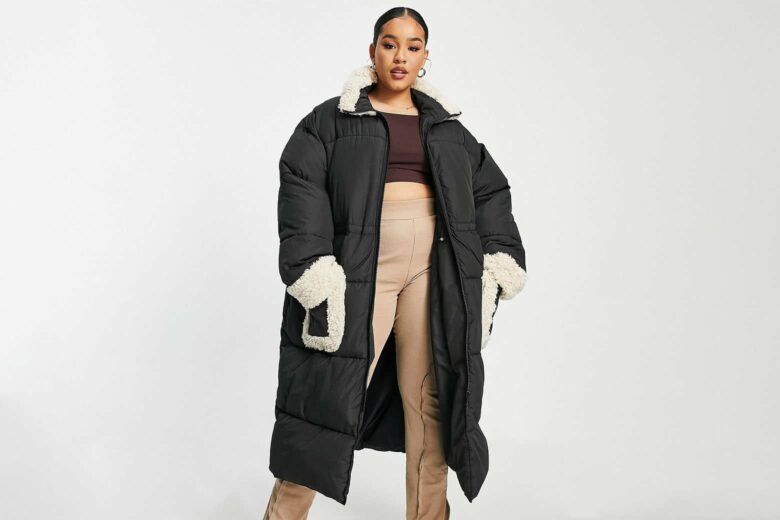 Yes, they're unparalleled in warmth and practicality. But puffer coats certainly don't have the best reputation when it comes to flattering curvy figures. Enter: Asos Design's plus size puffer. 
The oversized fit falls effortlessly over multiple layers. Whilst the adjustable drawstring cinches in the waist and tailors the fit to perfection. The longline cut is padded for extra warmth. And the water-resistant exterior is designed to combat rainy days. 
When it comes to style, the look is contemporary and casual with an androgynous edge. And we specifically love the white shearling trims contrasted against the black silhouette for a slight deviation from your run-of-the-mill black puffer. Pair this versatile puffer with chunky Chelseas and tights. Or style it with your minimalist white sneakers and denims. Whatever you choose, you certainly won't have to compromise style or comfort. 
Best for: Defying unflattering reputations.
| | |
| --- | --- |
| Color: | Black |
| Shell material: | 100% Polyester and Faux Fur |
| Insulation: | 100% Polyester |
| Hood: | No |
Varley Jones: Best women's winter fleece jacket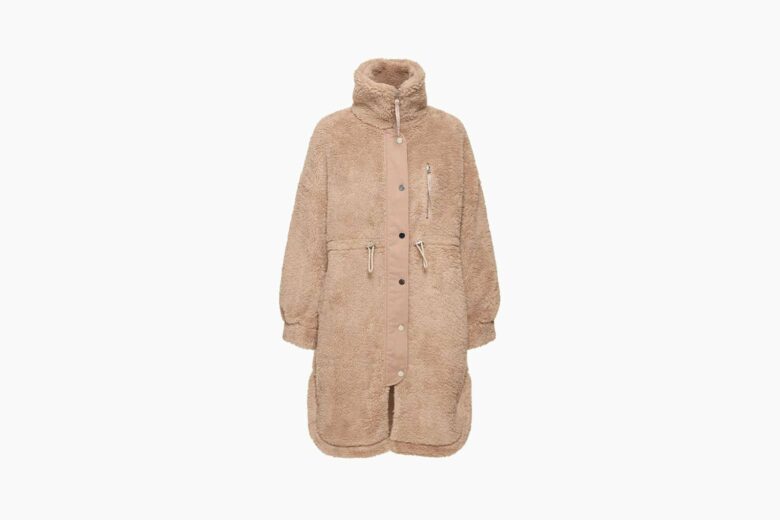 Marrying London's metropolitan sophistication with LA's fitness-focused lifestyle, Varley is our go-to brand for luxury athleisure. And this fleece winter coat for women is exactly why. 
The full fleece silhouette is a cocoon of warm comfort from street to studio. Whilst the adjustable drawstring waist is effortlessly flattering, and the plethora of pockets, endlessly practical. Worn up or zipped down, the exaggerated collar is a snug scarf replacement for our minimalists at heart. And easy to wash, all it requires is a spin in the washing machine to maintain a good-as-new aesthetic.
Coming in burnt orange, we adore this Fall-inspired coat paired with a matching beanie and activewear for leafy park strolls and gym commutes. Whilst the slightly more subtle dusty pink iteration complements almost anything in our winter rotation. 
Best for: Being actively cosmopolitan.
| | |
| --- | --- |
| Colors: | Dark Orange, Pink |
| Material: | 100% Polyester |
| Hood: | No |
Cuyana Wool High-Low Jacket: Best wool winter jacket for women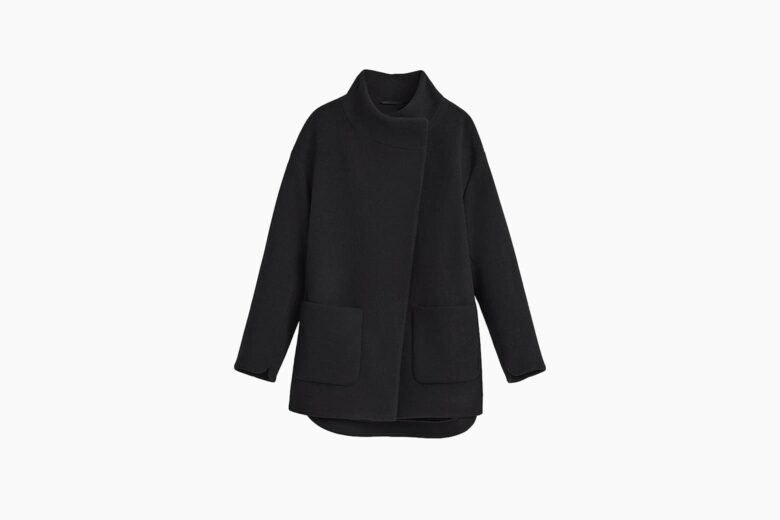 If you know us, you'll know that Cuyana epitomizes our conscious, elevated mantra. And whilst we're unapologetically biased towards the sustainable brand, this timeless piece is one of the best winter jackets for women by any sartorialist book. 
The environmentally conscious coat is crafted in Portugal from a recycled wool blend, at an avant garde factory that uses green energy. Plus, it does so whilst achieving the highest quality finishes. This high low jacket is nonchalant but classy with a relaxed fit and wide shoulders. And hanging just below the hips, the black hue is easy to style with almost anything. 
Dress this Cuyana wool jacket down with casual denims and sneakers. Dress it up with your LBD and stilettos for a carefree night out. Or style it with boots and tights for a sleek winter look. We know, we'll be doing all of the above—and so much more. 
Best for: Everyday errands.
| | |
| --- | --- |
| Color: | Black |
| Material: | 62% GRS Wool, 38% Regenerated Polyamid |
| Hood: | No |
Vince Faux Shearling Coat: Best faux fur coat for women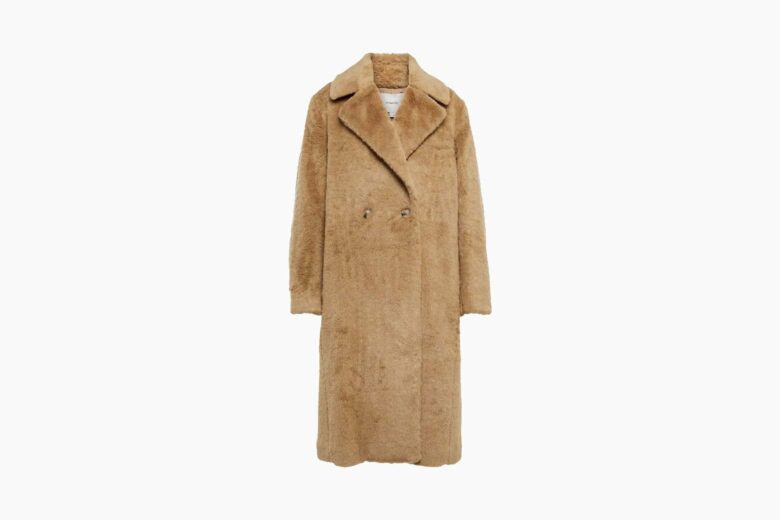 Faux fur: a quintessential style staple in every fashion-forward vegan's rotation. But to authentically pull off sophistication equal to that of genuine fur, it has to be impeccably well-made—like this rendition by Vince. 
The elongated silhouette extends past the knees for full-body warmth and blanket-like comfort. The side slip pockets take care of your hands during chilly meanders outdoors. And machine washable, we don't have to think twice about slipping it over everything on any occasion (yep, even active wear.)
Whilst we adore every aspect of this snug coat, its endless versatility truly makes it a worthwhile investment. The sand colored silhouette complements everything in our capsule wardrobes. While the double-breasted, button-up front lends itself to formal and casual affairs. 
Best for: Vegan-approved and stylist-endorsed.
| | |
| --- | --- |
| Color: | Sand |
| Material: | 64% acrylic, 36% wool |
| Hood: | No |
Stand Studio Maria Faux Shearling Coat: Best faux shearling coat for women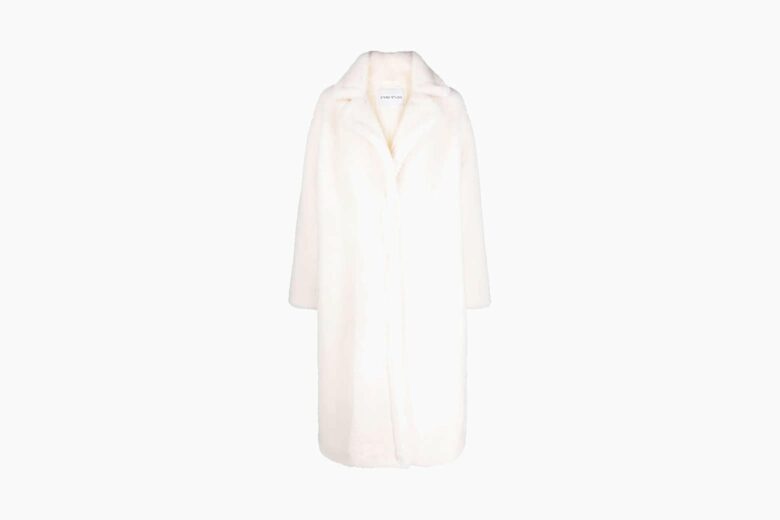 When done well, faux shearling has the ability to pull off the same luxurious appeal as genuine shearling—but with a cruelty-free approach. As proponents of elevated conscious living, we consider it our duty to unveil the brands that achieve that. 
Made from a blend of wool and polyester, the elongated snug silhouette is the sartorial equivalent of a warm hug. The oversized fit and wide-notch lapels speak to a slightly androgynous style. And contrasted against the all-white faux fur, we think it's a match made in design heaven. 
With an element of boldness and casual elegance, this coat lends itself to sophisticated soirees and paired-down ensembles alike. But we're particularly partial to taking this Stand Studio coat over the edge with vibrant accessories and daring prints. Care to join?
Best for: Standing firm against animal cruelty—but with style. 
| | |
| --- | --- |
| Colors: | White, Blue, Camel |
| Material: | Polyester 60%, Acrylic 20%, Wool 20% |
| Hood: | No |
Amazon Essentials Hooded Puffer Coat: Best budget winter coat for women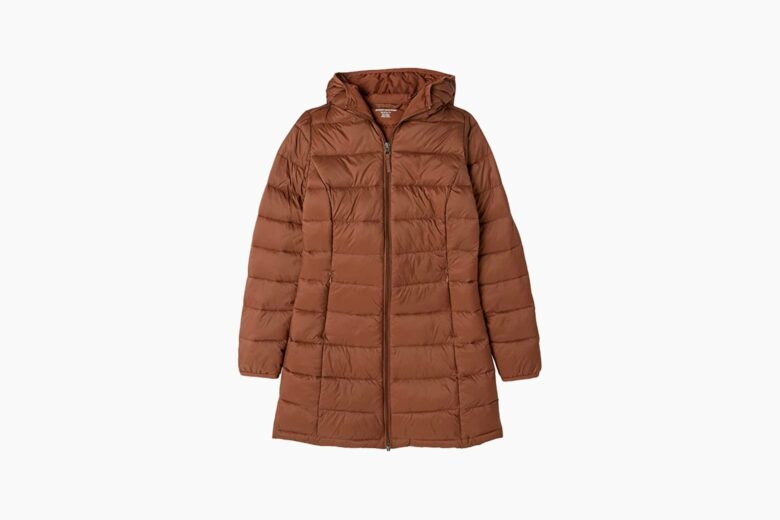 Coming in every color under the Amazon sun, we can't resist checking out with more than one of these sumptuous puffers. But at this price, we can't say we feel guilty about it either. 
Resplendent reds and yellows allude to a brighter future in personal style statements. Pastel purples and greens are endlessly cute. Almost-neutral teal and burgundy hit the elusive sweet spot between distinctive and versatile. While natural browns, whites, and blacks slip right into our capsule collections with minimal effort. 
Besides speaking directly to our color love language, Amazon Essentials also feeds our passion for functional fashion with this stylish utility coat. The slightly longer silhouette is lightweight and water-resistant with a wind-breaking hood. Whilst the ability to be chucked in the wash is music to the ears of on-the-go moms and hard-working businesswomen. Because regardless of how we spend our days—we certainly don't have the time (or energy) to wash anything by hand anymore. And we're sure you don't either.
Best for: An affordable pot of gold at the end of the rainbow.
| | |
| --- | --- |
| Colors: | Black, Brown, Burgundy + More |
| Shell material: | 100% Polyester |
| Insulation: | 100% Polyester |
| Hood: | Yes |
Style guide: Finding the best winter coats for women
It's that time of year again. Yes, it's time to trawl the shops for your new winter coat. 
This is not a decision to be taken lightly– after all, along with holiday gifts, winter is guaranteed to deliver a sizable helping of cold weather. 
So, safe to say you're going to spend rather a lot of time in your winter coat. Make sure you choose wisely and take these pointers on board:
Winter coat vs winter jacket
Admittedly, coats and jackets are similar in nature. However, while the terms have become a little interchangeable, there are a few key differences to be aware of when it comes to coats vs jackets.
A jacket will typically cut off at the hip, while a coat tends to be more elongated (although this is not always the case– for example, a Puffer can be either a coat or jacket, depending on the length.)
While the winter jackets on our list are selected due to their balance of style and functionality, jackets tend to be more about aesthetics than warmth. Coats, on the other hand, are categorically outerwear, and therefore are inherently warm.
Jackets are great for hiking, skiing, and general outdoor adventures. They're made for movement. Coats are wonderful for meandering through town in style and warmth, but due to their length, tend to allow a little less freedom of movement.
The best material for winter coats
Arguably the most crucial element of the success of your winter coat, the fabric of a coat can make or break it:
Wool
If money is no option, opt for a pure wool coat. Wool is naturally breathable and contrary to popular belief, it's actually highly water-resistant. So, although a soft wool looks like it'll absorb every drop of the next downpour, you're actually going to stay drier than you'd expect.
Similarly, a wool-cashmere blend is a brilliant choice. If pure wool is out of the question, you can select a coat that is wool-polyester or wool-rayon for a similar effect.
Nylon
Nylon is an excellent choice for the outer lining of a good winter coat. It's very dense, and therefore is a great barrier against persistent gushes of winter winds and rain.
Down
Down is a filler material. Made from the feathers of ducks or geese, down is a hugely effective natural insulator. Thick down creates miniscule air pockets, which trap and retain warm air, keeping you oh-so-snug no matter what the weather's up to.
Cotton
Providing it's fully lined, cotton can be an excellent choice of fabric when you're deciding on a winter coat. The beauty of cotton is that it can be thin and lightweight for summer weather, or thick, yet very much pliable, for the colder months. Both durable and breathable, you won't regret choosing a cotton winter coat.
Frequently asked questions about women's winter coats
Which type of coat is best for winter?
While there are heaps of cozy options out there, we've concluded that Axel Arigato's Rhode Down Jacket ticks all the boxes for the perfect winter coat.
What is the best color for a winter coat?
Remember, you'll be wearing this coat a lot during winter. So, it's best to pick a versatile color like black, beige, camel, white, or navy. If you prefer to make more of a statement, there are plenty of pink, plum and red options on the market, too.
What is a parka?
Sometimes referred to as an anorak, a parka typically features a long hem, a fur-lined hood, great insulation, and a waterproof outer shell. While they typically come in khaki, you can find them in an array of colors.