We've all been there: the bombsite that awaits you when you unzip your suitcase, a horrific mess of tangled garments all over the place, leaky shampoo bottles, and general mayhem. 
Meet your new super-organized, soon-to-be favorite travel companion and suitcase (space) saver: Packing cubes.
Packing cubes are a simplistic but revolutionary idea, which packs (besides your clothing) a huge punch in terms of organization and functionality. They help you maintain order if you're a well-seasoned traveler already partial to doing so, and they help messier packers to become more organized.
If you prefer unzipping your bag to reveal an orderly arrangement of neatly packed belongings that you carefully sorted before setting off, packing cubes are what's missing from your travel inventory.
In our guide, we'll explore the best packing cubes on the market, including how best to use them, and what to look for.
The 11 best packing cubes: Clean and tidy bag organizers
Check our special packing cube buyers' guide after the list to see exactly what you should pay attention to before purchasing a bag organiser.
NOMATIC: Best overall compression packing cubes
If you could pay a small price to increase the capacity of your luggage by 50% (without buying a new bag, obviously), would you do it?
With the NOMATIC Compression packing cubes, you can. Seemingly going against the fundamental rules of physics, these packing cubes condense your clothes to maximize your packing space by a considerable 50%.
For example, the 'Large' 10-liter cube (think jumpers, knits, and jeans), once packed, will compress down to 5 liters. The 'Medium' 5-liter cube will compress down to 2.5 liters. And the 'Small'–well, you get it.
Made with lightweight, durable materials and featuring transparent mesh, you can bask in the glory of your newfound organizational skills with glee.
Best for: achieving Marie Kondo-level organization in your suitcase.
Away The Insider: Best high-end packing cubes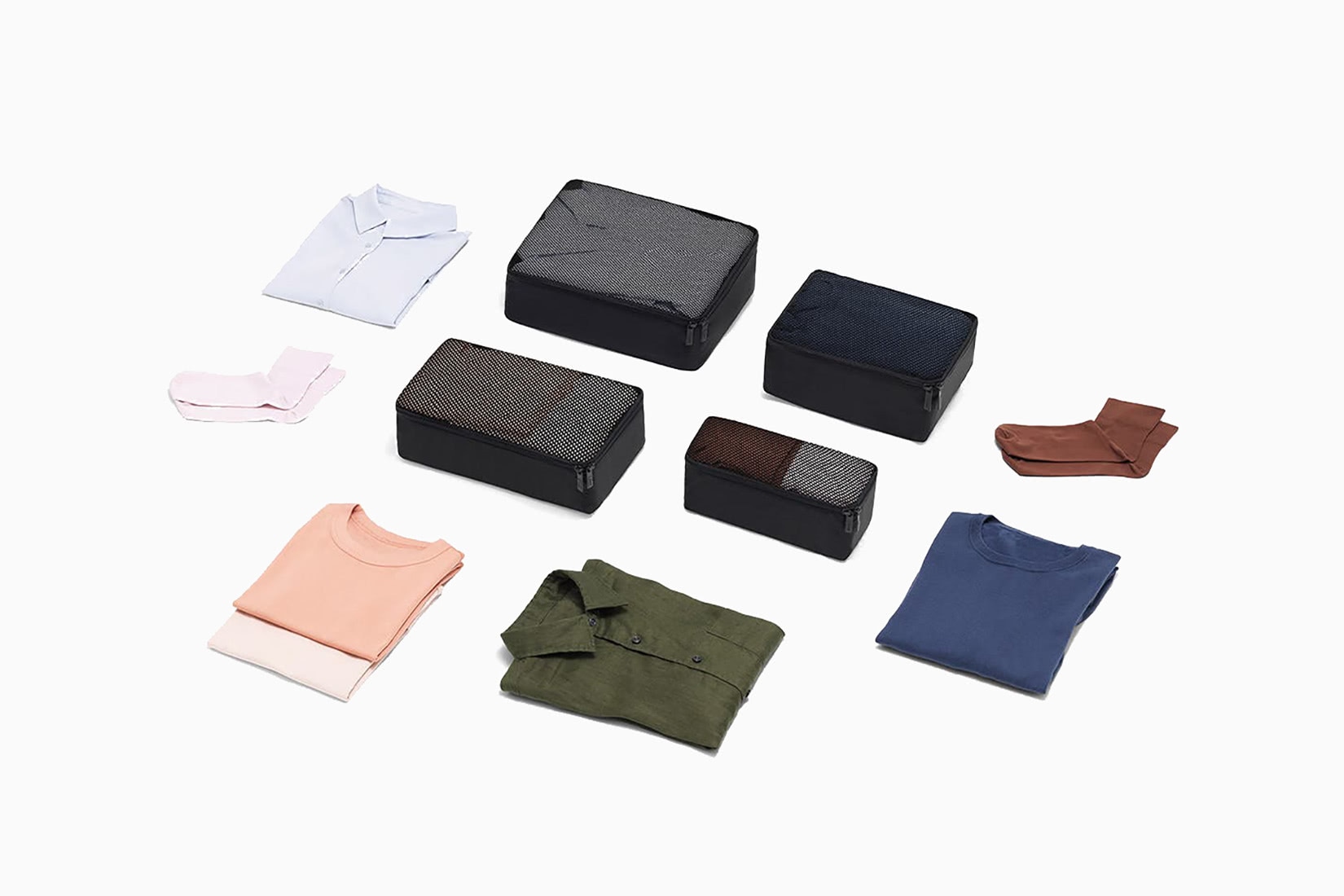 The Insider packing cubes by Away offer an effective system for dividing and organizing your clothing meticulously.
Featuring see-through mesh fronts, you can quickly scan your suitcase to find exactly what you're looking for. The water-resistant nylon will deter any rogue leaks from destroying your crisp Givenchy suit, or your toothpaste from causing irreparable damage to your LBD.
The cubes come in nicely assorted sizes which slot in agreeably next to one another, and although tailored for Away's luggage range, they should fit happily in most luggage.
Available in a wide variety of colors, including Black, Navy, and Asphalt, you can select a color that matches or complements your existing luggage. So, you can enjoy the feeling of being coordinated and together when in transit.
Best for: those seeking high-end, neat packing cubes which are waterproof and color-coordinated.
AmazonBasics: Best value packing cubes set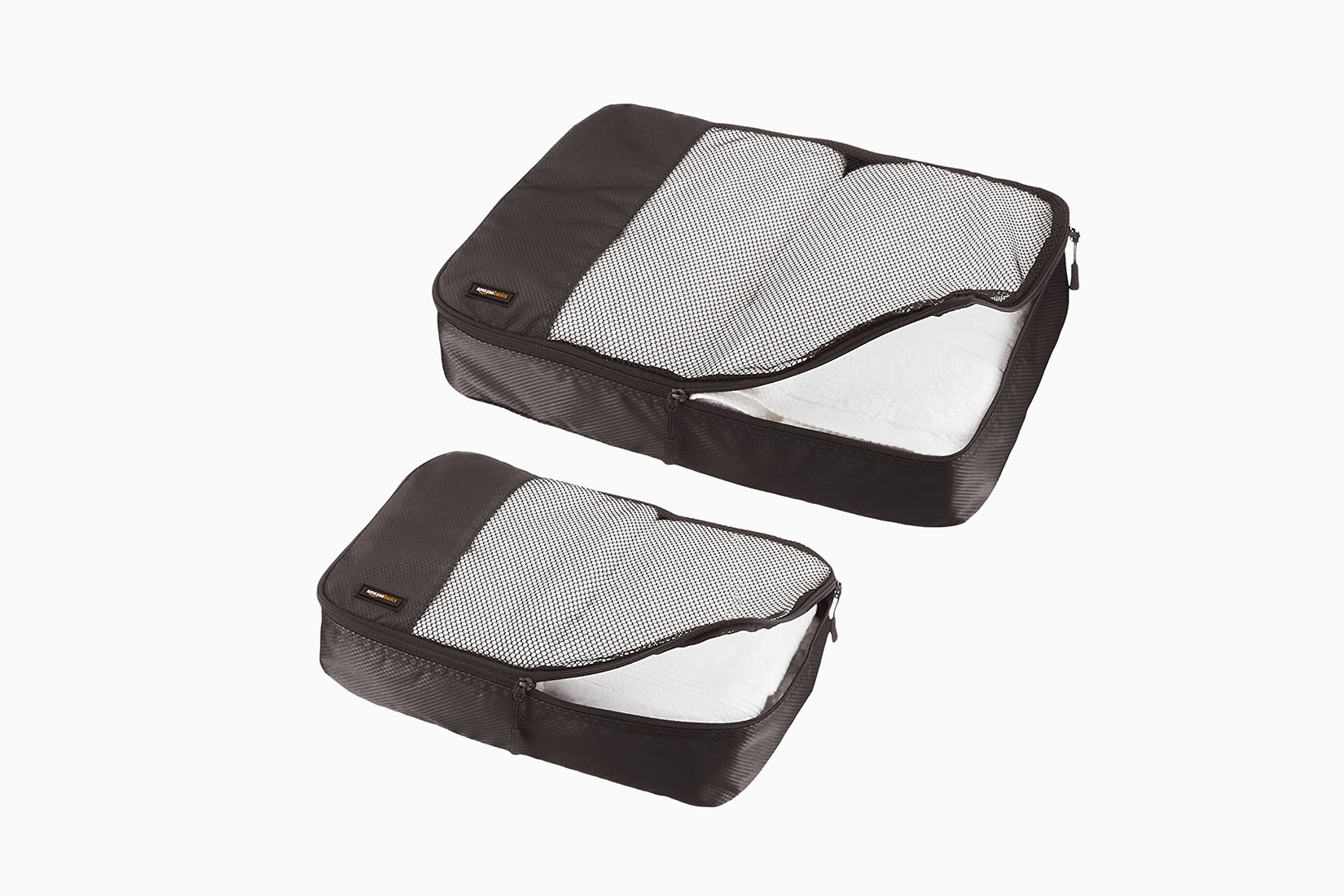 AmazonBasics always rates highly when it comes to value. This is certainly true for the four-piece packing travel organizer set, which comes in soft mesh cubes which promise not to damage any delicate clothing you put inside.
They feature handles on each cube, which is a substantial help when you're simply carrying them on their own. Plus, the mesh top panel is conveniently transparent so you can quickly locate specific items.
Available in Black, the packing cubes include Large, Medium, Small, and Slim sizes so you can pack your clothing accordingly.
Best for: those who desire organization when traveling but don't wish to overspend.
EzPacking 3-1-1 Organiser: Best packing cubes for carry-on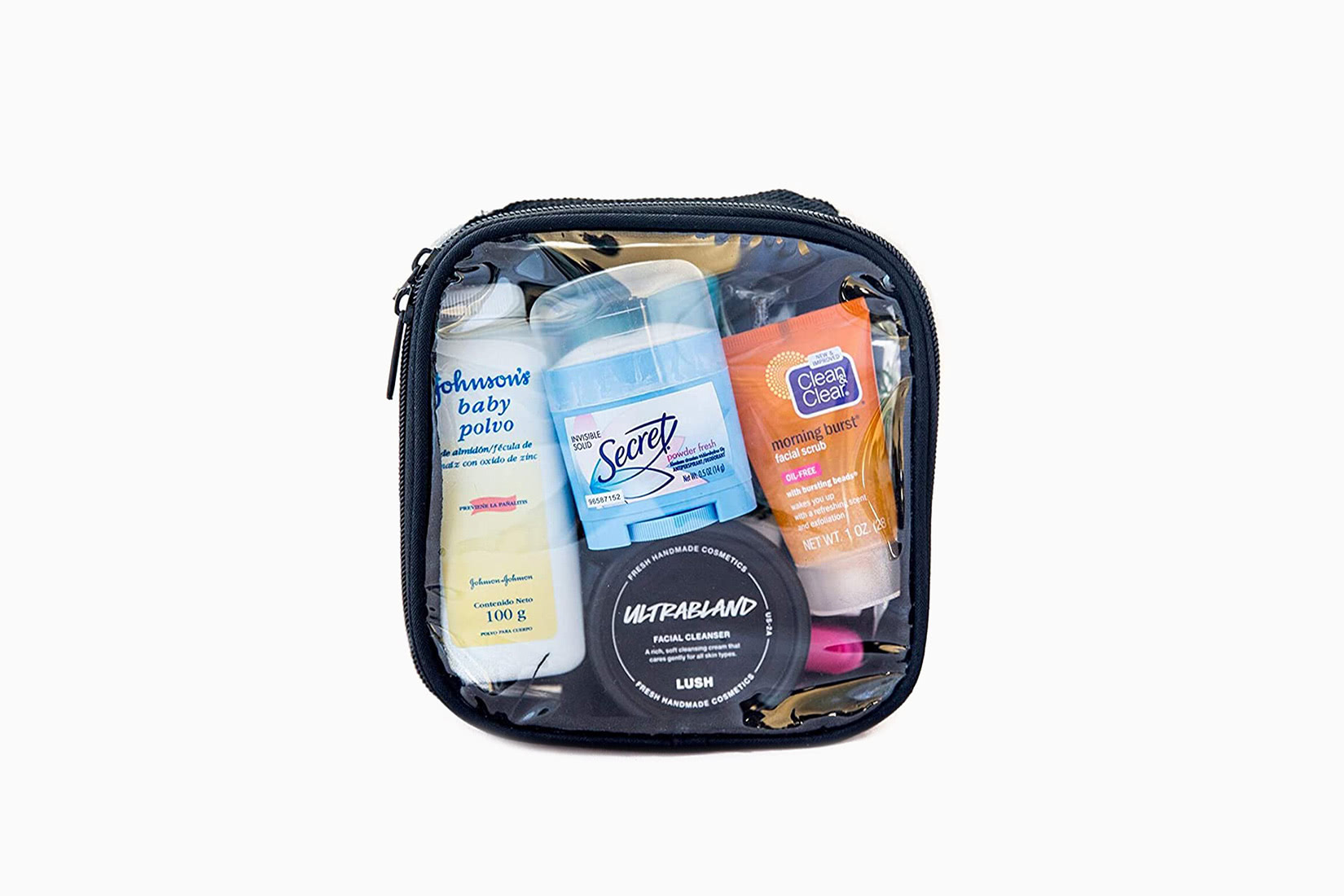 For carry-on queens (and kings) the EzPacking 3-1-1 see-through organizer is excellent for separating your toiletries on a cabin-bag-only flight.
Aligning with the needs of carry-on bag-bearers, the clear organizer comes complete with a TSA-approved locking system, allowing glide-through convenience at any security check you may encounter.
The built-in handle allows you to retrieve the organizer from your larger bag quickly. Because, well, we all know the feeling of frantically rummaging around the security gate to gather our liquids and tech!
To that end, the bag is multi-usage and can easily carry your passport, phone, or other small technology for easy access on your journey.
Available in a range of tints including Black, Blue, and Green.
Best for: those who regularly travel with carry-on bags only, who desire quick and easy access to their things.
Eagle Creek Pack-It Specter: Best compression packing cubes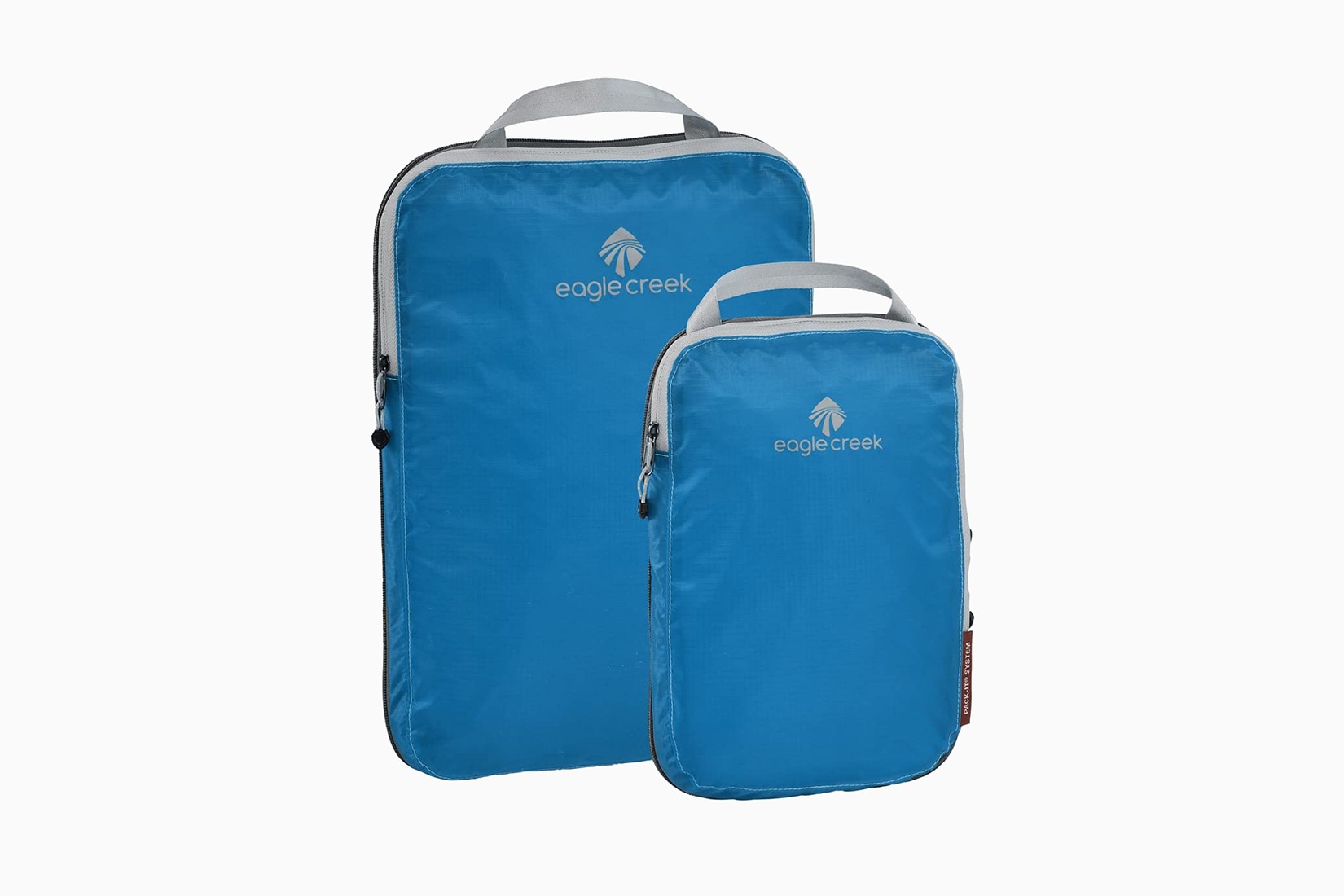 Compression packing cubes are a must-have for those who hate to leave anything behind. The Eagle Creek Pack-It Specter Compression cubes are a prime example of good compression packing cubes.
Crafted from ultra-lightweight nylon material, they're water-resistant and therefore an effective barrier between your favorite shirt and your moisturizer bottle.
The cubes compress to a third of their size when zipped up, so you simply have to fold and place your clothes inside the expanded cube, zip it up and marvel at the wizardry that appears to unfold before you. We're serious; these luggage packing cubes could be an absolute blessing for liberal packers.
As is standard, the translucent exterior allows you to navigate your cubes without causing wreckage, so you can find what you're looking for with ease.
Available in Brilliant Blue, Strobe Green or Koi X-Ray, to name a few.
Best for: travelers who enjoy having the freedom of choice to bring their whole wardrobe supplies.
YAMIU: Best waterproof packing cubes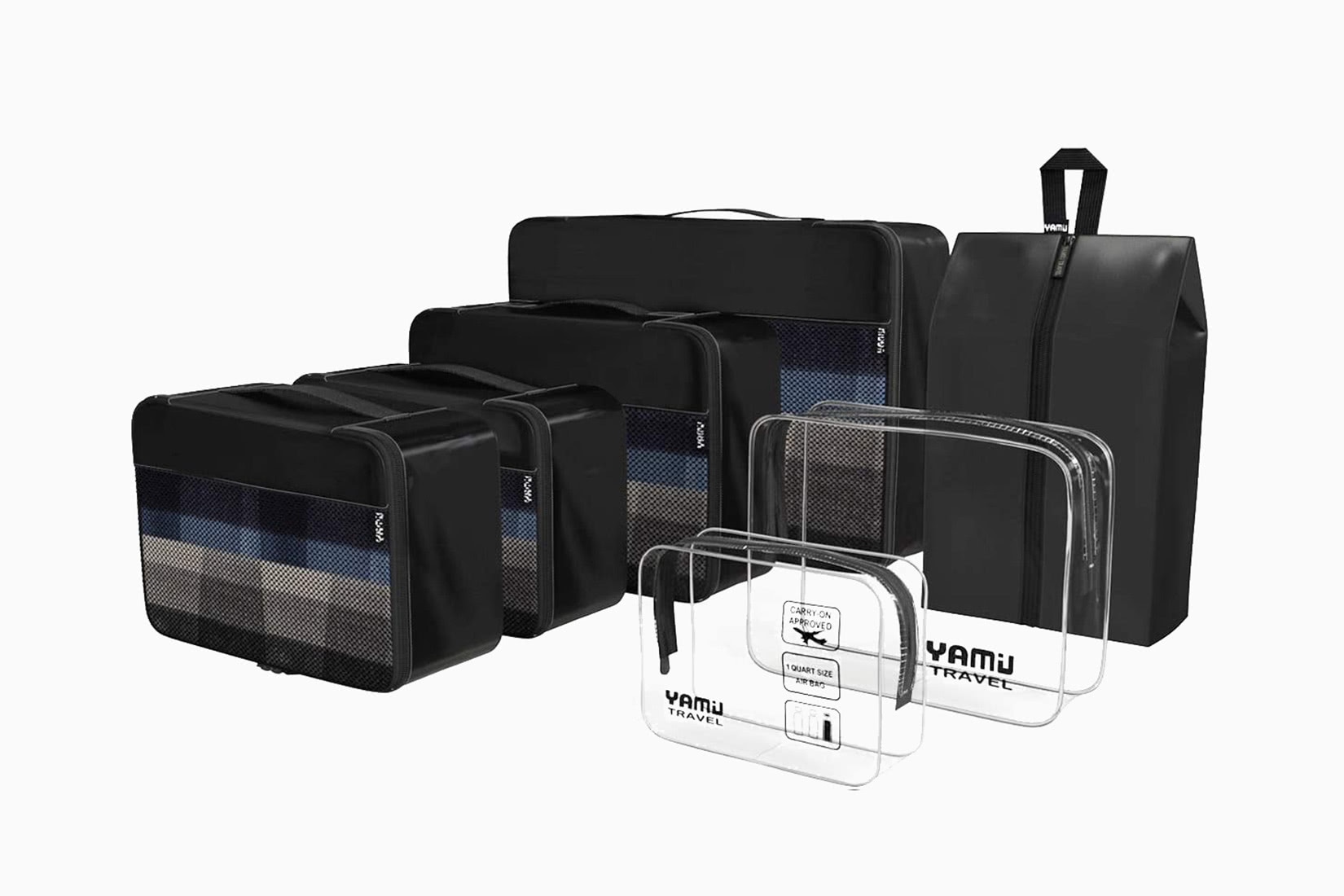 The YAMIU 7-piece Packing Cube Set includes four cubes, two toiletry bags (one of which is TSA-approved), and a shoe bag, so it should meet all your travel needs.
One for the most fastidious of voyagers, you've got enough separate packing cubes to organize your clothing into days, colors, or occasions. Or whatever other categories you choose to adhere to–all without sacrificing whole cubes for your shoes and toiletries.
The two toiletry bags, one larger and one smaller, are completely waterproof. Plus, one is appropriately sized for bringing with you to the cabin. Both are transparent materials, and can also house wet or dirty clothes.
Seemingly, YAMIU has thought of everything with this set: all the packing cubes are crafted from super lightweight nylon, with strong double zips which don't weigh down your luggage.
They're available in a range of colors including Black, Green, and Grey.
Best for: those who desire security and assurance that their clothes will arrive at their destination safely and dry, with no annoying leakages en route.
E-Bags Hyper-Lite: Best lightweight packing cubes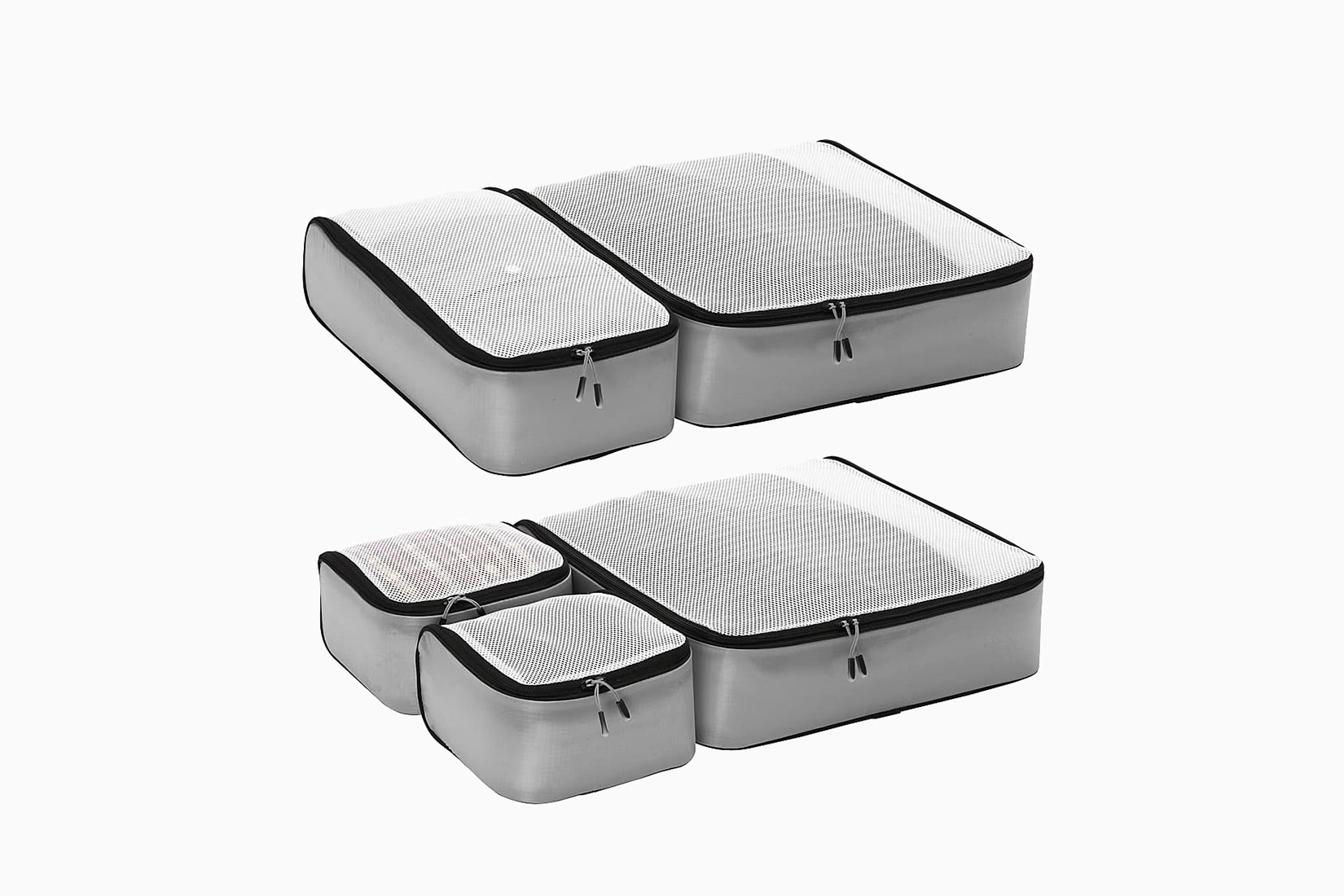 Bypass any unnecessary weight, and still enjoy the benefits of packing cubes with the E-Bags Hyper-Lite Packing Cubes.
The set includes five lightweight packing cubes which are crafted from high-quality siliconized Cordura nylon and silicone coating on the interior. Meanwhile, polyurethane coating on the exterior mitigates any slipping or movement of your bags when they're in transit.
While that may sound baffling to those of us who skipped science class, it essentially means the quality is super durable and optimally lightweight, and the cubes will stay happily still in your bag.
The self-repairing zips are yet another cool feature of these packing cubes, which promise a lifetime of zipping and unzipping without fail. Just don't ask us how they do it.
Available in Grey, Blue, Black and Green, you'll easily find a set that complements your existing luggage.
Best for: those who are seeking high-performance, lightweight packing cubes, with an abundance of convenient features.
EzPacking Set: Best see-through packing cubes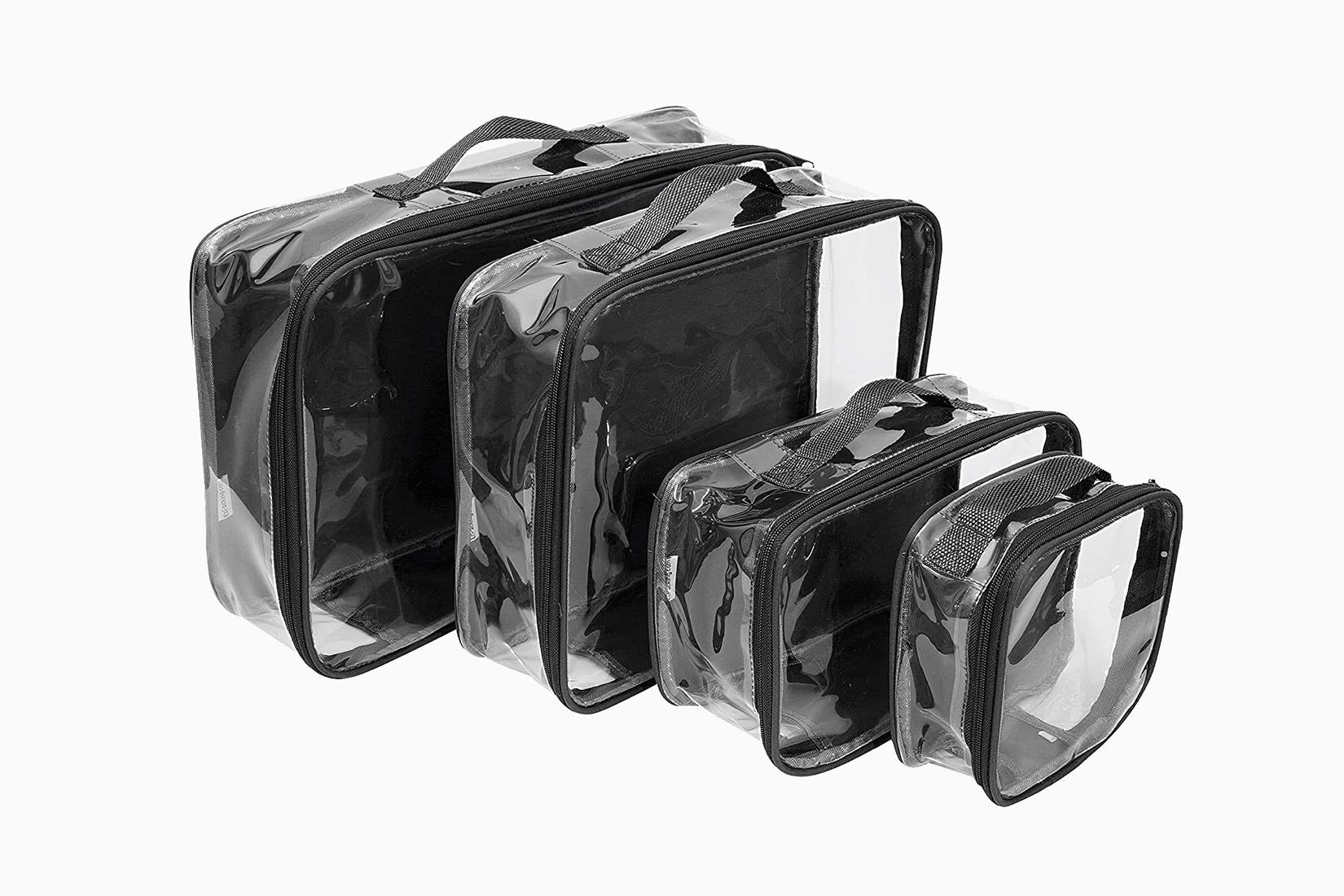 Promising to act like a set of drawers in your suitcase, the EzPacking set of four clear packing cubes takes visibility one step further.
The modular design, in conjunction with Cordura fabric and high-quality flexible vinyl, means your cubes will hold their shape no matter what variety of turbulence they may encounter along the journey.
The set promises to fit perfectly in any carry-on bag, allowing seven to ten days of clothing to fit neatly inside. 
Of course, the transparent nature of these travel storage cubes means you can easily peruse the contents, without the need for rifling through and leaving an undesirable mountain of fabric in your wake.
Available in a wide array of colours, including Black, Burgundy and Grey. 
Best for: travellers who like to navigate their belongings easily, without making a mess.
OEE 6-Piece: Best packing cubes for families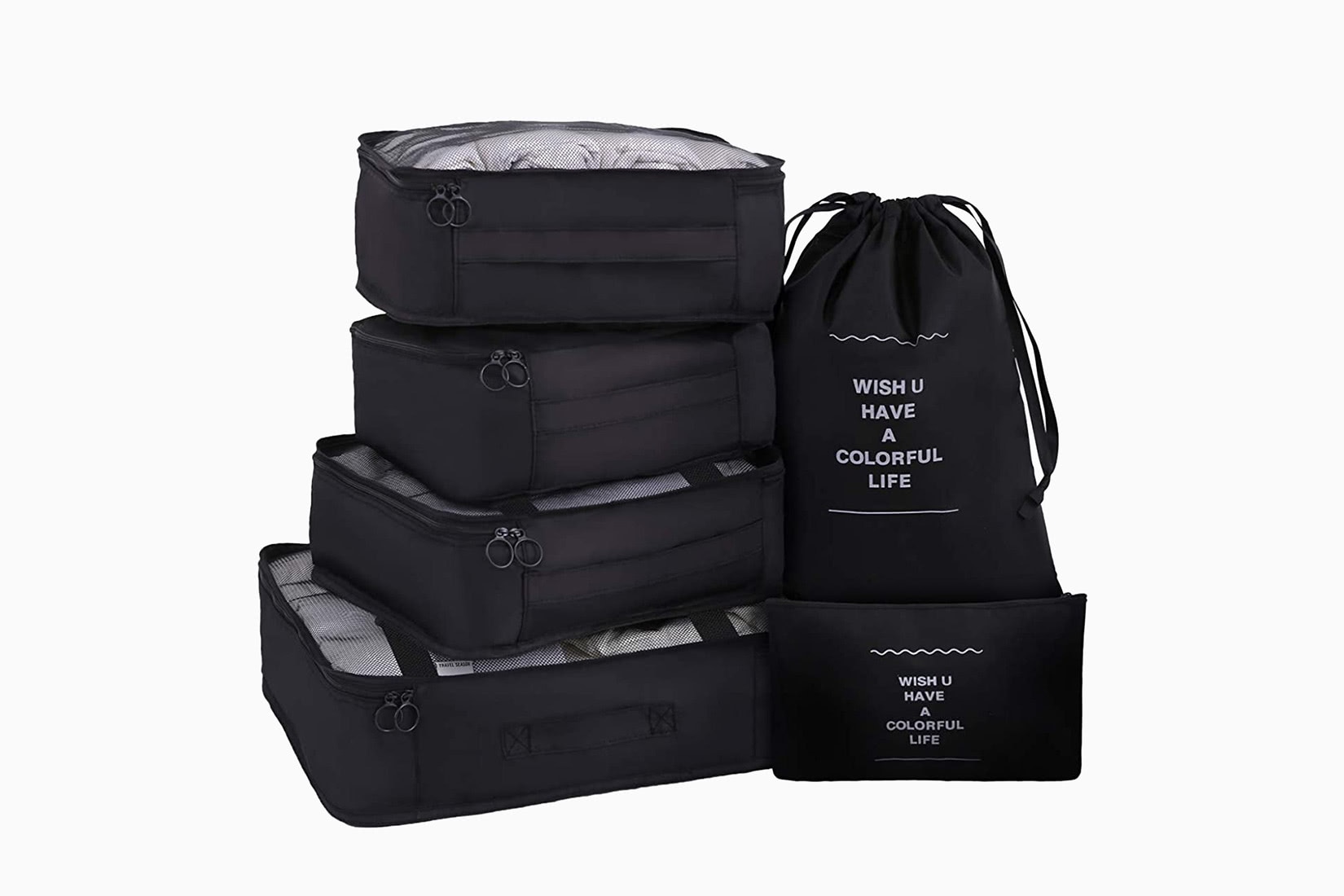 If you're responsible for packing not only your own but your family's luggage too, the OEE six-piece packing organizer could be a great choice.
The high-capacity packing cubes include three different sized packing cubes, along with an underwear bag, a shoe bag, and a toiletry bag.
These packing cubes offer plenty of space for a small family to pack sufficient clothing and essentials adequately; the largest clothing bag can easily fit ten shirts, with space for six in the medium and four in the smallest.
The cubes are designed with durable, water-resistant Oxford material and buckle closures, so at least any holiday tears won't be because of ruined clothes!
Available in a range of colors including Classic Black, Dark Grey, and Beige.
Best for: an excellent packing system for travel if you're journeying with your family in tow.
Osprey UL Packing Cube Set: Best packing cubes for backpacks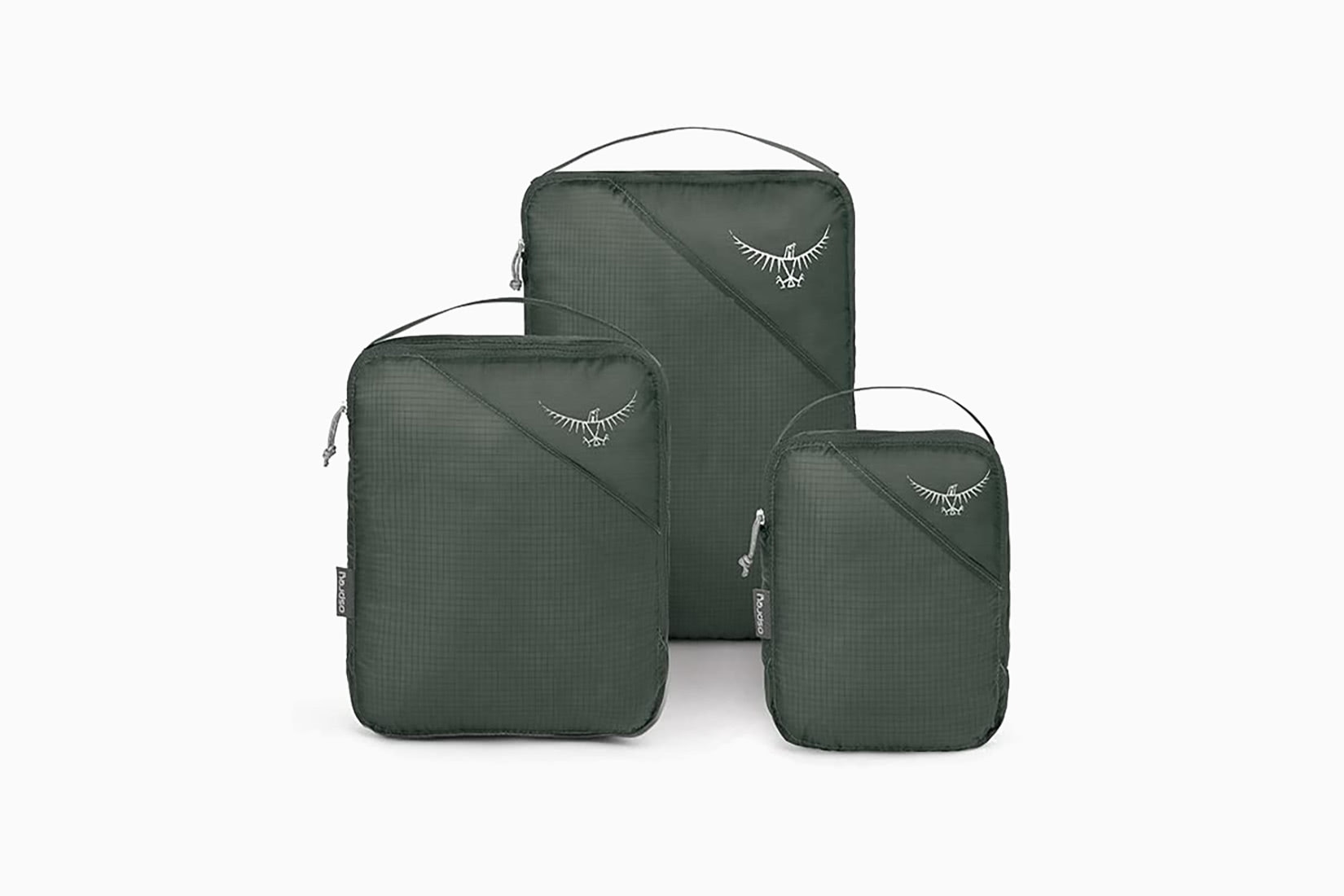 With travel backpacks being a popular choice for solo travelers, there's no reason why backpack-toters can't enjoy the perks of packing cubes, too.
Osprey, the OG of outdoor and travel gear, has crafted the UL Packing Cube Set for precisely this purpose.
The three-piece set includes packing cubes in Small, Medium, and Large, all adorned with Osprey's signature eagle motif. The aesthetic is trendy enough to just use them as normal day bags, too.
The polyester bags with built-in handles should stack satisfyingly in your backpack, defying the usual unsightly bulges that badly packed backpacks tend to produce.
Quintessentially simplistic, as per Osprey's typical vibe, the tidy-looking packing cubes make it easy to separate your things with whatever methodology you see fit.
Available in Shadow Grey or Electric Lime.
Best for: those seeking slick packing cubes for their backpack, from a brand that knows what's up when it comes to easy travel.
NOMATIC Shoe Cube: Best shoe packing cube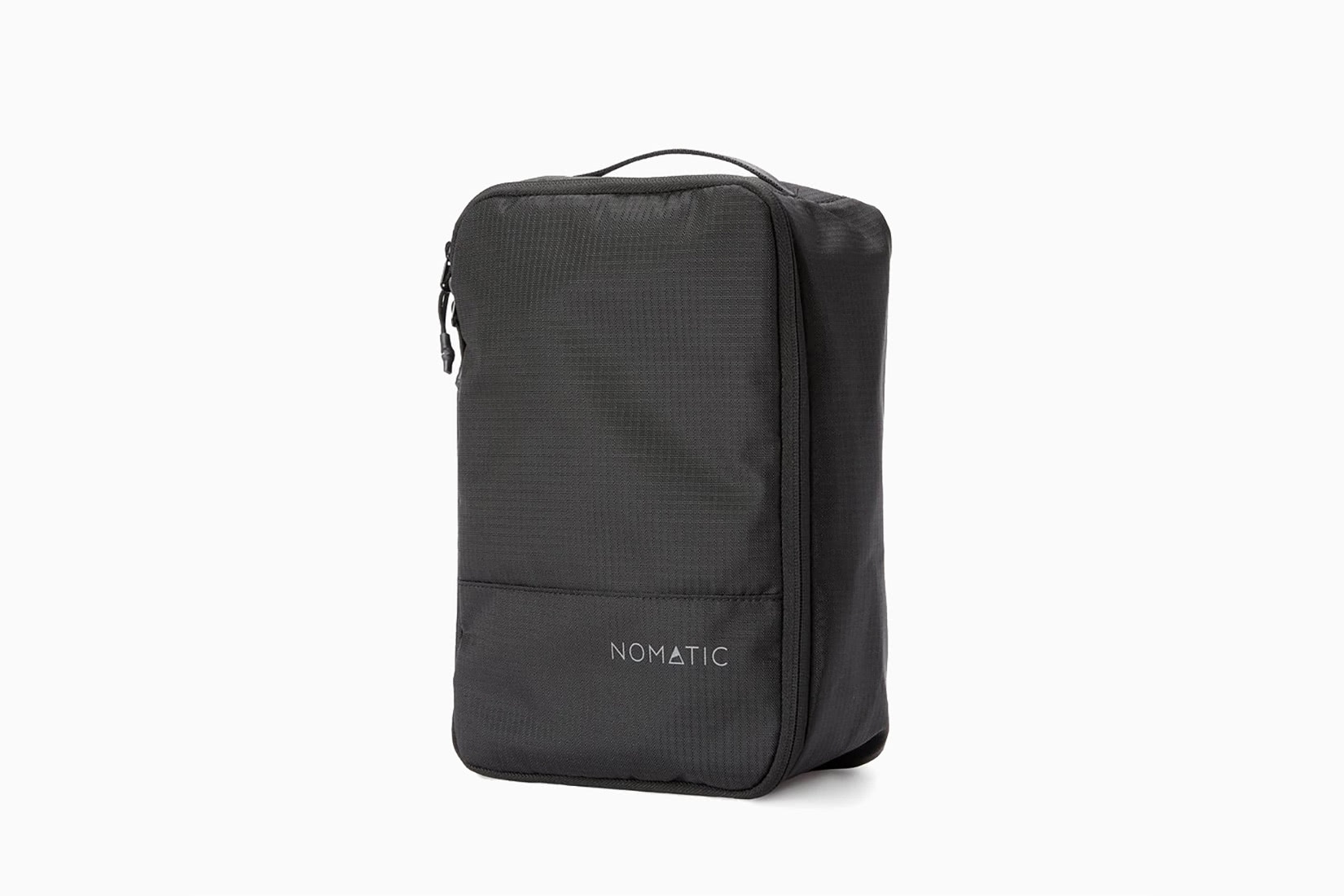 Unless you plan on being barefoot for your whole trip (no fancy restaurants, then), you're probably going to need a space for your shoes.
NOMATIC offers a fantastic packing cube designed specifically for holding shoes. The Shoe Cube accommodates up to size 12 shoes, providing a way of keeping them nice and separate from your clothing.
As much as we love to think our feet always smell like a summer meadow, keeping your shoes (especially post-hiking trip) apart from your other items is actually crucial.
As such, the Shoe Cube is crafted from durable, breathable, water-resistant material to keep your shoes as fresh as possible en route.
Plus, if your feet are on the daintier side, you're able to fit more than one pair in each cube.
Available in Black.
Best for: travelers who like to be that little bit extra organized, or are concerned about having shoes bundled in with their clothes.
Buyers guide to packing cubes
If the concept of packing cubes is entirely new to you, here are a few ideas on what to look for when you're browsing:
Mesh front
Most good packing cubes, if not completely transparent, come with a mesh front. This is important because it allows you to see what you've packed inside each cube, thus reducing the need for a flurried disorganizing of your meticulous packing labor!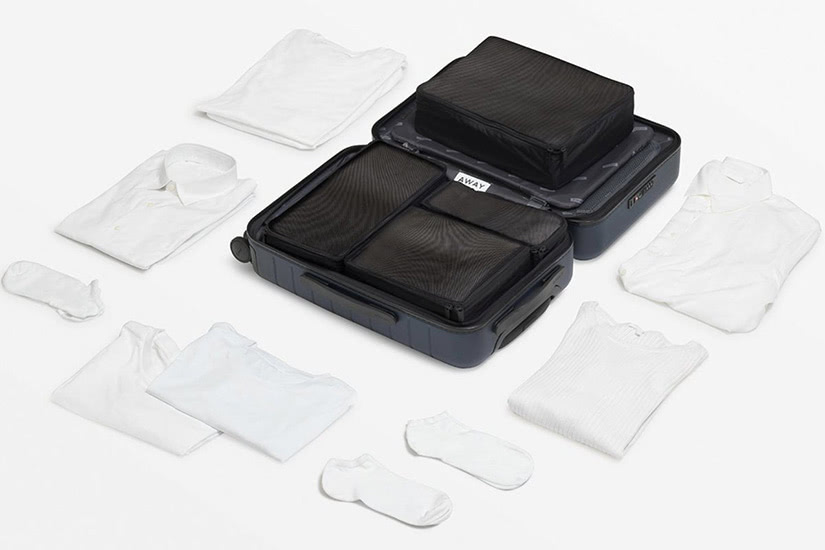 Compression
For those who just never seem to have enough space! Arguably this issue is a reflection of character rather than bag space itself, compression cubes nonetheless help to maximize space by reducing the size of fully packed cubes considerably.
For example, the Eagle Creek compression packing cubes shrink down, Alice in Wonderland style, to a third of their size when packed.
Waterproof and water-resistant
A common peril of traveling is the very real risk of unearthing your bag to discover damp, sticky clothing which has fallen victim to a leaking shampoo, face wash, or makeup bottle.
Thankfully, most good packing cube sets will include a specific, waterproof (or resistant) bag to avoid this exact scenario.
Going large
If you pack liberally or you've got a family to consider, choosing a set of packing cubes is a great idea as they often contain one very large cube (as well as several smaller ones.)
However, if you're a solo traveler or just packing for yourself, it's often better to purchase several smaller, individual cubes, as many people say the large is often a little too large.
This is because a super big packing cube might not fill your luggage space most efficiently, whereas with two or three smaller ones you can organize more, and jiggle them around to fit.
Coordinate with your luggage brand
Often, luggage and suitcase brands will offer packing cubes that fit perfectly inside their own bags. Away, Osprey, and Eagle Creek all offer matching sets. As many packing cubes vary in dimensions, it's helpful to bear in mind the size of your luggage and the size of the packing cubes to ensure they'll be a good fit.
What is the best way to use packing cubes: 3 travel expert tips
Divide and organize:  While you can easily just cram everything into your cubes with a laissez-faire approach, the whole idea of packing cubes is to separate and organize your things. Create a designated cube for jeans and jumpers, one for suits, one for underwear, and one for laundry. Then, keep a separate, water-resistant bag for toiletries.
Upon arrival: Bypass the need to unpack everything individually by simply placing your cubes in your hotel drawers. This way, they'll fit neatly inside and will be easy to access. No one wants to spend valuable holiday time packing and unpacking when the beach/city/bar is waiting!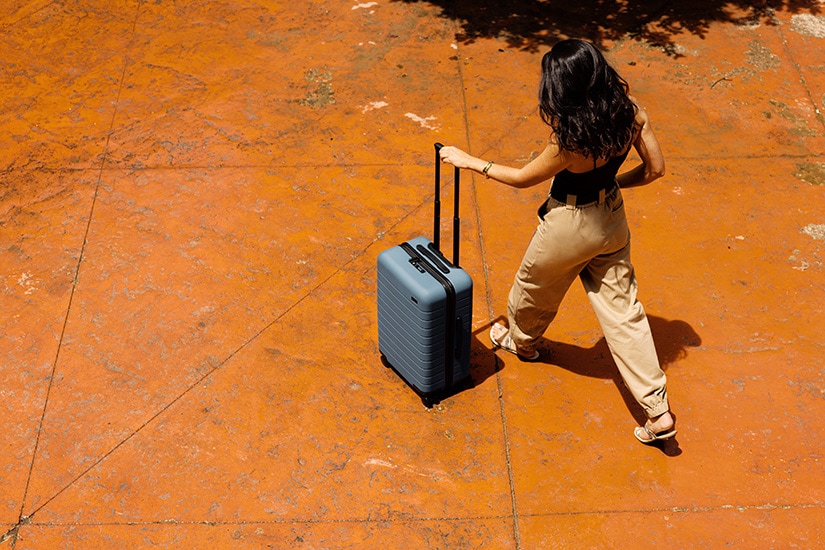 Roll your clothes: One of the great benefits of packing cubes is the ability to see what's inside them. By folding and stacking your clothing, this perk becomes redundant.
So, you're better off rolling up your clothes tightly, allowing for a clear view of your array of shirts with nothing being concealed at the bottom.
Frequently asked questions about packing cubes
Are packing cubes worth it?
Whether you travel frequently or just take an annual holiday, packing cubes are worth it. There's no need to deal with the jumble of clothing historically associated with travel. A good quality set of packing cubes will last a long time, so you'll get fair use out of them.
How do I choose a packing cube?
Decide whether you need packing cubes for just you, or whether you'll be packing for your partner or family. Individuals are better off purchasing a few smaller packing cubes to optimize space, while families benefit most from packing cube sets that include a variety of sizes.
Are packing cubes better than rolling?
Actually, the best way is to roll your clothes inside your packing cubes! Simply rolling your clothes into your suitcase may look organized at first glance, but after the tumultuousness of any journey, they're unlikely to remain so. Plus, your clothes will be tougher to pack and unpack, as well as being at risk of unfolding and crumpling.
What is the best way to use packing cubes?
The general best way to use packing cubes is to separate your clothing into defined groups and pack your cubes accordingly. This way, you know which cube to look in to find your underwear, toiletries, or shirts without the hassle of upturning your whole suitcase
Do packing cubes add weight?
Many packing cubes are crafted to be as lightweight as possible. Any overall weight added to your luggage will be minimal, especially in consideration of the benefits you reap from using them. If airport weight regulations are a concern, bear in mind packing cubes will allow you to pack in more clothing, and you could end up with a heavier bag.