"A little tranquil lake is more significant to my life than any big city in the world." – Munia Khan (author and poet) 
Consistently making it to the top of Money Magazine's best places to live in the U.S. each year, and named the "safest city" by Forbes Magazine, Columbia, Maryland is a perfectly landscaped example of a tree-lined suburban utopia with urban conveniences. 
Close to both Baltimore and Washington, D.C., Columbia's rapidly expanding downtown, also known as the Town Center, draws both locals and travelers to its entertainment and events, but also to shop at the Mall of Columbia, where there are over 200 places to shop and eat. 
The newly developed Merriweather District in Columbia's Town Center is quickly becoming a hub for arts and culture, with a variety of unique dining options that include Thai, Indian, and a speakeasy with several more restaurants and eateries set to open this year including a "crossanterie." In Merriweather District's Colorburst Park, you can go ice-skating at their seasonal outdoor rink in winter and they even host outdoor movie nights and live music in the summer.
There's an appreciation for nature and sustainability here too. Columbia maintains 3600 acres of open space, 114 miles of trails, and 5 lakes for anyone wanting to enjoy the outdoors. Columbia's Lakefront District is a popular spot for festivals and other outdoor events throughout the year.
The Merriweather Lakehouse Hotel
Now, with the opening of its brand-new luxury, Merriweather Lakehouse Hotel last year, Columbia is becoming a sought-after destination. With modern lake house vibes and gorgeous floor-to-ceiling lake views throughout, The Merriweather Hotel is the perfect spot for a relaxing winter getaway.
Open just a year, with 212 modern rooms and part of Marriott's Autograph Collection (a group of over 180 unique independent hotels, upscale and luxury hotels), Merriweather Lakehouse Hotel is a stunning lakeside retreat tucked in seven wooded acres where you can take time to relax and refresh any time of year.
And there's so much to love here.
Beautiful, serene guest rooms with luxury linens (many with lakeside balconies views), a gorgeous lobby and bar, a modern fitness center, a cute little lobby cafe/coffee shop, and lake views for days will all make you never want to leave. 
Guest room comforts and amenities include:
Luxury Linens

C.O. Bigelow Lavender-Peppermint Bath Essentials

55′ Flat Screen Smart TV

Mini Refrigerator

Keurig
The good news is if you want to bring your pooch along, they're pet-friendly too.
The warm and attentive staff makes this hotel feel like a boutique property, but it's the gorgeous views, luxury amenities, and delicious onsite dining that will make you want to come back again and again.
As you enter The Merriweather Lakehouse Hotel, you'll instantly get transported into a Zen-like space that combines the beauty of lakeside living with an appreciation for the musical side of Columbia's history.
With a neutral palette with accents of blues and greens and lake-inspired décor in every corner, one of the most striking things about the hotel is its floor-to-ceiling glass windows that offer larger-than-life lake views from almost every spot in the hotel. There's no way to not feel relaxed. We especially enjoyed sipping complimentary hot chocolate in the cozy lobby each evening. 
There's also a genuine appreciation for live music here. Musical performances streamed in the lobby, honor the nearby Merriweather Post Pavilion, which both Billboard Magazine and Rolling Stone have recognized as one of the best outdoor amphitheaters in the U.S. For the last 40 years, it's drawn some of the biggest acts in music, including Janis Joplin, Jimi Hendrix, Santana, and Taylor Swift. And it's only a 15-minute walk from the hotel.  
Lake Kittamaqundi
The Merriweather Lakehouse Hotel overooks Columbia's beautiful 27-acre Lake Kittamaqundi. Surrounded by a peaceful 1.4-mile wooded trail, it's perfect for nature lovers and fitness enthusiasts. A lovely spot to reconnect with nature any time of the year. 
A name meaning "meeting place" in the language of the first locally settled Indian tribe, Lake Kittamaqundi, is a pretty little lake. Relax on one of its many benches, take a leisurely walk, or get your daily run along its easy paved trail. While the lake certainly sees more traffic in summer, it's just as beautiful and serene in the winter.
Lake Kittamaqundi is the largest of Columbia's 5 planned and developed lakes. But although it's not original to the area, it looks and feels like it belongs here. And local wildlife agrees.
Bird lovers will be happy to learn that the lake and its surrounding area are now home to a variety of bird species, including water birds like belted kingfishers and great blue herons. Head to the lake's pier to spot one of the many species of ducks like ring-necked ducks, northern shovelers, and hooded mergansers happily swimming by.  
Tip: Check here for up-to-date daily bird sightings at Lake Kittamaqundi!
A great place to "dog watch", the lake is a favorite spot for locals to walk their dogs of all breeds. Welcome to kayakers, you'll need a permit if you want to fish. 
What's nice is that the trail that wraps around Lake Kittamaqundi also connects with other paved trails that wind throughout Columbia. For more exploration, veer to the left where the trail forks at the northwest end of the lake. This path will take you to nearby Wilde Lake and is the perfect route to take if you're looking for a longer outdoor trek (2.9. miles total).  See the trail here
Lake Kittamaqundi makes a great picnic spot in the warmer months. There's a Whole Foods a short walk from the south end of the lake (2 minutes) where you can grab lunch, a snack, or take a coffee to go to enjoy the lakeside. It's also known for its beautiful sunsets. 
Dining At The Merriweather Lakehouse Hotel
The hotel is within walking distance of the restaurants in the Merriweather District and The Mall of Columbia. But you don't need to leave the hotel property for a delicious bite. The hotel's onsite restaurant, lāk offers a creative menu of classic American with International infusions. 
lāk Restaurant at The Merriweather Lakehouse
Serving breakfast and dinner daily, lāk (pronounced "lake") is considered a fine dining restaurant. But its warm service, cool modern, pop art décor and relaxed atmosphere give it smart casual vibes. And we love that.
Even better is the food.
Everything we tried at lāk was fresh and delicious. The highlights from our order the night we visited was the light and crispy Fried Calamari with pepperoncini and Fra Diavolo sauce and the Chicken Piccata, a Parmesan-crusted chicken breast with angel hair topped with a scrumptious Lemon Caper Sauce.
Raised on a dairy farm in Pennsylvania near the Poconos, Chef Zach Dollak recently joined the Merriweather Lakehouse team as the hotel's culinary director after working throughout the U.S. at premier restaurants and luxury hotels, including Emeril's NOLA and The Ritz-Carlton Philadelphia. Now he's putting lāk on the map as a culinary destination not to be missed.
Since there's no better place for crab cakes than Maryland, we couldn't leave without trying their two lump crab cakes served over a creamy forest mushroom risotto with lemon garlic aioli. Absolutely incredible. If you love crab, don't miss this dish.
Even if you're full from dinner, don't miss out on their ever-changing made-from-scratch dessert menu. Dessert offerings change here often. If available, try the Apple Crisp served with caramel ice cream or the Skillet Cowboy Cookie sundae topped with vanilla ice cream and wet walnuts. Both are super delicious.
Pastry Chef Brian Holland, a graduate of the International Culinary Center in New York City who spent more than a decade at the Four Seasons in Baltimore, creates tantalizing desserts and pastries for the hotel.
The Rookery Bar & Lounge
At night, unwind at the hotel's Rookery Bar & Lounge serves up craft cocktails, wine, and beer with tasty bites like Steak & Cheese Egg Rolls, Bavarian Pretzel Sticks, and Cubano sandwiches. 
Chic and modern, with some of the best lake views in the house, The Rookery Bar  & Lounge opens at 4 pm each night. You also have the option to order from lāk's menu but get served up in the bar.
The Osprey Cafe
For gourmet coffee served with lake views and comfy seating in front of a fireplace, head to the Osprey Cafe, the hotel's chic lobby-side cafe.
Along with fresh brewed Lavazza coffee, espresso, and fancy coffee drinks, you can also grab a quick bite in the morning if you don't have time for a sit-down breakfast.
Don't forget to pick up one of their freshly baked pastries, like their buttery chocolate croissants. 
The Fitness Center
The gym here is so nice here you'll want to break a sweat.
To get in a good workout, the Merriweather Lakehouse Hotel has a 24-hour onsite fitness center that's well-equipped with weights, machines, and accessories like BOSU® balance trainers, yoga balls, and foam rollers for active recovery.
They also have a rowing machine, Peloton® bikes, and high-tech Elevate Lifestyle treadmills and elliptical machines, which are Bluetooth and Wi-Fi enabled and have live real-world interactive courses that will transport you around the globe. They're a lot of fun! Make an account, and you can save your workout data for later.
The Pearl Spa
For spa amenities, treatments, and fitness classes like yoga, The Pearl Spa, is a 27,000-square-foot wellness center only a short walk from the hotel. 
Besides relaxing massages, body wraps, and reiki, they also offer beauty treatments like facials, manicures, pedicures, and waxing. A unique feature of THE Pearl is its expansive water therapy room that includes a jacuzzi, steam room and sauna, cold plunge, relaxation pool, and vitamin C shower they call THE Healing Waters.
For a unique experience, book a session in The Pearl's Halotherapy (salt) room which advocates believe helps promote detoxification, reduces inflammation and improves breathing. To quiet your mind, THE Great Abyss – is a deep multi-sensory meditation experience that combines vibrations and magnetic therapy with layers of music – to induce deep relaxation.
The Pearl Spa's Wellness Passport provides guests with an affordable package with some of their most popular experiences for relieving stress. It includes: 
1 mind-body movement or meditation class

1 element experience salt session

1 hour in THE healing waters

A 25-minute session in THE great abyss (meditation experience)​
It costs $100 per person and you can prepay when booking the hotel with code SPA at checkout.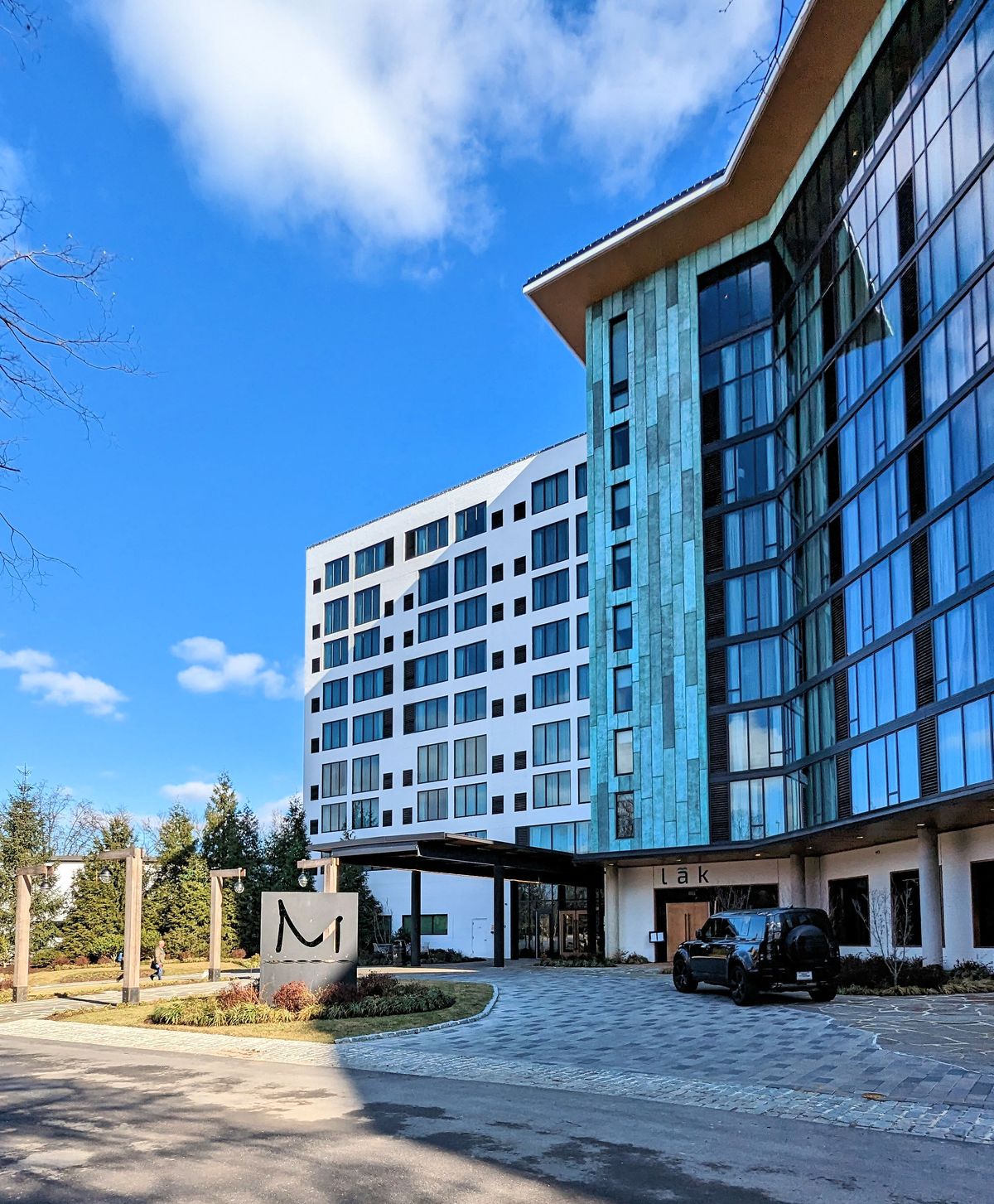 Merriweather Lakehouse Hotel Location and Parking
Hotel: Merriweather Lakehouse, Autograph Collection
Website: https://merriweatherlakehouse.com/ 
Address: 10209 Wincopin Circle
Columbia, Maryland, 21044
Tel: +1 410-730-3900
Nearest Cross Street: Little Patuxent Parkway
Parking: Parking at the hotel is free and easy. Self-park in the garage directly across from the hotel. 

Getting to the Merriweather Lakehouse Hotel
Nearby Airports
Balt/Wash Intl (10.25 miles southeast)
Ronald Reagan Natl (27.25 miles southwest)
Dulles Intl (36 miles southwest)
Nearby Attractions
The Mall in Columbia
Merriweather Post Pavilion
THE Pearl Modern Spa
Fairway Hills Golf Club
Historic Ellicott City
Robinson Nature Center
Patapsco Valley State Park
Toby's Dinner Theatre
Lost Ark Distilling Company
Sapwood Cellars Brewery