Other brands focus on high-speed thrills and raw power. But Lexus cars and SUVs take a more refined approach, prioritizing effortless driving and timeless style.
Through a combination of unparalleled engineering and sophisticated performance, Lexus models gracefully navigate the roads like a knife through warm butter. Lexus owners rest comfortably knowing the brand is fully committed to customer satisfaction, generating some of the most reliable luxury cars ever produced.
At a glance
| | |
| --- | --- |
| | |
| Name: Lexus | Industry: Automotive |
| Founded: 1989 | Founder: Eiji Toyoda |
| Headquarters: Japan | Parent organization: Toyota Motor Corporation |
| Revenue: ~$23 billion USD (est.) | Website: lexus.com |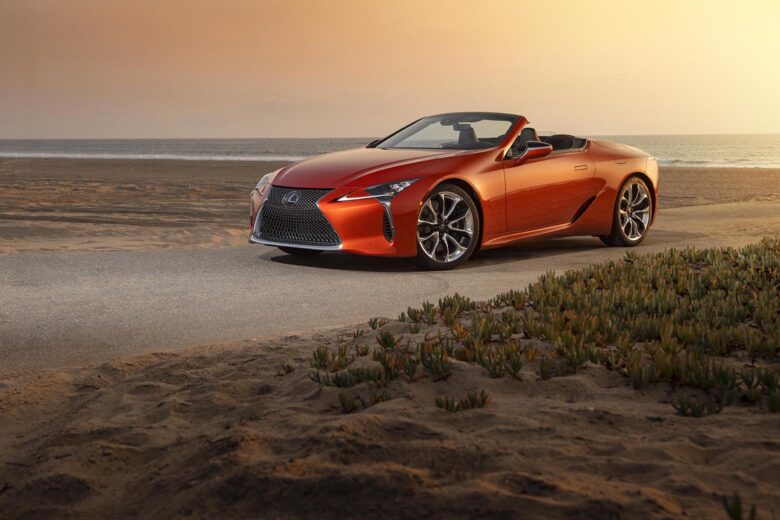 Lexus price
How much does a Lexus cost?
Lexus vehicles come in at an incredible price point for luxury cars with a reputation for longevity. The starting point for a Lexus car is $36,490, which gets you behind the driver's seat of the Lexus UX 250 crossover SUV.
Many other Lexus models, such as the widely-popular Lexus RX 350 SUV and the Lexus ES 250 mid-size sedan, start in the mid-$40,000s. But if you go for higher-performance variants, the selling price can reach closer to $60,000.
What is the most expensive Lexus?
To get the most luxurious options Lexus offers, you'll find surprising affordability. The highest trim level of the flagship executive sedan Lexus LS 500h starts around $114,000. It's hard to find a better value at this price.
Those looking for a luxury ride with off-road capability should target the Lexus LX full-size SUV. This body-on-frame four-wheel drive vehicle starts at $90,660. The highest trim level Lexus LX 600 Ultra Luxury brings that starting price to $130,750.
How much is the cheapest Lexus?
Lexus offers many options that deliver amazing bang for your buck. The most affordable Lexus car price is the Lexus IS 300 sedan, starting at $40,985. But the Lexus SUV UX undercuts that with a $36,490 starting price.
If you increase your budget to $45,470, that can cover the cost of a new Lexus RC, a two-door sports coupe that combines style and fun.
What is the cheapest Lexus electric car?
The first electric Lexus car is just around the corner with the Lexus RZ 450e SUV. Its starting price is estimated to be near $55,000.
Many other Lexus models offer incredibly fuel-efficient hybrid technology, pushing some well over 40 mpg EPA ratings. These include options like the Lexus ES 300h, Lexus LC 500h, and Lexus RX 350h F Sport.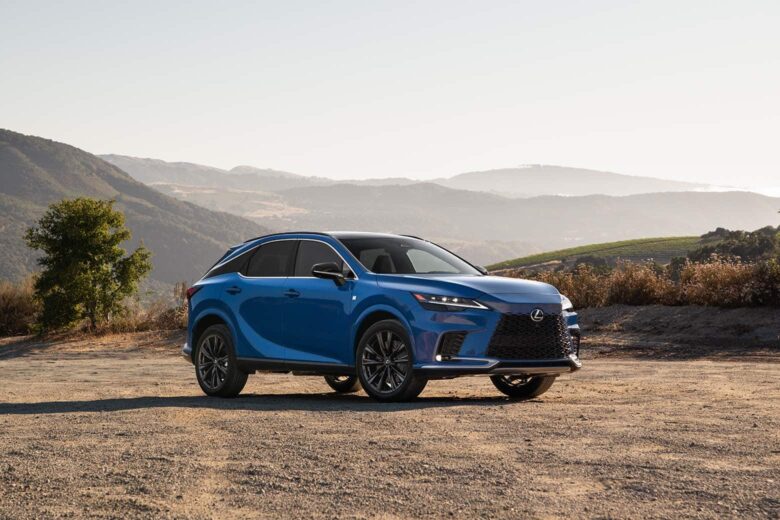 About Lexus
History of Lexus
In the 1980s, Japanese automakers began to venture deep into the world of luxury vehicles. Honda created Acura, Nissan started Infinity, and Toyota founded Lexus.
While the Lexus division wasn't officially created until 1989, the roots can be easily traced back to 1983 when legendary Toyota chairman Eiji Toyoda set his sights on creating the world's best car. This project, dubbed the F1, was a serious undertaking, involving over 1,400 engineers and 2,300 technicians.
All of this effort paid off tremendously. The Lexus LS 400 was the first vehicle released under the new Toyota luxury subsidiary. Lexus sold over 63,500 units between its two available models in its first year. And it has continued forward with unbridled global success.
Throughout the years, Lexus has pushed the boundaries of value, reliability, and luxury. It's ushered in a new wave of stylish sedans, coupes, and SUVs, including early adoptions of hybrid technology.
Lexus still stands tall as an icon in the luxury market, despite hitting a price point that's often far below rivals. Lexus vehicles have a nearly-unsurpassed reputation for longevity, adding even more value to every model sold with the Lexus logo.
Understanding Lexus car range
All Lexus models follow a fairly straightforward alphanumeric structure. The first letter specifies the model and the second letter provides the body style, with S for sedans, X for SUVs, and C for Lexus coupe models.
After the two-letter model name, a three-digit number follows and typically represents the engine displacement size, although not always. For example, a Lexus ES 250 is an E sedan with a 2.5L engine.
If an h follows the model number, that includes hybrid technology. You can also see a Lexus F or Lexus F Sport, that indicates the model is a higher-performance variant. The F comes from Lexus' testing track, the Fuji International Speedway.
Interesting facts about Lexus
Creating the first Lexus LS 400 was not an easy feat. The company went through more than 450 prototypes to achieve perfection, coming in at an estimated cost exceeding $1 billion. Simply put, Toyota was not leaving any opportunity on the table.
Before 2005, you would not find a Lexus logo in the Japanese domestic market. Instead, the Lexus models used the Toyota brand in its home country until it finally introduced the Lexus logo to the country in 2005.
Where is Lexus made
The headquarters for Lexus is located in Nagoya, Japan, and the luxury brand produces most of its vehicles in facilities spread across Japan. But more recently, it has opened up facilities in Canada, the United States, and India for select model production.
Lexus electric cars
Lexus pushed innovative hybrid technology forward in 2005, releasing the Lexus RX crossover SUV with a hybrid boost to achieve enhanced fuel economy. Almost every Lexus model today has a hybrid option.
The first ever fully-electric Lexus will be the Lexus RZ 450e SUV, bringing in a new wave of future-forward technology to match EV competitors like Polestar.
The brand has unveiled another Lexus EV, the gorgeous Lexus Electrified Sport coupe concept. Most experts anticipate a production model to closely follow its insanely stylish footprint.
Lexus models
Let's take a closer look at each Lexus model, starting with the sedans and sports coupes.
Lexus LS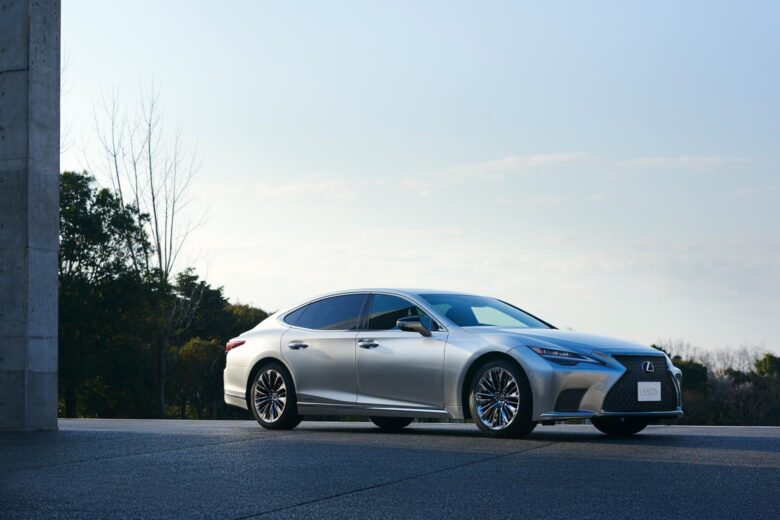 Since the introduction of the Lexus luxury brand, the LS model has graced the world with refined style and a flawless driving experience. Today's Lexus LS still delivers big while cutting against the grain of rival executive sedans like the Mercedes-Benz S-Class and Audi A8.
The LS drops the black-tie attire in favor of a more casual look and leaves the old-school V-8 in the dust. Available rear bucket seats complete with a touchscreen infotainment system and power sunshades deliver C-suite comfort.
The LS 500 and the 500 F Sport feature a twin-turbo V6 delivering over 400 horsepower, while the Lexus LS 500h throws in a 3.5L V-6 hybrid system to get up to 29 miles per gallon on the highway.
| | |
| --- | --- |
| Price: | Starting at $78,035 |
| Release year: | 1990 |
| Engine: | 3.4L twin-turbo V-6, 3.5L V-6 hybrid |
| Top speed: | 140 mph – 225 km/h |
| 0-60 mph: | 5.2 to 4.6 sec |
| Power: | 354 to 416 hp  |
| Torque: | 442 lb-ft |
Lexus ES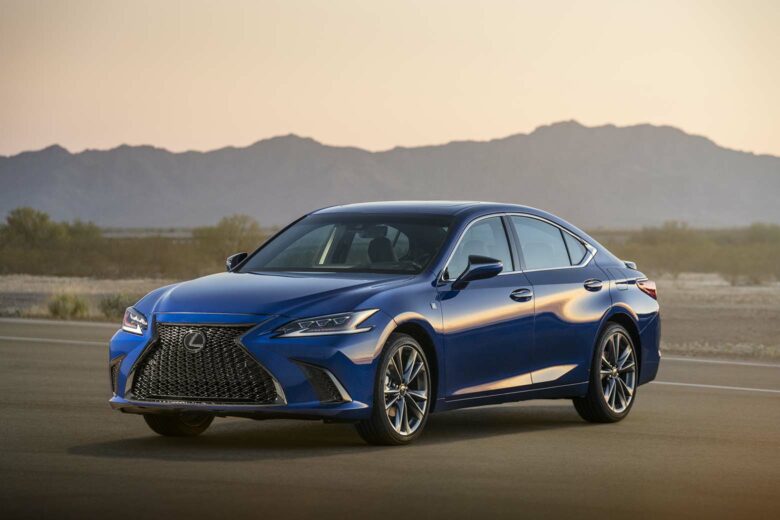 Building a reputation as one of the most reliable luxury vehicles doesn't happen overnight. But since 1990, the Lexus ES has consistently offered one of the best values in the market that sets industry standards for longevity.
Those who want to stretch their dollar can get the Lexus ES 300h hybrid model with its incredible 43 city and 44 highway mpg EPA ratings. All-wheel drive is available on the ES 250, including the zippy 250 F Sport.
Want help finding a restaurant or inputting an address into the navigation system? The Lexus ES 350 Ultra Luxury model comes with a concierge-like Destination Assist feature. You'll speak to a real human who can tackle these critical tasks.
| | |
| --- | --- |
| Price: | Starting at $42,590 |
| Release year: | 1990 |
| Engine: | 2.5L inline-4, 3.5L V-6 |
| Top speed: | 131 mph – 211 km/h |
| 0-60 mph: | 8.6 to 6.6 sec |
| Power: | 203 to 302 hp |
| Torque: | 184 to 267 lb-ft |
Lexus IS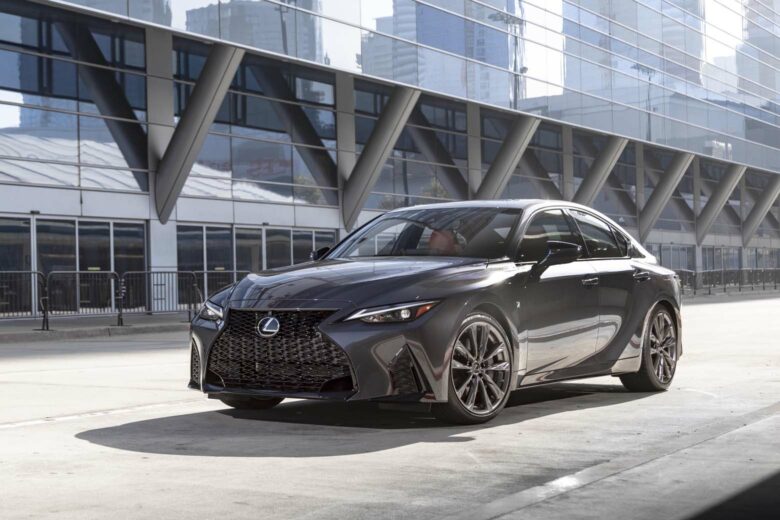 Impeccable style, responsive handling, and well-appointed interior give the Lexus IS sports sedan a razor-sharp edge over the competition.
The IS 350 F Sport delivers everything you need with its turbo V-6, but the 5.0L V-8 engine in the Lexus IS 500 F Sport Performance Premium peels away easier than a ripened banana, shooting up to 60 mph in 4.4 seconds. It's nearly fast enough to keep up with the best electric motorcycles.
To put the cherry on top, the IS has available paddle shifters, a limited-slip differential, and five unique drive modes. And your commute is a walk in the park thanks to the suite of driver assistance features, including adaptive cruise control and emergency braking.
| | |
| --- | --- |
| Price: | Starting at $40,985 |
| Release year: | 1999 |
| Engine: | 3.5L turbo V-6, 5.0L naturally-aspirated V-8 |
| Top speed: | 149 mph – 240 km/h |
| 0-60 mph: | 6.9 to 4.4 sec |
| Power: | 241 to 472 hp |
| Torque: | 236 to 395 lb-ft |
Lexus RC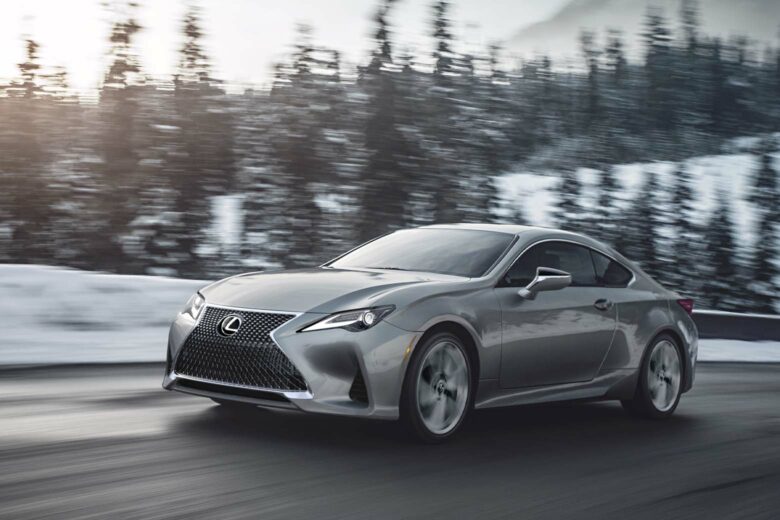 Some sport coupe models might have an edge on overall performance. But when it comes to a sleek design and incredible ride comfort, the Lexus RC knocks it out of the park.
The lineup of this Lexus sports car is extensive, featuring the RC 300 and RC 350, both available in F Sport trims. But if you want to get the deep roar that only comes from a giant 5.0L V-8, the Lexus RC F is the right call. Its sub-four-second time to 60 mph competes with some of the best electric cars.
Available luxury touches include a Mark Levinson Surround Sound, a two-tone paint scheme, and stunning wood trim.
| | |
| --- | --- |
| Price: | Starting at $45,470 |
| Release year: | 2015 |
| Engine: | 2.0L turbo inline-4, 3.5L naturally-aspirated V-6, 5.0L naturally-aspirated V-8 |
| Top speed: | 168 mph – 270 km/h |
| 0-60 mph: | 7.3 to 3.96 sec |
| Power: | 241 to 472 hp |
| Torque: | 236 to 395 lb-ft  |
Lexus LC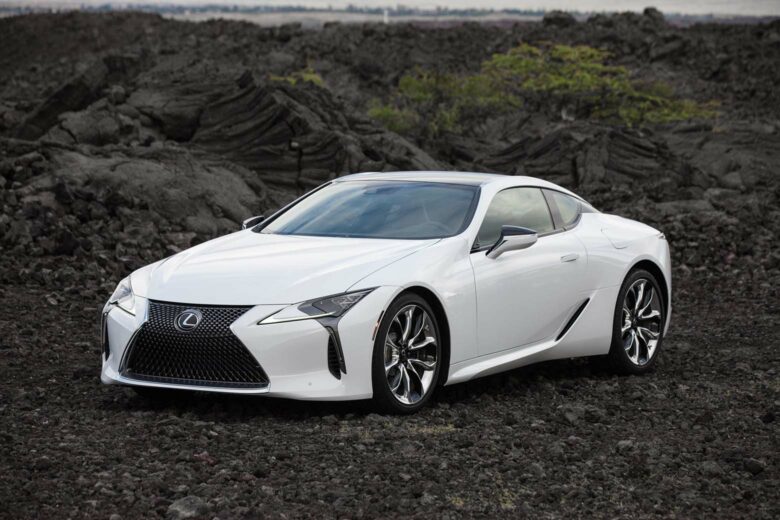 Beauty and brawn, that's what you get with the Lexus LC grand tourer. Its looks steal the spotlight and the elegance extends to every component throughout this two-door, rear-wheel drive piece of art.
While competitors like the BMW 8 Series provide a gut-wrenching ride, the LC is fiercely refined. You can get the Lexus LC 500 Convertible, one of the only Lexus convertibles, with the powerful 5.0L V-8. Or step into a more modern take with the Lexus LC 500h V-6 hybrid with a respectable 29 mpg combined and 4.7 second time to 60 mph.
A speed-activated rear wing helps keep the rubber on the pavement as you power through the turns, while an active sport exhaust creates music for your soul, all the way up to the 7,300 rpm redline.
| | |
| --- | --- |
| Price: | Starting at $95,600 |
| Release year: | 2018 |
| Engine: | 3.5L V-6 hybrid, 5.0L naturally-aspirated V-8 |
| Top speed: | 168 mph – 270 km/h |
| 0-60 mph: | 4.7 to 4.4 sec |
| Power: | 354 to 471 hp |
| Torque: | 398 lb-ft |
Lexus LFA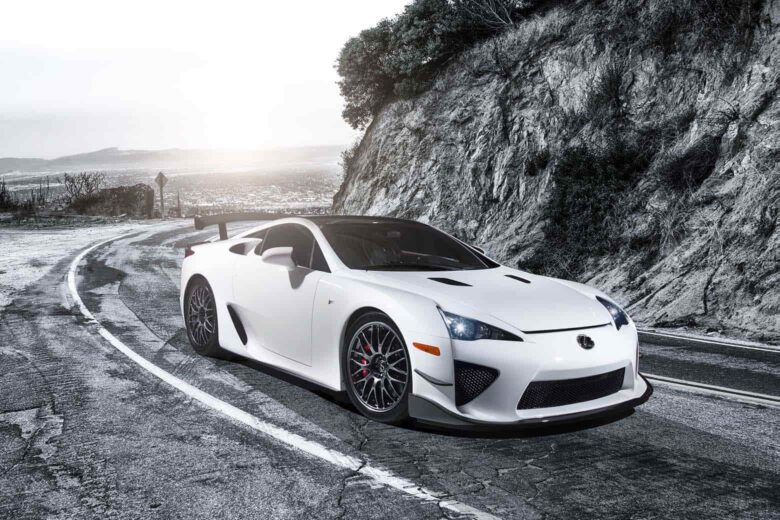 Unlike Lamborghini, Lexus usually chooses restraint over voraciousness. But for the 500 units of the Lexus LFA, all bets were off.
This Lexus supercar features a center monocoque chassis and a high-performance V-10 engine, allowing it to claim the title for the fastest Nurburgring lap in a road-legal production vehicle in 2011. As it turns out, the soft-spoken Japanese company knows how to let loose.
The Lexus LFA price was originally under $400,000, but current Lexus LFAs for sale exchange hands for double that. And the exclusive 64 units of LFA Nurburgring variants, initially priced at $465,000, have been sold for a whopping $1.6 million, nearly making it to our list of the most expensive cars yet still much lower than many Bugatti prices.
| | |
| --- | --- |
| Price: | $379,575 to $465,000 (original MSRP) |
| Release year: | 2011 |
| Engine: | 4.8L naturally-aspirated V-10 |
| Top speed: | 203 mph – 326 km/h |
| 0-60 mph: | 3.6 sec |
| Power: | 553 to 563 hp |
| Torque: | 354 lb-ft |
Lexus GS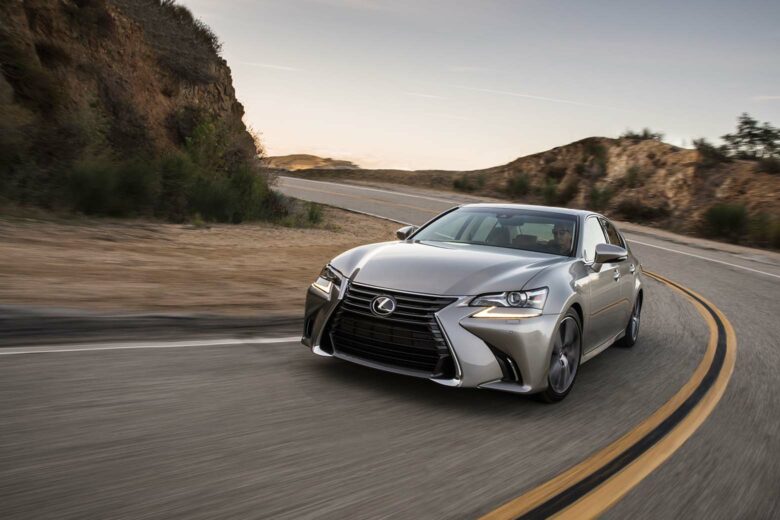 For many years, the Lexus GS hit a sweet spot between the mid-size sedan and full-size executive car. Even though production has stopped and it's unlikely to become a collectors classic car, it would be an injustice to leave this car off the list of notable Lexus cars.
The Lexus GS F was the highest-performance variant, with a 467-horsepower V-8 under the hood and aggressive body panels throughout. But the GS 300 and GS 350 served as excellent daily drivers, comfortably cruising through rush hour traffic.
Eventually, there just wasn't room in the Lexus lineup for the classically-styled GS model. Although it's been put to pasture, the spirit lives on and GS models still roam the streets around the world.
| | |
| --- | --- |
| Price: | ~$35,000 to $70,000 (original MSRP) |
| Release year: | 1994 |
| Engine: | Various Inline-4, V-6, and V-8 options |
| Top speed: | 168 mph – 270 km/h |
| 0-60 mph: | 5.8 sec & up |
| Power: | 225 to 467 hp |
| Torque: | 210 to 390 lb-ft |
Lexus SUVs
Let's turn to the Lexus SUV prices and details.
Lexus LX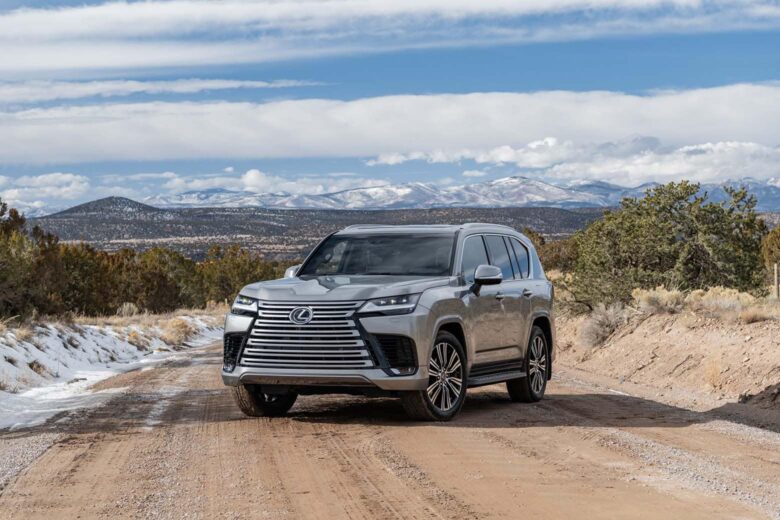 Finding body-on-frame, full-size luxury SUVs is getting harder by the day. But the Lexus LX retains its off-road DNA rather than catering to the mall-crawling crowd. It gives other capable luxury SUVs like the Range Rover a run for the money.
The LX delivers full-time four-wheel drive with a limited-slip differential, variable suspension with terrain select, and 8,000-pound towing capacity complete with sway control.
Best of all, you can drive from your remote cabin to the theater and seamlessly fit in. The interior is as refined as you'd expect from any Lexus, especially if you opt for the LX Ultra Luxury with massaging rear captain chairs and a sliding ottoman.
| | |
| --- | --- |
| Price: | Starting at $90,660 |
| Release year: | 1996 |
| Engine: | 3.4L twin-turbo V-6 |
| Top speed: | 130 mph – 210 km/h |
| 0-60 mph: | 6.9 sec |
| Power: | 409 hp |
| Torque: | 479 lb-ft |
Lexus GX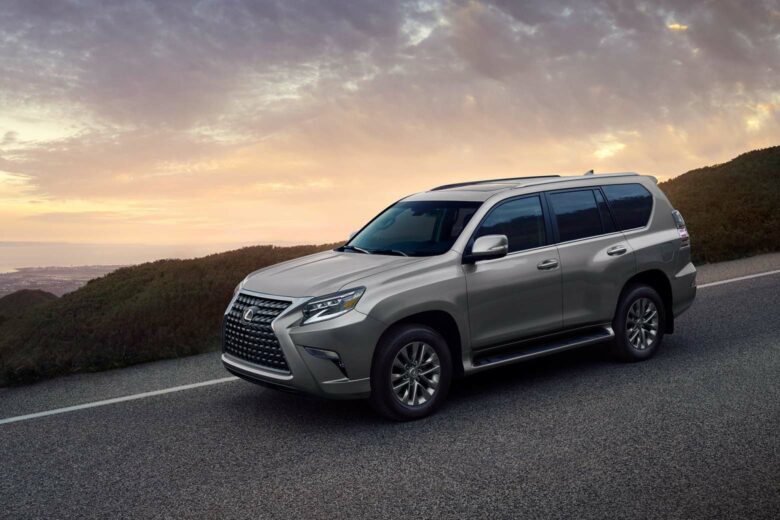 The Toyota 4Runner is one of the most popular and capable SUVs around. And the Lexus GX is a distant cousin on the same platform, albeit a significantly more powerful and luxurious choice.
With a Lexus V-8 engine and Lexus's Kinetic Dynamic Suspension System, the Lexus GX 460 and GX 470 offer rugged capability and plenty of low-end torque.
To get all the bells and whistles, step over to the GX 460 Luxury. It includes a specialized Multi-Terrain Select system with CrawlControl to conquer the most challenging trails. Many expect this model to be redesigned soon, bringing in a new Lexus SUV.
| | |
| --- | --- |
| Price: | Starting at $57,575 |
| Release year: | 2003 |
| Engine: | 4.6L V-8 |
| Top speed: | 110 mph – 177 km/h |
| 0-60 mph: | 7.8 sec |
| Power: | 301 hp |
| Torque: | 329 lb-ft |
Lexus RX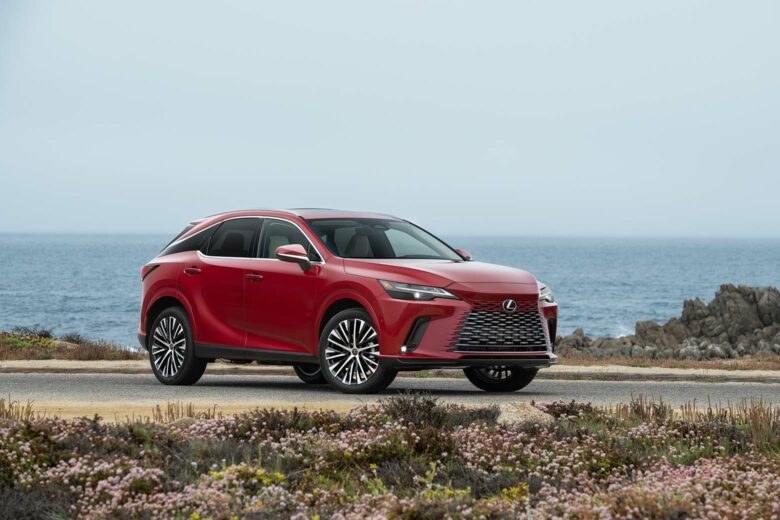 Making it onto our list of the best luxury SUVs isn't a simple task. The Lexus RX does so with style, not only making the list but taking the crown as the most popular model in the uber-competitive crossover SUV segment. 
Its soft-riding platform pairs with a gorgeous look, giving off a classy yet understated vibe.
There's no shortage of options or variants, with your choice of RX 350, 350h hybrid, and 500 F Sport models to deliver exactly what you want. An intuitive infotainment system pairs easily with nearly any phone, while the Lexus drive assistance package keeps you safe.
| | |
| --- | --- |
| Price: | Starting at $48,550 |
| Release year: | 1998 |
| Engine: | 2.4L turbo inline-4, 2.5L inline-4 hybrid,  |
| Top speed: | 130 mph – 210 km/h |
| 0-60 mph: | 7.6 to 5.9 sec |
| Power: | 246 to 275 hp |
| Torque: | 233 to 406 lb-ft  |
Lexus NX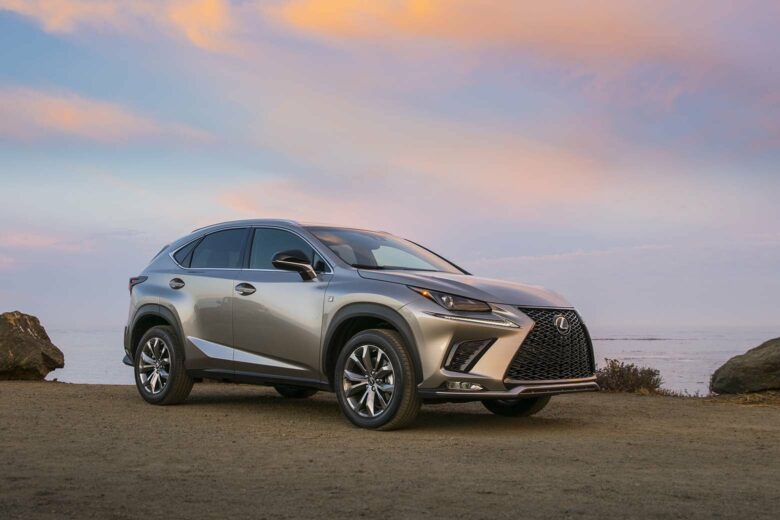 With the model name signifying a nimble crossover, the Lexus NX delivers exactly what you'd expect. It's the Goldilocks of Lexus crossover SUVs, providing the perfect balance between size and efficiency.
You don't have to take our word for it. The Lexus NX 300h and 350h hybrids are some of the best-selling vehicles with the Lexus logo in the world. And the addition of the 450h+ plug-in Lexus hybrid SUV is sure to keep pumping those numbers up.
The interior is clean and minimal, keeping everything you need at your fingertips without distractions. At the same time, the NX Lexus SUV is filled with luxurious touches to complement your tasteful pallet.
| | |
| --- | --- |
| Price: | Starting at $40,205 |
| Release year: | 2015 |
| Engine: | 2.5L inline-4 with hybrid and plug-in hybrid options, 2.4L inline-4 turbo |
| Top speed: | 127 mph – 305 km/h |
| 0-60 mph: | 8.6 to 6.0 sec |
| Power: | 203 to 304 hp |
| Torque: | 184 to 317 lb-ft  |
Lexus UX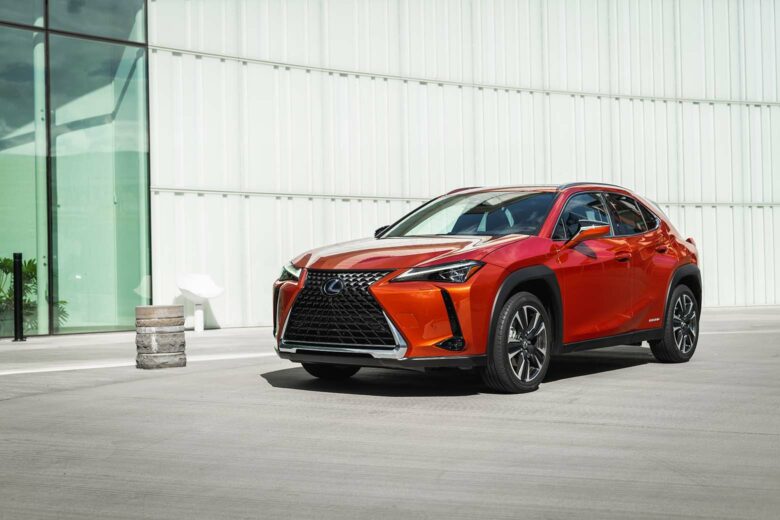 Sometimes it can feel like a herculean challenge to find a good value. But this relative newcomer to the compact SUV market lets you feel like you got a lot more than you bargained for.
Despite the rock-bottom Lexus UX hybrid SUV price, it is undeniably a Lexus luxury SUV. The heated and ventilated seats, premium audio system, and driver assistance suite punch well above their weight.
Rivals like the Tesla Model 3 and the Volvo XC40 try to puff up their chest and act big. But the Lexus UX 250 and 250 F Sport Premium take a different route, leaning into the manageable size and ease of getting around.
| | |
| --- | --- |
| Price: | Starting at $36,490 |
| Release year: | 2019 |
| Engine: | 2.0L inline-4 hybrid |
| Top speed: | 110 mph – 177 km/h |
| 0-60 mph: | 8.6 to 8.4 sec |
| Power: | 181 hp |
| Torque: | 149 lb-ft |
Lexus of the future
As the wave of electric current ripples through the automotive community, even in Ferrari supercars, Lexus is poised to charge forward. Here is a quick look into what you can expect to see from future Lexus electric cars.
Lexus Electrified Sport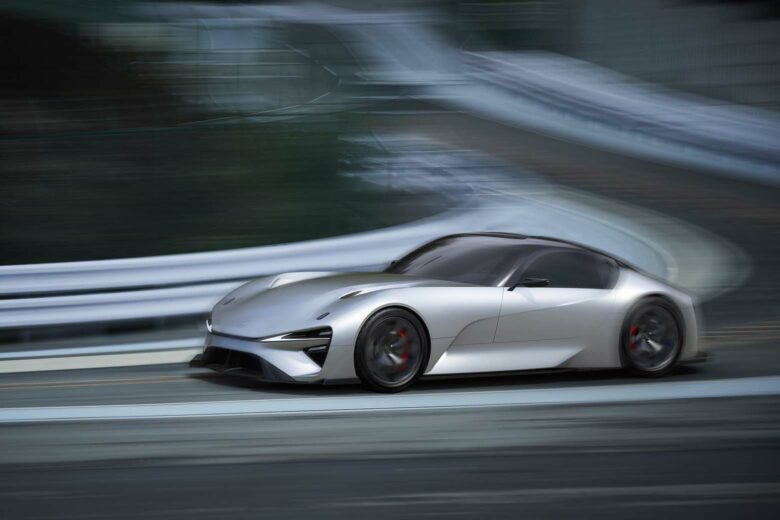 Once you can pick your jaw up off the ground after seeing the Lexus Electrified Sport's ravishing looks, you'll want to make sure you're strapped in tight. The successor to the Lexus LFA supercar is coming in hot, with a possible time to 60 mph in the low two-second range.
This Lexus electric vehicle aims to exceed a whopping 430 miles (692 km) range, made possible by advanced solid-state batteries. Some are hopeful the Electrified Sport won't have the same exclusivity as the LFA's limited 500 units and want to see a price hovering around $100,000. Maybe it'll even inspire a kid's electric car.
But the devil is in the details. And those are greatly unknown at this time. While its top speed will likely be limited well under the world's fastest cars, it'll probably compete with Porsche EV acceleration times.
| | |
| --- | --- |
| Price: | Starting at $100,000 (est.) |
| Release year: | 2025 (est.) |
| Engine: | Solid-state battery electric |
| 0-60 mph: | Low 2-second range (est.) |
| Range: | >430 miles – 692 km (est.) |
Lexus RZ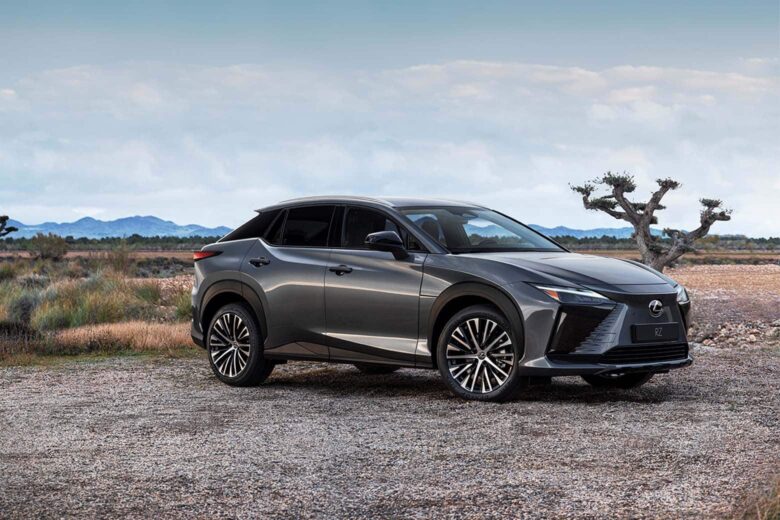 As a luxury brand that often takes the risk-averse route, Lexus has taken a bit more time to jump into the electric vehicle world. But that's all about to change and the Lexus RZ is the first taste the world will have of a Lexus electric vehicle.
Dual electric motors will use an all-new platform featuring the Lexus eAxle, a single compact unit integrating the motor, transaxle, and inverter. The luxury brand will also incorporate a DIRECT4 all-wheel drive system, allowing ideal distribution of power with up to 100% being directed to either axle.
The Lexus RZ will be the first fully-electric Lexus model, but it's unlikely to be the last.
| | |
| --- | --- |
| Price: | Starting at $55,000 (est.) |
| Release year: | 2023 (est.) |
| Engine: | Two electric motors |
| Top speed: | 120 mph – 193 km/h (est.) |
| 0-60 mph: | 5.0 sec |
| Power: | 312 hp |
| Torque: | 320 lb-ft |
| Range: | 220 miles – 354 km |
Lexus customer service number
To get in touch with a knowledgeable representative to answer any question, call the Lexus customer service number at 1-800-255-3987. You can also send a message through the Lexus contact page.
Lexus social media profiles
Stay up to date and see what dreams the Lexus team is brewing up by following the official Lexus social media profiles:
Frequently asked questions about Lexus
Is Lexus made by Toyota?
Yes, Lexus is made by Toyota. Lexus is a luxury subsidiary of the Toyota brand, and while the companies have some similar vehicles, they use different components. The Lexus models are often more powerful, better looking, and more luxurious than the highest-trim Toyota.
Are Lexus reliable cars?
Lexus cars are reliable. The luxury brand has a rock-solid reputation for building some of the longest-lasting vehicles on the road, with high-quality parts going into every model. It is challenging to find a brand that is better known for having incredible reliability.
How much is the cheapest Lexus?
If you're wondering, "How much is the cheapest Lexus?" you'd be happy to discover the Lexus UX compact SUV starts at $36,500 and the Lexus NX crossover SUV starts at around $40,000. The cheapest Lexus sedan is the nimble Lexus IS, starting at $40,600.
Is Lexus German or Japanese?
Are you trying to answer, "Is Lexus German or Japanese?" The luxury automaker is a Japanese brand and a subsidiary of the very well-established Toyota car company. Lexus competes well against many other brands, including top German automakers.