Sexy Half Lashes—and More February Obsessions from Our Beauty Editors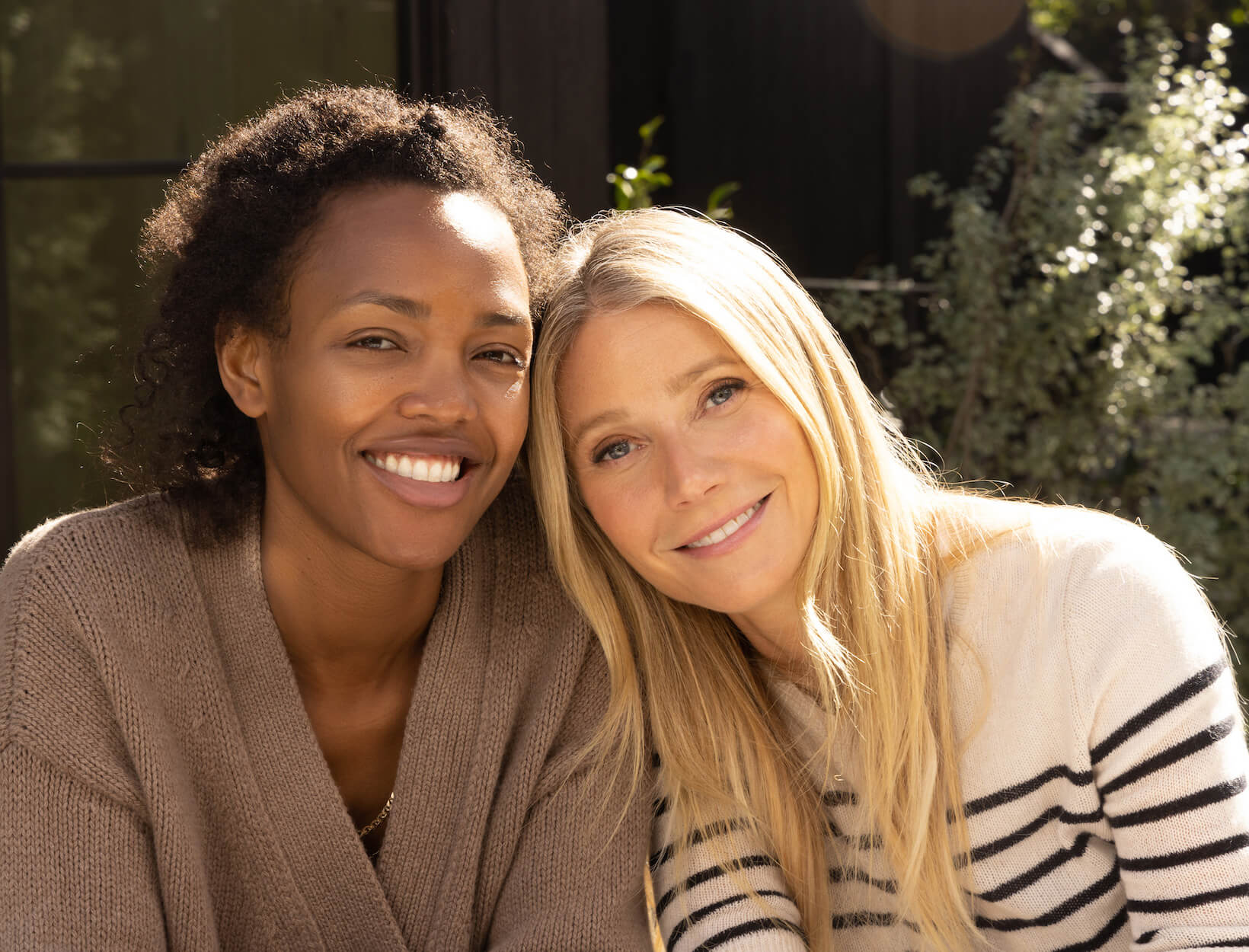 After lifting and depuffing our way through detox month, we've started slugging our skin with the Fix and Restore Balm a few times a week. Above, associate beauty director Megan and Gwyneth talked through techniques: The night before a party, start with an eye mask session and end with slugging. Then, Gwyneth says, do the eye masks again the night of the party, right before getting dressed.
But that's not the half of it; this month, we're obsessed with the most romantic hotel bath, sexy half lashes, lip oils and crayons, portable bottles of glow, and more.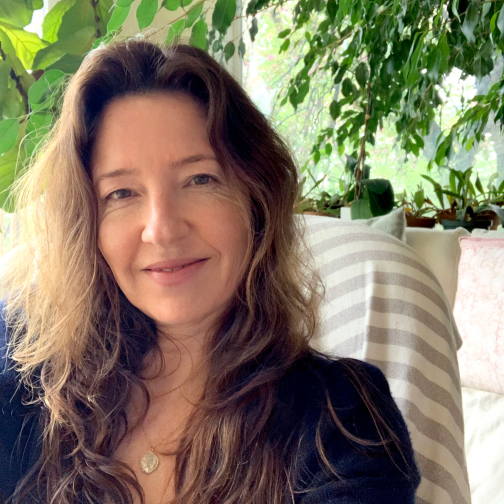 Jean Godfrey-June
executive beauty director
"
You hear the words "adults only" and you think, AVN Awards, or perhaps OnlyFans. But as it turns out, you should think: chicest-ever Maui hotel. And while "chic" and "romantic" don't always go together, the Hotel Wailea is also one of the most romantic places on earth.

Every day, in the magical minutes as the sun sets, flocks of actual lovebirds fly in to perch two by two in the spectacular (and very well lit) eaves of the gigantic, airy, conical outdoor bar. (They reappear just as the sun rises, before flying off for the day.)

There are stunning plantings, waterways, pools, restaurants, and yoga tree houses (yes), but more than anything, you want to retire to your room, which is huge and breezy, decorated as if a cool Laurel Canyon denizen had woven her Hawaiian heritage into an interior. The enormous bathtub is a destination in and of itself, and it is there that I discovered the genius of Kate McLeod's new bath pebbles. Like her no-waste skin-balm stones, each pebble is a solid balm made of skin-nourishing oils; the difference is, the pebbles are tiny and melt in hot water into the best bath oil ever. Their tininess and non-liquid-ness make them ideal traveling companions (I have much more time for baths on vacation, but bath oil in a suitcase has always been a hard no).

Every day, I dropped two pebbles into the bath—we alternated between the lavender-spiked Sleep and the eucalyptus-infused Breathe—and every day we soaked as birds sang and soft ocean breezes floated over us, and every day we emerged totally moisturized and beyond blissful.

Take them on vacation (even if there's no bath, you can smooth them on your skin in the shower for an amazing combination of cleanser and moisturizer), and of course bring them home, but note that this particular set of pebbles, exclusive to goop, makes the cutest (and bound to be quickly indulged in) present, too.

From the moment a famous makeup artist whispered in my ear, "Oh my god, try this thing called Vintner's Daughter," I, like much of the rest of the world, have been devoted to it. That little bottle of oil serum has probably done more to change people's ideas about clean beauty than anything else: It works, and it's wildly luxurious.

This gorgeous foaming cream is made with the same attention to every last detail, and, like everything Vintner's, formulated with rare and potent botanicals aimed at delivering results. It's that elegant thing that looks and feels incredibly simple (and makes life simple—it foams away makeup and even sunscreen while leaving brightening, nourishing, pore-minimizing ingredients to do their work on your skin).

Of course, it's complicated to make, which is the brilliance of founder April Gargiulo. Her serum famously employs a complex of oil-soluble botanical skin boosters, while her essence does a similar thing with water-soluble ones. In this cleanser, her third-ever product, she mixes both types of skin nutrients. It's amazing on my dry skin and equally so on even sensitive or very oily skin—it's that simple, pH-balancing cleanser dermatologists always recommend, except that it's beautifully unbasic, wildly luxurious, and pure Vintner's Daughter. And: For the month of February, it's only on goop.

Half lashes counterintuitively deliver more sexy Sophia-Loren-cat-eye vibes and look more natural than a full set of false lashes. They are also infinitely easier to apply. I discovered this in the chic loft of LoveSeen founder Jenna Lyons, where we lounged on low velvet sofas colored a gorgeous pink somewhere between rose and coral.

I was hot to redeem myself, having done an Instagram Live with her when she launched where I'd seriously fumbled putting on a full set (I am left-handed, can't tell left from right, and am hopeless at following directions). But there, on the sofa, rose-gold tweezer-like applicator in one hand and a mirror in the other, I put them right on as if I'd been doing it all my life: doink, doink. "Why is this so easy?" I demanded. "Oh, you have the Levi lash," she said. "We can't keep it in stock—everyone loves it." The secret of the Levi, it turns out, is it's a half.

Lashes still fluttering, I returned home hours later. "Such a long day," I complained. My boyfriend looked at me. "Really?" he said. "You don't look tired." I'm telling you: Try the Levi. Few things in life are this easy.




LoveSeen

Levi Lashes

goop, $16.50

SHOP NOW

Emma Lewisham is one of those skin-care founders who's her own best advertisement: Her skin is glowy, smooth, and seemingly flawless. And her level of commitment to sustainability (her company is a B Corp and Toitu climate positive–certified) is pretty awe-inspiring. But she says it's results that motivate her customers (the brand has blown up everywhere, from her native New Zealand to much of Asia and now here). Her refillable face oil—everything she makes is refillable—is my favorite: It's made with the retinol alternative bakuchiol and moisturizing jojoba and squalene, as well as a succulent plant extract that helps support elasticity. It smells so good, it feels so good, and, I swear, my skin looks Lewisham-ed. Face oils, not filters.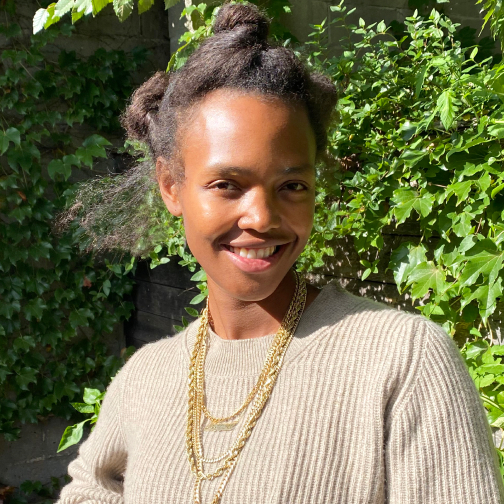 Megan O'Neill
associate beauty director
"
I have a friend—we all have one—who always looks fantastic. She wakes up with a bombshell blowout (or maybe secretly Ga.Ma.s the hell out of her hair first thing), picks up her kids from preschool in heels and a polished puff-sleeve, and has never been seen without her signature: shellacked lips. It's the first thing you notice—even before the cascading hair and her immaculate outfit. This juicy lip oil is my new gorgeous approximation: It flatters every skin tone—the founder is a Black woman who created her whole makeup line partly in response to feeling overlooked by conventional brands' shade options. The gloss smells of vanilla and leaves my lips soft as rose petals (that would be the miracle blend of camellia and passion fruit oils). It deposits the prettiest shimmerless sheen of translucent pink that gives my slouchy vintage camo pants and topknot the perfect little flourish of bombshell.




Ami Cole

Lip Treatment Oil in Smitten

goop, $20

SHOP NOW

I love having a hair uniform. But the moment I discovered this silky styling paste (it's only on goop), I started changing things up: I use it on dry hair to smooth and secure my mussed-on-purpose tendrils into a sleek ballerina topknot. For a totally different look, I work a dab through my just-washed hair before braiding it to go to bed so I wake up with softly defined, crinkly texture that makes me feel French-girl effortless. The best part: It's made with nourishing ingredients like meadowfoam seed oil and without silicones or petroleum derivatives that build up and weigh hair down. It's genius for adding subtle shape and low-key volume, no matter your texture or how many different hair looks you have in rotation.

I was surprised at how much I love the melting texture, fresh botanical scent, and dewy-plump sheen this moisturizer leaves behind. It's chock-full of absolute gold—botanicals from the California desert, as well as humectant snow mushroom, vitamin C–rich black elderberry, and evening primrose—and it's as brilliant for blemish-prone skin like mine as it is for dry and sensitive types. I love it, my skin loves it, and it feels good to treat myself to something beautiful.




Twentynine Palms

Santa Ana Salve
Facial Moisturizer

goop, $87

SHOP NOW

Wake up at 4 a.m., kiss your snoozing one-and-a-half-year-old goodbye—stifling any whimpers so as not to wake him—and hightail it to JFK to catch your Delta flight (too early to even care about trying to muscle your way into the Sky Lounge) to LAX for a 48-hour whirlwind work trip. If you've lived a similar scenario and you're anything like me, without fail you disembark in sunny Los Angeles with a new, gigantic blemish somewhere absolutely unmissable. This last time around, though, I was armed and ready. This excess-oil-tamping face-mask miracle is small enough to fit into a carry-on and powerful enough to seemingly transform my skin overnight. Before taking a shower in my hotel room that night, I smoothed on the creamy blend of line-plumping peptides, antioxidant cocoa extract, and nourishing macadamia oil—yes, it smells as fantastic as you'd hope a chocolate-macadamia mask would smell. Minutes after I rinsed it off, my skin was springy with moisture, soft as a feather, and wondrously soothed. The next morning, hugging and greeting my West Coast coworkers, I felt every bit the breezy, casual, unblemished, glowy-skinned (temporary) California girl.




Volition Beauty

Chocolate Macadamia Hydrating Mask with
Hyaluronic Acid + Vegan Collagen

goop, $45

SHOP NOW

Brianna Peters

associate beauty editor

"

My dermatologist actually recommended this deluxe French cream—a rare dermatologist move, as most recommend either nothing or basic drugstore brands—when my skin went through a splotchy, flaky phase. She loves it because it's made with humectants like glycerin and hyaluronic acid to moisturize and ceramides to help support the skin barrier. I love it because after slathering it on morning and night for just a week, my skin was happy again. Plus: It feels like a cloud of comfort on my skin. I love it so much that I went through half a tub in less than a month (whoops).

Any time I swipe on this buttery-smooth tinted balm-melt, I feel instantly more glamorous. And the feeling goes beyond the gorgeous sheer, gleamy color. The balm really nourishes your lips—it soothes, softens, and hydrates with shea butter, mango seed oil, vitamin E, and vitamin C. I love all the colors, but Mix is the best: a sheer nude that goes with everything from a boozy brunch date to a postworkout freshening up. It looks like the cutest mini marker (I keep one in my purse, one in my bathroom, and another in my gym tote), and the thick rounded tip makes it so easy to apply in one go.

Tower 28 Beauty

JuiceBalm Vegan Tinted Lip Balm

goop, $16

SHOP NOW

I want an otherworldly goddess-like glow, every day if possible. Too much to ask? I start with GOOPGLOW vitamin C (it makes the biggest difference). And now, every morning (or night, if I'm going out), I smooth on this sheer, pearlescent light-as-air liquid highlighter. It's brilliantly multipurpose—use it as a spotlight, a glowy primer, or a foundation enhancer—but I like the latter use best: I mix two pumps of Illuminate, a light-medium champagne shade, with my tinted moisturizer and apply it all over with a damp makeup blender. It blends effortlessly and blurs, brightens, and smooths my skin for the glint-of-shimmer finish that I'm always trying for. Bonus: It's infused with antioxidant glutathione and peptide-rich algae extracts, so I know it's good for my skin.

I'm a face-mask freak—and this bouncy, marshmallowy gel-cream is my very favorite. Twenty minutes refreshes and nourishes my skin, smooths lines, and delivers a moment of pure self-indulgence. It's made with vitamin C, ginseng extract, hyaluronic acid, squalane, and TFC8 (Augustinus Bader's proprietary complex developed over 30 years of research), which together moisturize, firm, help even skin tone, brighten, and smooth. I treat myself once a week: The mask cocoons your skin in an almost-invisible shield of dewiness, so you can do whatever you want while you wait—I walk my dog or do a quick online Pilates class or even a camera-on Zoom meeting (I've actually gotten compliments on my skin while I've had the mask on). Once I wash it off, my skin stays luminous and supple for the rest of the week.




Augustinus Bader

The Face Cream Mask

goop, $215

SHOP NOW