By definition, to clutch means to grasp something tightly. So it would seem appropriate that the classical clutch has outlasted so many other accessories. And while more contemporary essential-holders, such as the designer work tote or hands-free belt bag have attempted to drive out this timeless staple, the fact remains—that there's nothing more elegant than the compact clutch. 
Your luxe leather iterations are perfect for transitioning from day wear to evening wear. While raffia renditions prove that clutches belong on the beach too. A satin clutch makes the dream accessory to live out your Bridgerton whimsies. And overly-ornate variations speak to the more is more mantra inherent to y2k fashion—the sky's the limit when it comes to bedazzling, rhinestones, shimmer, and crystals. 
The iconic baguette clutch will forever remain a capsule wardrobe classic. But your avant-garde asymmetrical interpretations rightfully pronounce you as the matriarch fashionista in every room you enter. When it comes to hues: neutral blacks and whites are effortlessly versatile. Although scintillating metallics add a touch of pizazz to any LBD. Gen Z green accessories are all about dipping your toe in the dopamine dressing trend (without going all the way). While fuchsia pink iterations are intrinsically Elle Woods-approved and influencer-endorsed (even if they don't fit a chihuahua).
With so many variations to choose from. And with your heart being pulled in so many different directions—only one question remains: can one ever have too many clutches? We're teaming up with Carrie Bradshaw on this one. Absolutely not! In fact, as a devoted sartorialist, it would be wrong to limit your style expression to only one. But at least that's a starting point. 
The 15 best designer clutches for women
KAAI Ikon: Best overall clutch bag
Belgium-born and made from the highest quality Italian leather, KAAI bags are our go-tos to survive the daily grind (looking at you dream work bag). And now they're also on our radar for elegant evening purses with this compact clutch bag. The adjustable strap speaks to the brand's functional fashion intuition. And croco accents add a touch of y2k. 
The Ikon clutch also runs the gamut in hues. Looking to gently transition into the dopamine dressing trend? The It-Girl inspired lime green and lemon yellow are totally insta worthy. While blacks and browns remain a quintessential closet staple. 
Best for: It-Girl trends meet timeless sophistication. 
| | |
| --- | --- |
| Colors: | Black, Cinnamon, Lime + More |
| Material: | 100% Leather |
Gucci Horsebit 1955: Best designer clutch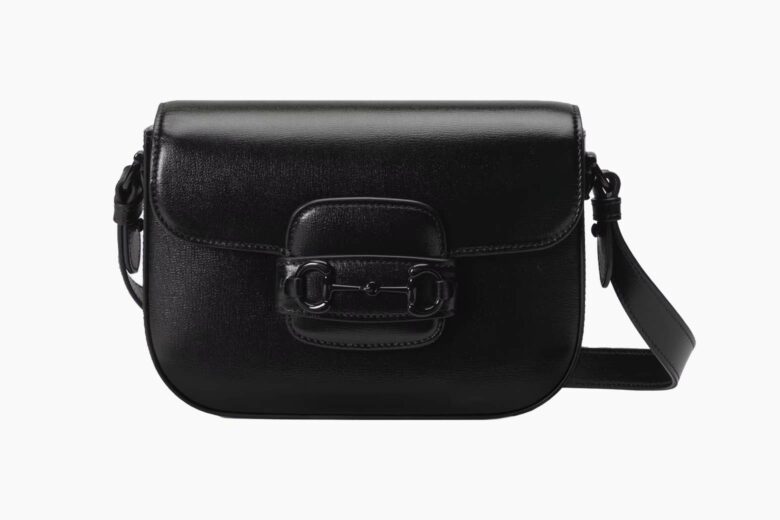 They say that dynamite comes in small packages. And we say that nothing could be more true of a decadent designer clutch—especially when we are talking about Gucci. Featuring the luxury label's signature equestrian details—including gold horsebit hardware, metallic chains, and a removable green and red shoulder strap—the 1955 small bag has the power to elevate any ensemble in an instant.
Best for: From the races to rooftop terraces.
| | |
| --- | --- |
| Colors: | Black |
| Material: | 100% Leather |
Charming Tailor: Best value evening clutch bag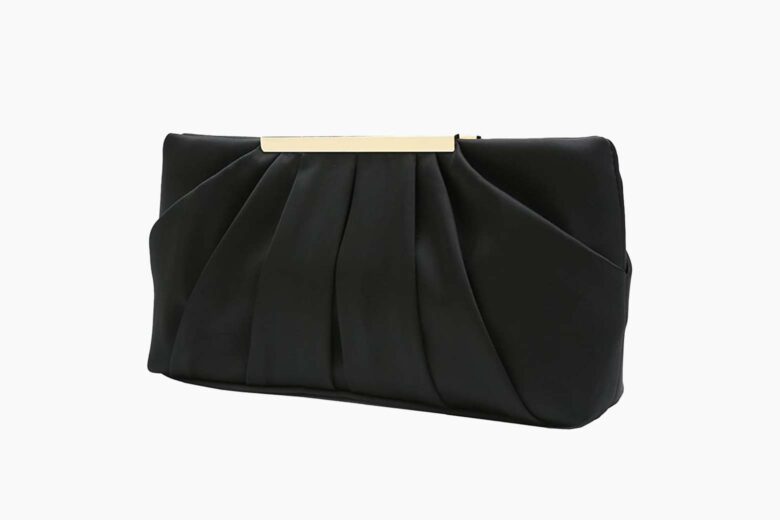 Whether you're heading to a Bridgerton-esque ball or your annual corporate year-end, Charming Tailor's satin clutch promises to promote you to diamond status with minimal effort. Keep it classy with black or champagne hues. Make a splash with hot pinks and reds. Or see the price tag as an excuse to entirely reinvent your wardrobe. You know which option we're choosing. 
Best for: Charming your way into high society. 
| | |
| --- | --- |
| Colors: | Black, Blue, Pink + More |
| Material: | Satin |
Cuyana Classic: Best small clutch bag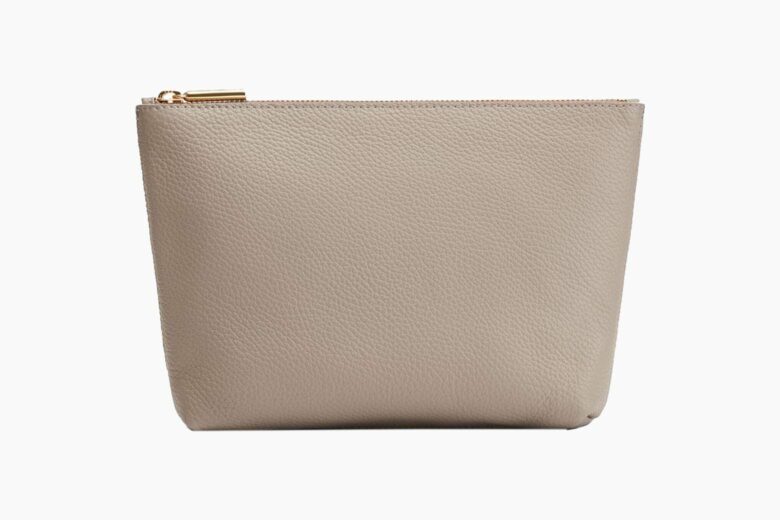 The beauty of a clutch lies in its compact size. And while we don't normally say this: sometimes the smaller, the better. Take this small clutch bag by Cuyana, for example. Crafted from Italian pebbled leather, it lends itself to the times where all you require is your phone, keys, and lipstick touch-ups (of course). And on all the other days, the versatile purse effortlessly slips into your oversized tote for extra organization—sophisticated and scramble-free. 
Best for: Less is more. 
| | |
| --- | --- |
| Colors: | Black, Beige and Stone |
| Material: | 100% Leather |
Mansur Gavriel Mini Cloud: Best leather clutch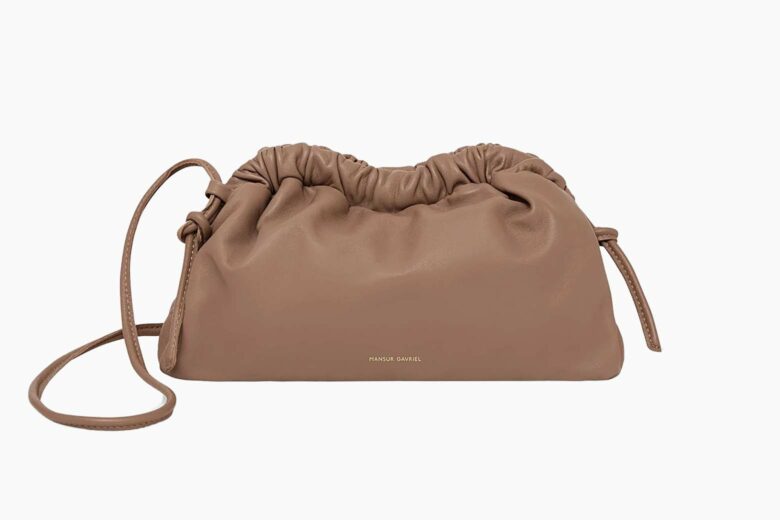 Keeping in line with our quest for sustainable capsule wardrobes, Mansur Gavriel's leather clutch is created to transcend fickle trends. The buttery soft leather is effortlessly sophisticated. While the distinctive curved silhouette is both elegant and a little avant-garde. We love this sumptuous accessory in neutral Biscotto for everyday use. While the Fern green and Cerulean iterations consistently pack a punch. 
Best for: Accessorizing your way to cloud 9.
| | |
| --- | --- |
| Colors: | Biscotto, Green, Blue + More |
| Material: | 100% Leather |
Senreve Cornetti: Best black clutch bag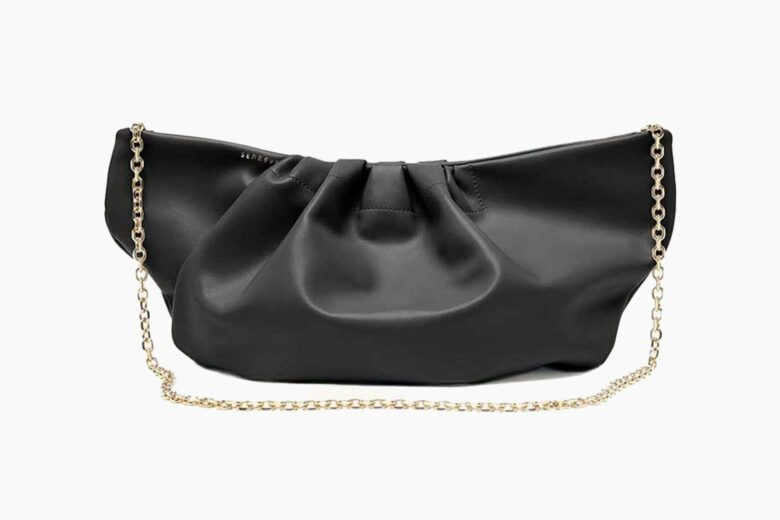 It's not a bag, it's a baguette! Carrie Bradshaw may have pioneered the elongated accessory. But with the rise of y2k fashion, baguette bags and bucket hats are totally reliving their glory days. If you're eager to jump on board, but can't quite get yourself to embrace rhinestones and vibrant hues—this black clutch bag by Senreve is effortlessly sophisticated and oh so chic. Plus, the detachable gold chain strap and plethora of pockets make it ultra-practical too. 
Best for: Sumptuous enough to eat—but we won't. 
| | |
| --- | --- |
| Colors: | Black, Green and Gold |
| Material: | 100% Leather |
Benedetta Bruzziches Venus: Best gold designer clutch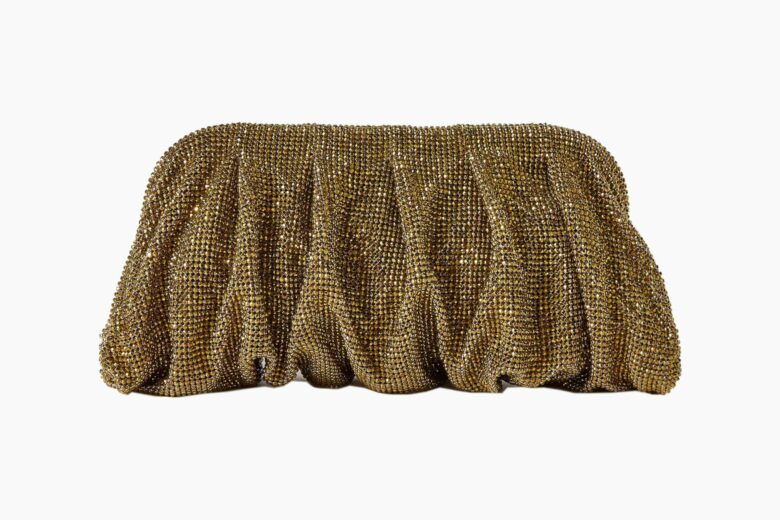 clutch
We've struck gold with this purse by Benedetta Bruzziches. Made in Italy, the crystal-embellished silhouette hits the elusive sweet spot between versatile and scintillating. This gold designer clutch livens up every ensemble with a touch of sparkle. While it's guaranteed to receive all the right attention at any sophisticated soiree. Bellissimo!
Best for: Going for gold. 
| | |
| --- | --- |
| Colors: | Gold |
| Material: | Mesh |
Saint Laurent Sade: Best silver clutch bag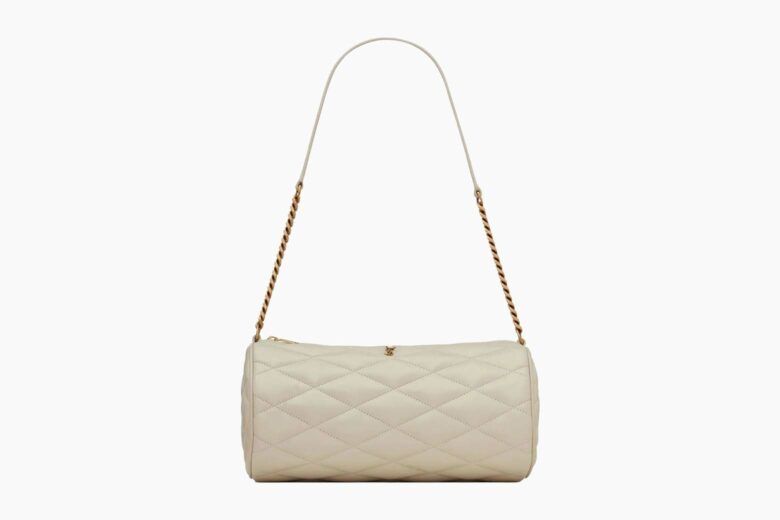 In true Parisian style, YSL handbags are classic pieces that have gained iconic status. Now you may accuse us of being biased (perhaps we are), but we stand by the claim that every woman needs a Saint Laurent bag in their rotation. What better place to ease your way in than with this silver clutch bag? The quilted puffer leather and metallic colorway strike the perfect balance between timeless and trendy—making it a sartorial cult favorite. 
Best for: The silver lining to cloudy days. 
| | |
| --- | --- |
| Colors: | Silver |
| Material: | 100% Leather |
Senreve Aria: Best white clutch bag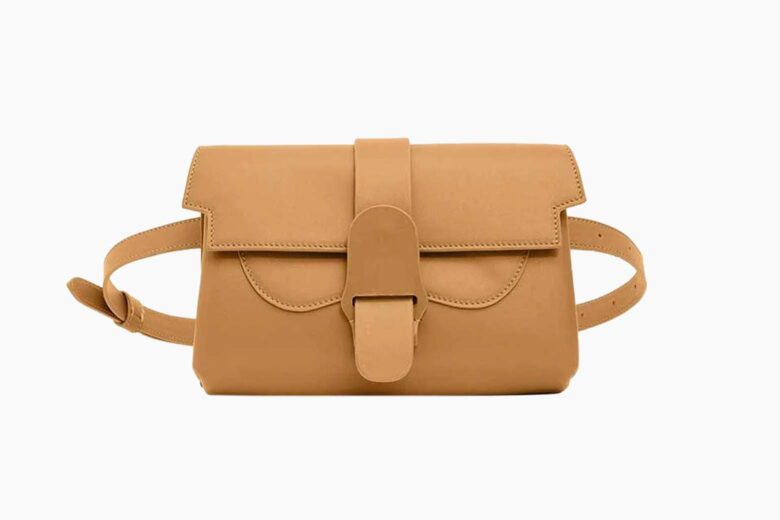 Elegant and versatile, Senreve's white clutch bag is the ultimate capsule wardrobe staple. The lighter hue is both fresh and sophisticated. While the detachable strap transforms it from sophisticated clutch to belt bag to crossbody in a snap. The vegan leather maintains a timeless aesthetic—but affords its owner a guilt-free conscience. We're here for all of it.  
Best for: Sustainable and stylish—a dreamy duo. 
| | |
| --- | --- |
| Colors: | White, Gold, Blue + More |
| Material: | Vegan Leather |
Loeffler Randall Willa: Best Summer clutch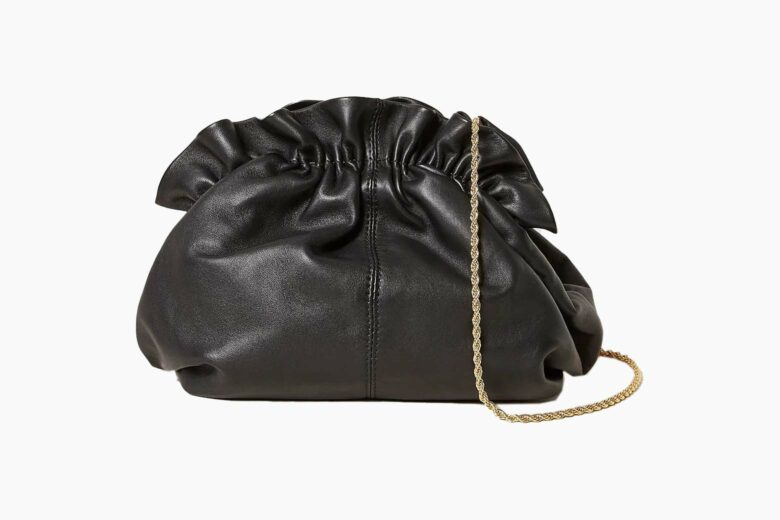 Sun-kissed and smiling, beach vacations call for fresh tones and light hues. Cue this white Summer clutch by Loeffler Randall. The nonchalance of the woven cotton silhouette is carefully contrasted against the elegance of the gold chain strap—making it the perfect transitional piece to go from day to night. Plus, the lightweight fabric is effortless to pack and promises to compliment every ensemble in your suitcase. California, here we come!
Best for: Heading straight from the beach to the bar. 
| | |
| --- | --- |
| Colors: | White |
| Material: | Cotton |
Jimmy Choo Sweetie: Best clutch bag for weddings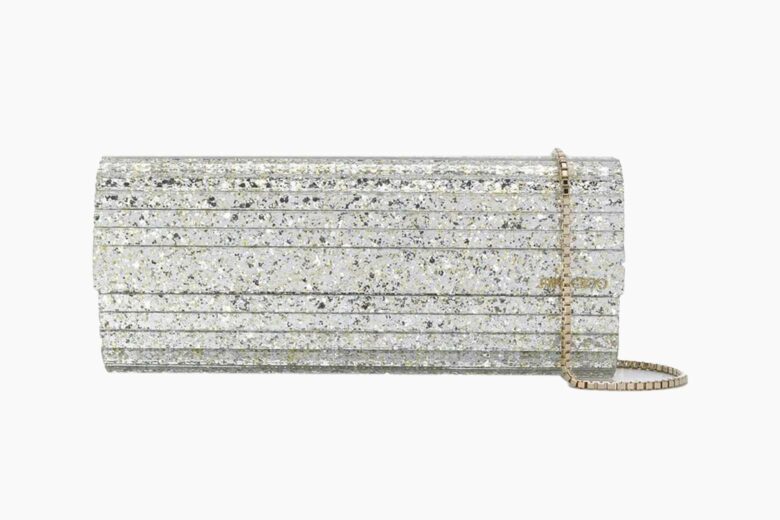 Renowned for its playfully daring spirit, Jimmy Choo infuses elegance with an empowering sense of glamor in this rendition of the classical clutch. As one of our best designer clutches for weddings, the timeless silhouette features a dainty chain strap, allowing you to make the most of canape hour. While the sparkly, glitter-adorned leather exterior elevates any ensemble—be it a sultry slip or boss-girl blazer. 
Best for: To have and to…clutch.
| | |
| --- | --- |
| Colors: | Silver |
| Material: | Sequined Leather |
Cult Gaia Esme: Best acrylic evening purse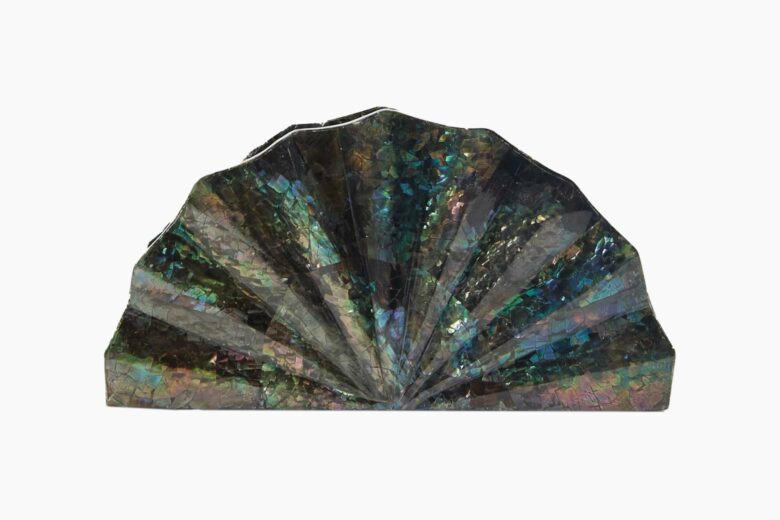 Here's an opportunity to kickstart your collection with a bang. Crafted from acrylic, this shimmering iteration by Cult Gaia offers a unique take on the box clutch. The hard exterior forms a fan shape and is marbled to resemble an iridescent clam shell. And when you're not taking this acrylic clutch out for the night, it just as easily serves to decorate your dresser. Talk about pulling double duty. 
Best for: A pearl of (sartorial) wisdom. 
| | |
| --- | --- |
| Colors: | Metallic |
| Material: | Acrylic |
Dagne Dover Essentials Clutch Wallet: Best wristlet clutch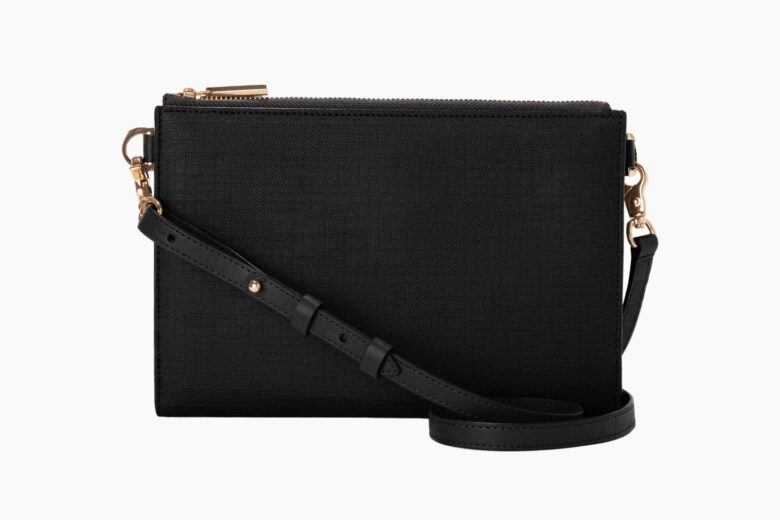 There is more than one way to achieve hands-free navigation whilst carting the necessities. You could invest in a crossbody. You could invest in a wristlet. Or you could invest in a bag that does both—such as this versatile iteration by Dagne Dover. The adjustable straps enable it to transform from wallet to crossbody to wristlet clutch with minimal effort. And crafted from neutral-hued, recycled polyester, we're declaring this wristlet clutch to be the ultimate elevated essential.
Best for: Transformational powers.
| | |
| --- | --- |
| Colors: | Black, Stone and Graphite |
| Material: | Canvas |
Valentino Garavani: Best box clutch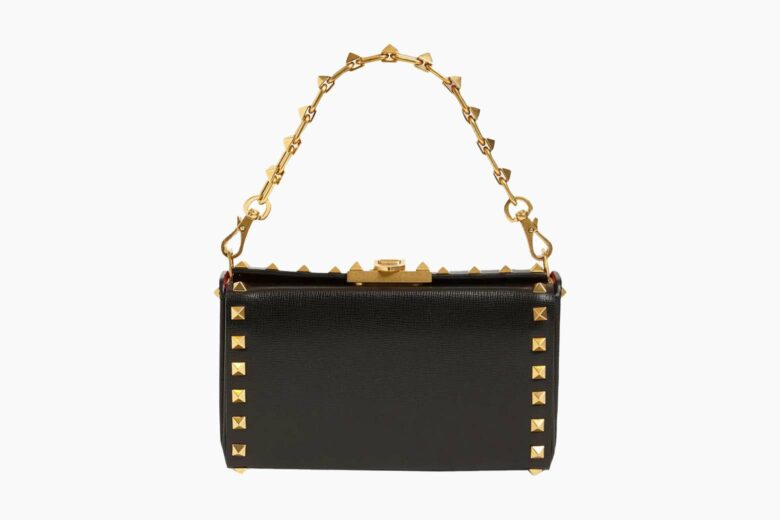 With the rise of y2k fashion, unique clutch bags are quickly filling up our Instagram feeds. And whilst some take the more is more philosophy slightly too far, we think that Valentino Garavani's box clutch nails the grunge, high-end aesthetic. The black alcove leather silhouette is effortlessly sophisticated. While the brand's signature hardware monogram, rockstar stud accents, and matching gold chain exude a carefree, rebellious attitude. 
Best for: Grunge glamor.
| | |
| --- | --- |
| Colors: | Black |
| Material: | 100% Leather |
Khaite Aimee: Most versatile clutch bag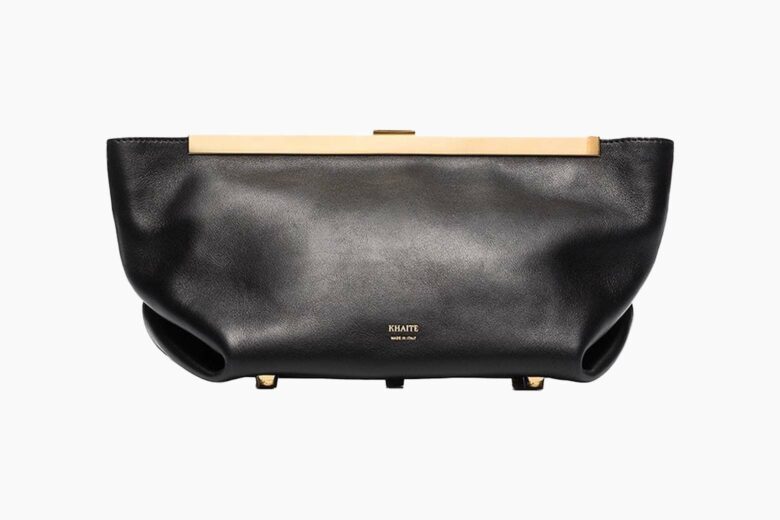 Flying high in high society ever looks the same. And this accessory is fully equipped to roll with your ever-changing outfits. From complementing our wedding guest dresses to making distressed denims sophisticated on nights out, Khaite's little black clutch seldom turns down an opportunity to enhance our looks. And between the shiny black leather silhouette and elegant gold hardware, it succeeds in doing just that. 
Best for: High-end but low-key.
| | |
| --- | --- |
| Colors: | Black |
| Material: | 100% Leather |
Frequently asked questions about the best designer clutches for women
Which brand is best for clutches?
The best brand for clutch bags ultimately depends on what you're looking for. We love KAAI for clutch bags that are both timeless and trendy. Check out our curated list of the best clutches for more stylish bag options.
Are clutch purses still in style?
With the rise of y2k fashion, clutch purses are becoming trendier and trendier. Clutches are an effortless way to add a touch of grunge, color, or sparkle to a minimalist ensemble. And whilst they may not be the most practical accessories, there's nothing more elegant than a chic clutch. Plus, many of our best brands feature detachable straps, making navigating canape hours a whole lot easier.
When should you carry a clutch bag?
Clutch bags are the ultimate elegant accessory. They're perfect for sophisticated soirees where all you need is your phone, keys, and lipstick touch-ups. But now that many of them come with detachable straps, they're also good for nights out and weekend brunches. Plus, you can always slip them into your oversized tote for extra organization. Basically, your clutch won't be underutilized.
How do you hold a clutch bag at a wedding?
Clutch bags typically aren't renowned for their practicality. But there's nothing more classy than holding a sleek purse—sans straps. But most of our best designer clutches come with dainty, detachable straps for hands-free convenience. This means that you can wear it as a wristlet, shoulder bag or crossbody—all of which are wedding-appropriate.