With the rise of technology and a fast-paced lifestyle, there always seems to be too many things to hold at once. And while there may be no app (yet) to solve that, we have something a little more traditional and a lot more stylish. Cue the crossbody bag—the ultimate saving grace when you're trying to send a text, fork your prawn cocktail or sip on champagne, whilst keeping the essentials close by. 
If you're really lucky, your crossbody isn't just there to fulfill the practical requirements. Your vibrant purse crossbody is the perfect way to make a subtle splash without attracting too much attention. A sporty sling over is the flawless finish to any workout attire, whilst ensuring that you don't lose your keys mid push-up. And a neutral pebbled leather iteration is all you need to complete a stellar capsule wardrobe collection—fitting into every setting with ease and elegance.
With the iconic style having its moment, the streets are flooded with run-of-the-mill iterations. But if you want a design to stand the test of time in style and strength, our top picks promise to do just that, each with its own designer flair.
Sling back and start scrolling. Your new hands-free, stylish accomplice is waiting. 
Cuyana Double Loop: Overall best crossbody bag for women
We've already expressed our love for Cuyana and its fewer, better approach to fashion. And this Double Loop bag is yet another ravishing rendition to Have and to Hold for a lifetime. As the smaller sister to the iconic Oversized Double Loop Bag, this compact silhouette is the perfect fit for daily essentials.
The side compartments take care of your organization. An adjustable strap provides customized comfort. And the soft pebbled leather comes in a range of tantalizing neutral hues, making the Cuyana Double Loop the quintessential capsule accessory.
Learn more about the story behind Cuyana.
Best for: Staying in the fashion loop, season after season. 
| | |
| --- | --- |
| Colors: | Caramel, Black, Ecru + More |
| Materials: | Leather |
KAAI Ikon Shoulder: Best designer crossbody bag for women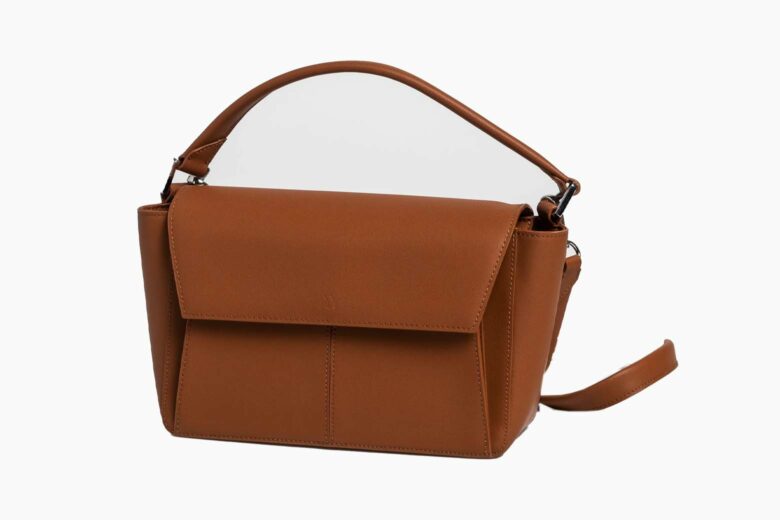 The KAAI Ikon crossbody effortlessly hits the elusive sweet spot between timeless and trendy. 
The versatile neutral tones ensure that they never go out of style. And clean, square lines add a contemporary touch to your everyday getup.
Made from Italian calf leather, this sumptuous silhouette embodies luxury in both style and convenience. The printed croco relief and glossy finish belong in any sophisticated soiree. While an adjustable crossbody strap along with a perfectly placed phone pocket allow you the hands-free ability to text and walk.
Check our review of the KAAI Helix bag to learn more about the Belgian designer brand.
Best for: Chic convenience.
| | |
| --- | --- |
| Colors: | Black, Cognac, and Stone |
| Materials: | Leather |
Dagne Dover Micah: Best value crossbody bag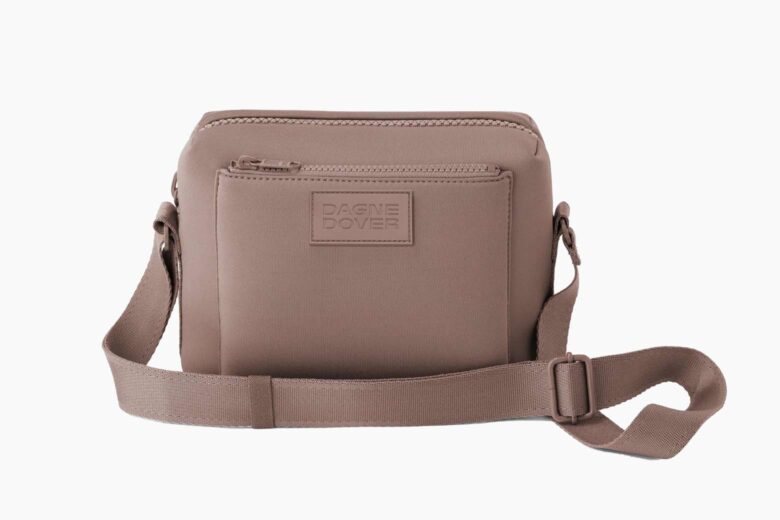 With a spice of sporty, Dagne Dover's Micah is ready to join you on your next adventure. And if you're a vegan shopper, you'll be pleased to know that this animal-loving crossbody fits the bill. 
Not only is the signature Repreve fabric eco-friendly, but it's also ultra-lightweight, waterproof, and irresistibly stylish—ranging from subtle neutrals to vibrant dopamine-inducing hues. This compact crossbody bag is perfectly sized to fit the essentials for your daily activities or casual nights out.
Check our review of Dagne Dover's handbags and our brand story to learn more about them.
Best for: Light in weight…heavy in function.
| | |
| --- | --- |
| Colors: | Beige, Black, Orange + More |
| Materials: | Neoprene |
Senreve Alunna: Most versatile crossbody handbag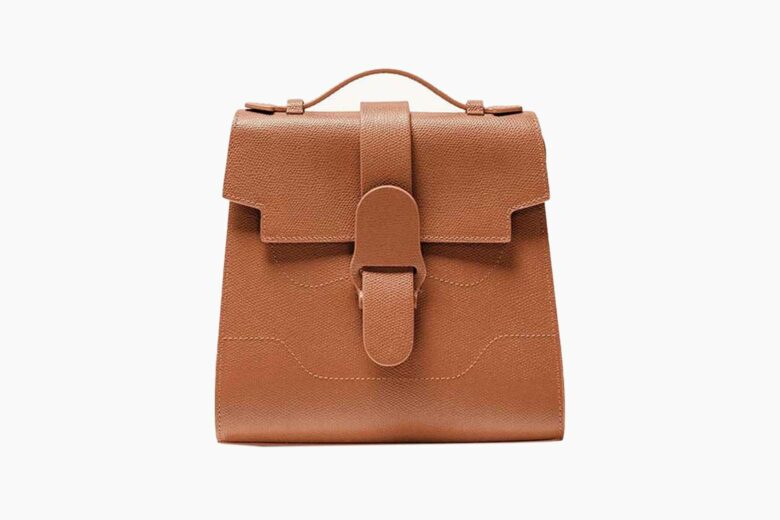 Home to one of our best designer work bags, Senreve rarely puts a foot wrong when it comes to marrying style and convenience, as seen once more in this effortlessly versatile design. The adjustable straps are at the forefront of innovation, transforming from a backpack to crossbody in a snap. While the pebbled-leather silhouette maintains an air of timeless elegance.
Big enough to fit a Kindle with interior and exterior slips, this multi-tasking companion is all you need to tackle hours on foot, whether it be traveling, running errands, or just your average shopping spree. 
Learn more about Senreve's premium bags collection.
Best for: Chic versatility.
| | |
| --- | --- |
| Colors: | Chestnut, Cream, Sage + More |
| Materials: | Leather |
Bellroy City: Best pouch crossbody bag for women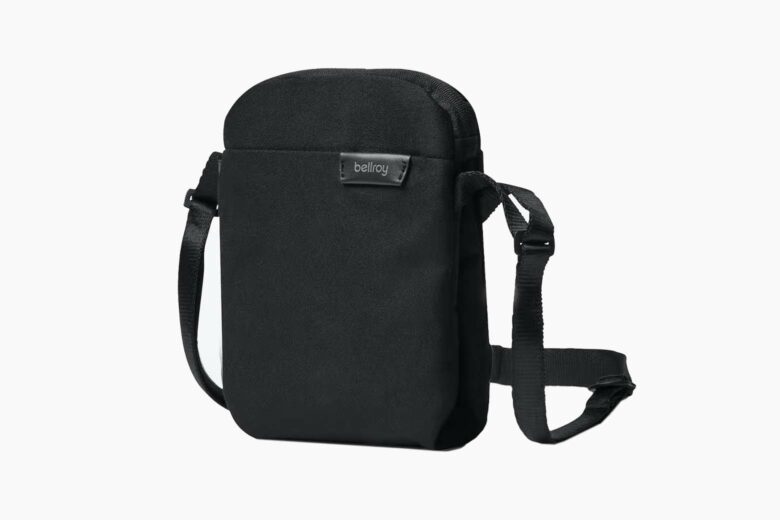 Bellroy never ceases to amaze when it comes to accessories that nail fashionable functionality. Spacious enough to fit the necessities, the lightweight, small crossbody purse makes it easy to forget you're carrying anything at all. While a range of distinctive colorways promises to speak to your unique sense of style. 
Made from durable, water-resistant, recycled fabrics—this stylish sidekick is made for an active spirit. Plus the stretchy silhouette is prepared to expand to make room for an extra phone or two when asked. Now that's good service.
Learn more about Bellroy's smart accessories.
Best for: Accompanying you on many adventures.
| | |
| --- | --- |
| Colors: | Black, Bronze, Beige + More |
| Materials: | Recycled sailcloth |
Mansur Gavriel Mini Cloud: Best crossbody clutch for women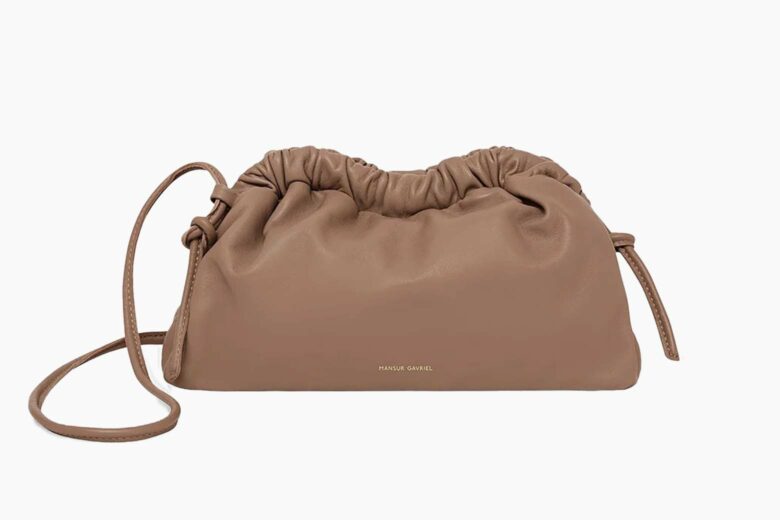 The Mini Cloud Clutch speaks to the cult-favorite brand's iconic indie sense of style with its distinctive curved frame. The supple lamb leather silhouette is simultaneously soft and sculptural, mimicking cloud-like characteristics. While a range of signature sumptuous hues make it impossible to pick a favorite. 
This colorful chameleon of a bag can be transformed from a tote to a crossbody and even a belt bag—you won't have to ask why this chic clutch is one of Mansur Gavriel's best-selling iterations.
Learn more about Mansur Gavriel's designer bags collection.
Best for: Coming in clutch daily.
| | |
| --- | --- |
| Colors: | Biscotto, Strawberry. Crema + More |
| Materials: | Leather |
Behno Ina Mini: Best crossbody purse for women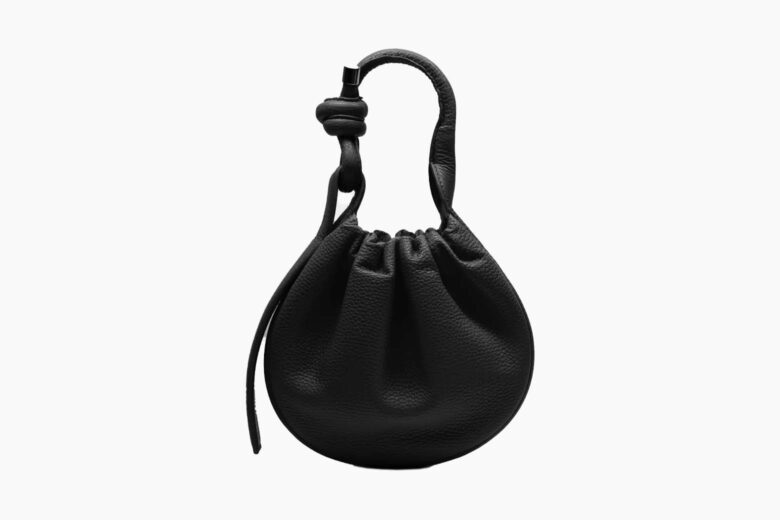 The pebble-grain leather runs the gamut in colors—all of which are unique to Behno. We love the vibrant mango silhouette to embrace this season's dopamine dressing trend. And the metallic green also promises to attract a slew of compliments.
The adjustable straps transform into a cute handbag for your more formal affairs. While the signature side drawstring and knot detail are a flawless finish to this exquisite Ina bag.
Learn more about Behno's premium handbag collection.
Best for: Exotic hues light up the room.
| | |
| --- | --- |
| Colors: | Red, Metallic Green, Orange + More |
| Materials: | Leather |
Saint Laurent Uptown: Best crossbody wallet for women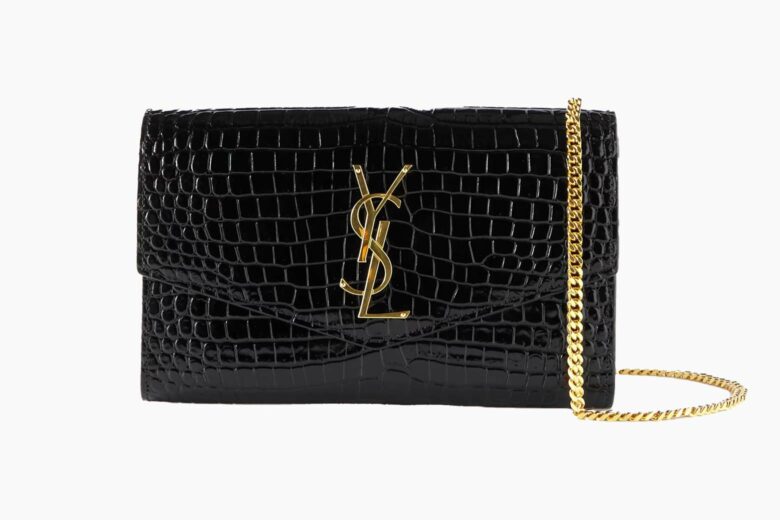 If you're looking for a crossbody wallet to stay by your side, you can trust Saint Laurent to fulfill that mission. With a matching cardholder that neatly slots inside, this is the versatile accessory to take anywhere and everywhere. 
The croc-effect black patent leather stays true to the French brand's decadent sense of style. And contrasted by a gold chain elongated strap and the signature YSL motif, this unapologetically chic crossbody demands attention without going over the top.
Best for: Saint-like loyalty.
| | |
| --- | --- |
| Colors: | Black |
| Materials: | Patent leather |
Horizn Studios Chiado: Best women's crossbody bag for travel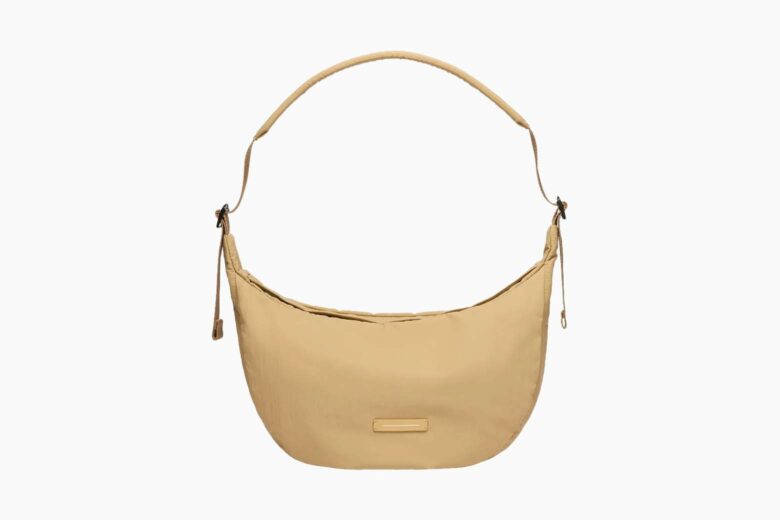 Horizn Studios Chiado crossbody is a quintessential travel staple for a number of reasons. It's spacious enough to fit your flight-ready necessities. It's got a zipped compartment to prevent last-minute boarding pass panics. The durable materials are water-resistant, recycled, and lightweight. The strap adjusts for optimal comfort. And the versatile black or tan silhouette looks as good as it feels.
If this effortless crossbody doesn't tick all your travel companion boxes, we don't know what will.
Check our hands-on Horizn Studios review to see why we love the brand.
Best for: Smooth sailing (planing)
| | |
| --- | --- |
| Colors: | Black and Tan |
| Materials: | Recycled nylon |
Marc Jacobs: Best crossbody tote bag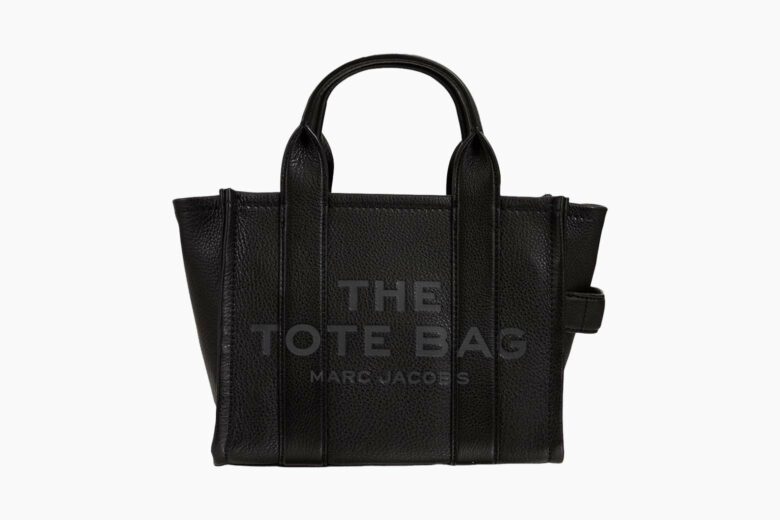 As one of our all-time favorite totes, we couldn't be more pleased that Marc Jacobs' smaller iteration has come to the party with a matching cheeky attitude. The compact size makes it the perfect travel companion, while a long crossbody strap provides hands-free convenience.
The black leather exudes timeless elegance. While the designer's signature, the printed label is enough to add an edgy touch to every ensemble. With everything you need and more, we're predicting this crossbody tote bag by Marc Jacobs to fly off the shelves. So you'd best act now.
Best for: A cheeky attitude that stands the test of time.
| | |
| --- | --- |
| Colors: | Black |
| Materials: | Leather |
Adidas Classic Festival: Best sporty crossbody bag for women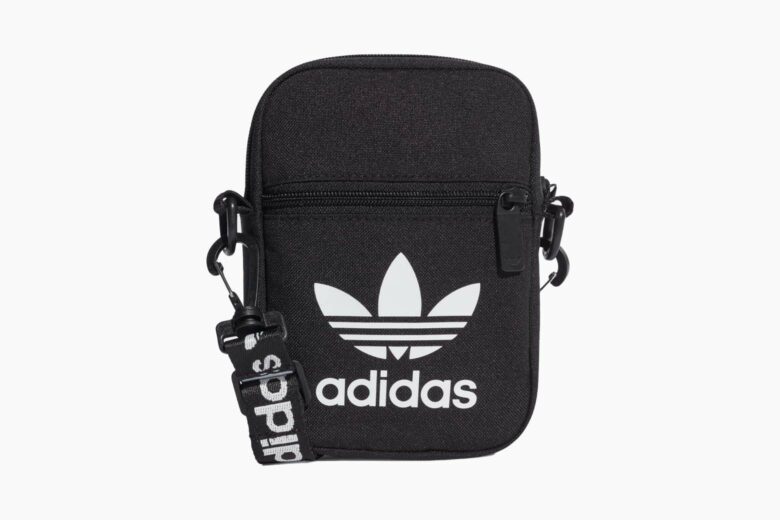 If you're not planning to shower and change at the gym, an unobtrusive crossbody is all you need. In line with the brand's athletic aesthetic, we love Adidas' sporty crossbody bag to complete the full work-out look. 
The simple silhouette and thicker straps both feature the brand's iconic logo. And if you're a frequent festival-goer—this zipped sidekick will also keep your valuables safe while you get your groove on. 
Best for: Sporty aesthetics work out conveniently. 
| | |
| --- | --- |
| Colors: | Black, Gray and Pink |
| Materials: | Recycled polyester |
Gucci Marmont: Best black crossbody bag for women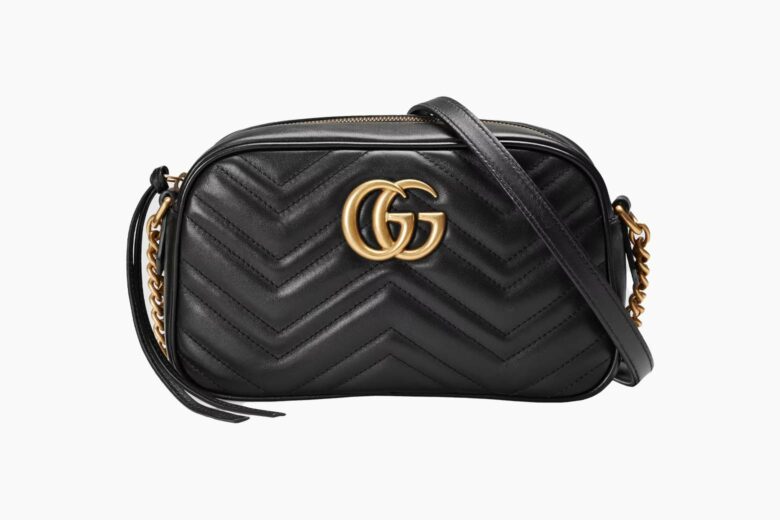 Someone once said, you can never go wrong with Gucci. Ok, that may have been us. But we stand by it. And as long as our love for the iconic brand is concerned, this sumptuous black crossbody bag just so happens to be a time-tested favorite. 
The classical design speaks to the luxury brand's signature style with matelasse leather, chevron indents, the iconic gold hardware GG motif and matching chain shoulder strap. It's the kind of accessory that immediately elevates every outfit.
Best for: No need to further accessorize. 
| | |
| --- | --- |
| Colors: | Black |
| Materials: | Leather |
Cuyana Top Handle: Best leather crossbody handbag for women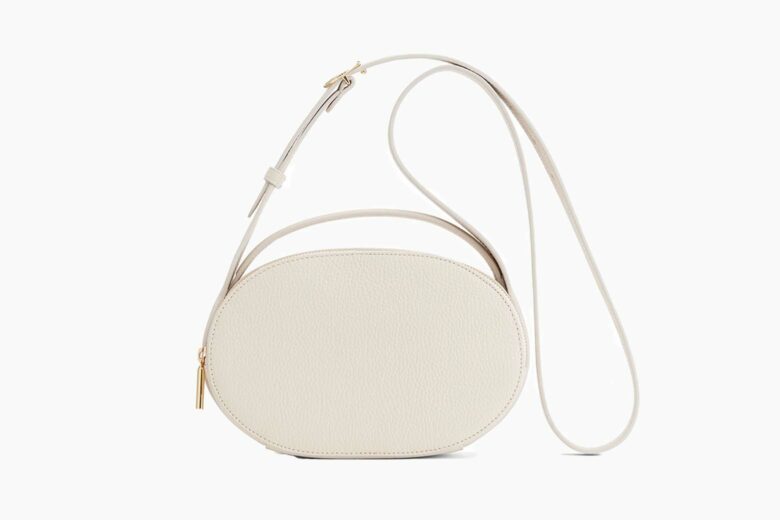 Cuyana's our go-to brand for elevated essentials for reasons such as this. The classical design exudes minimalist sophistication, making it the perfect companion to accompany anything in your capsule wardrobe. The soft, pebbled leather ranges from chic cappuccino to a tempting snake skin. While the oval silhouette plays with geometry to add a slightly contemporary edge. 
Made from Italian leather, this Cuyana cross body bag embodies the brand's high standards for impeccable craftsmanship with decadent details such as the gold buckle and practical top handle.
Best for: Elevated essentials go full circle.
| | |
| --- | --- |
| Colors: | Cappuccino, Snakeskin, Black + More |
| Materials: | Leather |
KAAI Ikon Clutch: Best small crossbody bag for women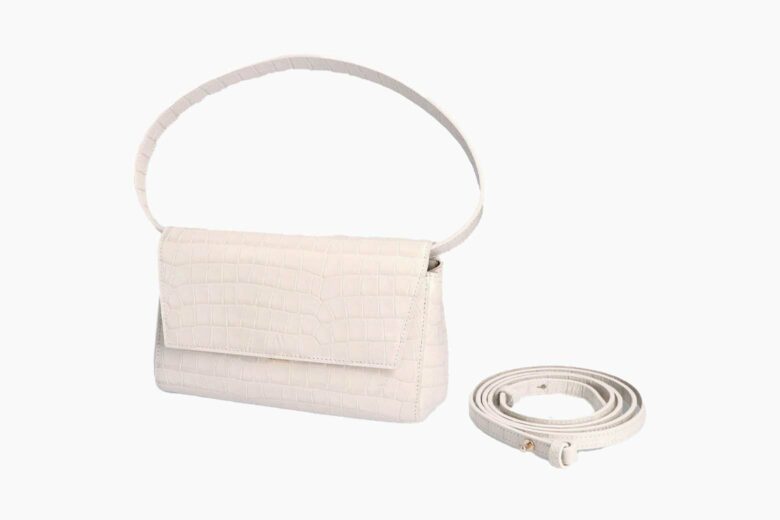 If you're hitting the town in the evening or smarting up for your best friend's wedding, a small crossbody bag is all you need to cart the big three—phone, wallet and keys—leaving your hands free to carry more important things (such as champagne glasses). 
KAAI's Ikon clutch is not only endlessly convenient but also stylishly sophisticated in exquisite croco stone leather. The lighter hue promises to add a fresh versatility to your time-honored ensembles, making it a personal favorite of ours.
Best for: Floating through canapes hands-free.
| | |
| --- | --- |
| Colors: | Stone White, Toffee Brown, Lime Green + More |
| Materials: | Leather |
Bottega Veneta: Best women's cross body bag with thick strap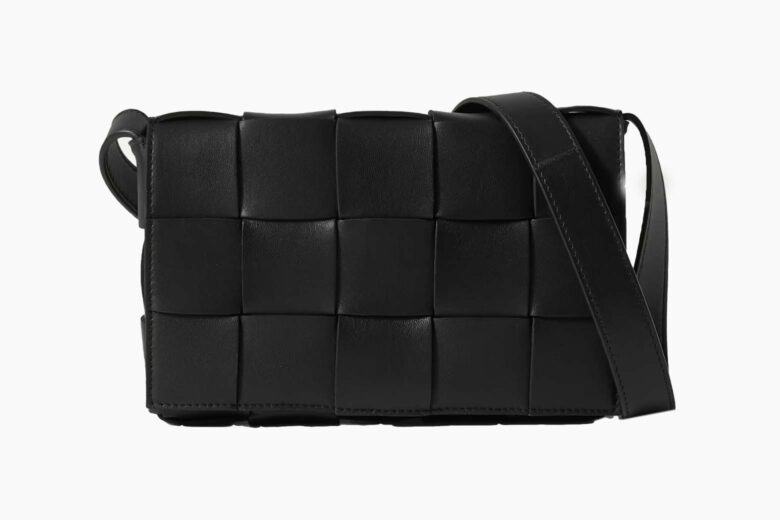 Take a masterclass in modern minimalism with Bottega Veneta's messenger bag. Without overcomplicating the design with unnecessary details, the simple silhouette leaves room to appreciate the careful thought behind every addition. And the signature Intrecciato woven leather is sending all the right messages.
This monochrome wide strap crossbody bag comes in a diverse range of colorways. Vibrant on-trend oranges and greens are the perfect way to ease into the color blocking trend. While subtle pastels and neutrals promise to appease the minimalists at heart.
Best for: Weaving together classical and contemporary styles. 
| | |
| --- | --- |
| Colors: | Orange, Green, Black + More |
| Materials: | Leather |
Fashion Puzzle: Best budget crossbody bag for women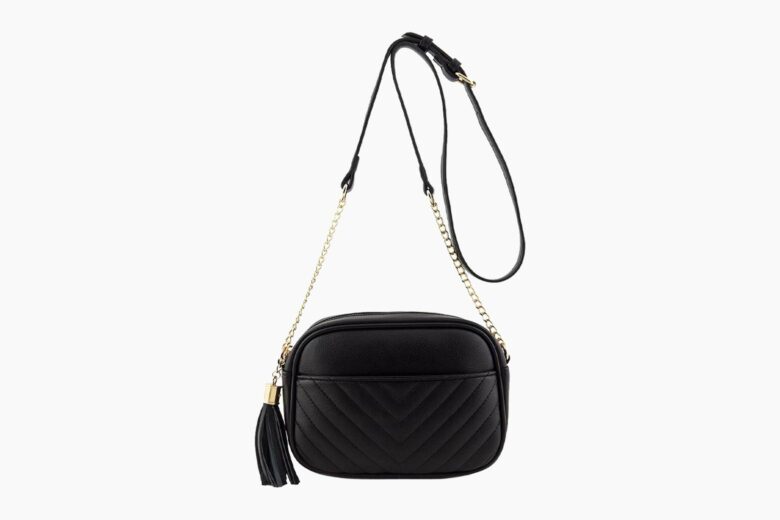 Quality pieces without the price tag are hard to come by. But when you do, it's imperative to strike. This chevron cross body bag just so happens to be one of those items. The quilted silhouette is right on trend while maintaining an air of timeless elegance with gold chains and tassel accents. A diverse spread of exquisite hues make it impossible to choose just one, but at this price you don't have to.
Pair this sumptuous crossbody with a designer belt and nobody will ever know that it was a steal (we won't tell).
Best for: The perfect excuse to get a few. 
| | |
| --- | --- |
| Colors: | Brown, Black, Teal + More |
| Materials: | Faux leather |
Dior Mini Lady: Most expensive crossbody bag for women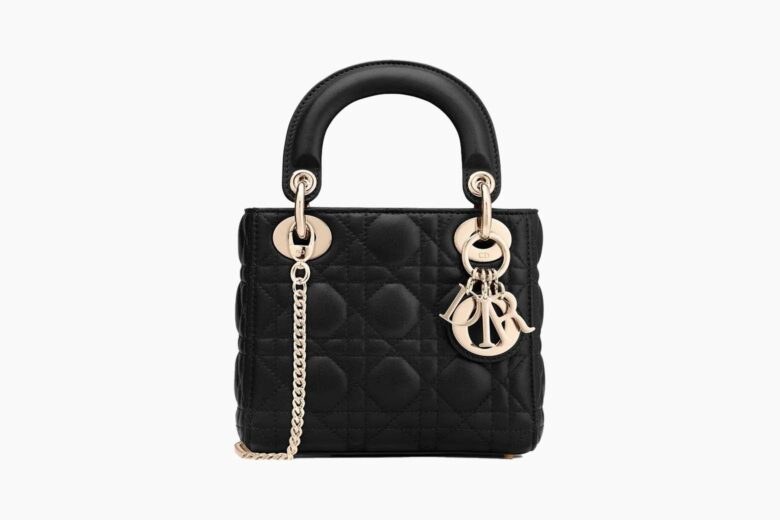 This isn't a bag. This is a work of art. Or an investment. Actually, it's both. Embroidered with multicolored thread, sequins, and strass, the exquisite design epitomizes Dior's timeless elegance and artistic flair. The black silhouette takes the decadent detailing even further with a detachable gold chain crossbody strap and gold hardware Dior alphabet charms.
Pair it with absolutely anything in your wardrobe and you're bound to feel like an iconic Lady. Yes, even your loungewear. That's the magic of this dazzling accessory.
Best for: Wearable art. 
| | |
| --- | --- |
| Colors: | Black |
| Materials: | Leather |
Frequently asked questions about crossbody bags for women
What is a crossbody bag?
A crossbody bag is distinguished by a strap, long enough to wear over the shoulder and across the opposite hip. Historically the design was used on petite silhouettes, large enough to fit only the essentials. But now a variety of styles can be worn crossbody for hands-free convenience—from large crossbody bags to adjustable backpack straps. 
What is a popular crossbody bag?
Crossbody bags are no longer confined to the traditional miniature purse style. The sumptuous silhouettes now come in all shapes and sizes. We love Cuyana's Double Loop and KAAI's Ikon Clutch for everyday elegance. And Horizn Studio's Chiado is our most popular crossbody bag for travel. But for all our favorite designs, we recommend reading our review of all the best crossbody bags for women.
Are crossbody bags still popular?
Yes, crossbody bags are not only keeping up with the latest fashion trends, they're also effortlessly functional—with hands-free convenience being a key characteristic. Needless to say, crossbody bags aren't going out of style, as long as we still have phones or champagne floats to occupy our hands.
What should I look for in a crossbody bag?
We'd stick to a smaller silhouette for formal occasions such as weddings. Whilst a large crossbody bag is useful for longer excursions. Adjustable straps are always helpful to ensure that the bag aligns with your opposite hip. And durable, versatile fabrics such as leather are ideal to outlast multiple seasons in strength and style.