These pants are as tough as leather when it comes to their ability to transcend seasonal trends. And whilst that may have much to do with their good looks and rebellious charms, the fact that they're actually made from the timeless material may have something to do with it too. Leather pants hit the elusive sweet spot between elegance and grunge. And what was once seen as the official 70s' punk rock uniform, is now worn by high society and fashion it-girls. 
The versatility of leather pants is another key component of their divine transcendence. Unlike casual denims or flowy florals, they have the unique ability to carry from your desk to dinner—conquering each scenario with equal strength. Thanks to Olivia Newton-John's iconic scene in Grease, tight black leather pants symbolize adulthood allure whilst simultaneously portraying defiant conformity. And even if you're not doing anything to break the status quo, when you're compliant in leather pants, you send a message that you're compliant on your own terms. 
They have that scandalously deviant air about them. Yet they remain subservient in their ability to dress almost any top and shoes. They make you feel audacious just for owning a pair. Yet they remain a quintessential closet staple for most women. They give you the confidence to run the world. Yet they stay far away from the stiff first lady dress code with their slightly risque overture. 
Unsurprisingly, we believe that every woman needs a pair of leather pants in their arsenal—even if it's just to meet your mother in law. And if that's the pitch, we'll go hell for leather on the leather. How about you?
The 21 best leather pants for women
Anine Bing Becky: Best overall women's leather pants
Straight cut pants are all the rage. And there's no better way to elevate the flattering fit than to do it in leather. This pair by Anine Bing is the perfect example. The relaxed silhouette is enhanced by contemporary touches such as pleat detailing and slanted pockets. While the black leather pants maintain a timelessly versatile appeal.
Best for: Getting straight to the point—with perfection. 
| | |
| --- | --- |
| Material: | Leather |
| Color: | Black |
Gucci: Best designer leather pants for women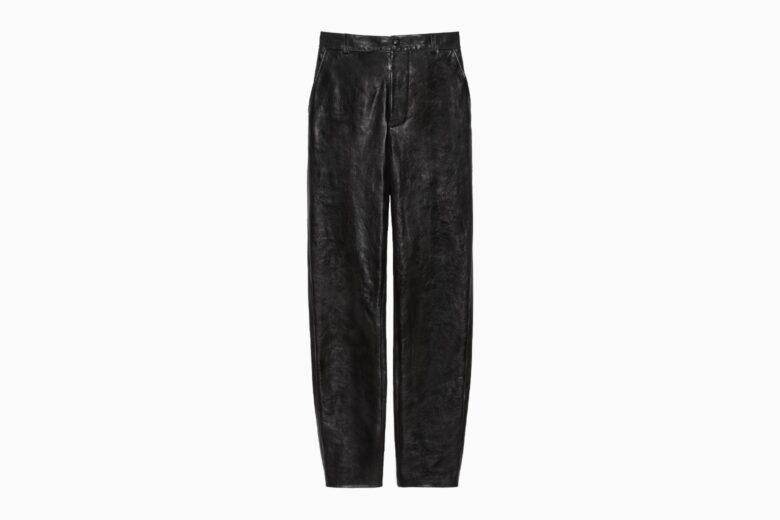 With leather pants staking their claim amongst all our quintessential closet favorites, there has never been a better time to invest in a timelessly transcendent designer iteration. Gucci's shiny pair promises to scintillate on every occasion. Accessorize your leather pants outfit with your designer work bag to seal many deals—over a desk or dinner. 
Best for: A scintillating investment (much more fun than stocks).
| | |
| --- | --- |
| Material: | Leather |
| Color: | Black |
French Connection Crolenda: Best value faux leather pants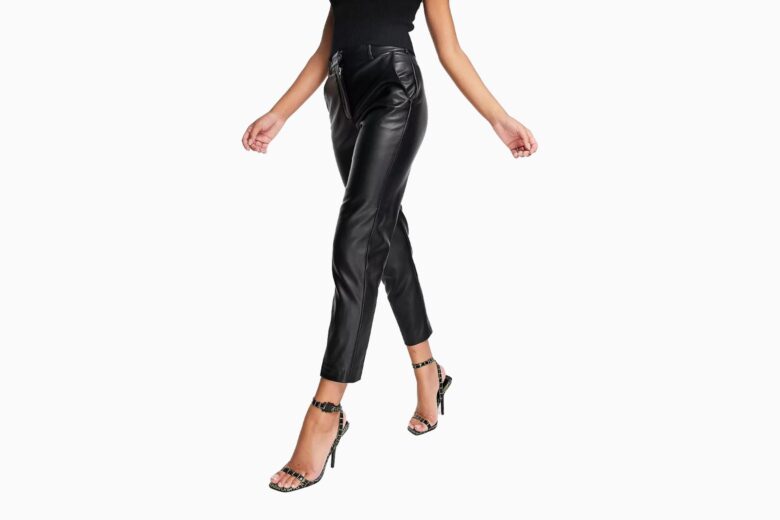 Vegan leather pants are an eco chic way to get all the glam without the guilt. If you're concerned that non-genuine leather iterations lose the luxe factor, French Connection is here to set the record straight with these black faux leather pants. And whilst that may be true of some other brands, this tapered high rise fit could easily be spotted in Paris' high end boutiques—but without the complementary price tag. 
Best for: Faux leather; genuine deal. 
| | |
| --- | --- |
| Material: | Polyurethane |
| Color: | Black |
Axel Arigato: Best straight-leg leather pants for women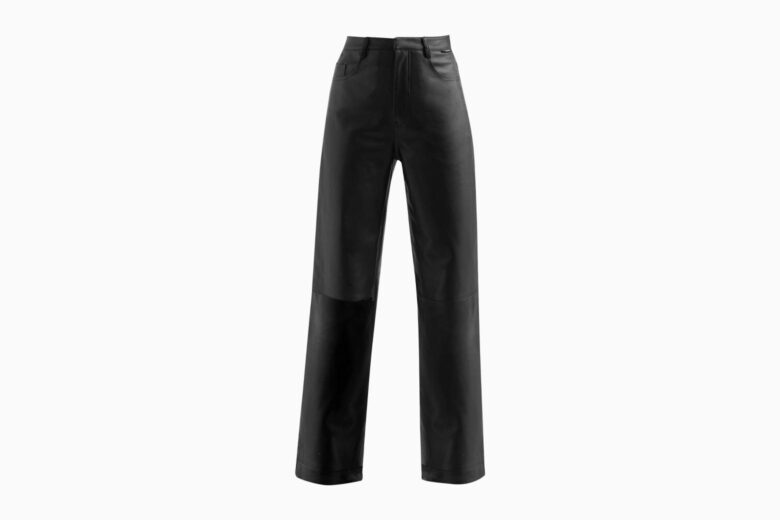 Straight-leg leather pants epitomize versatile elegance. Dress them down with a  white tee to let the world know that you don't need to try hard to look fantastic. Or dress them up with a sophisticated trench to let off that you'll comply—but only on your own terms. 
You can convey so many distinctive messages with just one pair of pants. And if you have a lot to say, we're particularly partial to Axel Arigato's straight-leg pair. 
Best for: Setting the record straight. 
| | |
| --- | --- |
| Material: | Leather |
| Color: | Black |
Alo Yoga: Best vegan leather leggings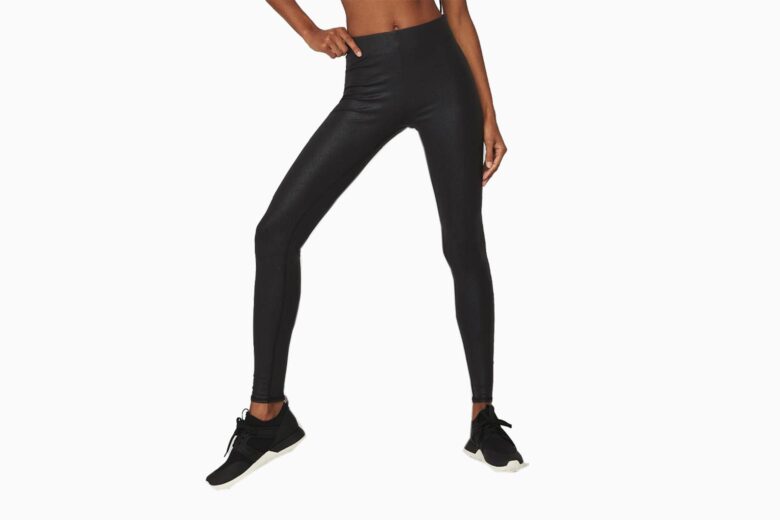 We've already put forward a case for adding leather leggings to your arsenal. But the case for vegan leather leggings may be even stronger—especially if sustainability heavily influences your purchases. And whilst you may know Alo Yoga for seeing you through your sun salutations, their faux leather leggings exude that zen throughout the day. 
Never underestimate the power of an eco chic, moisture)wicking pair of stretch pants. They have mood-transforming capabilities. 
Best for: Taking your zen off the mat. 
| | |
| --- | --- |
| Material: | Airbrush fabric |
| Color: | Black and Brown  |
Spanx: Most comfortable leather pants for women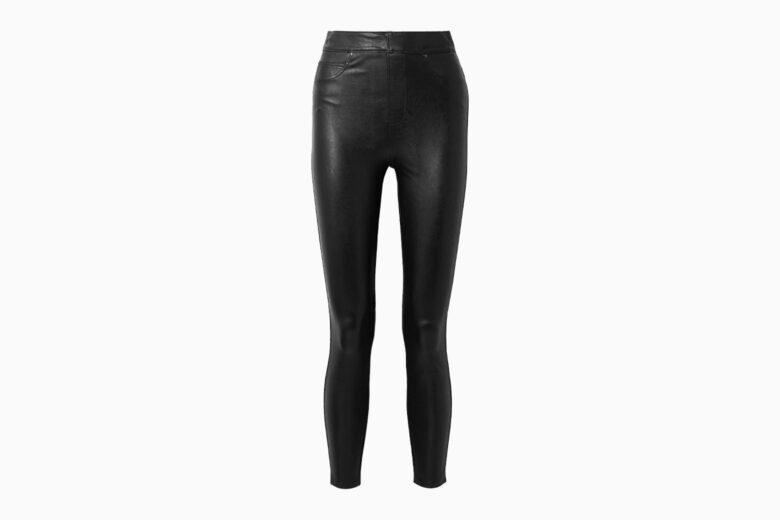 One could argue that it's not luxury if it's not comfortable. If that's your mantra, Spanx's faux leather stretch pants promise to liberate you from the confines of excruciatingly tight waistlines. And they do so without compromising on aesthetics. In fact, we think you may look better than ever before. Pair these black leather pants with your most comfortable flats and allow the high waistline and fitted silhouette to elongate your legs—heel-free. 
Best for: Legging-like comfort with jean-like style. 
| | |
| --- | --- |
| Material: | Rayon |
| Color: | Black   |
Frame Le Sylvie: Best leather black pants for women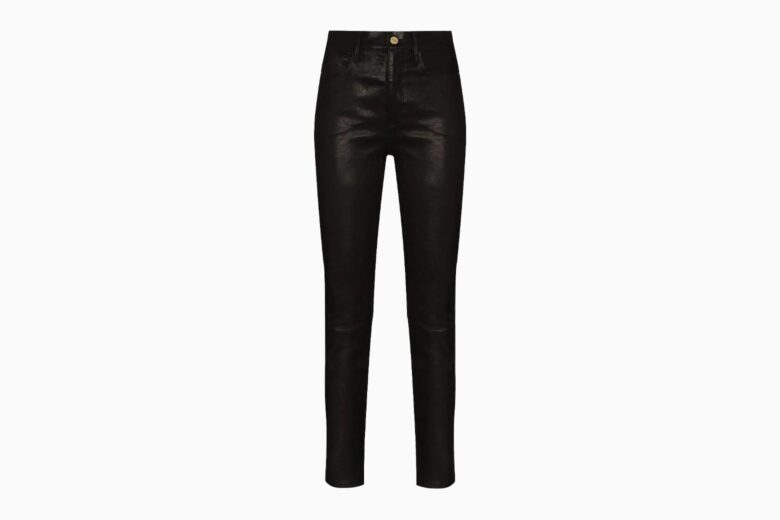 Whilst colorful leather pants are keeping up with the dopamine dressing trend, leather black pants remain de facto the most popular option. Not only does this pair by Frame exude timeless elegance and versatility. But like all good frames, the flattering fit brings out the best in your legs. 
All you need is a casual knit and your everyday tote for a look to carry you through the cooler months with an effortlessly chic attitude.
Best for: Framing your best features. 
| | |
| --- | --- |
| Material: | Leather |
| Color: | Black   |
Altuzarra Sidney: Best brown leather pants for women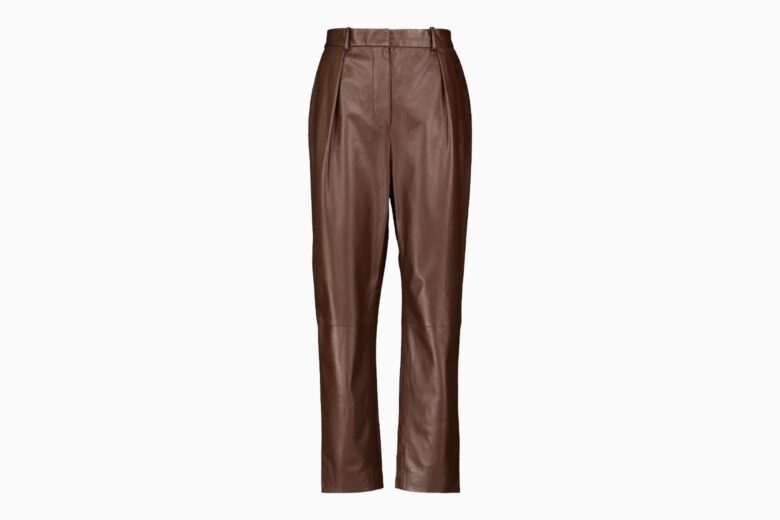 Brown leather pants are a great alternative to black—especially if you're in the market for something a little different but similarly versatile. We love this pair by Altuzarra for its high waist and straight legs. To achieve that it-girl sartorial style with minimal effort, pair these leather pants with a matching leather blazer and comfortable heels. Although there are a number of equally impressive other ways to dress them, depending on your mood. 
Best for: Doing something different (but still versatile).
| | |
| --- | --- |
| Material: | Leather |
| Color: | Brown   |
Joseph Teddy: Best red leather pants for women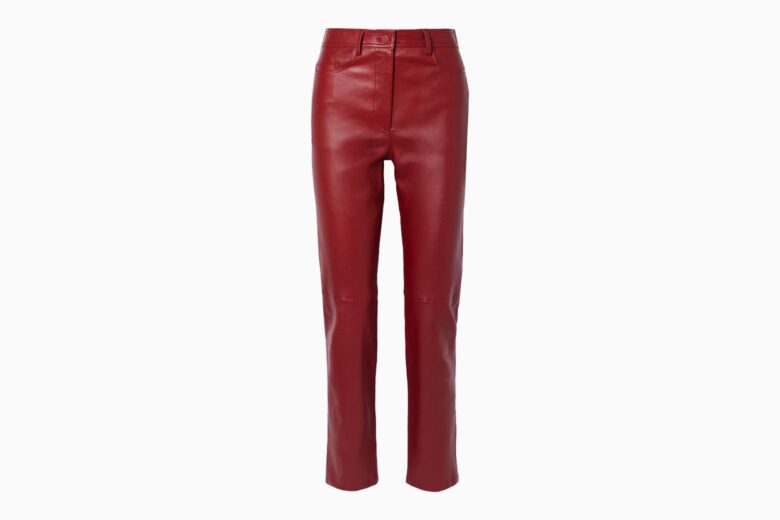 If you grew up watching Buffy, chances are you dreamt of owning your own vampire-slaying red leather pants. And whilst vampire-slaying attributes may no longer determine our purchases, the fact that they exude day-slaying confidence is more than enough to keep Joseph's Teddy red leather pants high up on our wishlist.
Best for: Slaying the day. 
| | |
| --- | --- |
| Material: | Leather |
| Color: | Red |
Isabel Marant Bilirokia: Best white leather pants for women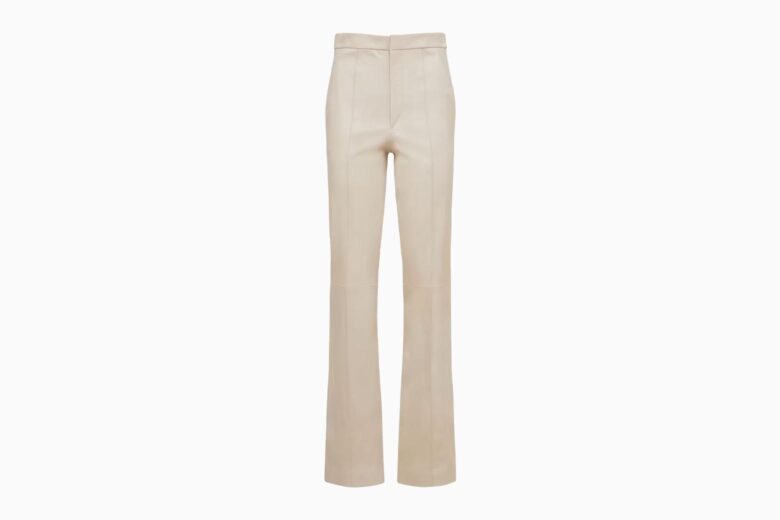 How do you tell someone that you're fiercely loyal yet with a touch of rebellion? You do it with a pair of white leather pants. And if you want to add that you're effortlessly chic to that list, you do it with Isabel Marant's Bilirokia slim fit. We already know that you're the total package, you just need someone to say it. These slim leather pants do that. 
Luisaviaroma is renowned for its eye for Italian excellence. So it's no surprise that Isabel Marant's Bilirokias are endorsed by the luxury fashion platform. 
Best for: Memorizing first impressions. 
| | |
| --- | --- |
| Material: | Leather |
| Color: | White |
Alexander McQueen Track: Best green leather pants for women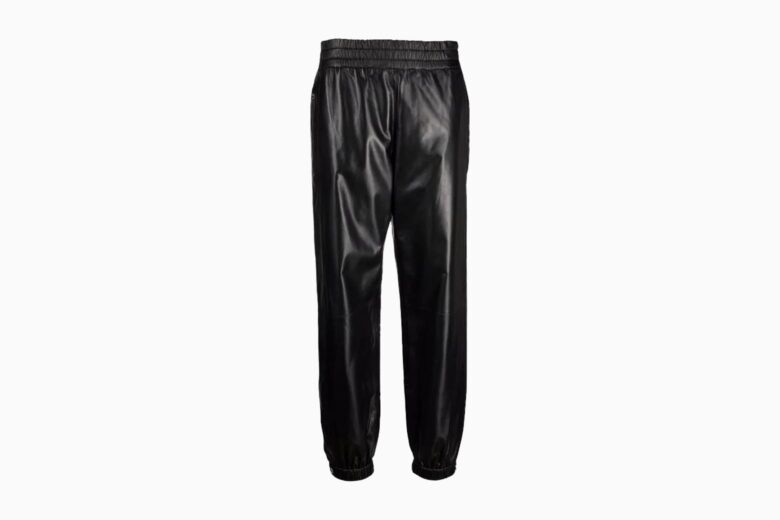 Exuding carefreeness into many of his designer pieces, Alexander McQueen uses contrasting textures and silhouettes to tell a unique tale. This time it's a story of sporty elegance and feminine androgyny as sumptuous lambskin leather takes the form of track pants in an army green hue. 
Dress these green leather pants down with a white tee and trendy sneakers. Or add heels and a black bodysuit for a night on the town. Either way, you're bound to be taken seriously as a fashion icon. 
Best for: Ready for combat—in the form of a nightclub. 
| | |
| --- | --- |
| Material: | Leather |
| Color: | Black and Green |
Agolde: Best women's high-waisted leather pants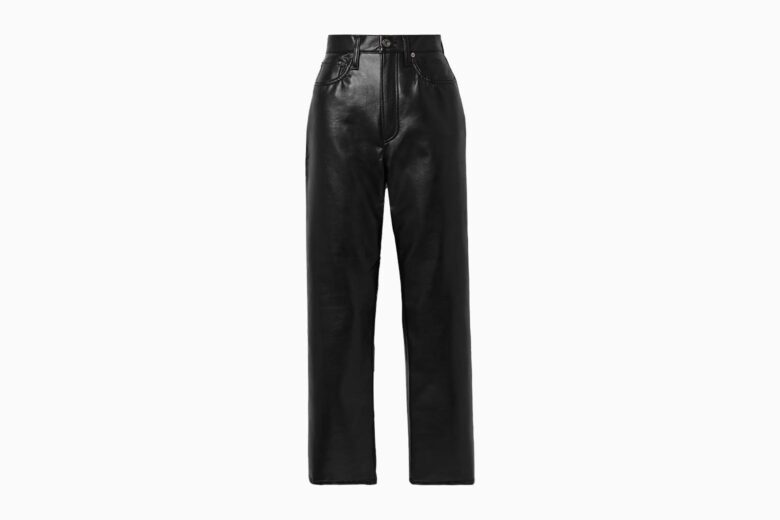 Inspired by vintage jeans, there's nothing not to love about Agolde's high-waisted leather pants. Including the fact that they are made from recycled leather. These sustainable pants come in black or white. And while the versatile colorways lend themselves to a myriad of style options, we love them best dressed with chunky Chelseas and vibrant knits.
Best for: Sustainability without the hassle of thrifting. 
| | |
| --- | --- |
| Material: | Leather |
| Color: | Black and White |
Alberta Ferretti: Best balloon women's leather pants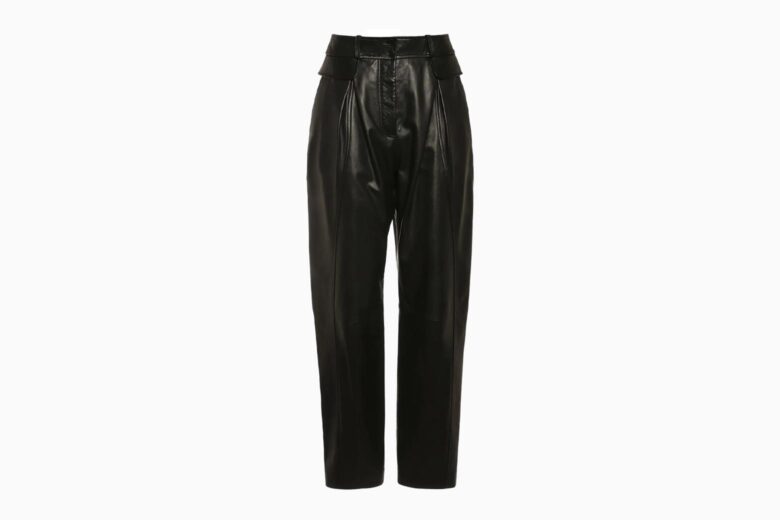 We all know that Luisaviaroma only features the best of the best in Italian fashion. So we're not surprised that Alberta Ferretti is a Luisaviaroma favorite. You'll know what we mean when you see these balloon leather pants. They're the perfect balance between playful and sophisticated. Although when styled with black on black, it's impossible not to be taken seriously. Trust us.
Best for: Blowing up the room. 
| | |
| --- | --- |
| Material: | Leather |
| Color: | Black |
Anine Bing Jagger: Best skinny leather pants for women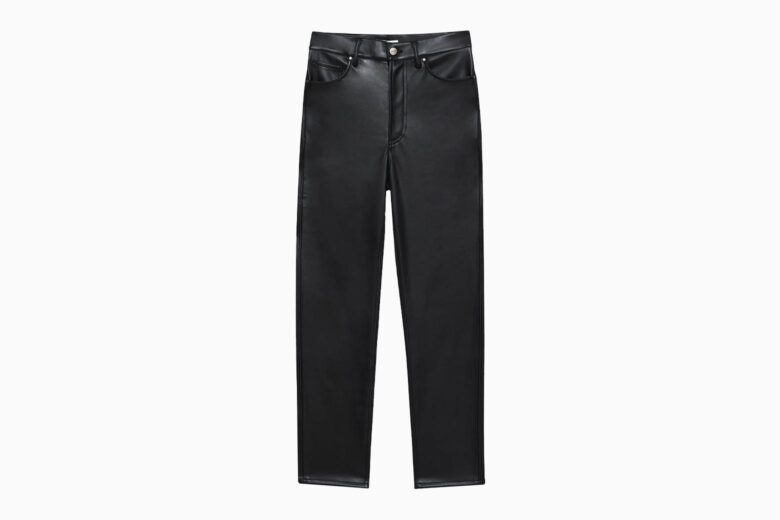 Reminiscent of the iconic Grease scene, Anine Bing's skinny leather pants are a flawless way to shake up your style without going the full mile. And while it's not imperative that you pair these sultry black pants with Olivia Newton John's iconic red lips and confident attitude, it's very difficult not to when you look that sumptuous.
Best for: Shaking it up–70s' style. 
| | |
| --- | --- |
| Material: | Leather |
| Color: | Black |
Deadwood: Best wide leg leather pants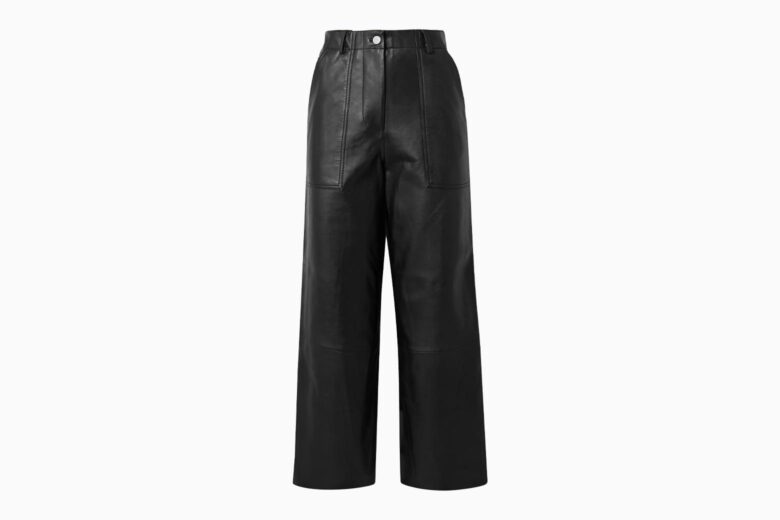 We love wide leg pants. And according to our Instagram feed, fashion influencers and style icons agree. But dare we suggest that wide leg denims can be overworn? And perhaps your distressed boyfriend jeans may be too casual for your Saturday night soiree? Cue Deadwood's wide leg leather pant—a more chic and sophisticated alternative, but with the same care-free, casual appeal. 
Best for: Taking your chic style far and wide. 
| | |
| --- | --- |
| Material: | Leather |
| Color: | Black |
Theory: Best leather leggings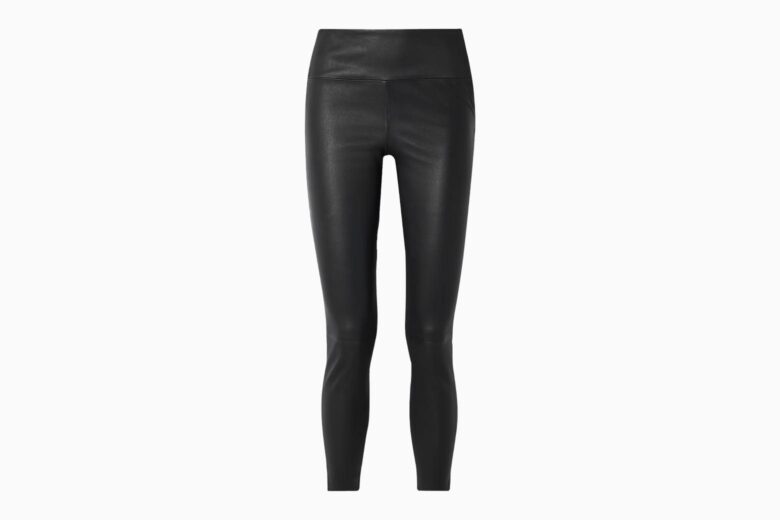 We're all for living in workout wear. But after the third day running, you may have to consider a more sophisticated substitute (especially if you're yet to step foot in a gym). However that doesn't mean that you have to compromise on comfort and the elasticated, stretch waistline that your stomach covets. In fact, these black cropped leather leggings by Theory may just give your flexible yoga pants a good run for their money. 
Best for: Cheat day. 
| | |
| --- | --- |
| Material: | Leather (Lamb) |
| Color: | Black |
Maeve The Colette: Best plus size vegan leather pants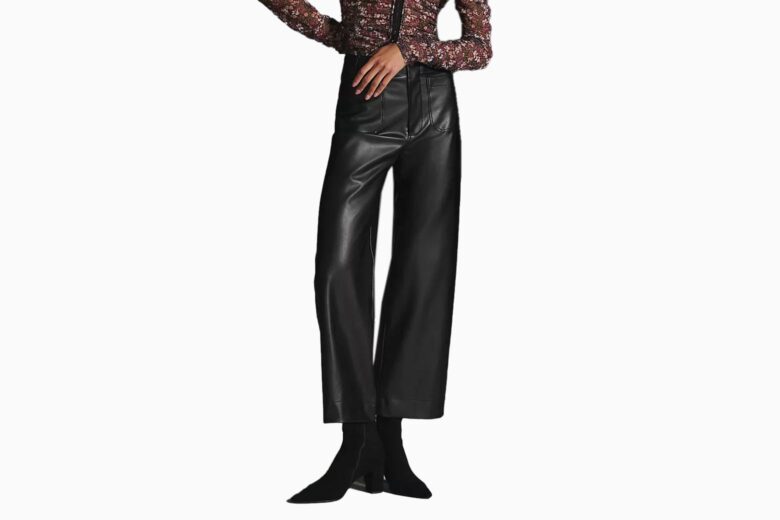 If you're shopping on Anthropologie, you know you'll find something that is timelessly elegant with a contemporary boho-chic edge. And these plus size leather pants are case in point. The wide leg fit is effortlessly flattering. While the cropped silhouette lends itself to casual slides or sneakers. 
The vibrant orange hue is all about embracing the dopamine dressing trend. While black and light blue hues speak to our minimalists at heart. 
Best for: Flattering your form. 
| | |
| --- | --- |
| Material: | Rayon |
| Color: | Black, Blue, and Orange |
Wandler Aster: Best flared women's leather pants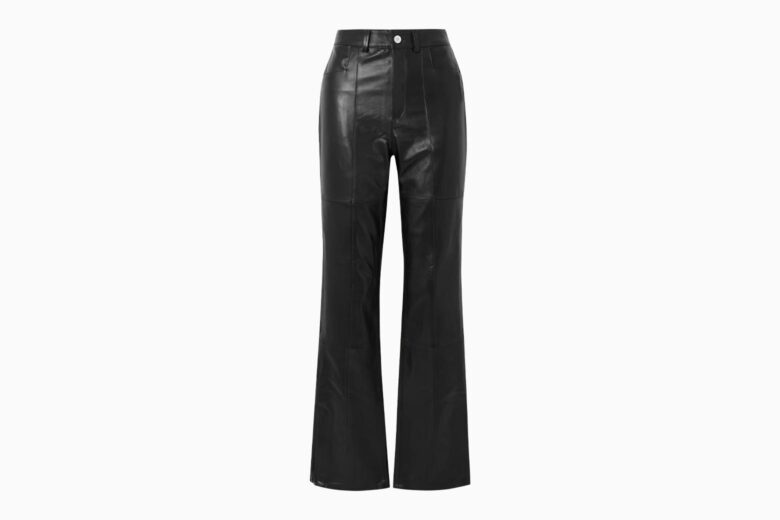 Add a romantically rebellious Italian flare to your capsule collection with Wandler Aster's black leather pants. The high waisted, bootleg silhouette with split cuffs exude retro finesse. While the neutral colorway and timeless leather fabrics complement any ensemble. 
Dress these luxury leather pants up with heels and crop tops. Or take them down with boots and knits. Whatever your style, they're tailored to fit your wardrobe and your waistline perfectly. 
Best for: Adding an Italian flare—amiamo!
| | |
| --- | --- |
| Material: | Leather |
| Color: | Black |
Arma: Best low rise leather pants for women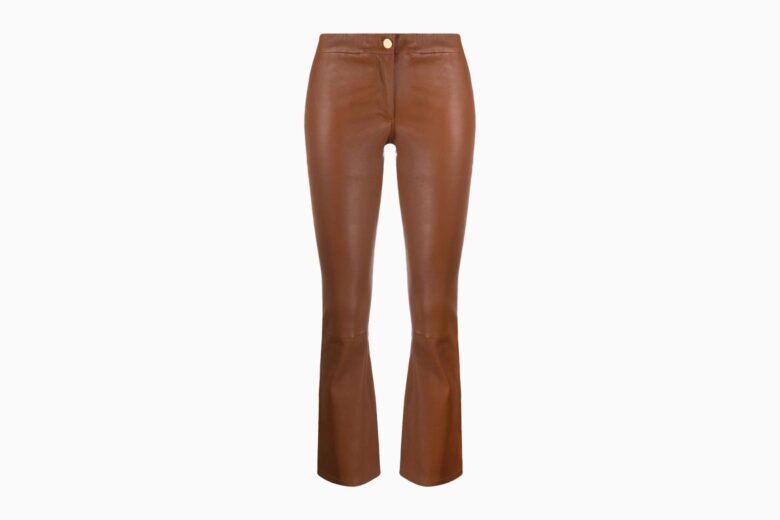 Renowned for their careful craftsmanship and timeless style, Arma has been manufacturing leather garments since 1985. Needless to say, the established luxury brand knows a thing or two about flawless leather fits. And you simply can't go wrong with these low rise leather pants. They're casual enough to pair with sneakers. Yet formal enough to dress for the office. Talk about a win, win. 
Best for: Keeping your standards high and your pants low. 
| | |
| --- | --- |
| Material: | Leather |
| Color: | Brown |
Khaite Melie: Best cropped leather pants for women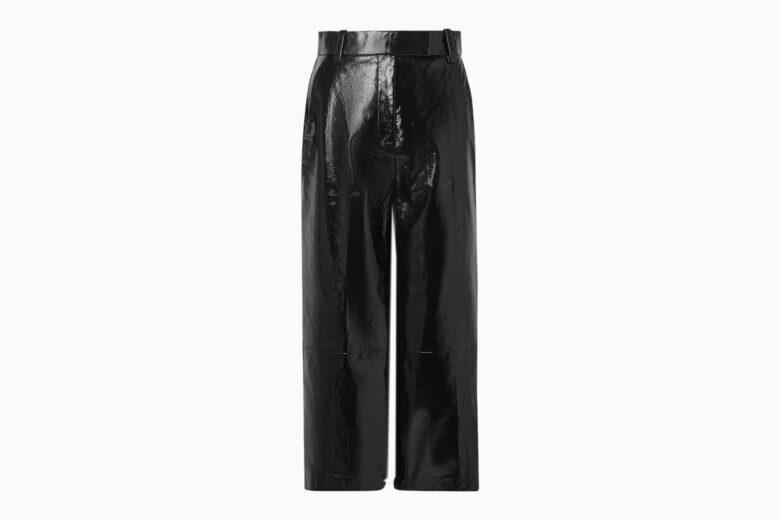 Crinkled and cropped with pressed pleats, Khaite's high rise cropped leather pants could be straight off the runway. And once you've secured them in your arsenal, you open up a whole new world of stylish outfits. 
Achieve that effortlessly polished look with leather on leather and chunky boots. Or keep it cool and classy with your best Summer shoes and a floral blouse in Spring. We're suckers for seasonless items. And once you experience the sheer versatility of these chic cropped leather pants you'll know why. 
Best for: Flying high in fashion. 
| | |
| --- | --- |
| Material: | Leather |
| Color: | Black |
Manokhi: Best cargo leather pants for women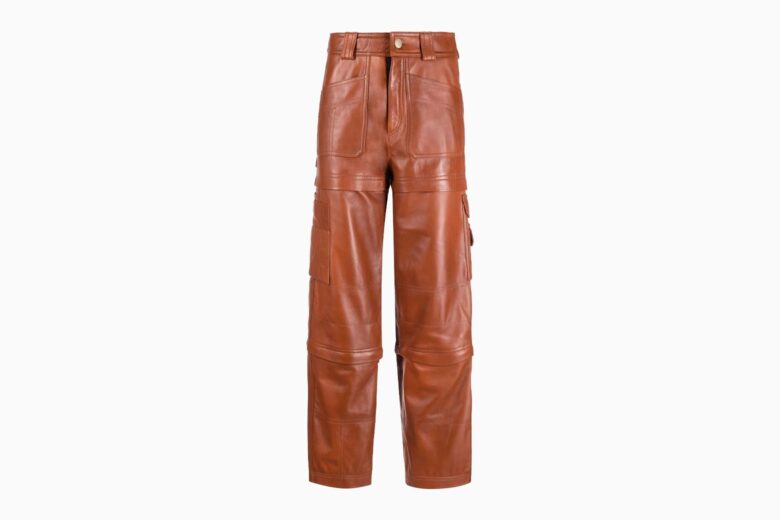 Manifesting our affiliation for utilitarian fashion, Manokhi continues to make a statement with their distinctive style details. This time, their playful attitude is revealed through cargo-esque pockets and detachable knee zips. While the natural brown colorway and straight leg make them totally wearable and easy to style. 
But don't get us wrong, you won't go unnoticed in these cargo leather pants. So be prepared to take the compliments. 
Best for: Emerging from the uninspired style trenches. 
| | |
| --- | --- |
| Material: | Leather |
| Color: | Brown |
Frequently asked questions about leather pants for women