Many watches are casually referred to as icons. But Cartier's luxury timepieces truly are legends. Cartier didn't just play an important part in the history of watchmaking. The brand pretty much wrote several key chapters, from the Cartier de Santos, the world's first modern men's wristwatch, to the instantly recognizable Cartier Tank. 
Sure, the watch brand also knows what it's doing when it comes to the technicalities and mechanics. Just look at its haute horologie Rotonde de Cartier collection. But when it comes to aesthetics, Cartier is a true master, with its all-star cast of gorgeous dress watches, ranging from the exquisite Panthère de Cartier to the classic and covetable Ballon Bleu de Cartier or Cartier Baignoire. 
At a glance
| | |
| --- | --- |
| | |
| Industry: Jewelry & Watches | Founded: 1847 |
| Headquarters: France | Founder: ​​Louis-François Cartier |
| Watch Collections: dress watches, dive watches, sport watches | Parent organization: The Richemont Group |
| Annual Revenue: $6.2 billion USD | Website: cartier.com |
Cartier watch price
How much does a Cartier watch cost? 
The price range of Cartier watches is vast, which on the house's website currently goes from $2,560 (for an entry-level Ronde de Cartier) to $285,000 (for a Cartier Libre in rose gold with diamonds). Cartier watch prices for a Cartier Baignoire begin at $9,450 while Cartier watch prices for a classic Cartier Tank start at $2,790. 
What is the most expensive Cartier watch? 
The most expensive Cartier watch is the Cartier Phoenix Décor Secret Watch, priced at $2.76 million. Shaped like a phoenix and featuring 3,010 brilliant-cut diamonds, as well as pear-shaped and portrait-cut diamonds weighing 3.53 carats, it's part of the Merveilles du Nil de Cartier collection. 
See how this compares to the world's most expensive watches. 
What is the cheapest Cartier watch? 
The cheapest Cartier watch is a Ronde de Cartier, with prices starting at $2,560 for some models. Prices for a Panthère de Cartier watch start at $3,200. You can also pick up a Santos de Cartier watch for $4,000 or a Cartier Tank for $2,790. Cartier watch prices for a Ballon Bleu de Cartier begin at $4,800.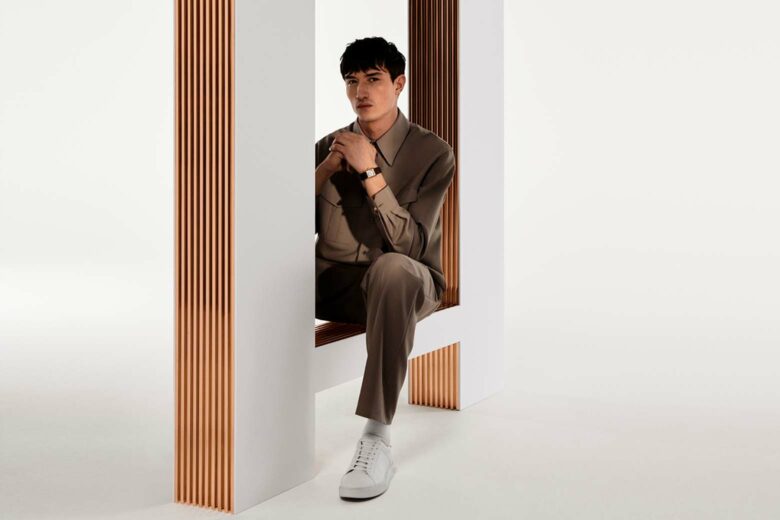 About Cartier
History of Cartier watches
Cartier began life as a Parisian jewelry brand. Founded in 1847 by Louis-Francois Cartier, there was no mention of the company making watches until 1888 when we find records of a ladies' watch with no name. 
Then, in 1904, Louis Cartier, the founder's grandson, created the first Cartier Santos watch for Alberto Santos-Dumont, a close friend and famous Brazilian aviator who wanted a pilot watch he could wear flying. This revolutionary watch, with its square bezel and highly legible face, went on to provide inspiration for the Cartier Santos collection, going on public sale in 1911. It was the first modern wristwatch, representing a milestone not just for Cartier but for the entire watchmaking world. 
By 1907, the brand had a store in London, New York City, and St. Petersburg, and was rapidly establishing an international reputation, especially among the Russian nobility and English royal family. Cartier distinguished itself from competitors with a focus on high-fashion watches with Art Deco designs as well as mystery movements. 
In 1912, Cartier released its first Cartier Baignoire watch as well as its first Tortue model. The Cartier Tank collection was launched in 1919, inspired by tanks used on the Western Front during WWI. The Tank Louis subcollection was launched in 1922, the Tank Americaine arrived in 1989, and the Tank Française appeared in 1996.
But Cartier's successes and achievements go far beyond the Tank. In 2014, the brand launched its first dive watch, the Calibre de Cartier Diver. And, today, the brand continues to develop striking and boundary-pushing timepieces, such as the Cartier Concept ID collection which features a completely transparent ceramic case and a titanium movement manufactured so precisely that it doesn't need lubricating oils. 
Interesting facts about Cartier watches
Cartier was first propelled into the public eye when Princess Mathilde, cousin of Emperor Napoleon III, purchased a piece of Cartier jewelry for the first time. 
By 1904, Cartier had been granted a royal certificate by the court of King Edward VII of England and soon after became an official jewelry supplier to the royal courts of Spain, Russia, Siam (now Thailand), and many others.
Royal family members who have worn Cartier watches include the Maharaja of Patiala, the Duke of Windsor, Queen Alexandra of Denmark, and Princess Grace of Monaco. No wonder the brand is known as "the jeweler of kings and the king of jewelers."
In 1907, Cartier began a partnership with Edmond Jaeger of Jaeger-LeCoultre who agreed to exclusively supply movements for Cartier watches.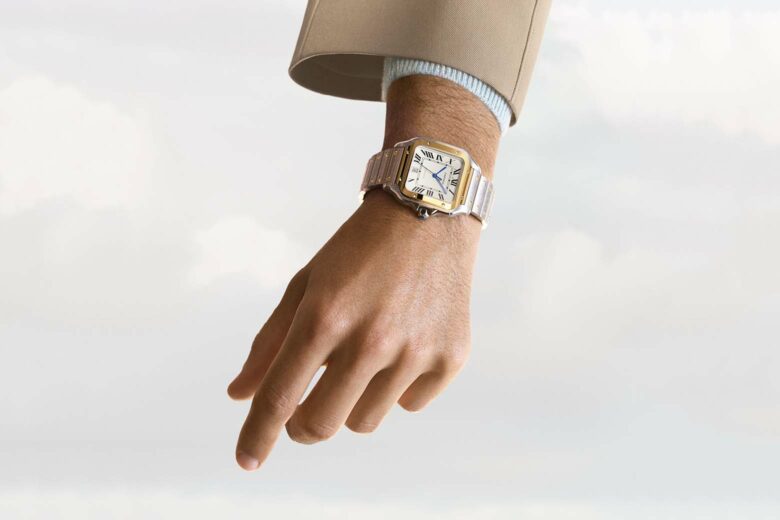 Cartier's iconic watch collections
Cartier boasts a vast range of timepieces and many different collections and sub-collections. The brand's most notable watch collections are dress watches and dream black-tie attire. 
The Indomptables de Cartier is a series of ultra-luxe jewelry watches drawing inspiration from wild animals while the Maillon de Cartier is a series of women's watches distinguished by their supple contorted bracelets.  
The Ballon Blanc de Cartier offers low-profile luxury while the Cartier Revelation d'Une Panthère is a true show-stopper of a watch, featuring an image of a panther that appears and disappears. 
The Rotonde de Cartier is where the brand exhibits some of its most impeccable craftsmanship with skeletonized designs and mysterious movements. The Cartier Coussin is a unique dress watch with a highly original form while the Cartier Libre collection redefines the meaning of extravagant. 
The Ronde de Cartier collection is more pared-back but no less elegant while the iconic Baignoire, dating from 1912, is a unique ellipse-shaped timepiece. Turn to the brand's collection of Panthère Jewelry watches for eye-catching opulence or to the Pasha de Cartier for something laidback but equally luxurious. 
The Panthère de Cartier collection is another iconic Cartier watch with its distinct square case. Meanwhile, Santos de Cartier is the brand's first-ever wristwatch. And everybody's heard of the Cartier Tank, the brand's most recognizable timepiece, which has adorned some of the world's most famous wrists.
Finally, there's the Ballon Bleu de Cartier, yet another instantly recognizable Cartier watch with its cabochon crown and balloon-shaped case.  
Signature materials and craftsmanship 
One of Cartier's first watch designs is also one of its most iconic: the Cartier Santos. It features Roman numerals and a bezel secured with tiny screws, something that had never been seen before at the time it was released. 
Another of Cartier's most recognizable and signature designs is the Cartier Tank which took inspiration from the boxy Renault armored tanks used in WWI trenches, featuring rectangular lugs to emulate the shape of the tank tire treads. The original Cartier Tank has birthed many sub-collections since, including the recent SolarBeat Tank Must, the brand's first solar-powered watch. 
Other notable watch designs from Cartier include the understated Ballon Bleu de Cartier, with a distinctive bridge that protrudes from the side of the case to protect the crown, as well as the Cartier Pasha, launched during the 1980s and featuring a chain to connect the crown cap to the case. 
Cartier's horological mastery is particularly evident when it comes to aesthetics and decorative techniques. Look out for intricate and highly-demanding artisan craftsmanship including intaglio engravings, cloisonné, stone mosaics, wood marquetry, champlevé grand feu enamel, and plique-à-jour enamel. 
Cartier has been carbon neutral since March 2009 and has been at the forefront of making the switch to LED bulbs to display watches and jewelry in its boutiques around the world. 
Where is Cartier made?
Cartier watches are made in La Chaux-de-Fonds in the canton of Neuchâtel, Switzerland, an area renowned for horology. This 33,000m² Manufacture is home to more than 120 different professions, from design through to production, and is one of the country's largest fully integrated watchmaking facilities. The company also has an atelier in Meyrin, Geneva, where its haute horlogerie creations bearing the Geneva Seal are assembled. The company headquarters are in Paris where the brand was founded in 1847. 
Brand values
| | |
| --- | --- |
| Vegan options: | No |
| Carbon-neutral: | Yes |
| Gives back: | Yes |
Cartier watches
Indomptables de Cartier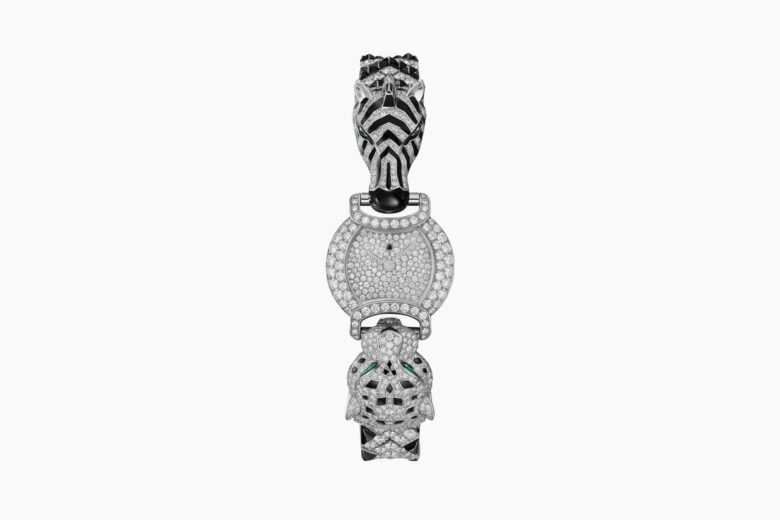 'Indomptable' roughly translates as 'impossible to tame' and this Cartier collection represents a menagerie of wild animals in high-jewelry form with each exquisite watch formed to the likeness of not one but two beasts, from a crocodile and a zebra to a tiger and a giraffe, each head-to-head in a glittering face-off. These watches are the opposite of understated. They're extravagant, sparkling, ultra-graphic, and uniquely Cartier. 
| | |
| --- | --- |
| Price: | $222,000 – $245,000 |
| Current case size:  | 22.2 mm |
| Movement: | Quartz |
| Water resistance: | 30 m |
| Crystal: | Sapphire |
Maillon de Cartier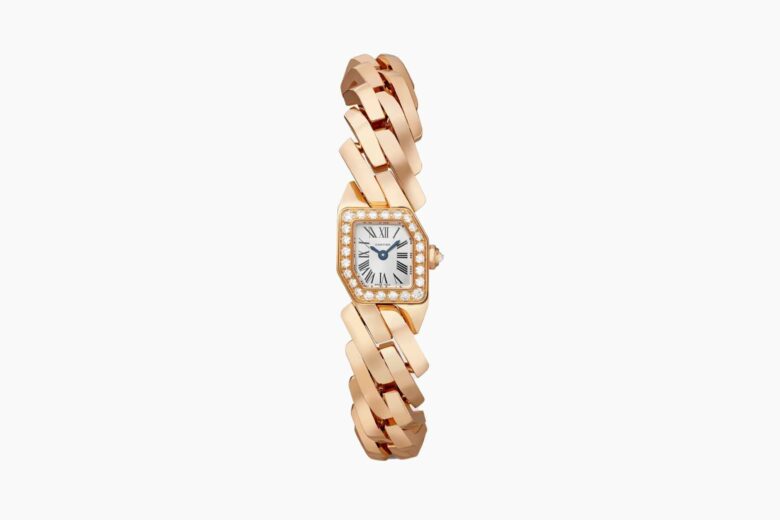 This collection of women's watches is about capturing movement in a static form. These dynamic and fluid Cartier timepieces feature sculptural link bracelets and hexagonal bezels, twisted and contorted to create a sense of motion. The effect is exceptionally compelling. Cartier has always been at the vanguard of creating uniquely shaped watches and the Maillon de Cartier is one of our favorite examples. 
| | |
| --- | --- |
| Price: | $35,100 – $127,000 |
| First release year: | 2020 |
| Current case size:  | 31 mm x 17 mm |
| Movement: | Quartz |
| Water resistance: | 30 m |
| Crystal: | Sapphire |
Ballon Blanc de Cartier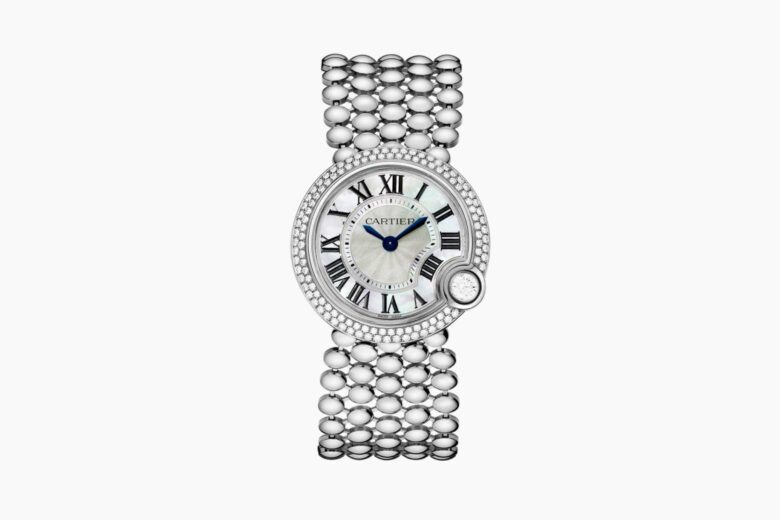 Yet another timelessly elegant collection from a brand that prides itself on trend-transcending style. Ballon Blanc refers to the perfectly circular and dazzling diamond set at 4 o'clock. Take your pick from blue calf-skin or gray alligator-skin straps, dials ranging from 26 mm to 30 mm, 18k rose gold or steel, and enjoy the solid dependability of a high-quality quartz movement. 
| | |
| --- | --- |
| Price: | $6,800 – $16,400 |
| First release year: | 2007 |
| Current case size:  | 26 mm – 30 mm |
| Movement: | Quartz |
| Water resistance: | 30 m |
| Crystal: | Sapphire |
Revelation D'une Panthère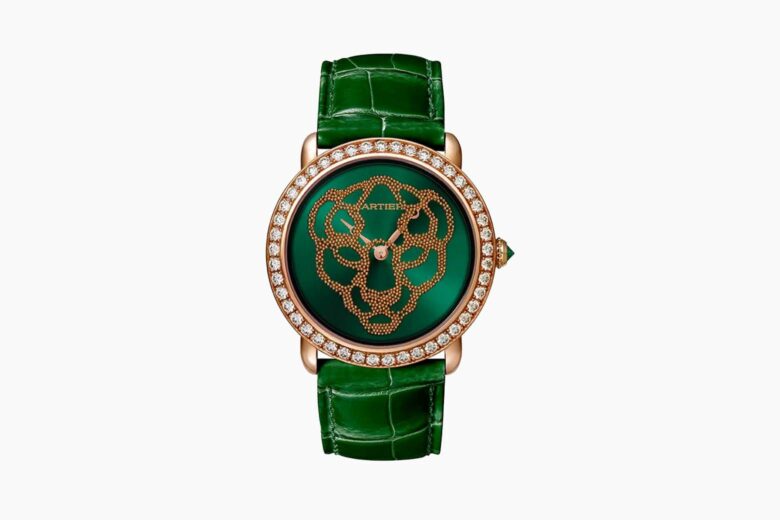 Some people want a watch to tell the time. Others want a watch to illicit gasps and swoons. The Cartier Revelation D'une Panthère is one of those watches. This timepiece features 900 gold balls that trickle slowly across the dial through a viscous and transparent fluid to create Cartier's iconic Panthère which looks as though it's floating. It's magical to behold and no surprise that it took five years to develop. 
The only downside? It's so ridiculously gorgeous that you'll forget to actually check the time. 
| | |
| --- | --- |
| Price: | $107,000 – $267,000 |
| First release year: | 2018 |
| Current case size:  | 37 mm |
| Movement: | Manual |
| Water resistance: | 30 m |
| Crystal: | Sapphire capsule to hold the beads |
Rotonde de Cartier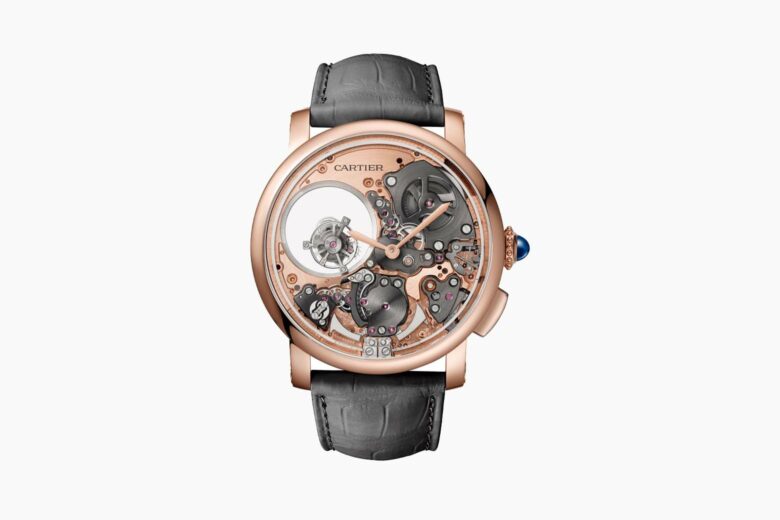 With the Rotonde de Cartier, you'll find a large circular case, ranging from 42 mm to 45 mm, along with one of the watch company's skeletonized or 'mysterious' movements (so named because their working isn't easily deducible). Materials include platinum, rose gold, and white gold, and straps come in black or dark gray alligator leather. You'll also find either a blue cabochon sapphire or a ruby in the beaded crown. 
| | |
| --- | --- |
| Price: | $58,000 – $285,000 |
| Current case size:  | 42 mm – 45 mm |
| Movement: | Automatic and manual |
| Water resistance: | 30 m |
| Crystal: | Sapphire |
Coussin de Cartier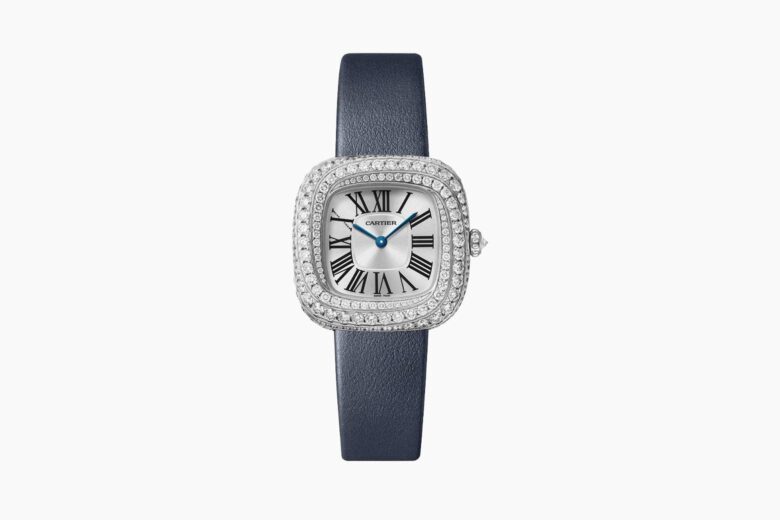 A timepiece that puts the 'dressy' into 'dress watch', the Coussin de Cartier is consciously designed for after-dark, offering the kind of luxurious elegance that really comes into its own after night falls with a square watch in a whorl of spiral-set diamonds. But the real stand-out feature, present in just two of the Coussin watches, is the cushion-shaped cases that are actually squishy (yes, like a cushion) thanks to the flexible mesh-like outer case. It's fun, fabulous, and quintessentially Cartier.  
| | |
| --- | --- |
| Price: | $26,200 – $70,500 |
| First release year: | 2022 |
| Current case size:  | 30.4 mm x 31.1 mm or 39.3 mm x 32 mm  |
| Movement: | Quartz |
| Water resistance: | 30 m |
| Crystal: | Sapphire |
Cartier Libre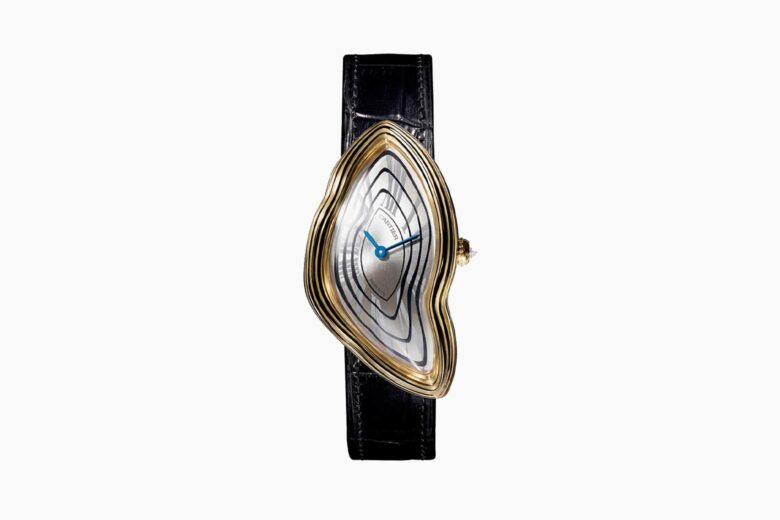 The 'libre' of the Cartier Libre collection refers to the fact this is the watch series where the brand can experiment with totally unconstrained creativity and freedom. The results are spectacular, with a range of superbly extravagant, diamond-decked, and beyond-opulent timepieces: reversible bracelet watches made with triangular links, limited edition jewelry watches that riff on the brand's iconic Baignoire, and even a tortoise-inspired timepiece using random diamond paving and a geometric composition to create the appearance of a shell. 
| | |
| --- | --- |
| Price: | $70,500 – $285,000 |
| First release year: | 2017 |
| Current case size:  | 25.47 mm x 32.39 mm40.45 mm x 32.7 mm99.9 mm x 84.7 mm |
| Movement: | Manual and quartz |
| Water resistance: | 30 m |
| Crystal: | Sapphire |
Ronde de Cartier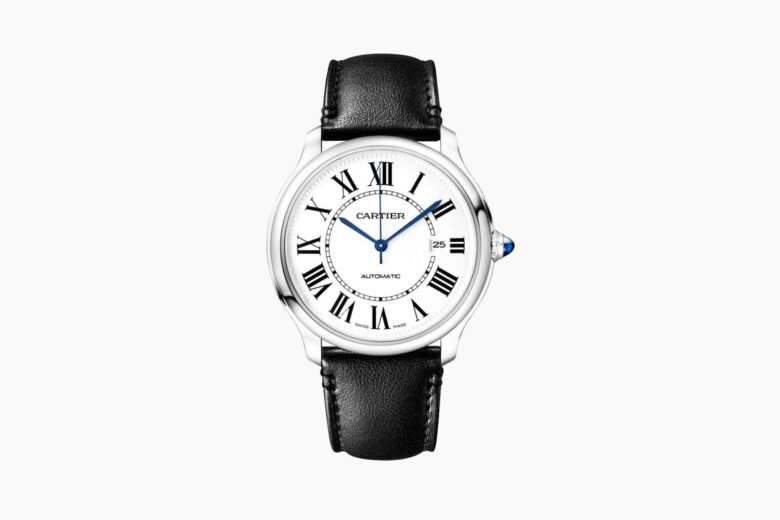 Purity of design and precise geometry are hallmarks of Cartier style and perfectly exemplified by the Ronde de Cartier collection. Here you'll find classical sophistication, Roman numerals, a rail track chapter ring, blue sword-shaped hands, and a blue sapphire cabochon on the crown, offering enduring elegance for any formal occasion. 
| | |
| --- | --- |
| Price: | $2,560 – $17,900 |
| First release year: | Circa 1930 |
| Current case size:  | 29 mm – 40 mm |
| Movement: | Quartz and automatic |
| Water resistance: | 30 m |
| Crystal: | Sapphire |
Cartier Baignoire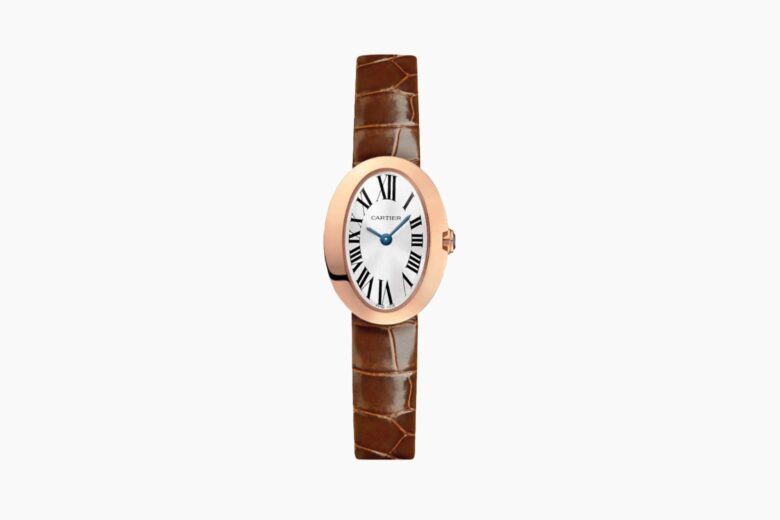 The iconic Cartier Baignoire began life back in 1912 when brand founder, Louis Cartier, took the traditionally round watch case and stretched it, creating an ellipse shape similar to a bathtub, hence the name baignoire. Today, this cult favorite watch has evolved into various iterations, including the oversized Baignoire Allongée, simple yet extravagant and full of character. 
| | |
| --- | --- |
| Price: | $9,450 – $162,000 |
| First release year: | 1958 |
| Current case size:  | 25 x 18.8 mm – 52 mm x 23 mm |
| Movement: | Manual and quartz |
| Water resistance: | 30 m |
| Crystal: | Sapphire |
Panthère Jewelry Watches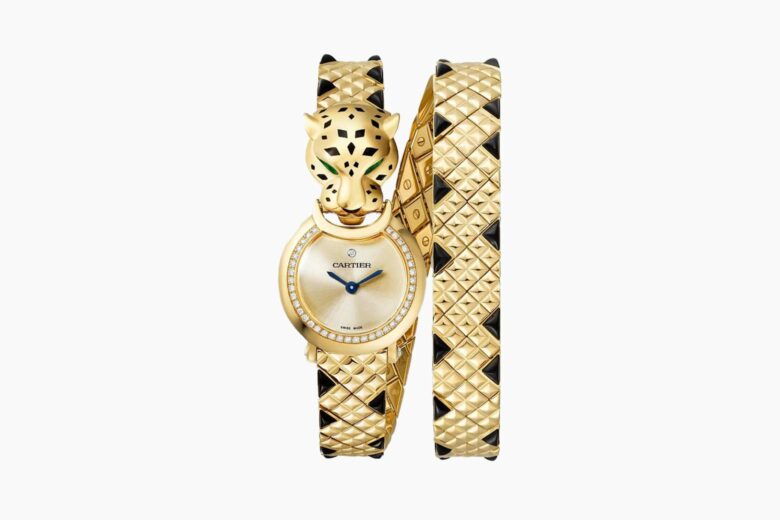 This collection of exquisitely crafted and superbly decadent jewelry Cartier watches have a single unifying theme: that of a panther. This is the brand's emblem, an animal known for its wild and untamable nature, with the same compelling magnetism and mysterious allure as these luxury timepieces. The collection ranges from bangle watches with tiny 18mm watch faces to dials entirely encrusted with diamonds while the panther, with emerald eyes, watches on from above. 
| | |
| --- | --- |
| Price: | $29,500 – $250,000 |
| Current case size:  | 18 mm – 23.6 mm |
| Movement: | Quartz |
| Water resistance: | 30 m |
| Crystal: | Sapphire |
Pasha de Cartier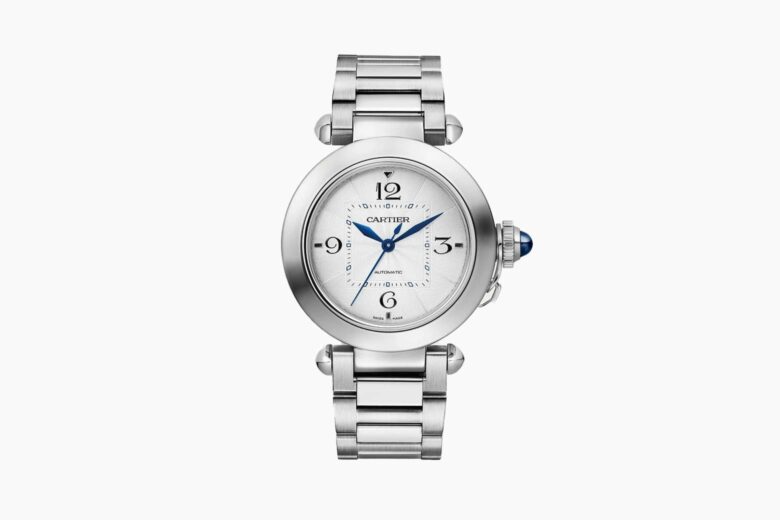 Remaining true to the first Pasha de Cartier model released in 1985, this watch series is classic, elegant, and slightly more understated than other Cartier collections. That's not to say the Pasha de Cartier is boring—far from it. With its screwable crown cap on a chain and dial grid, it's highly unique. Bonus features include the company's patented QuickSwitch strap-changing technology for added versatility. 
| | |
| --- | --- |
| Price: | $5,050 – $186,000 |
| First release year: | 1985 |
| Current case size:  | 30 mm – 41 mm |
| Movement: | Automatic, manual and quartz |
| Water resistance: | 30 m |
| Crystal: | Sapphire |
Panthère de Cartier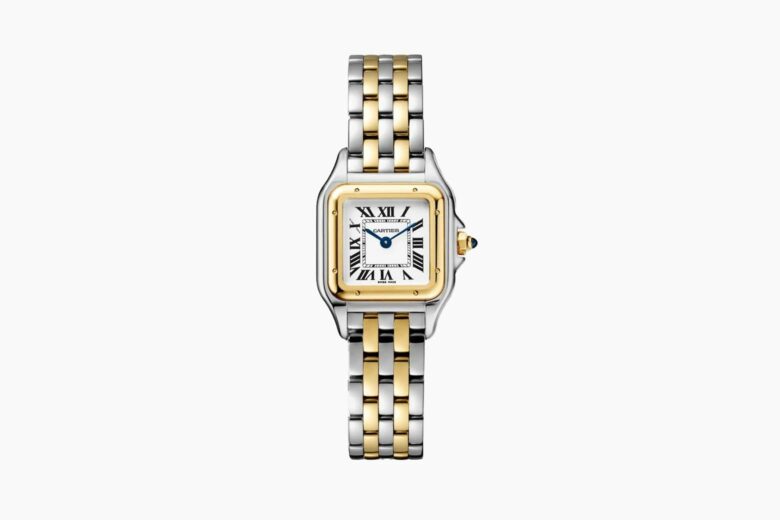 At the House of Cartier, the fierce grace of the panther has made it a long cherished icon but it wasn't until 1983 that the Panthère de Cartier collection was unveiled: a supple bracelet watch mimicking the panther's agility along with an iconic square case, Roman numerals, blue sword-shaped hands, and faceted octagonal crown with a blue sapphire. 
| | |
| --- | --- |
| Price: | $3,200 – $171,000 |
| First release year: | 1983 |
| Current case size:  | Rectangular dials: 22 mm x 19 mm up to 29 mm x 37 mmCircular dials: 36 mm – 42.75 mm |
| Movement: | Quartz, automatic, and manual |
| Water resistance: | 30 m |
| Crystal: | Sapphire |
Santos de Cartier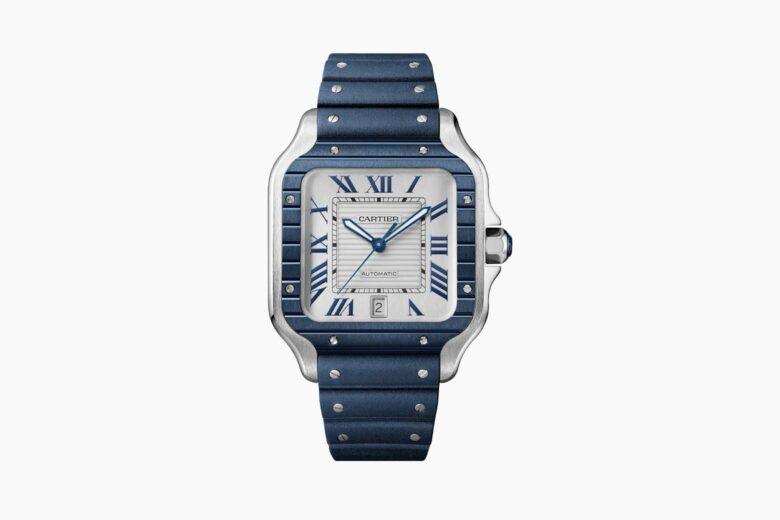 The watch that started it all: created in 1904 following a request from Brazilian aviator Alberto Santos Dumont for his friend, Louis Cartier, to craft him a pilot watch for flying at high altitude, the Santos de Cartier was progressive, pared-back, and instantly iconic. Featuring squared-shaped dials with gently softened bezel edges and sword-shaped hands coated with Super-LumiNova, Cartier Santos watches are as practical as they are elegant. The Santos Dumont are the slightly dressier versions of the Santos de Cartier, sporting leather straps and onion-shaped crowns.
| | |
| --- | --- |
| Price: | $4,000 – $66,500 |
| First release year: | 1911 |
| Current case size:  | 35.1 mm – 46.6 mm |
| Movement: | Automatic, manual, and quartz |
| Water resistance: | 30 m – 100 m |
| Crystal: | Sapphire |
Cartier Tank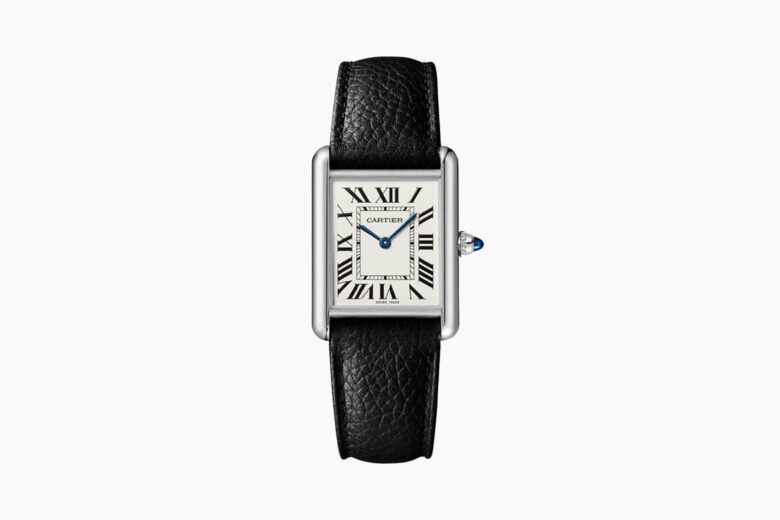 Arguably the brand's most famous watch and the most widely worn dress watch of all time, the Cartier Tank has been a favorite among A-listers and royalty. Ralph Lauren, Princess Diana, Catherine Deneuve, Andy Warhol, and Angelina Jolie have all been fans. While it was actually inspired by WWI military vehicles, today's Cartier Tank is a far cry from the battlefield with its timeless Art Deco silhouette and easygoing elegance. The series has birthed multiple sub-collections from the Tank Francaise to the Tank Chinoise, but you'll always find the same Roman numerals, sword-shaped hands, and sapphire crown.  
| | |
| --- | --- |
| Price: | $2,790 – $94,000 |
| First release year: | 1918 |
| Current case size:  | 29.5 mm x 22 mm – 47.17 mm x 26.2 mm |
| Movement: | Automatic, manual, and quartz |
| Water resistance: | 30 m |
| Crystal: | Sapphire |
Ballon Bleu De Cartier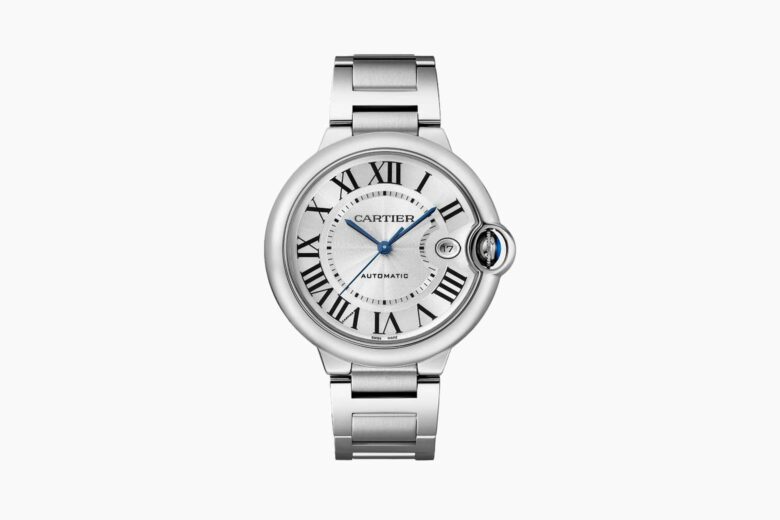 One of the Parisian watchmakers most iconic timepieces, the Ballon Bleu De Cartier is named for both its balloon-shaped case and distinctive sapphire cabochon crown enclosed by a metal arc. Today, you can take your pick from a variety of models, with leather straps or metal bracelets on offer, and a range of materials and dial colors, from pink to blue to white. 
| | |
| --- | --- |
| Price: | $4,800 – $103,000 |
| First release year: | 2007 |
| Current case size:  | 28 mm – 42 mm |
| Movement: | Quartz, automatic, and manual |
| Water resistance: | 30 m |
| Crystal: | Sapphire |
Where to buy Cartier watches
You can buy Cartier watches directly from the company website or from authorized Cartier boutiques. Watches come with a 24-month warranty. New Cartier watches can also be purchased from online retailers Net-a-Porter and Mr Porter. Pre-owned Cartier watches are available from trusted third-party retailers such as FARFETCH and Jomashop where the authenticity of your timepiece is verified by experts. 
For more about buying a luxury watch, see our watch guide. 
Cartier shipping
Cartier offers complimentary standard delivery on all watches. This will take around 3 days from the date of your order. Express Delivery and next-day delivery are also available on request. A signature is required on delivery. 
Jomashop offers international shipping for a set fee of $150 while FARFETCH, Net-a-Porter and Mr Porter provide international shipping for different fees depending on the country. 
Cartier return policy
Cartier watches purchased via the company website can be returned or exchanged within 30 days of delivery for exchange or refund. You can also process exchanges or refunds by visiting a Cartier retail boutique. 
FARFETCH accepts returns within 14 days for a full refund and Mr Porter allows returns within 28 days. 
Cartier customer service number
For help with a Cartier watch order or answers to any other queries, contact Cartier's customer service department on 855-888-8798. 
Cartier social media profiles
Frequently asked questions about Cartier watches