Equestrian stripes. Bamboo handles. Interlocking Double G hardware. These are just a few of the elements that make Gucci handbags so instantly recognizable. And listed at the top of the most popular luxury brands, there's no other club membership quite as covetable as the Gucci gang. Arguably edgier than the cult-favorite YSL bags, more affordable than Hermes bags, and more fashion-forward than Louis Vuitton classics, Gucci handbags are a masterclass in bold confidence—a workshop that very few wouldn't sign up for. 
Take your sartorial cues from Princess Diana and pair a bamboo-handle Gucci bag with casual biker shorts. Emulate the laidback elegance of eternal style icon Jackie Kennedy with an old-school hobo-style silhouette and silk head scarves. Or make the world your playground—and Harry Styles your playmate—with eccentric prints and bold colorways. There's really no rule for how to wear the most popular Gucci bags. And handcrafted from the softest Italian leather with decadent details, the affluent label is inescapably glamorous, whether dazzling next to little black dresses or keeping it casual with street-style sneakers. 
The catch? Membership to the Gucci gang doesn't come without a price tag. But then again, nothing great does. Although when you consider a Gucci bag to be a lifetime purchase, with a potential higher market price decades later, we prefer to see the most popular Gucci bags as more of an investment than a splurge. And what better way to invest than in handcrafted Italian handbags with unwavering value?
Gucci Bamboo 1947
Perhaps even more historically significant than the House of Gucci's equestrian stripe detailing, is Gucci's invention of bamboo handles. Post-war, Italy experienced a shortage of various materials. Instead of halting production, Gucci founder, Guccio Gucci, saw this as an opportunity to try something new. In 1947, Guccio launched the Gucci Bamboo and patented the technology used to heat and curve bamboo—an incredibly durable and lightweight raw material—into a U-shaped handle. 
Trendy but timeless, the Gucci Bamboo epitomizes understated sophistication. And since it was popularized by Ingrid Bergman in the film, Viaggio in Italia, in the late 1940s, it has changed very little. The current iteration of the silhouette still features the quintessential U-shaped bamboo handle and logo-free exterior in a variety of sizes and materials. 
Best for: Reliving the glamor of old-school Hollywood. 
| | |
| --- | --- |
| Release: | 1947 |
| Retail price: | $3,500 – $5,300 |
Gucci Horsebit 1955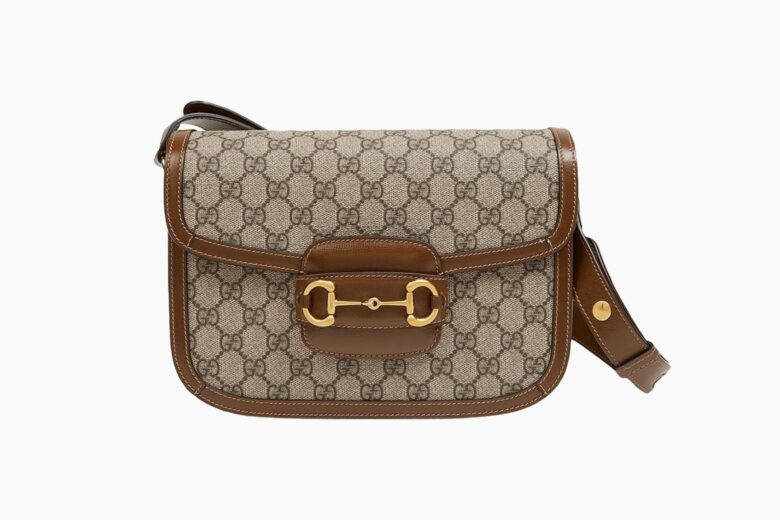 Capitalizing on the many rumors circulating about the origins of the Florence fashion house, the self-mythologizing Maison decided to launch the Gucci Horsebit collection in 1955. At the time, there were whisperings that the affluent label began as saddle-makers for nobility. To conceal the label's more-humble origins, Aldo Gucci perpetuated the rumors indirectly through horsebit hardware and the now-iconic equestrian stripe detailing.
Leaning into the equine theme, the Gucci Horsebit collection features top-stitching similar to that on saddles. The Gucci everyday bag is further distinguished by the green and red stripes reminiscent of those on girth straps. And, of course, the hero is the gold hardware horsebit, replacing the signature Double G monogram and proving that if your designs are that conspicuous, you don't need a logo to scream your name.
Best for: Telling a sartorial story. 
| | |
| --- | --- |
| Release: | 1955 |
| Retail price: | $2,800 – $3,250 |
Gucci Jackie 1961
Reimagining a style from 1961, the Gucci Jackie bag was relaunched in 2021. Testament to the bag's timeless design, the silhouette hasn't changed much. Instead, added colorways and less-understated embellishments, provide more choice when it comes to re-enacting the allure of Jackie Kennedy herself. 
Gucci first introduced the hobo-style bag—then called the Fifties Constance—in 1961. But after the Hollywood actress was photographed with it, Gucci quickly rechristened it The Jackie, a name that is yet to lose its significance. Since its inception, the brand has released many iterations of classic half-moon shape with sleek piston hardware. And ushered into the new era by Kate Moss, Harry Styles and Dakota Johnson, it's safe to say that the it-girls-and-boys have all signed off on the immortal collection. 
Best for: Reimagining understated elegance with a trendy twist. 
| | |
| --- | --- |
| Release: | 2021, reimagining a style from 1961 |
| Retail price: | $2,400 – $6,900 |
Gucci Diana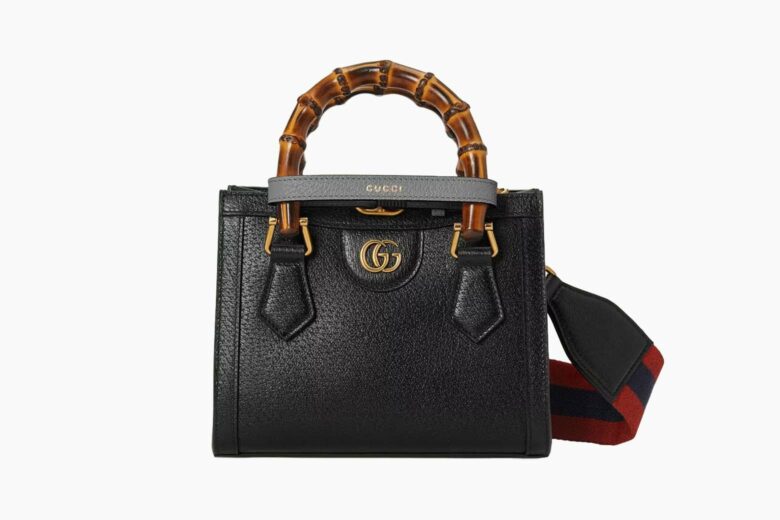 Released in July 2021, on what would have been Princess Diana's birthday, the Diana collection pays homage to the Princess of Wales' signature style. In the late 1990s, Diana was frequently spotted with a bamboo-handled Gucci bag in tow. As the glue to the princess' unofficial off-duty uniform, the Gucci bag proved to accessorize biker shorts and sweats just as well as it did structured Summer dresses. 
As one of the popular Gucci bags, Alessandro Michele's reinvented version is just as versatile. The Diana collection features the brand's instantly-recognizable Double G monogram, bamboo handles and timeless calfskin leather. But it also plays with new elements such as colorful belts and shoulder straps in complementary hues. 
Best for: Having fun—princess style. 
| | |
| --- | --- |
| Release: | 2022, reimagining a style from the 1980s |
| Retail price: | $2,190 – $3,980 |
Gucci GG Marmont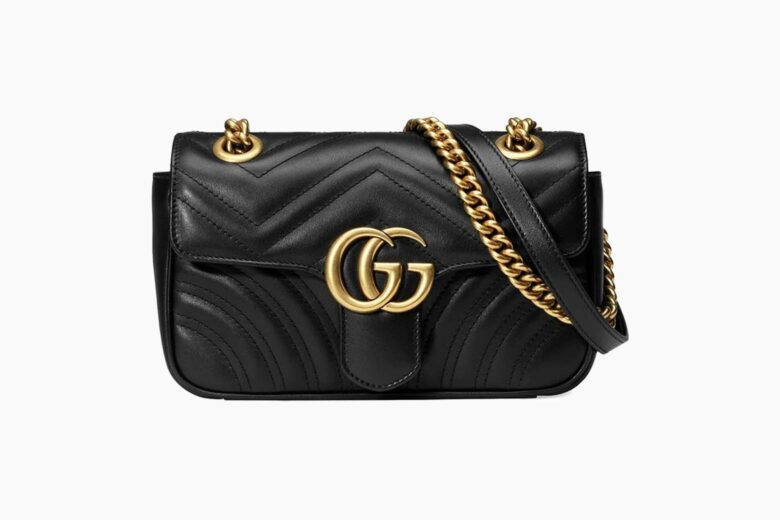 Named after the famed Hotel Chateau Marmont in Los Angeles, the Gucci Marmont collection reflects the hush-hush glamor of its celebrity clientele. And although the line was first introduced in 2016, the vintage design draws its inspiration from the brand's signature 1970s belt, featuring the interlocking Double G buckle. 
Like the belt, the Gucci crossbody bag highlights the exaggerated monogram, but with a modernized chevron-style quilted leather and chain strap. Marrying old and new, the Gucci Marmont has become one of the brand's most popular and enduring lines, with sought-after styles and colors introduced each season.
Best for: Checking into the penthouse suite. 
| | |
| --- | --- |
| Release: | 2016 |
| Retail price: | $1,400 – $2,550 |
Gucci Ophidia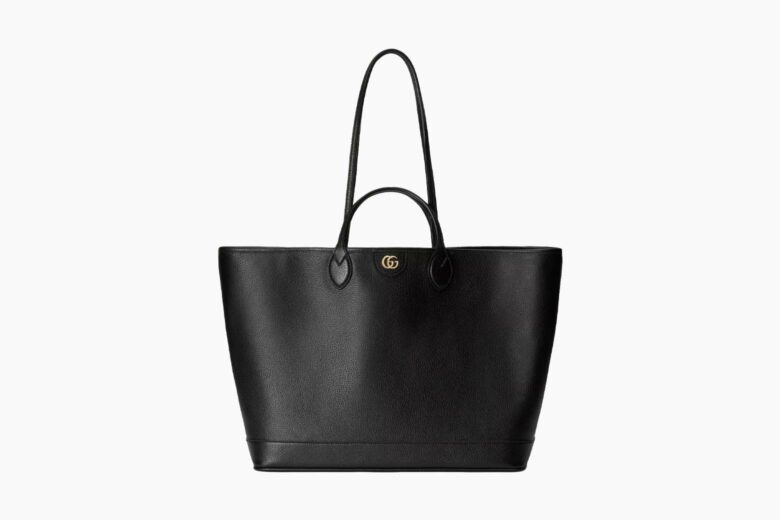 Listed amongst our best totes for women, as well as our best designer work bags for women, this Gucci shoulder bag is our everyday classic. Clean and simple, yet undeniably Gucci, the timeless silhouette is instantly recognizable by its all-over logo, equestrian stripes and vintage finishes. 
While the Double G hardware is unmistakably present, it is more subtle and understated than other designs. The Ophidia is also one of the most practical collections. The carryall silhouettes boast plenty of space for everyday essentials. While more compact crossbody iterations are the perfect end-of-work pick-me-up. 
Best for: Reviving fashion archives. 
| | |
| --- | --- |
| Release: | 2018 |
| Retail price: | $1,650 – $2,590 |
Gucci Attache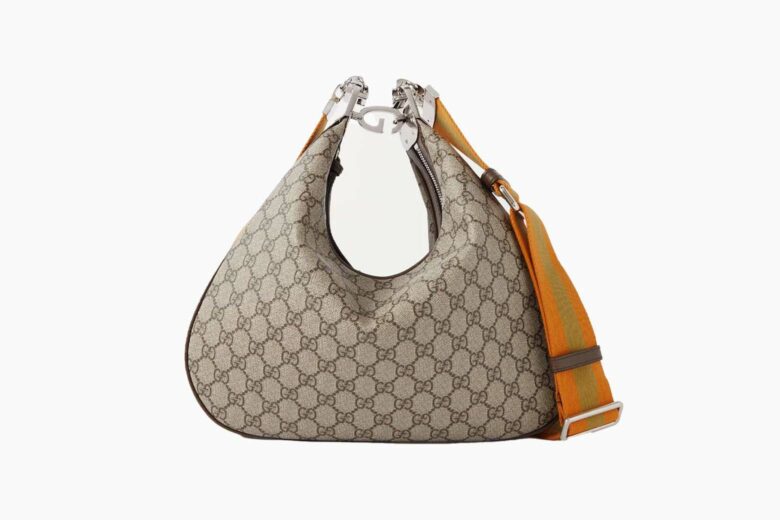 A reprise of the 1975 hobo-style bag, the Attache first walked the runway in 2020 at Gucci's Love Parade in Los Angeles. Defined by the G-shaped hook, the crescent silhouette can be clipped together at the top, creating a triangular silhouette. While the Web stripe marries together different eras, paying homage to the brand's undying relevance. 
With its distinct 1970s aesthetic and contemporary details, the Gucci Attache tells a story of past, present and future. And whether you opt for buttery suedes, monogrammed canvas or classical leathers, this Gucci bag is bound to solidify the love affair between retro sartorialists and the renowned brand. 
Best for: A retro-modern love affair. 
| | |
| --- | --- |
| Release: | 2022, a reimagining of a style from the 1970s |
| Retail price: | $1,980 – $3,590 |
Gucci Blondie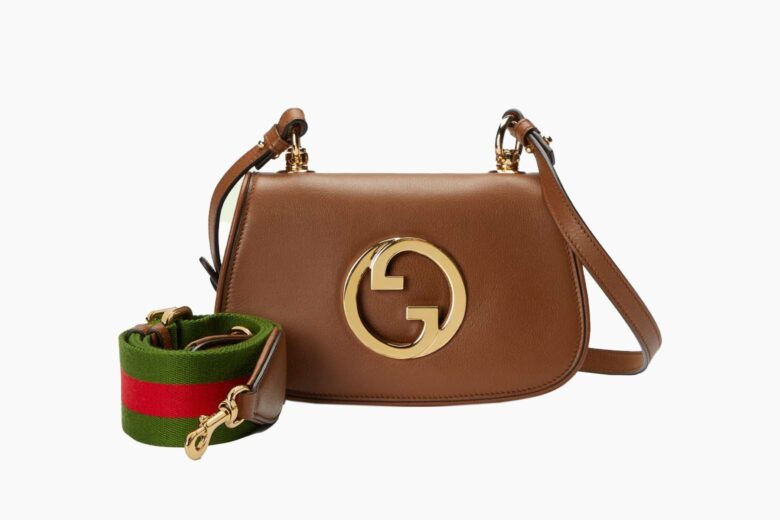 When it comes to handbags, we have to agree that Blondies do indeed have more fun. Well, at least this one does. The Blondie collection was first introduced at Gucci's Love Parade runway, alongside The Attache. Unlike the more retro collection, the Blondie harnesses the power of modern minimalism, while still incorporating Gucci's signature details. 
Playing around with symmetry, the avant-garde logo takes on a new form. But at the same time, it is still unequivocally Gucci—a feat not easily achieved. The boxy silhouette is bedazzled with the metamorphosed motif and other touches of gold hardware. While the minimalist tote handle and longer crossbody straps nod toward Gucci's earlier designs. 
Best for: A masterclass in modern minimalism. 
| | |
| --- | --- |
| Release: | 2022 |
| Retail price: | $1,790 – $1,990 |
Gucci Dionysus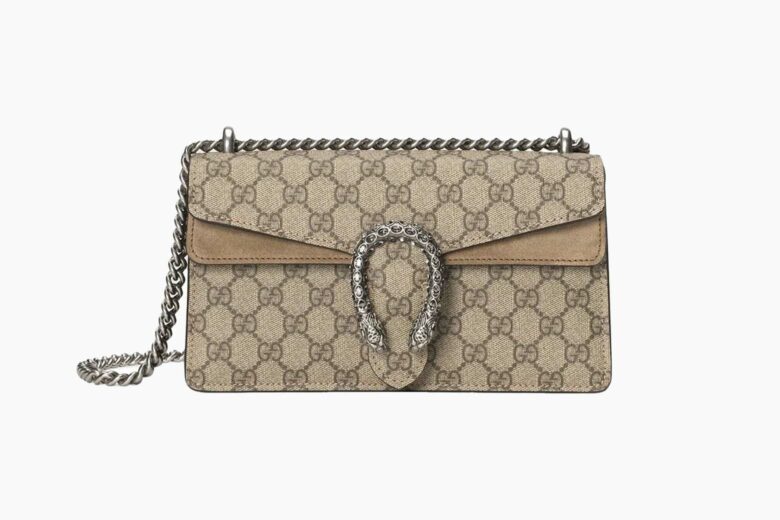 Named after the god of wine and revelry, the Gucci Dionysus collection taps into Michele's more-is-more mentality as it continues to expand the Gucci vocabulary. Yep, we all know the brand's affiliation with equestrian-inspired aesthetics. But the introduction of tiger heads is something to get used to. At a first glance, the Gucci bags seem to showcase a horseshoe buckle, but a closer glance reveals tiger-head hardware, as a nod to Greek mythology. 
Taking New York by storm within months of its inception, the Gucci Dionysus remains a highly coveted collector's item for fashion aficionados and it-girls. Festooned with monogrammed canvas and ethereal accents, the eclectic collection is characterized by fantasy and festivity. 
Best for: The Greek goddess of Gucci handbags.
| | |
| --- | --- |
| Release: | 2015 |
| Retail price: | $990 – $3,300 |
Gucci Soho Disco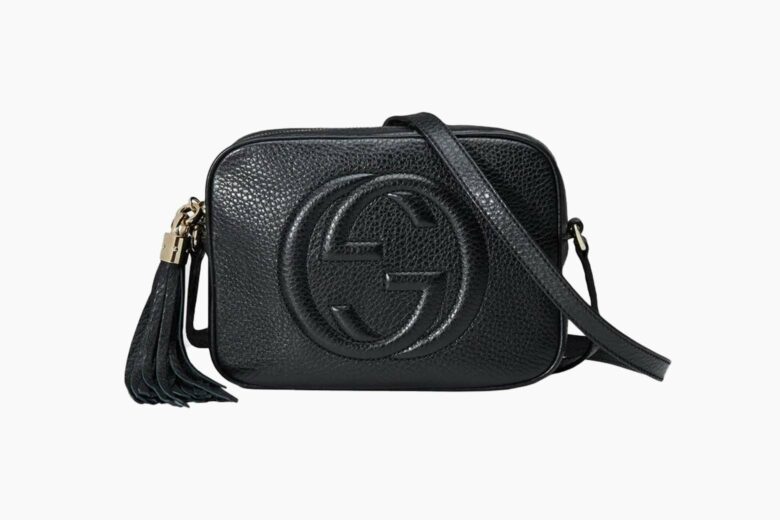 Hands-free and handsome, Gucci's Soho Disco is the ultimate party bag. Characterized by the hefty leather tassel as a zipper pull, the camera-style crossbody falls within the Blondie line. And like all other Blondie bags, it's a playful take on a more contemporary Gucci. 
The compact size has just enough room for your evening essentials without taking up extra room. While the simple silhouette highlights the reinvented Double G monogram and the brand's impossibly soft pebbled calfskin leather. Fun and practical, yet undeniably elegant, this Gucci handbag is one of the most popular amongst out-and-about millennials—hence the name. 
Best for: Shining brighter than a disco ball. 
| | |
| --- | --- |
| Release: | 2012 |
| Retail price: | $1,790 |
Gucci Sylvie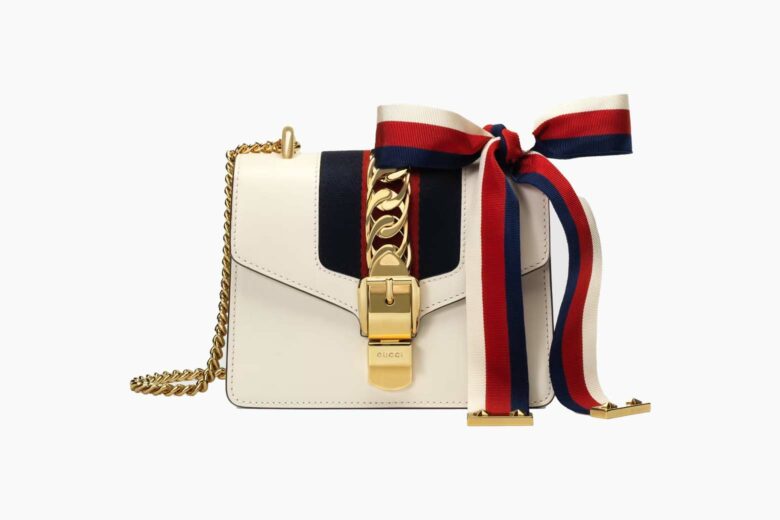 As one of the best Gucci crossbody bags of all time, the Sylvie collection epitomizes everything legendary about the brand in the 1960s and '70s. The boxy silhouette gives it that old-school feel. The tri-color ribbon is a nod toward the brand's equestrian roots. While the fold-over flap and gold hardware buckle are timeless and classical. 
Released in 1969, the Sylvie is one of the oldest Gucci creations. It is also one of the most sought-after Gucci bags in the secondhand retail market. Acknowledging this, Gucci is reviving the model with bubblegum pink variations, petite sizes, and snakeskin prints—amongst many other eclectic details. 
Best for: Boxy cuts with ribbon frills. 
| | |
| --- | --- |
| Release: | 1969 |
| Retail price: | $2,450 – $3,200 |
A brief history of Gucci 
Launched in 1921 in Florence, Italy, the House of Gucci has been the talk of the town ever since. Whether it's speculation surrounding saddle-making or rumors regarding royal members, there are many stories circulating around about the origins of the iconic label. However, despite the fabrications—many of which were perpetuated by Aldo Gucci to sensationalize the brand—the true origins of Florence fashion house are a lot more humble. 
While equestrian-inspired details are intrinsic to Gucci, the brand did not start out as a saddle-making business. It started as a small leather goods and luggage store in Florence. After working as a bellhop in London at the Savoy Hotel, Guccio Gucci was inspired by the glamorous luggage of the rich and famous. So much so, that he returned to Italy to launch a luggage line of his own. 
Showcasing the impeccable craftsmanship of local artisans, it didn't take long for Gucci's handbags to take off. In 1947, the Gucci Bamboo bag starred beside Ingrid Bergman on the big screen in the film, Viaggio in Italia. In 1961, the Fifties Constance was renamed The Jackie, in honor of the American First Lady that popularized the hobo-style silhouette. And in the 1980s, the Princess of Wales further cemented the brand in history as she made her affiliation with bamboo handles well-known—and well-publicized. Garnering the attention of much-adored celebrities, Gucci has long since retained its cult-favorite status as it continues to grow in popularity.
Where are Gucci bags made? 
Epitomizing why the "made in Italy" cachet is as sought-after as it is, the luxury brand is 100% made in Italy. More specifically, Gucci bags are produced in Prato, a town located outside of Florence, where the brand's headquarters are situated. The town is renowned for its industrial district that specializes in producing luxury leather goods. The exception to this rule is Gucci's timepieces. Since 1972, the company has been producing its watches in Switzerland, at the firm's atelier located in La Chaux-de-Fonds.
Preserving the age-old tradition of hand-stitched craftsmanship, Gucci bags are known for their impossibly soft calfskin leathers and unrivaled quality. Each piece is designed to last a lifetime, and every bag showcases the brand's unwavering Italian standards. 
How much does a Gucci bag cost? 
The price of Gucci handbags and purses can vary widely depending on the style, material, and size. Some Gucci bags can be relatively affordable, starting around a few hundred dollars, while others can cost several thousand dollars or more.
For example, a small leather Gucci Marmont shoulder bag might cost around $1,200, while a larger canvas Gucci Dionysus tote bag could cost around $2,500. The most popular Gucci bags, such as an iconic Gucci Jackie can retail for $5,300. And a limited edition range like the Harry Styles collaboration can cost around $6,900
It's important to note that prices can also vary depending on the country or region in which you are purchasing the Gucci bag. And prices can also change over time due to supply and demand.
Where to buy a Gucci bag?  
When shopping for a Gucci bag, it's important to ensure that you are buying from an authorized Gucci bags outlet to ensure that you are getting an authentic product. Be wary of buying from unauthorized retailers or third-party sellers, as they may sell counterfeit products.
The best place to shop for new Gucci bags is the brand's official website. Alternatively, the Gucci resale market is prolific, and there are many reputable e-retailers selling authentic pre-owned Gucci bags. Amongst our favorites are Farfetch, Fashionphile and Vestiaire Collective.
Frequently asked questions about Gucci bags
Which is the most recognizable Gucci bag?
While each Gucci bag has earned its place in history, one of the most recognizable Gucci handbags is the Gucci GG Marmont Matelassé Shoulder Bag. This bag features the iconic double G logo and a quilted matelassé pattern, which has become a signature style for the brand.
Which Gucci bag is the best investment?
With a robust resale market, Gucci bags can be a great investment. And while it's difficult to determine which Gucci bag is the best investment, several Gucci bags have proven to hold their value or even increase in value over time, like the Gucci GG Marmont shoulder bag, or the Gucci Jackie. For more inspiration, check our list of the best Gucci bags to invest in.
What is the most popular Gucci?
The most popular Gucci bag can vary depending on the season and current fashion trends. However, there are a few Gucci bags that have maintained consistent popularity over the years, like the Gucci GG Marmont Matelassé Shoulder Bag or the Gucci Dionysus, which has a distinctive textured tiger head closure. For more inspiration, check our list of the most popular Gucci bags to invest in.
Are Gucci purses good quality?
Yes, Gucci handbags and purses are considered to be of good quality. Handcrafted in Italy, Gucci has a long history of Italian craftsmanship. Additionally, Gucci only sources the most premium materials, such as top-quality calfskin leather.