A journey of a thousand miles begins with a single step. A step in the right direction, we must precise. 
Once considered an oxymoron, comfortable dress shoes are now one of the most sought-after silhouettes—and we know exactly why.
Amberjack, please step forward. 
With shoe names like The Original, The Chelsea, The Tux, and now The Loafer, American footwear brand Amberjack clearly found its footing.
The Amberjack business model is simple: to create high-quality dress shoes that are comfortable, affordable, and sustainable. 
Well, if that means a better way to walk while we find our way forward, we'll gladly follow in Amberjack's footsteps.
We love Amberjack and have written about them before. (Check our Amberjack shoes review and learn about the Amberjack brand). Designed specifically for the modern man's life in motion, we can't get enough of the brand's dressy athletic take on men's shoes.
And in our books, Amberjack Loafer is Exhibit A for refined yet relaxed shoes that look great and feel even better.
Classy but comfortable, the sophisticated silhouette features heat-activated foam for arch support, impossibly soft lining, and cloud-like cushioning. Yep, the elegant shoe is comfortable enough to run a mile in. Although we would refrain from letting your boss in on that—unless you enjoy frequent coffee runs, that is. 
To save you the legwork, we put the Amberjack Loafer to the test. And we're telling you all there is to know in this Amberjack Loafer review.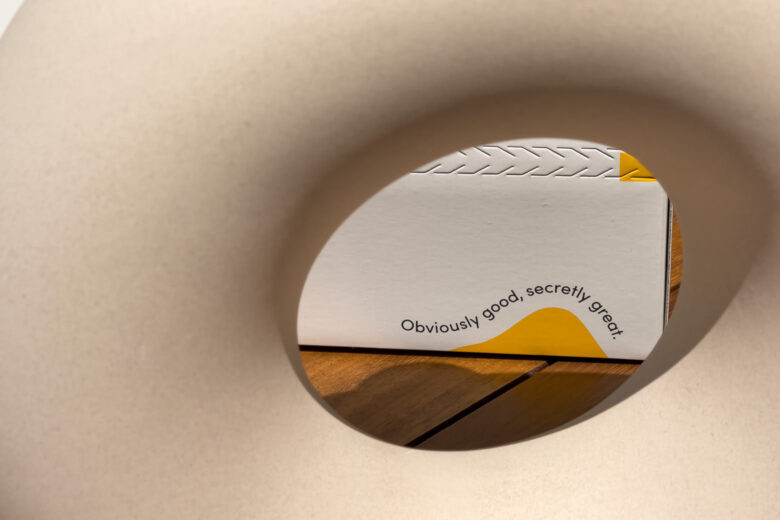 Amberjack The Loafer review: Walking through life in the most comfortable loafer under $200
Our verdict 
"Obviously good, secretly great"—The Loafer lives up to Amberjack's mantra in every area with its sneaker-like comfort hidden within an elegant dress shoe. 
We love that the Amberjack loafers are versatile enough to dress up or down without ever putting a (sartorial) foot wrong. The slip-on style is incredibly convenient, and the cushioned sole and soft lining provide all-day comfort that feels like walking on clouds. Yet, the sophisticated silhouette is classy and formal enough for boardroom meetings and more formal affairs.
The pros:
Comfortable out of the box.
Almost as sophisticated as your Oxfords and as comfortable as your best casual shoes. 
Heat-activated arch support tailors the shoe to fit your foot perfectly. 
The soft buckskin lining is snug yet breathable.
The slip-on style is seamlessly convenient. 
Water-resistant suede is an all-season prerequisite. 
High-quality materials for the price.
Half sizes are available.
The cons:
Sizing between styles can be a bit inconsistent.
Popular sizes sell out quickly.
The alternatives:
Very similar style-wise but on the higher end, price-wise, Loro Piana's Summer Walk loafer is an excellent easy-breezy alternative.
If you are looking for something more of an investment, Gucci's made-in-Italy horsebit loafers have become a status symbol on Wall Street and beyond.
Our hands-on, feet-in experience with Amberjack The Loafer
While the brand's quality is equal to that of the most expensive labels, by cutting out the middleman, Amberjack proves that great shoes don't have to cost the earth—both figuratively and literally. With 100% carbon-neutral shipping, plastic-free packaging and minimally processed natural leather, Amberjack is also one of the most sustainable brands and one of the best men's loafers. Period.
Didn't know that? 
We're not surprised.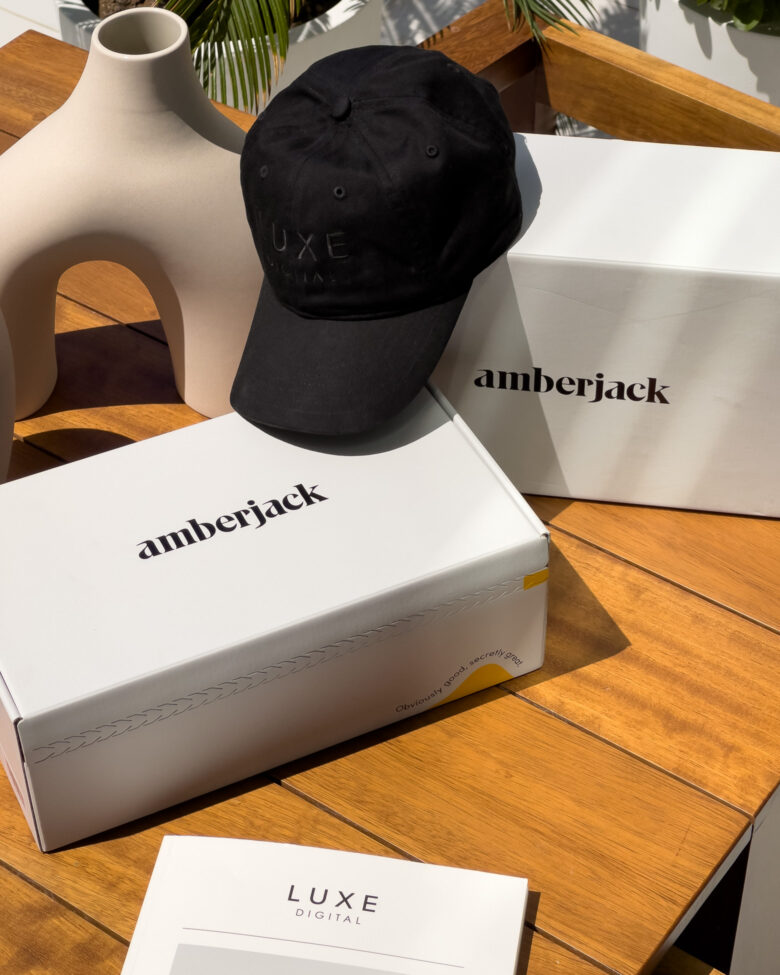 Instead of harping on about responsible manufacturing, the ethical label prefers to quietly continue doing what is right—Talk about unsung heroes! 
Unboxing
As every avid online shopper knows, the delivery makes all the difference. And Amberjack ticks all our boxes (pun intended).
As soon as it landed on our doorstep, we noticed that the thoughtful brand's packaging was plastic-free and minimalist. Unlike many other brands, Amberjack mails the shoes directly into the shoebox, avoiding double box wastage.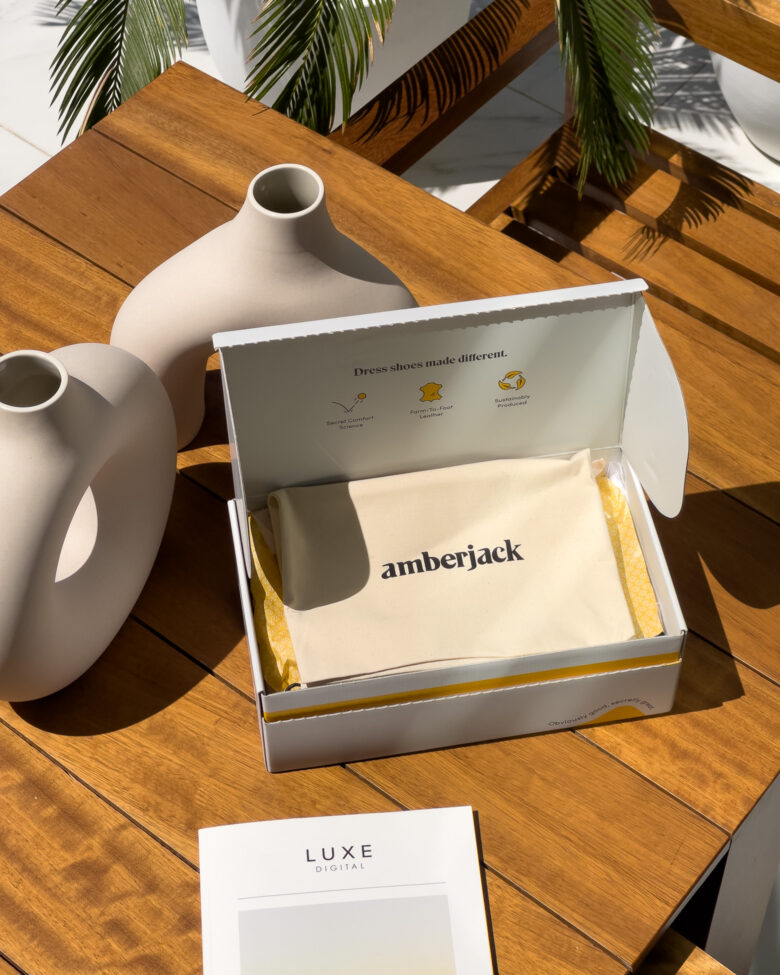 After effortlessly tearing up the strip and lifting the lid, it only gets better. And it's the small-yet-significant details, such as a linen (not nylon) dust bag, that make our hearts sing. As well as the cheeky "slip them on, already" message at the bottom of the box, urging us to try them on.
Materials & craftsmanship
We're all for standing out, but in this case, going with the (leather) grain has never looked or felt so good. Amberjack only uses premium A-grade full-grain leather. 
Not well versed in leather terminology? 
Simply put: A-grade full-grain leather is the most durable, highest-quality type of leather. It is also the most expensive and most commonly used for luxury cars rather than shoes.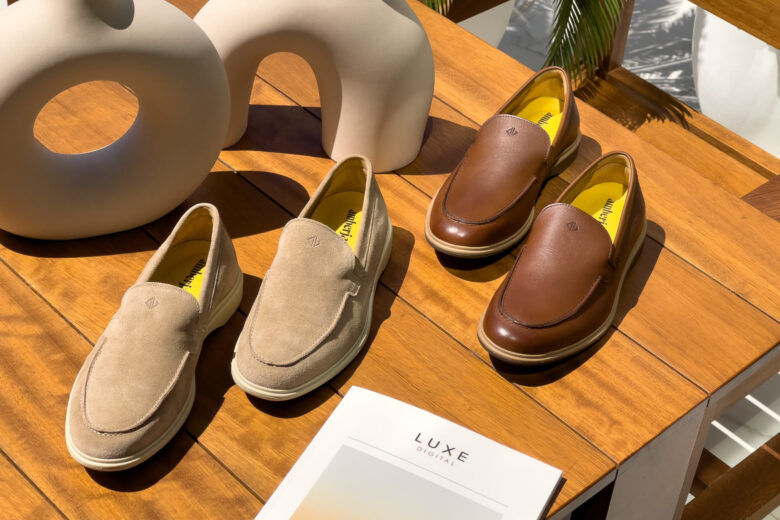 Do Amberjack loafers offer a luxury ride for our feet? 
Most definitely.
The Amberjack shoes combine traditional techniques with innovative technologies to provide modern comforts in timeless styles.
The water-repellent suede used in the Amberjack loafers is sourced from a top-tier tannery in Tuscany, designed to withstand any weather conditions and ensure long-lasting durability.
In addition to being the highest grade, Amberjack's leather is sourced from an ISO-certified sustainable tannery, which adheres to strict ethical standards.
While many of the brand's materials are sourced from Italy, Portugal is where the true magic happens. All Amberjack shoes are made in a fair-wage factory in the Felgueiras region in northern Portugal, historically renowned for extraordinary shoe craftsmanship.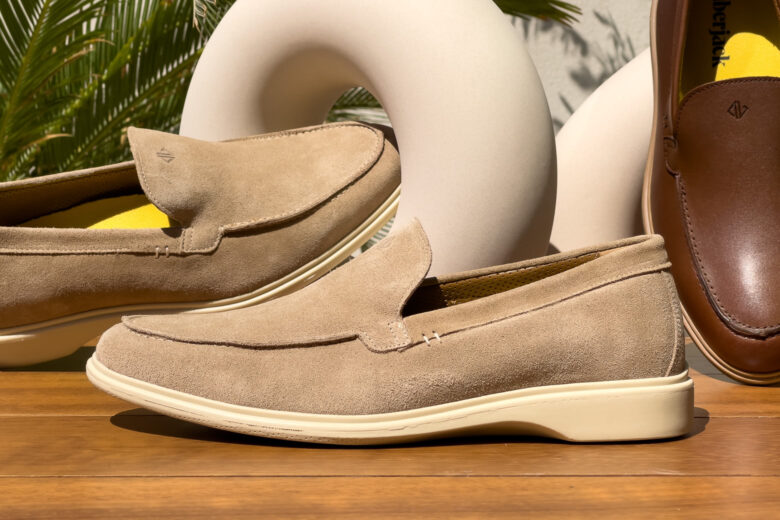 Aesthetic & design
If you're in the market for versatile and stylish shoes, look no further than Amberjack loafers. These shoes are perfect for those who spend long hours on their feet. 
Amberjack shoes are the epitome of cosmopolitan style, designed in Brooklyn, New York to fit the lifestyle of modern men. 
The low-profile white soles give the Amberjack loafers a casual feel, while the signature yellow insole adds a touch of modernity. Yet the Amberjack aesthetic is undeniably timeless (they're crafted by third-generation artisans) and sleek. 
One of the most stylish shoes for standing all day, the everyday silhouette is just as comfortable for long commutes and wanderlusting through new cities. But the key difference between these Amberjack shoes and your casual sneakers is that they are also considered classy enough for the office and more sophisticated soirées.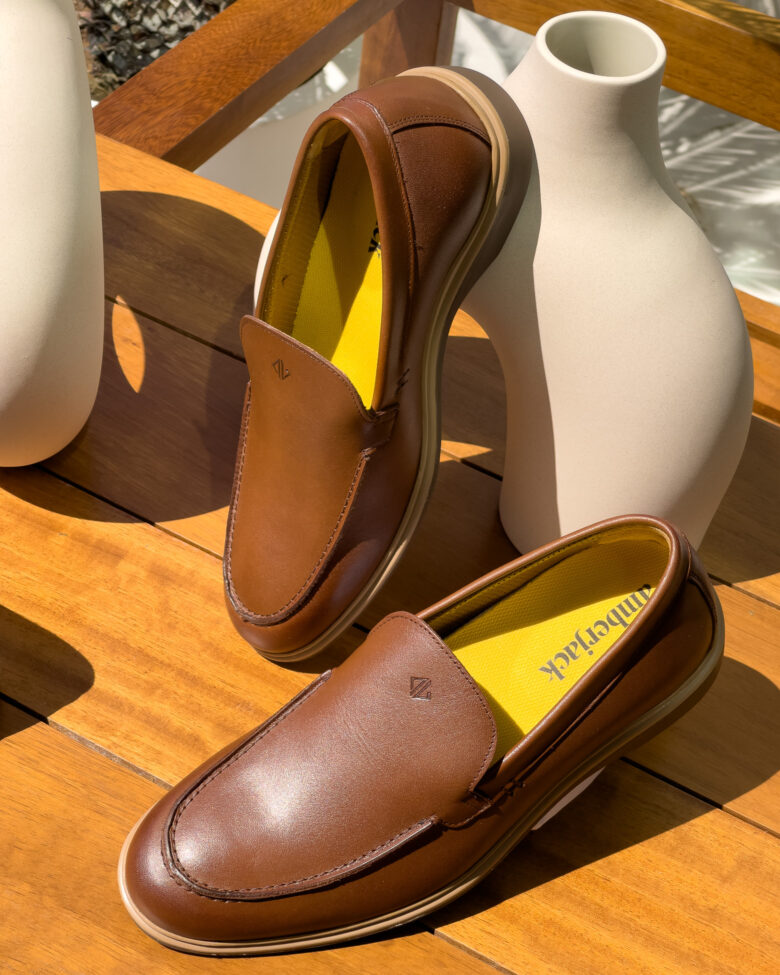 We especially love the versatility and wearability of these sneaker-meets-dress-shoes: From cool chinos to stylish suits, Amberjack loafers are the perfect fit for any outfit choice.
So how does Amberjack shoes offer comfort without compromising its polished aesthetic? The shoe's hidden details and secret features is what sets them apart. (More on this in a minute)
Colors
Available in seven tasteful colorways, we'll take one Amberjack loafer for every day of the week. Chestnut brown for Monday. A more relaxed Tundra suede for Tuesday. A smooth Honey leather for hump day. A Slate gray suede for Thursday's walk in the park. A Cobalt blue suede to kickstart your weekend with confidence. A sleek Obsidian black for Saturday night's formal affair. And a Grizzly brown suede for Sunday brunch with the in-laws. 
Whatever your calendar, there's an Amberjack hue for every occasion, from more formal to more casual.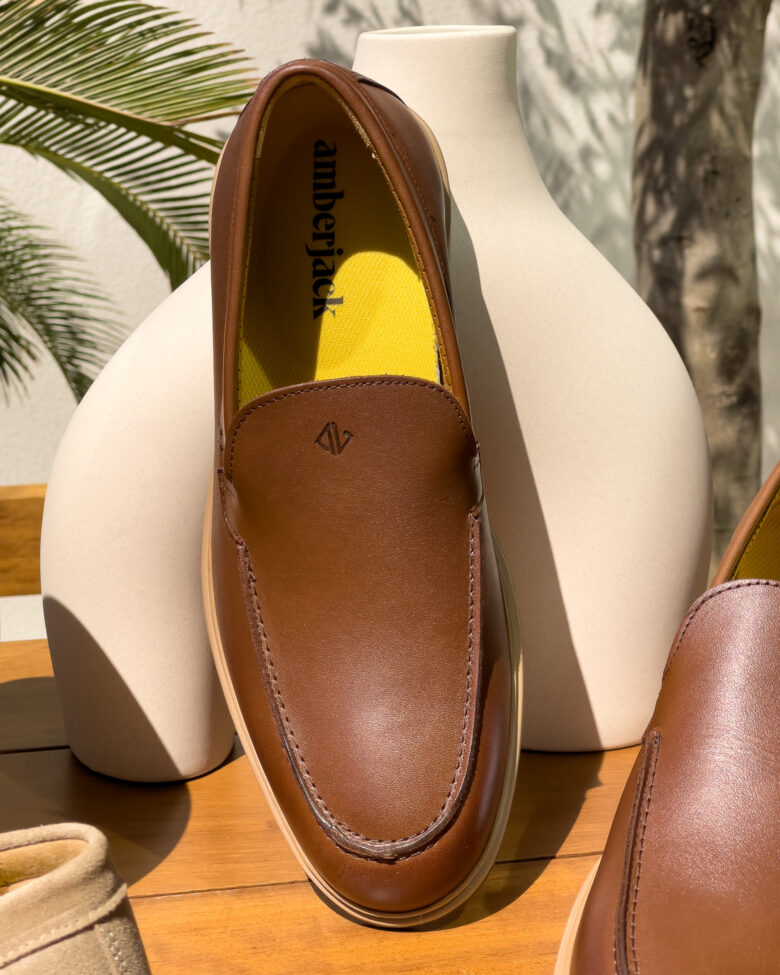 Style tip: You can't go wrong with black or brown loafers for their wear-forever quality. Whether you wear them with or without your best socks, we love the shiny leather iterations paired with dark slacks and a blazer. If you prefer a more relaxed aesthetic, we find that the suede silhouettes are perfect for summer ensembles that keep you cool while looking hot. 
Comfort, fit & sizing
To us, comfort is a non-negotiable when it comes to footwear. We blame it on an entire year wearing nothing but slippers while working from home.
Distinguished by their sophisticated comfort, Amberjack shoes could rival any casual sneaker and perhaps even your sheepskin slippers (yep, we said it).
What's the secret to its undercover comfort?
Fancy foam.
The heat-activated arch support molds to your foot (and to the occasion—wear them anywhere, with anything) and the dual-density outsole adds extra flexibility.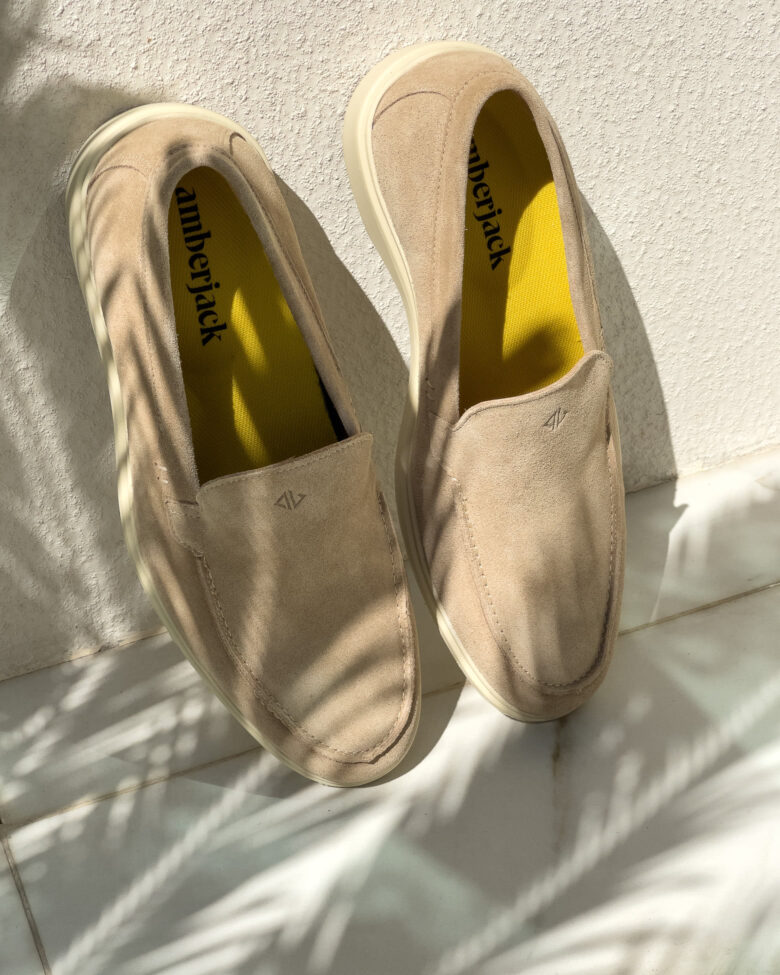 Even better: Amberjack's proprietary comfort technology was created by the same supplier that developed one of the most comfortable shoes on the market—the Adidas Boost.
The only difference is that while your comfy Adidas kicks are confined to weekends and WFH days, your Amberjack loafers are deemed worthy of boardrooms and client meetings. 
Getting an A+ for comfort, the cushioned soles (more durable than memory foam for longer-lasting support) and lined interiors (as soft as slippers) are snug right out of the box—no break-in needed. These Amberjack shoes immediately had that worn-these-forever feeling once we put them on.
Yet somehow, they still seem to get even more comfortable over time.
If, like us, you love rocking your loafers sans socks, you'll be pleased to know that the buttery-soft sheepskin lining is laser perforated, allowing our feet to breathe.
The non-slip rubber soles give you the confidence to walk on any surface, from slick sidewalks to office flooring—no moonwalking to our favorite Michael Jackson song, slipping or tripping in these Amberjack shoes. 
And don't even get us started about how the slip-on style is also a masterclass in cruising through airport security—a small but salient detail for any seasoned traveler.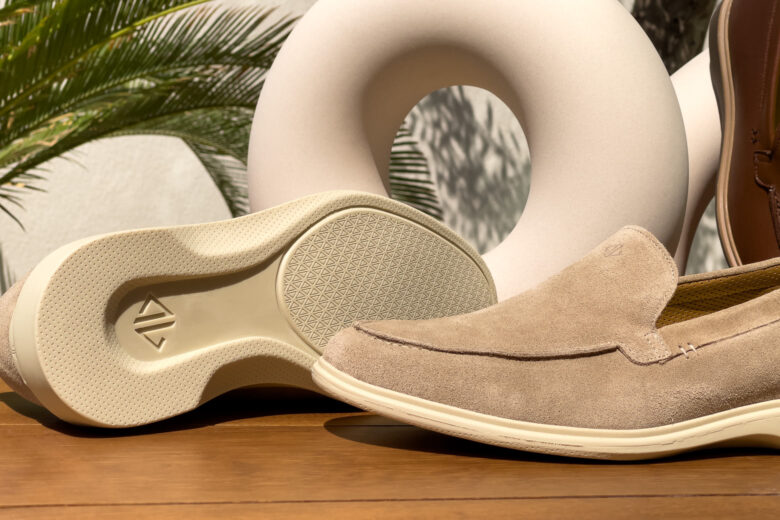 Note: Just keep in mind that these loafers run slightly wider in the forefoot for added comfort. They also run a little large, so as per Amberjack's recommendations, we suggest sizing down if you are between sizes. Unless you have a wider foot, in which case, we would stay true to size.
Care & maintenance
One of the things we love most about Amberjack shoes is their long-lasting quality. But no matter how durable the leather is and how impeccable the stitching is, there are ways to add years to your Amberjack purchase.
Our top tip: invest in a tree horn. Used primarily to prevent wrinkling and maintain the shape of leather shoes, a tree horn is also designed to absorb moisture and odors. Treat the leather with a quality conditioner to further preserve your Amberjack shoes. 
Price
If you're looking for a comfortable yet formal-ish shoe that doesn't break the bank, Amberjack The Loafer is definitely worth considering. At under $200, it is a very-fair-for-what-it-is price.
We don't blame you if you're slightly skeptical about how Amberjack shoes could cost two or three times less than other labels of equal quality. In fact, we also had our questions before we tried them. But rest assured; after weeks of sporting them, we can confidently say that Amberjack shoes are the real deal—and then some.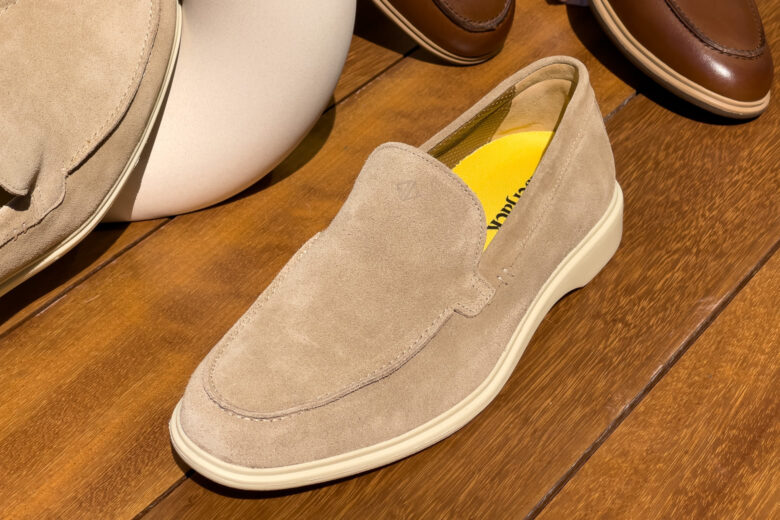 The secret to their affordability lies in the fact that Amberjack is vertically integrated with one of the world's top tanneries. This means that they can source higher quality leathers at unbeatable prices, and pass those savings on to you. So not only are you getting a great deal, but you're also getting a shoe that's made with top-notch materials.
Where to buy Amberjack loafers?
Exclusively sold on the official Amberjack website, you can buy Amberjack The Loafer straight from the creators. No middleman costs and unnecessary expenses. Just high-quality shoes sold at much lower price points.
Best for guys who want dress shoes that feel like sneakers, you can wear these comfortable men's loafers damn near anywhere.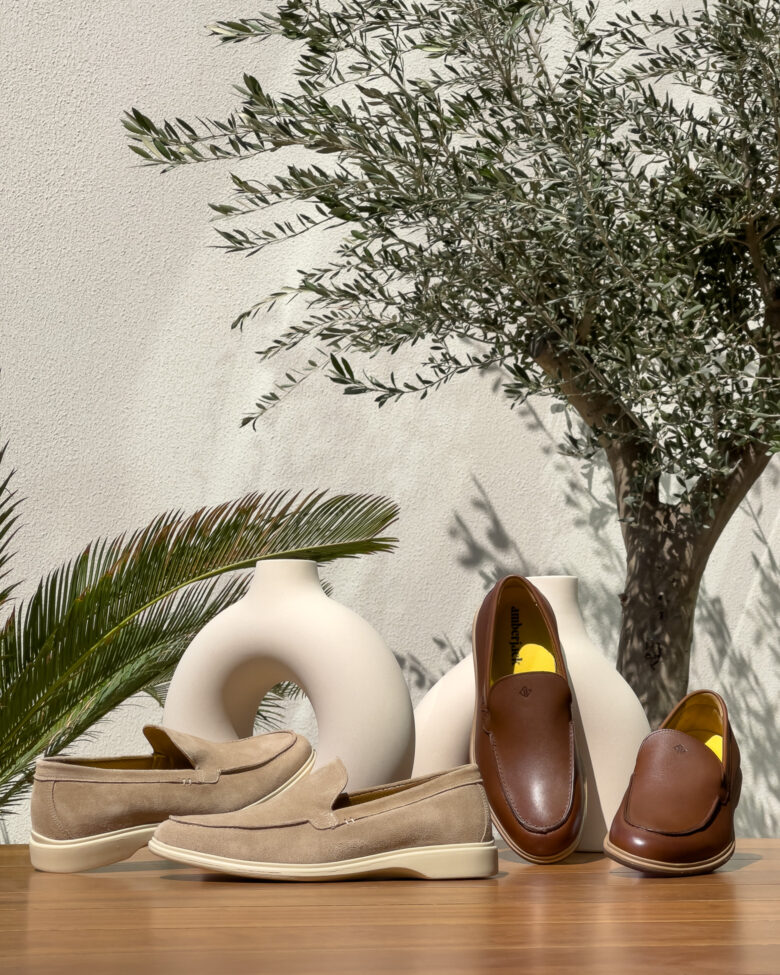 Frequently asked questions about Amberjack Loafers
Do Amberjack shoes run big or small?
Amberjack shoes run a little big. So for premium comfort, we recommend sizing down by half a size. Unless you have wider feet, in which case, we suggest staying true to size. Check our hands-on Amberjack The Loafer review to learn more about their shoes.
Where do Amberjack shoes ship from?
Amberjack shoes ship from the US. Although the brand manufactures its shoes in the north of Portugal, its headquarters are located in New York. Therefore all shipments within the United States should arrive within 2-4 business days.
Are Amberjacks waterproof?
No, Amberjack shoes are not waterproof, but they are water-repellent, including the brand's suede collections. The brand's water-repellent suede is sourced from one of the finest tanneries in Tuscany. The protected leather is designed to endure all weather conditions and points to the brand's innovation and durable quality.
How long does Amberjack take to ship?
Amberjack typically takes 2-4 business days for US-based orders for in-stock shoes. They may take longer if the shoes are out of stock or if shipping internationally. The brand offers free international shipping.