As the electrification of the automotive industry pushed forward, the gas-guzzling pickup truck segment had been stubbornly left in the past. But not anymore. With Rivian at the forefront of the electric truck revolution, there are now capable, high-performance alternatives ready for anything you can throw at them.
Rivian trucks break every preconception about electric vehicles. They're ready for your adventures with massive ground clearance, quad-motor all-wheel drive, and advanced technology that no internal combustion engine can keep up with. Rivian propels people far beyond the city limits and into a new world of environmentally-conscious adventures.
At a glance
| | |
| --- | --- |
| | |
| Name: Rivian | Industry: Automotive |
| Founded: 2009 | Founder: RJ Scaringe |
| Headquarters: United States | Parent organization: Rivian Automotive, Inc. |
| Revenue: $1.66 billion USD | Website: rivian.com |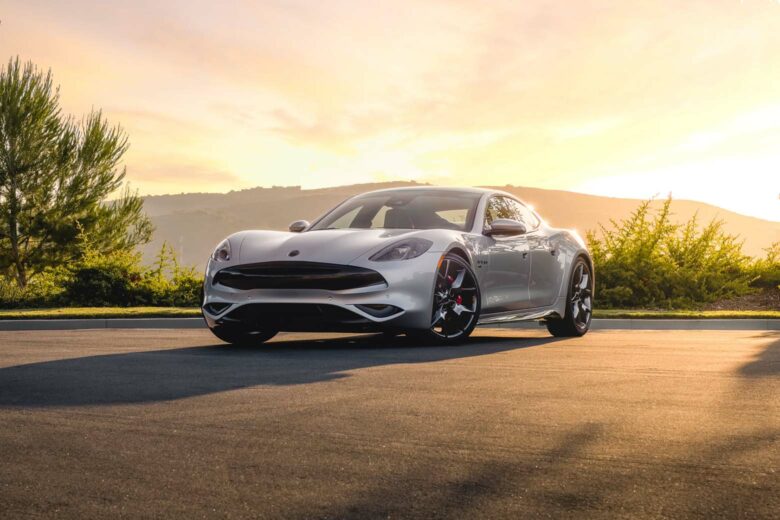 Rivian price
How much does a Rivian cost?
Packed to the brim with advanced tech, premium materials, and luxurious amenities, Rivian truck prices are more affordable than you might think. They're aligned with many of the best electric cars and lower than many premium truck prices. 
The Rivian R1T price starts at $73,000 for the base model that comes with two electric motors, all-wheel drive, and a 328-mile range. If you prefer the SUV body style, the Rivian R1S price starts at $78,000.
What is the most expensive Rivian?
If you're looking for the most expensive Rivian truck for sale, the Rivian R1S is your ticket, with its starting price set at $78,000. After tacking on premium options such as the All-Terrain Upgrade, the Quad-Motor system, and the Large Pack battery the Rivian R1S price jumps to $95,600.
The Rivian R1T electric truck has similar options, taking its $73,000 starting price to nearly $91,000 with most premium options included. When you buy a Rivian at this price, you're getting one of the most advanced and capable electric trucks in the world, even if it's significantly less than the most expensive cars in the world.
How much is the cheapest Rivian?
The cheapest Rivian is the R1T truck base model, starting at $73,000. There once was a lower Rivian truck price for the Explore trim, priced at $67,500, but due to production constraints, all reservations for that Rivian pickup were bumped up to the Adventure trim.
It's uncertain if Rivian will introduce the Explore trim again, but the luxury electric car producer has told some outlets that it intends to produce a more affordable vehicle in the future. This will likely come in the form of a different, smaller model on a newly-developed R2 or R3 platform.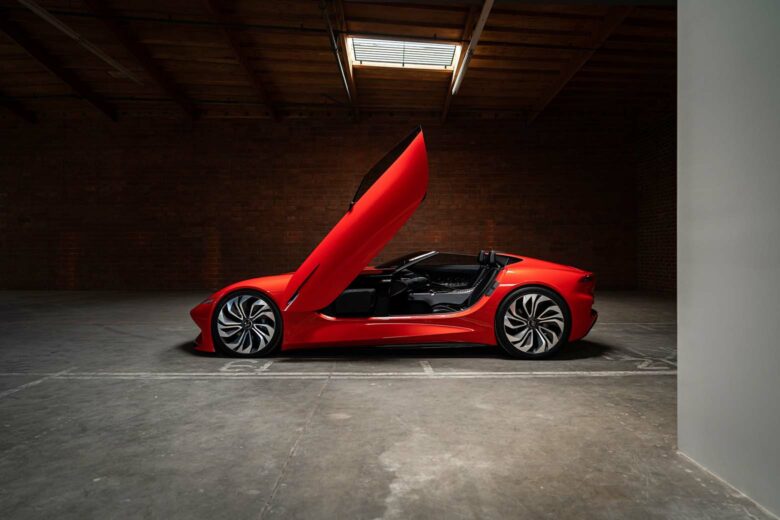 About Rivian
History of Rivian
Like many automotive moguls, Rivian founder Robert "RJ" Scaringe started turning a wrench at a young age. And as his love for the automotive industry grew, so did his understanding of the negative environmental impact of vehicles. So he took matters into his own hands.
After earning an M.S. and Ph.D. in mechanical engineering from Sloan Automotive Lab at Massachusetts Institute of Technology, RJ Scaringe founded Mainstream Motors in 2009. The company briefly changed its name to Avera Automotive before finally landing on Rivian Automotive in 2011.
At first, Rivian created an electric sports car named the R1. But the company quickly changed course to increase its impact on the industry by turning toward electric pickup trucks and SUVs.
Rivian purchased a former Mitsubishi Motors manufacturing facility in Normal, Illinois in 2016, and just one year later, the electric Rivian pickup truck R1T and seven-passenger SUV Rivian R1S were unveiled, with production versions rolling off the lines in 2021.
Another major event in 2021 was the Rivian IPO. The technology-focused company started the Rivian IPO date at $78 per share. The Rivian stock price rocketed up to above $170 per share but has since taken a dramatic turn for the worse after Rivian news including production issues and a serious recall.
Rivian remains one of the best American car brands and it pushes forward with the mission of transforming the automotive industry for the better. Despite some setbacks, the R1T and R1S models are competitive against the few electric and hybrid pickup trucks and some of the most amazing electric cars.
Understanding Rivian car range
The Rivian brand name is derived from the Indian River in Florida, where founder RJ Scaringe spent countless hours during his childhood.
With only two models, Rivian's lineup is as straightforward as it gets. The luxury brand's first offering was the Rivian R1T electric pickup truck, with R1 standing for the platform name and T for the truck body style that's great for off-road camping travel trailers.
The second model released by Rivian is the R1S, which is built on the same R1 platform but uses an S in the name to represent the SUV's body style.
Future Rivian electric trucks are expected to follow suit, with the next models using smaller platforms. The company has indicated these newly-developed platforms will be called the R2 and R3.
Interesting facts about Rivian
In addition to Rivian's passenger vehicles, the electric automaker has also agreed to supply Amazon with its next-generation commercial delivery fleet. The two companies entered an agreement for Rivian to supply Amazon with 100,000 electric delivery vehicles (EDVs).
Current reports estimate that Rivian has supplied over 1,000 EDVs to Amazon. You can spot these large electric vans roaming the streets in Los Angeles, San Francisco, and Denver.
They are based on the same overall platform as the R1T and R1S, except they use a more simplistic single-motor front-wheel drive motor instead of the two to four motors on the passenger vehicles.
Where is Rivian made?
Rivian's current headquarters are in Irvine, California, but the production facility is located in Illinois. The company also has research facilities in northern California, Michigan, and the United Kingdom. A $5 billion Rivian facility in Georgia is expected to open in the next few years.   
Rivian models
Let's dive into the details of the Rivian models and technical specifications.
Rivian R1T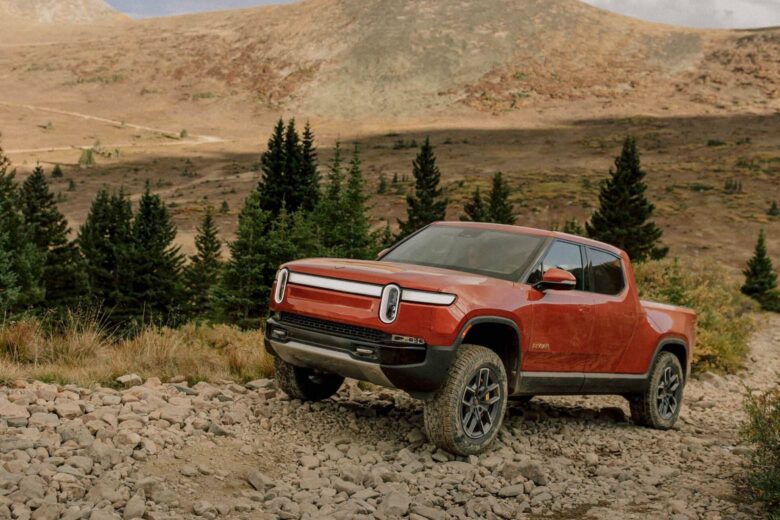 Early on, electric vehicles were limited to low-powered, unattractive models. Now that's no longer the case, with incredibly powerful and stylish models available from brands like Tesla, Porsche, and Volvo.
But electric trucks have still been a difficult segment to feature electrification. Rivian is here to change that, starting with the Rivian R1T electric truck, its mind-blowing engineering, and endless tricks up its sleeve.
The most powerful model has four electric motors for world-class off-road performance. It also happens to have over 800 horsepower, 3.0 seconds to 60 mph, and an available 400-mile range. It may not be the fastest car in the world, but its 11,000-pound towing capacity makes up for that and can handle any of the best travel trailers.
In case you aren't impressed yet, Tank Turn lets the wheels spin in opposite directions so the entire vehicle can spin on its axis. It also has hidden treasures like a 1,000-lumen flashlight, weatherproof camp speaker, and gear tunnel.
| | |
| --- | --- |
| Price: | Starting at $73,000 |
| Release year: | 2021 |
| Engine: | Two or four electric motors |
| Top speed: | 111 mph – 179 km/h |
| 0-60 mph: | 3.0 to 4.5 sec |
| Power: | 835 to 600 hp |
| Torque: | 908 to 600 lb-ft |
| Range: | 400 to 328 miles – 644 to 528 km |
Rivian R1S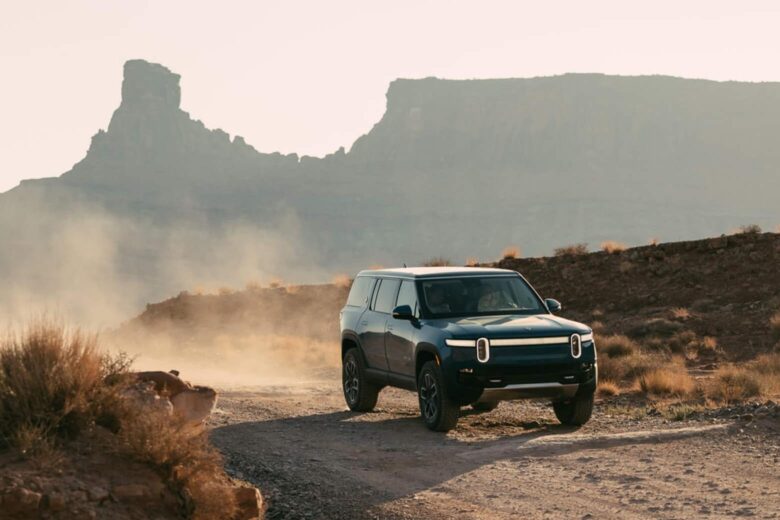 The second Rivian model had big shoes to fill, and the Rivian R1S electric SUV has what it takes to fill them. It uses a nearly identical drivetrain but swaps out the open truck bed in favor of three rows of seating and an upscale interior that matches the best luxury SUVs.
The Rivian SUV has off-road performance with air suspension providing up to 15" of ground clearance rivals the best Land Rovers, yet provides comfort similar to the Cadillac Escalade. And its blistering on-road agility and speed are more like a sleek BMW or Mercedes-Benz.
The additional interior amenities add some weight that reduces the range slightly, but with up to 390 miles, it still is on par with the best electric vehicles from Polestar, Lexus, and Genesis.
| | |
| --- | --- |
| Price: | Starting at $78,000 |
| Release year: | 2022 |
| Engine: | Two or four electric motors |
| Top speed: | 111 mph – 179 km/h |
| 0-60 mph: | 3.0 to 4.5 sec |
| Power: | 835 to 600 hp |
| Torque: | 908 to 600 lb-ft |
| Range: | 390 to 321 miles – 628 to 517 km |
Rivian customer service number
To speak with a knowledgeable staff member, call the Rivian customer service number at 1-888-RIVIAN1 (1-888-748-4261). You can also review the Rivian Support page for more information.
Rivian social media profiles
To stay up to date about the latest news and events, follow the official Rivian social media profiles:
Frequently asked questions about Rivian
Is Rivian owned by Ford?
No, Rivian is not owned by Ford. Ford was once a major investor with a $500 million stake in 2019 and $1.2 billion in total and at one time owned over 10% of Rivian. Since then, Ford has divested nearly all of its Rivian ownership.
How much will a Rivian cost?
If you're wondering how much will a Rivian cost, the answer is at least $73,000. The Rivian R1T price starts at $73,000 before options, while the SUV Rivian R1S starts at $78,000. You can quickly increase the price to over $80,000 with premium features.
Who manufactures Rivian?
Rivian manufactures its vehicles in the United States at a facility in Illinois. While Rivian intends to increase in-house production, the electric car company sources some parts for overseas suppliers. The battery pack is reportedly made by Korea-based Samsung SDI.
Is Rivian better than Tesla?
Deciding whether Rivian is better than Tesla is difficult because they focus on different segments. Tesla mainly produces sedans and small SUVs, while Rivian focuses on its electric pickup truck and large SUV. Tesla has far surpassed Rivian in the number of units sold.
How much is the cheapest Rivian?
The cheapest Rivian is the Rivian R1T electric truck, starting at $73,000. The luxury electric car producer also has a seven-passenger SUV, and the Rivian R1S price starts at $78,000. In the future, Rivian plans to create more affordable models on smaller platforms.