Equipping annual city breaks and last-minute elopements, the sky's the limit when it comes to restorative vacations with this luxury luggage label. Making a (highly durable) case for getting away in an organized (and stylish) fashion, Away Travel is a masterclass in compartmentalized chic. And with luggage that breezes through security and practically rolls itself through the world's largest airports, it's not so difficult to simply Keep Calm and Carry-On. 
At a glance
Behind the brand
History of Away
There's never a great time to break a suitcase. But the worst has to be rushing through one of the world's largest airports, leaving a trail of chiffons and cashmere in your wake. In 2015, disaster struck for Away co-founder Jen Rubio. Her carry-on broke on her way to boarding the plane, really bringing home that cheap, knock-off suitcases are always a bad idea. 
Returning home from a not-so-smooth-sailing vacation, Jen sought out new luggage brands to replace her old one but was disappointed with what the market presented. Suitcases either seemed to be just as poor quality as her one that broke or their prices were exorbitant. There was no brand that was great quality, fashionable and affordable. Jen immediately called her former colleague (and now friend), Steph Korey, to complain about the luggage dilemma she faced. And together, they began devising a plan to fill the gap. 
As former Warby Parker execs, Jen and Steph already had a handle on what elevates an essential. At the time, Jen was running innovation for All Saints and Steph was consulting for mattress brand, Casper. Harnessing their years of experience in retail, the female founders were inspired to do what Warby Parker did for eyewear and what Casper did for mattresses—to make an everyday staple an enviable statement piece at an accessible price point. 
In November 2015, Away Travel was established in New York City with a team of four. And instantly recognized as one of the best luxury luggage brands, three years later, Away was valued at over $1.4 billion. 
Interesting facts about Away
Also known by its URL—Away Travel—the luxury luggage brand is confident that you'll adore its suitcases. So much so that you can try it out without any commitment. Away has a unique, 100-day trial period, allowing customers to truly experience the difference that a quality suitcase makes before investing in a lifelong travel companion. After the 100-day trial period is up, we doubt you'll want to part with your Away suitcase. And you never have to—Away luggage is covered by a lifetime warranty, meaning that the thoughtful brand will fix or replace any damage to your case. 
Onboarded by countless celebs, Away is making moves in high-end circles. It-girls and style icons like Jessica Alba, Emma Roberts and Ashley Graham have all been spotted rolling through security with Away luggage. It was rumored that Meghan Markle made her love for Away luggage known by gifting baby-shower attendants (including Serena Williams and Amal Clooney) Away carry-ons. While supermodel, Karlie Kloss, and actress, Rashida Jones, have endorsed the luggage brand through various collaborations. 
It's not just celebrity endorsements that have carried Away to Insta-fame, the brand's smart designs speak for themselves. The brand first went viral for its high-tech, contemporary carry-on. Designed for modern travel, the Away carry-on features an ejectable power source to charge your phone on the go. Sounds great, but you'll appreciate it even more when you have phone battery to order an Uber on the other side. 
Making travel more accessible for everyone, Away has partnered with multiple charities and organizations around the world. Collaborating with Global Glimpse, Away covers the cost of passports for all students in need of one. And by providing essential resources to children in foster care, the conscious brand is helping at-risk youth travel towards a brighter future.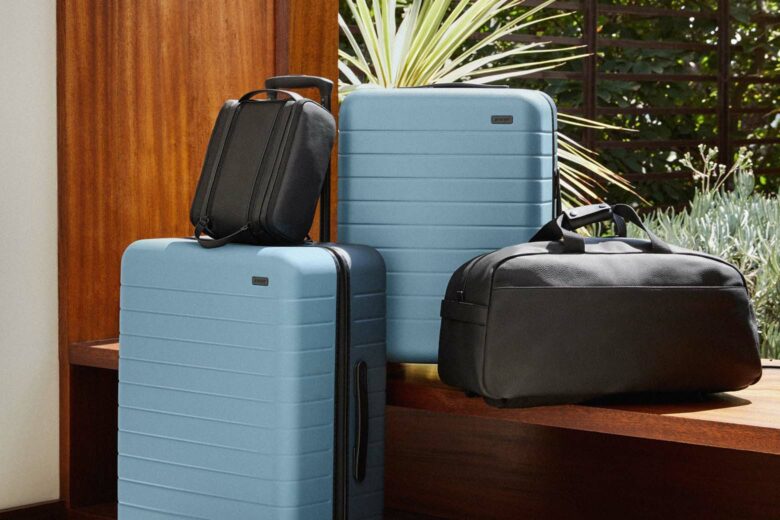 Away product range
At Away, you'll find suitcases, bags, and travel accessories built with thoughtful details to make each and every journey more seamless. Be it a perfectly compartmentalized Away carry-on or magically expandable Away suitcases, Away bags take care of the technicalities so that you can simply go along for the ride. 
Away originally launched with rolling suitcases in both carry-on and checked sizes but has since expanded to many other travel products, from everyday bags to travel accessories. The brand's collection of bags now includes duffels, backpacks, totes and crossbodies. While its accessories include travel essentials such as packing cubes and toiletry bags.
Signature materials and craftsmanship
Built to last and covered by a lifetime warranty, the luxury luggage brand is committed to diverting suitcases from landfills. While its partnered suppliers constantly seek new ways to improve environmental efficiencies through circular systems, recycled resources, and overall waste reduction. 
In a world saturated with fast fashion knockoffs that fill up landmines month after month, lifetime products are just as much an investment into sustainability as they are an investment into quality. Away luggage is case in point. Manufactured from high-performing, indestructible materials, an Away suitcase is engineered to outlast a lifetime of jet-setting. It's basically a once-off purchase with never-ending benefits. 
Most Away hardshell suitcases are made from polycarbonate or aluminum. As one of the most durable, robust materials, aluminum is fully-recyclable and naturally corrosion-resistant. Used in the production of body armor and bulletproof glass, polycarbonate is equally indestructible. And while the chemical makeup of the plastic allows it to absorb an extraordinary amount of force, it is also extremely light, making it a formidable fabric in luggage design. 
The luggage brand also has a range of soft shell bags made from nylon with decadent leather trims. As one of the most sturdy and versatile materials, nylon is water-resistant and ready for adventure. While its sleek aesthetic makes it the perfect choice for everyday use—from gym changing rooms to weekend escapes. 
Where is Away made?
Designed in New York for a modern life in motion, the luxury luggage label is manufactured across Asia. Partnering with factories across China, Taiwan, Vietnam, Indonesia and Cambodia, Away Travel only considers suppliers that have exemplary work environments. And the brand only supports manufacturers that prioritize quality craftsmanship, while simultaneously making a conscious effort to reduce their impact on the environment. 
Brand values
| | |
| --- | --- |
| Vegan options | Yes |
| Carbon-neutral | No |
| Gives back | Yes |
Our favorite finds from Away
Away The Carry-On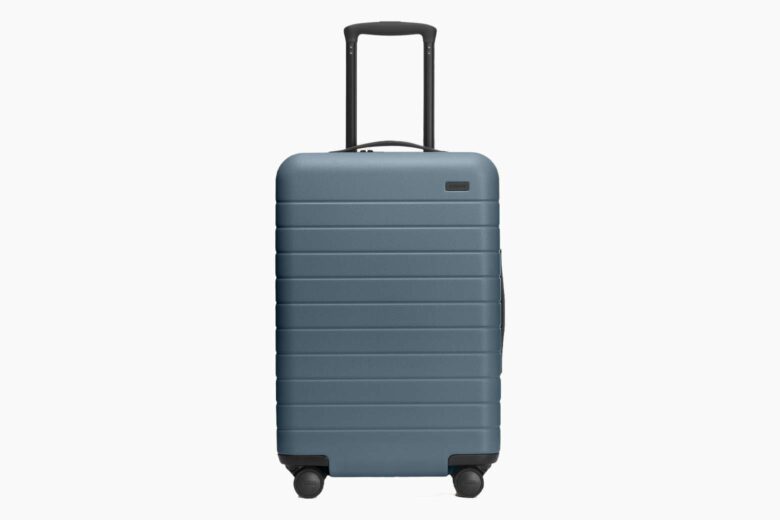 As one of our best carry-ons, this compact case is durable, lightweight and effortlessly chic. Made from an indestructible polycarbonate shell, the secure case offers fortnight protection with a TSA-approved combination lock. And with smooth 360-degree spinner wheels, a water-resistant laundry bag and a high-tech compression system, this Away carry-on is designed for sailing through new cities and airport security. 
Away Packing Cubes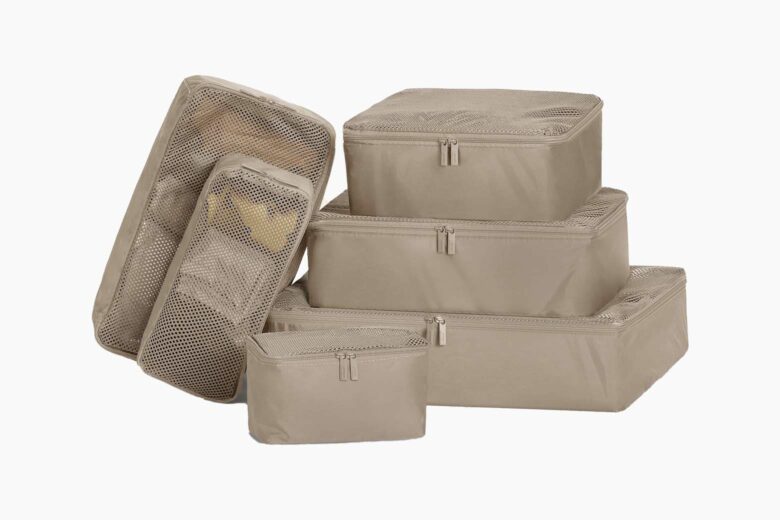 The only people that really hate packing are the ones that don't use packing cubes. Away packing cubes are thoughtfully designed with a mesh panel so that you can find exactly what you're looking for without opening them all. And made from water-resistant nylon, they're also fully spill-safe and accident-proof (say goodbye to shampoo disasters.)
Away Everywhere Bag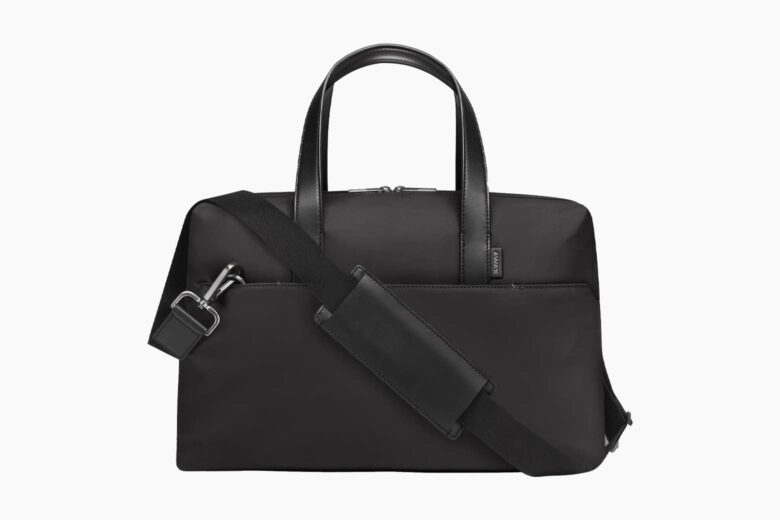 The Away Everywhere Bag is exactly that—a bag designed to go anywhere and everywhere. Made from water-resistant nylon, the sleek silhouette is as functional as it is fashionable. The trolley sleeve makes this Away Everywhere bag an effortless carry-on. A detachable padded shoulder strap and 15" laptop sleeve are perfect for the boardroom. And the spacious compartmentalized interior is all you need to hit the gym changing rooms after work. 
Away Everywhere Backpack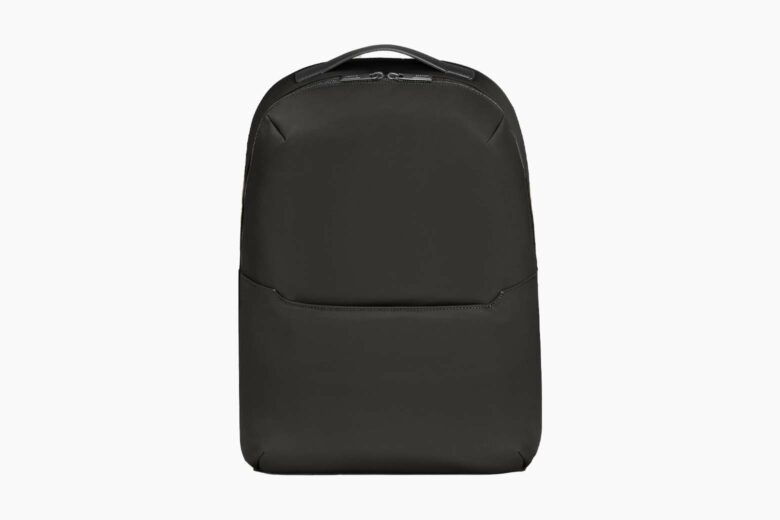 Just as fashionable as the Away Everywhere Bag, the Away Everywhere Backpack takes functionality one step further. Comfortable and convenient, backpacks are the new commuter's staple. The only problem? Back sweat—an issue solved by this thoughtful label. The Away backpack features a breathable mesh so that you don't have to stand in front of the office fan before greeting colleagues. 
Plus, it has a magnetic locking zipper for added security. And the spacious compartment easily fits a 15" laptop, as well as your favorite dopp kit for overnight flights. 
Away Suitcase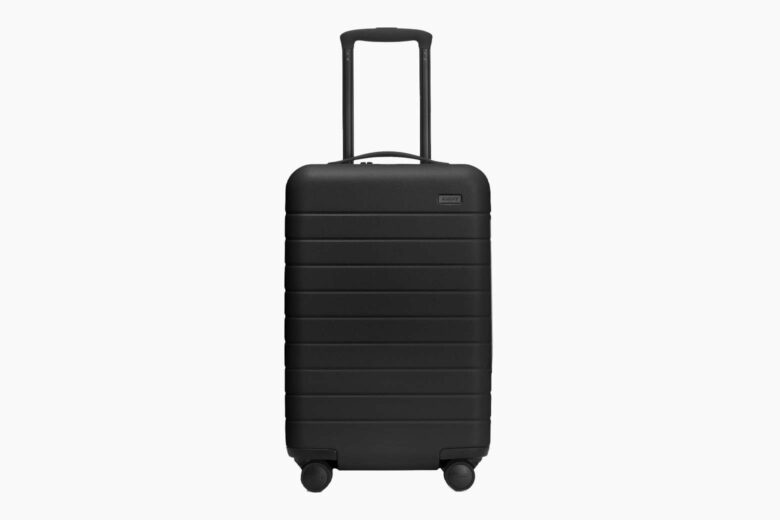 In our opinion, every over-packer needs this travel suitcase. The flex feature expands, allowing for unplanned shopping sprees. While the interior compression somehow makes it all fit perfectly. Organized compartments make packing and unpacking a breeze. And the seamless spinner wheels and lightweight silhouette make it easy to forget that you're carrying anything at all. 
This Away suitcase is big enough for all the essentials, so the only hand luggage you need is your favorite travel tote.
Away price
Away luggage is the iPhone of suitcases. Simple and stylish, the luxury luggage brand is priced in a way that walks the line of exclusivity and accessibility. These suitcases are undeniably luxurious, yet they still feel affordable for many frequent travelers. Plus, all Away suitcases come with a limited lifetime guarantee, so they're more of an investment than anything else. 
Away suitcases range between $275 and $745. Away bags range between $150 and $245. And Away accessories range between $25 to $85.
Where to buy Away Luggage
Away Travel only sells directly to consumers, making them more affordable than other luxury luggage brands of similar quality. Away does have stores around the United States. But the best way to shop the brand's full inventory from anywhere is on the official Away website. 
Monos vs Away Luggage
Monos and Away are both luxury luggage brands. Both use premium materials. Both have 360-degree spinner wheels. And both have TSA-approved locks. So what's the major difference?
Monos may be slightly more affordable than Away. However, Away luggage is unrivaled when it comes to taking care of the finer details. Away carry-ons feature removable power batteries for on-the-go charging. And the ultra-lightweight silhouettes make Away suitcases even easier to navigate around large airports and new cities. Our opinion? Away wins when it comes to technicalities, but Monos is a great (and even more affordable) luxury alternative. 
Away discount code
The brand's official website features an Away luggage sale, featuring up to 40% discounts on last-chance items. 
Away shipping
Away offers free shipping on all orders within the United States, United Kingdom and Canada. Away shipping is faster than most. Orders typically take 1-2 days to process and should arrive on your doorstep within 1-5 business days. The luggage brand also offers expedited shipping at an extra cost, in case you urgently need your suitcase before your next trip. 
Away return policy
The rumor is true. Away does have a 100-day trial period. This means that you can return any Away suitcase within 100 days of purchasing it and the brand will fully refund you, no questions asked. The only items excluded from the 100-day trial period are personalized items, however the brand's limited lifetime warranty still applies. 
Frequently asked questions about Away
Is Away luggage made in the USA?
Away luggage is designed in New York, but manufactured across Asia. Only partnering with socially responsible and sustainable manufacturers, Away supports factories in China, Taiwan, Vietnam, Indonesia and Cambodia. Check our detailed article to learn more about the story behind Away Travel.
Why is Away luggage special?
When it comes to Away travel luggage, the details make all the difference. Made from durable, lightweight materials with 360-degree spinner wheels, the luxury brand's suitcases are effortless to maneuver. TSA-approved locks provide extra protection. And extractable power batteries make it easy to keep your phone charged on the go.
Is Away luggage still popular?
Yes, Away luggage is still popular. Endorsed by celebrities and frequent fliers, Away is one of the most sought-after travel luggage brands. Away luggage is best known for its thoughtful details to make your journey seamless. Whether it's expandable exteriors, compression interiors, or extractable power supplies, this luxury luggage label has considered it all.
Which celebrities use Away luggage?
Jessica Alba, Emma Roberts and Ashley Graham have all been spotted wheeling Away luggage. Meghan Markle gifted each of her baby-shower attendants (including Serena Williams and Amal Clooney) with an Away carry on. While supermodel, Karlie Kloss, and actress, Rashida Jones, have endorsed the brand through various collaborations.