Heading to the shore is the default summer trip, but this year the thought of crowded boardwalks, beach traffic, and shielding a bucket of French fries from dive-bombing seagulls had me less than enthusiastic. Instead, I headed to Peddlers Village in the rolling countryside of Bucks County, Pennsylvania. One of the state's most unique destinations, Peddler's Village is a colonial 18th-century style village with over 65+ open-air shops, a 66 room inn, and even a restored working 1922 antique carousel. With 7 full service restaurants, a taproom, a wine tasting room, and gourmet treats of all kinds, Peddler's Village is a playground for foodies.
With Pennsylvania country charm nestled in every corner, Peddlers Village is like a real life Mayberry that attracts visitors from all over year-round. One of my favorite things about Peddler's Village is that in between treasure seeking in postcard perfect country shops, you can also enjoy the outdoors as you stroll through winding brick pathways with lush blooming gardens. It's a wonderful way to enjoy the summer weather while getting some shopping in.
Peddler's Village History. How it Began With a Farmers Market and a California Dream.
After a few trips to California in the late 1950s and early '60s, Earl Jamison, a lifelong Bucks County resident who ran a farmers market, found himself in awe of the romantic storybook-style architecture he discovered in Carmel-by-the-Sea and Disneyland. So much so, he was inspired to create something similar back home. With an ability to turn his dreams into reality like Disney himself, Jamison got to work. Securing a $6000 loan from his uncle, Earl purchased an old 6-acre chicken farm in the small town of Lahaska, PA. Seamlessly blending the farm's original historic buildings into the design of his charming colonial shopping village, Earl opened Peddler's Village with only 1 restaurant (the Cock n' Bull) and 14 shops. With much success and growth over the years, Peddler's Village now spans over 42 acres and is considered one of the region's favorite destinations for shopping and events year-round.
Stories In The Sand at Peddler's Village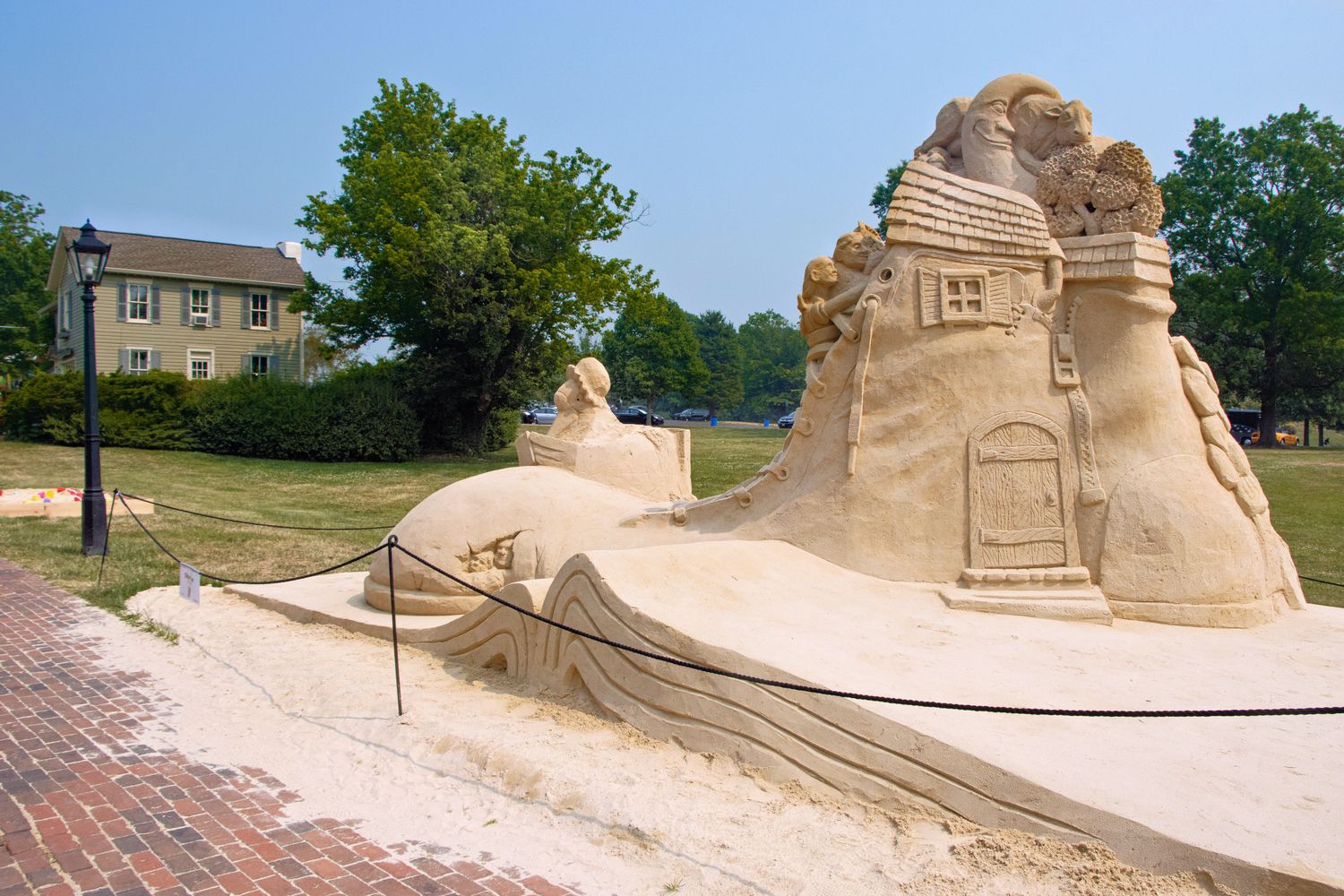 All summer long, guests can experience the beach in Bucks County during Stories in Sand, a Village-wide display of larger-than-life sand sculptures that pay homage to stories and characters revered for generations, including Brothers Grimm fairy tales, Peter Pan, The Jungle Book, Winnie-the-Pooh, Mother Goose stories, and Alice in Wonderland.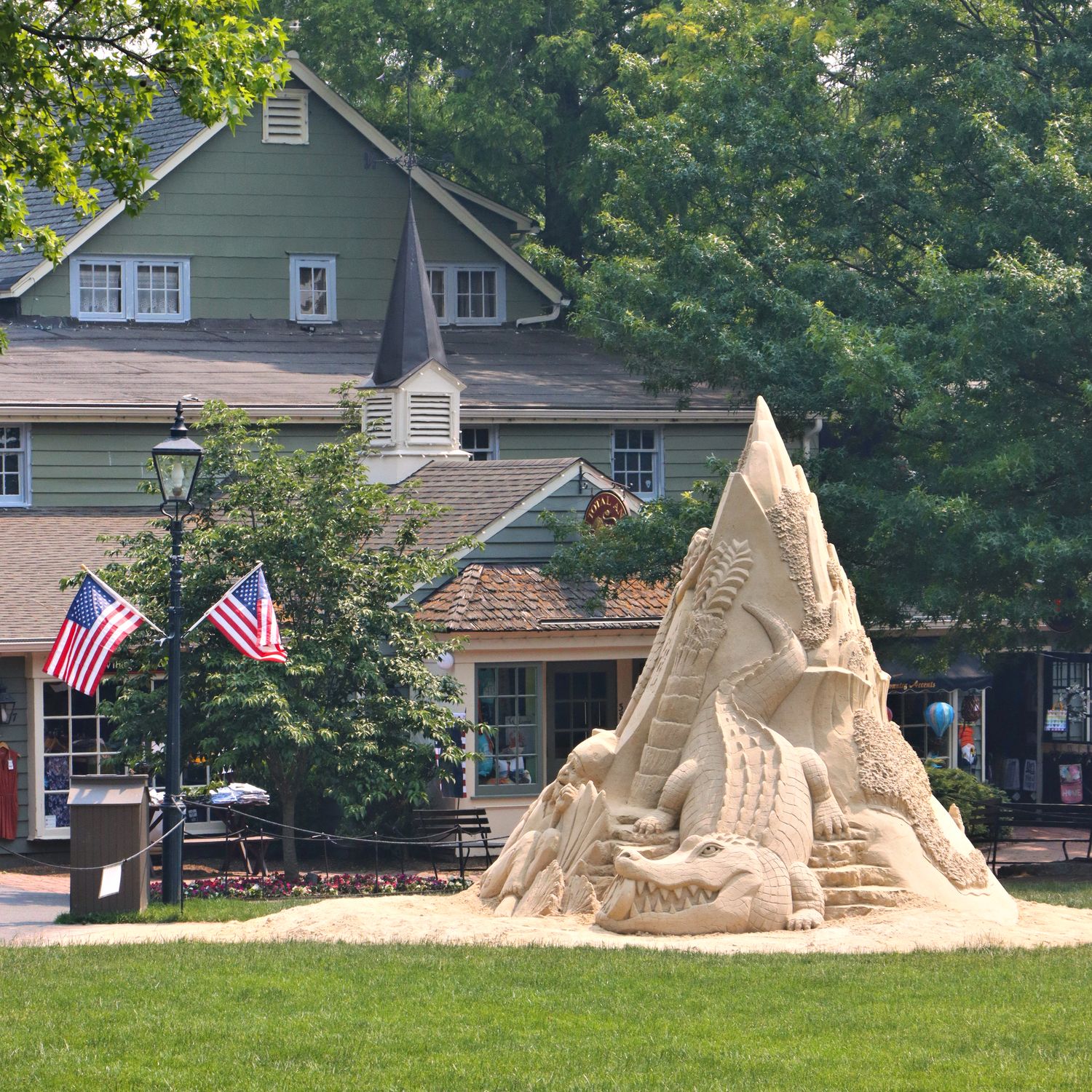 Children and families can enjoy toy-filled sand boxes, and on Saturdays at 11 a.m., free storytime sessions on the Village Green presented by Peddler's Village shops.
Visitors can also visit shops and restaurants in the Courtyard neighborhood to enter a drawing to win a prize basket valued at more than $825; one basket each will be awarded at the end of June, July, and August.
Don't Miss The Shops at Peddler's Village!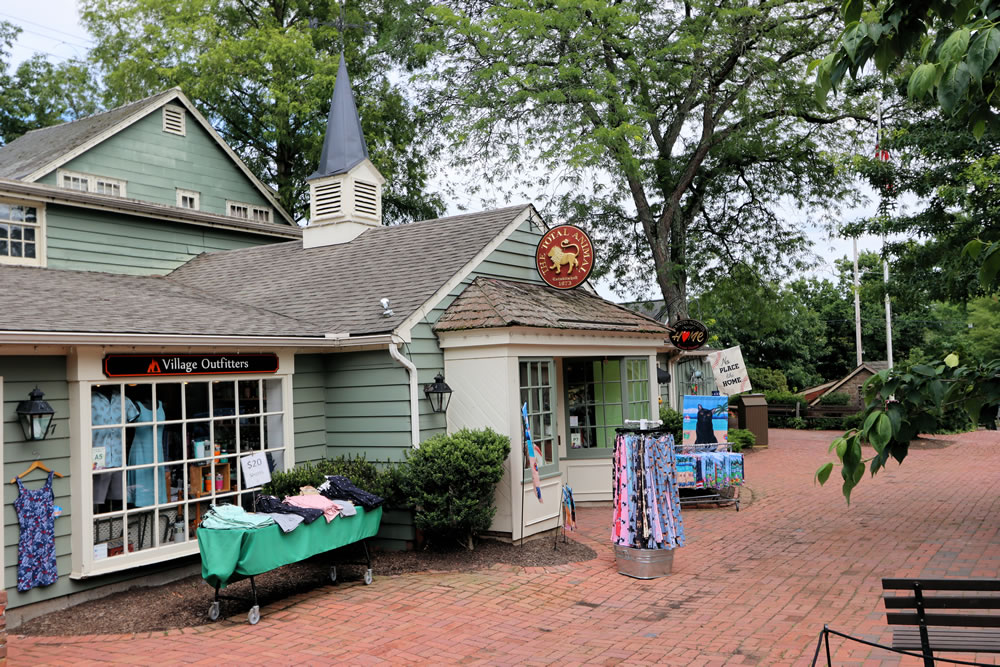 Shopping in Peddler's Village is all about walking into a small charming boutique or shop to see what unique treasures and treats you might find inside. 
Ninety-five percent of the shops in Peddler's Village are locally owned small businesses that carry unique and exclusive products.  You'll find everything from home goods and clothing, to art, collectibles, jewelry, books, toys, and a delicious variety of gourmet specialty foods. Here are a few of our favorite shops in the village!
Experience a Little Christmas In Summertime at Pine Wreath & Candle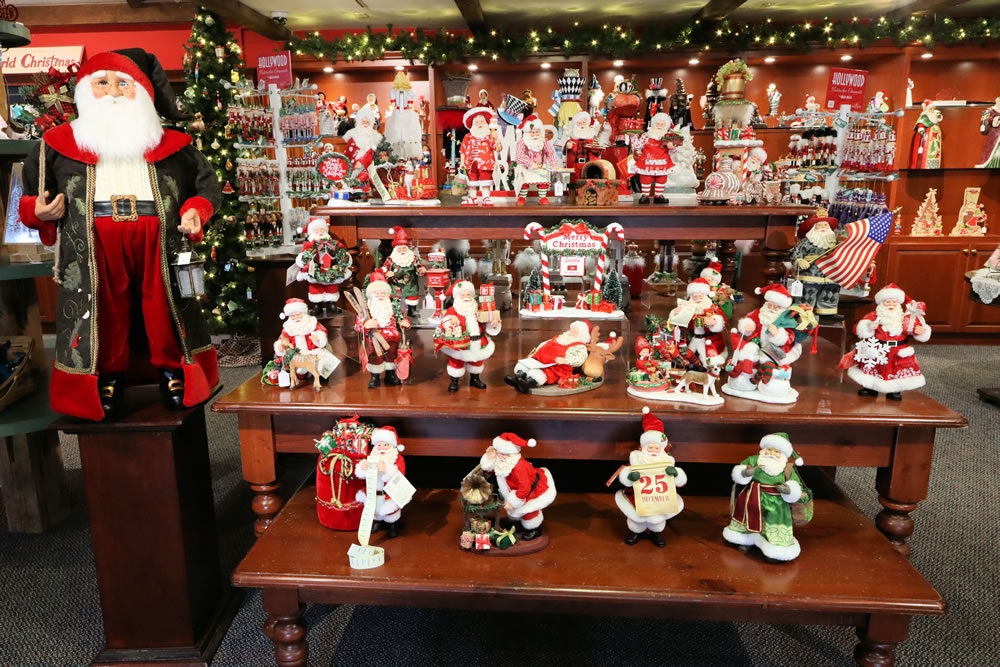 Pine Wreath & Candle LTD.
Shop #70, Lahaska, PA 18931
pinewreathandcandle.com
Located across from the gazebo in an early colonial style saltbox and flanked by a working water wheel, Pine and Wreath ltd. is one of most iconic shops at Peddler's Village, inside and out. Here you can stop in to get a dose of Christmas in summertime while shopping their massive collection of Christmas ornaments and country-style home décor, as well as a huge selection of candles of all shapes and sizes. A great place to grab a souvenir, this shop had me happy and in the holiday spirit even in 95-degree weather. 
Become a Kid in a Candy Store Again at Skip's Candy Corner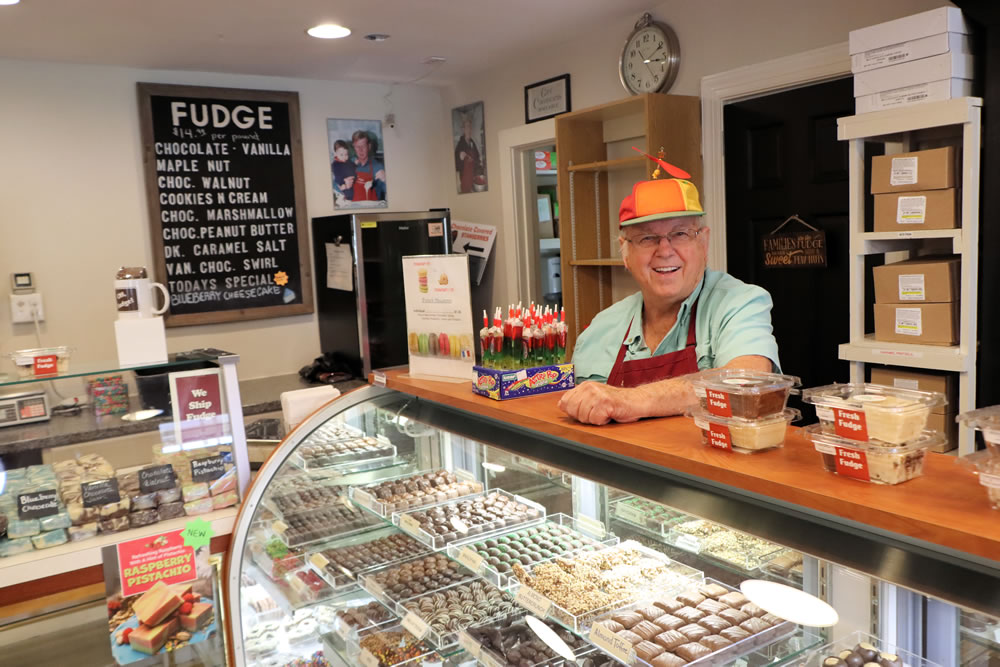 Skip's Candy Corner
27 Street Road, Lahaska, PA 18931
skipscandycorner.com
Skip's Candy Corner has been going strong in Peddler's Village for over 35 sweet years. And it's not hard to understand why. Along with Skip's contagious Willy Wonka-like passion for sweets, here you'll find gourmet chocolates and an incredible selection of candy in all its colorful and whimsical forms.
You'll find chocolate treats like truffles, gourmet pretzels, caramels, turtles, nonpareils, sea salt bark, peppermint patties, cherry cordials, s'mores, and buckeyes that Skip makes with his own curated blend of imported chocolate. My mom, who's a tough critic, took one bite of Skip's almond buttercrunch and declared it as the best she's ever had. I walked into Skip's shop "not a fudge person" and left there obsessed with every fudge Skip offered us to try. Aside from chocolates, jelly beans, gummies, and fun candy gifts with themes like Pac-Man and I Love Lucy, Skip's Candy Corner also carries a great selection of hard-to-find vintage candies as well as a line of gourmet nut-free confections manufactured at a special facility. This shop is special all year round, but don't miss Skip's special seasonal treats like his watermelon fudge that celebrates summer.
Visit The Cloak and Wand For a Spellbinding Experience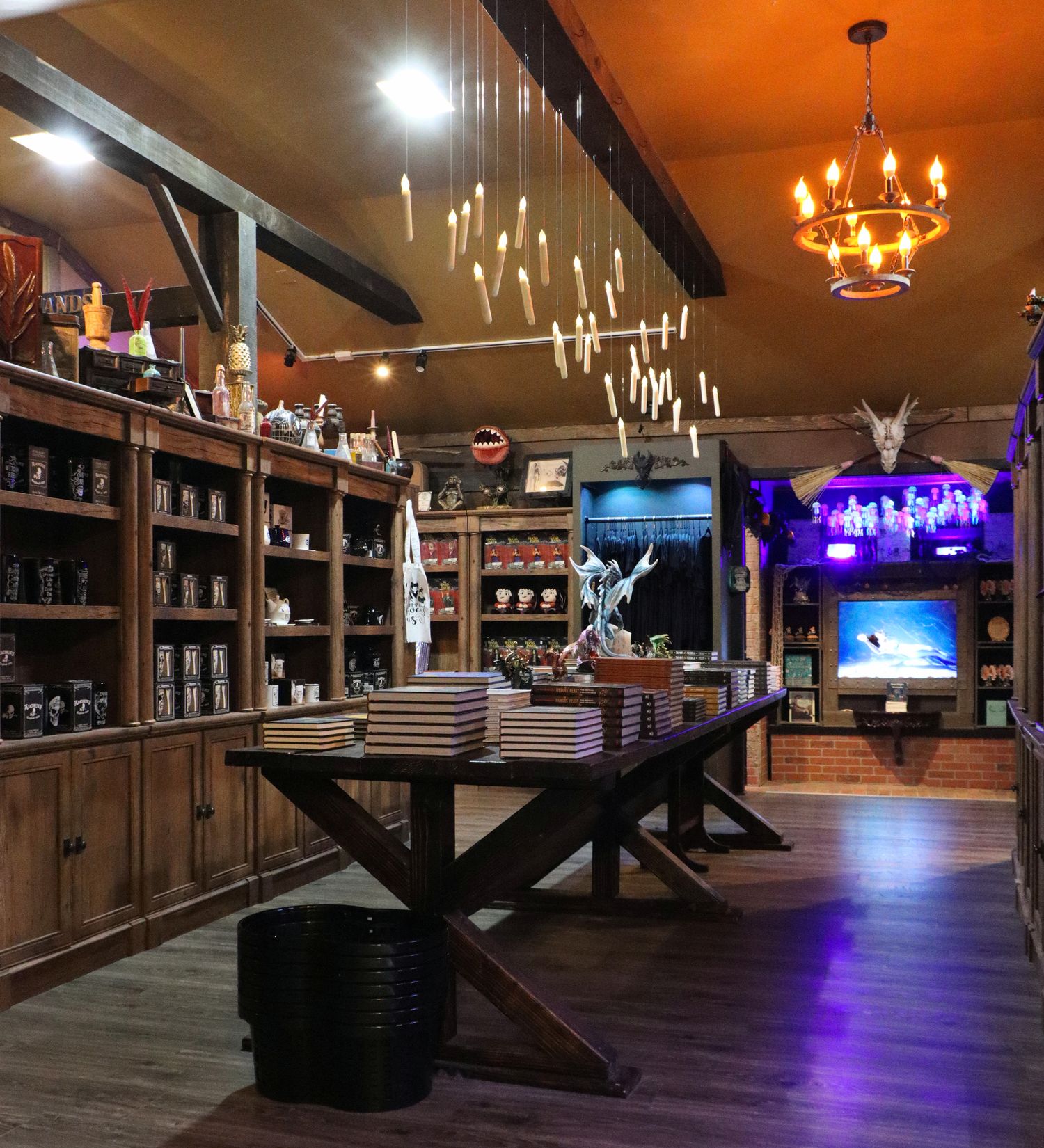 The Cloak and Wand
67 Peddlers Village, Lahaska, PA 18931
thecloakandwand.com
At The Cloak and Wand, immerse yourself in a series of "themed" spooky and mystical rooms that offer a variety of unique goods and curiosities dedicated to wizards, witches, folklore, fairies, ghosts, and mythical creatures.
Besides books, apparel, décor, and unique gifts, you'll also find carved wands and brooms. But, beware of the haunted doll section! With something ghoulish around every nook and cranny, fans of Harry Potter, Lord of the Rings, and Stranger Things will feel right at home.
While you're shopping, be sure to visit their well-appointed Potion Bar for a magical treat. Choose from a variety of gourmet sodas, hot chocolates, and coffees that you can customize with 64 flavors and enjoy optional add-ons, like whipped cream and fairy dust glitter.
We tried their signature "Wizard Beer", which includes the magical ingredients – Butterscotch, Vanilla and English Toffee. It's topped with Griffin Whipped Cream and sparkled with gold Fairy Dust. This decadent concoction also provided us with protection from Dark Magic! Whew!
Build Your Own Terrarium at Greenology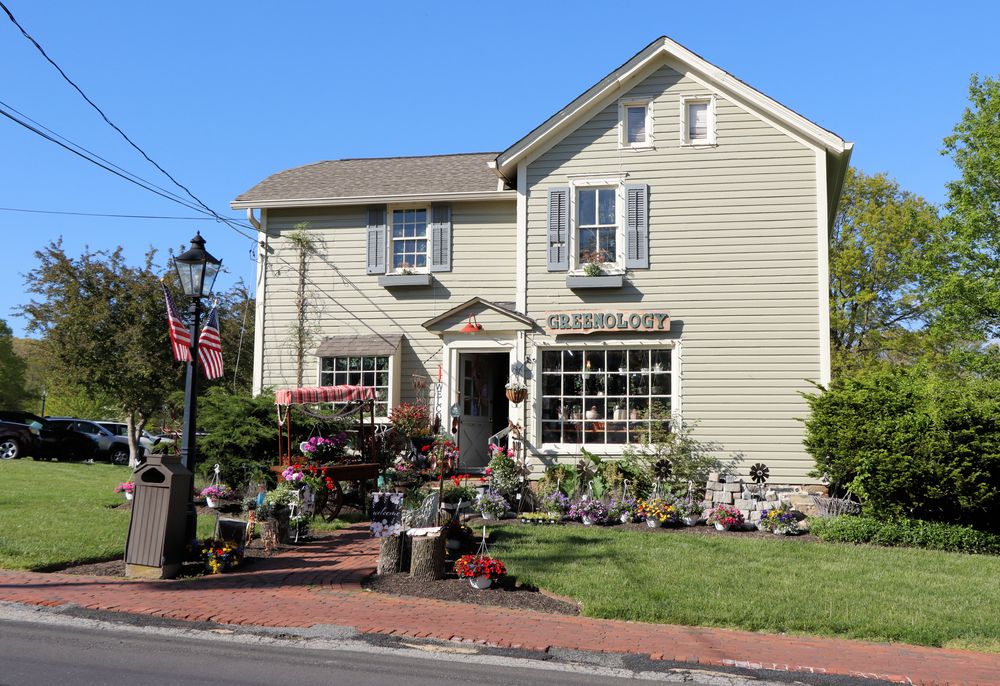 Greenology

Peddler's Village 2449 Street Road Shop #23 A, New Hope, PA 18938
https://www.greenologyorganics.com
Are you ready to discover a beautiful and inviting shop that will transport you into a world of greenery and natural living? Visit Greenology! Located in a charming historic home, Greenology offers a wide range of organic and sustainable products, including home decor, accessories, and personal care items. You'll find everything you need to create an eco-friendly and stylish living space.
Now, here's the real treat: The Greenology Terrarium Bar. This interactive experience allows you to unleash your creativity and build your own terrarium masterpiece. No green thumb? No problem! The friendly staff at Greenology will guide you through the process. Choose from a variety of vessels or bring your own, and let your imagination run wild as you select from a range of sand, pebbles, moss, shells, bark, air plants, and more to personalize your terrarium. It's an engaging and relaxing activity that's perfect for all ages. Crafting your own terrarium is not only fun, but provides you with a remarkable living centerpiece that doubles as a work of art. We highly recommend this activity!
Greenology is located next to the Village General Store on the corner of Street Road.
Tease Your Brain at Pieces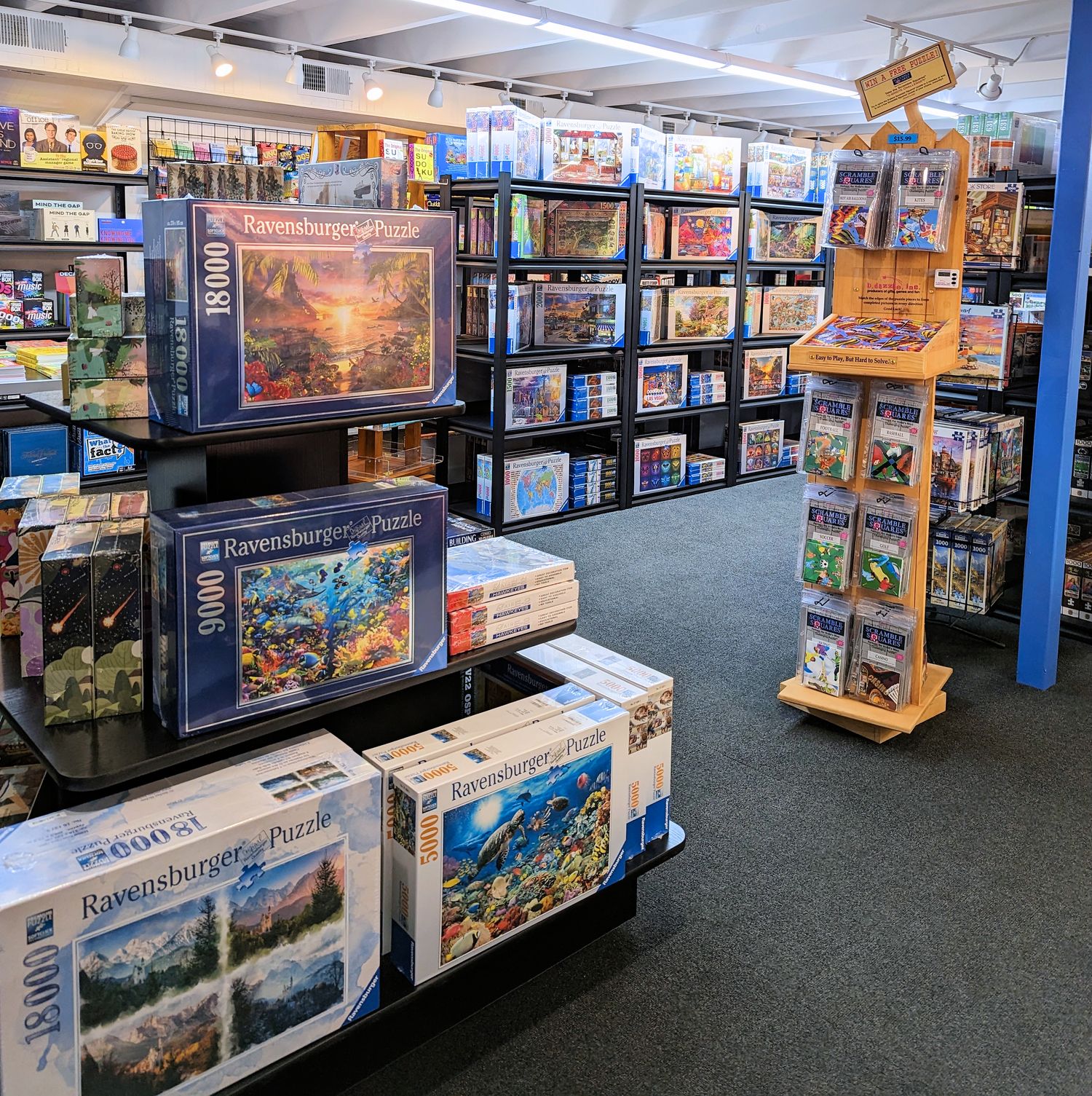 If you love board games, jigsaw puzzles, and brainteasers, definitely stop into Pieces. Here you'll find the popular Ravensburger Puzzles, "What Do You Meme?" party games, and several versions of "Host Your Own Murder Mystery". Pieces also offers trivia games, playing cards, dice, poker chips, and more. There's a variety of games and puzzles on display that you can try to solve and it's a wonderful shop for gifts too. Any item from Pieces is guaranteed to sharpen your brain power, fill time on a rainy day, or simply provide some fun with family and friends.
Pop Into Clusters for Fresh Popcorn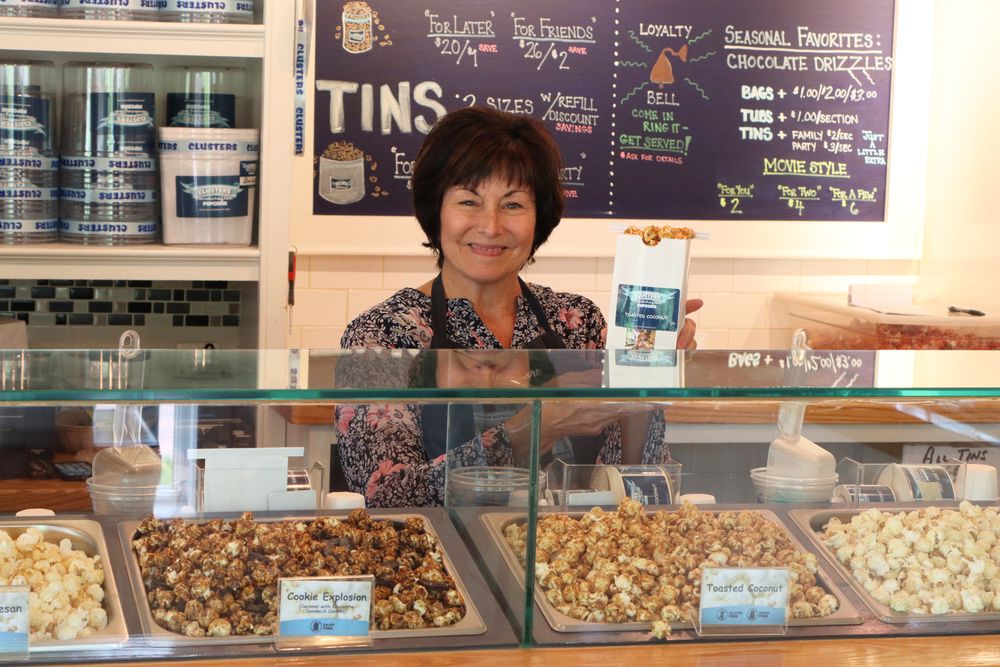 Indulge your taste buds while exploring Peddler's Village with a visit to Clusters for handcrafted specialty popcorn that's freshly popped every day. It's the perfect summer snack to satisfy your cravings while on the go!
As you step into Clusters, you'll be greeted by a delightful menu of sweet, savory, and spicy popcorn flavors. The best part? You can sample them in-store before making your selection. With each season, Clusters introduces new and exciting flavors that are bound to tickle your taste buds. Among their popular sweet varieties are the original Caramel Corn, Toasted Coconut, and our personal favorite—Cookie Explosion. This delectable treat combines pieces of dark chocolate cookie with caramel corn, creating a perfect balance of sweetness with a hint of salt.
For those who prefer savory popcorn, try the classic White Cheddar or indulge in the Cheesy Doodle, which tastes exactly like a cheese doodle. If you're feeling adventurous, go the spicy Buffalo Blue, inspired by the tangy goodness of hot wings. For even more kick, the Sweet Habanero is a must try.
Taste Artisanal Honey at Sticky Situations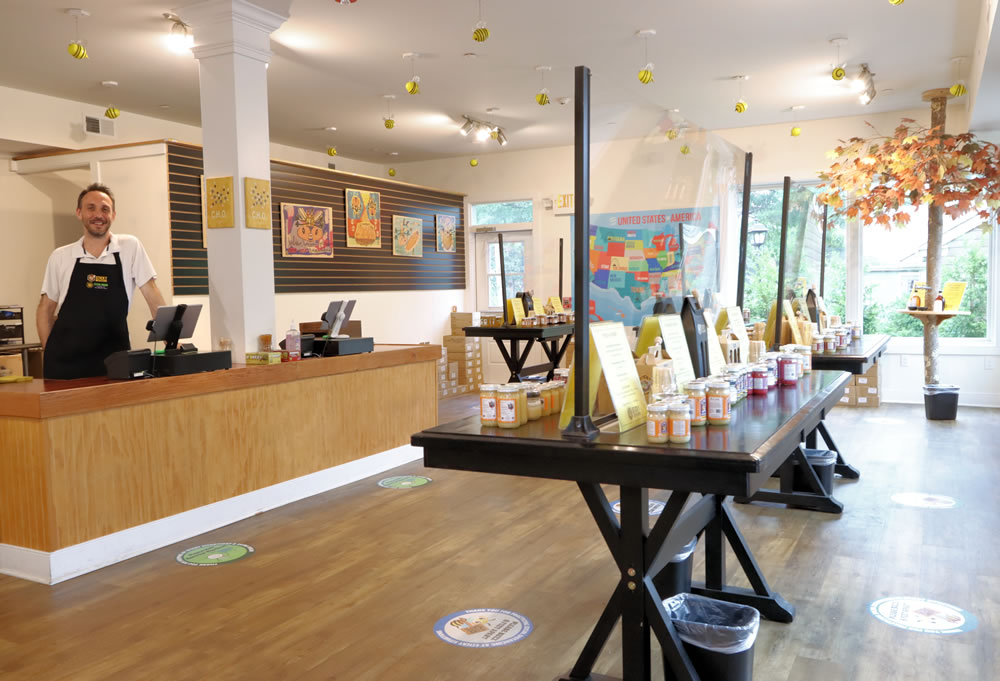 Sticky Situations
63 Peddler's Village. Lahaska, PA 18931
stickysituationshoney.com
Did you know that honey is one of the few foods that never spoils? Or that two tablespoons of honey could fuel a bee's flight around the world? There's no doubt that bees are incredible, but after a recent visit to Peddler's Village and a chat with shop owner Stephen, I now have an even greater appreciation for these pollinators and the wonder that is honey. Stephen, a food chemist who's an expert in a technique called withholding, knows just what it takes to encourage plants to produce super-concentrated flower nectar that is super irresistible to thirsty bees and also determines the final flavor of their honey. So with 12 bee colonies buzzing on farms all across the country, Sticky Situations offers artisanal raw honey in an incredible selection of flavors I've never seen anywhere else. The honey here is 100% raw, which means it's not heated or processed, and this is important in preserving the honey's beneficial nutrients and flavors.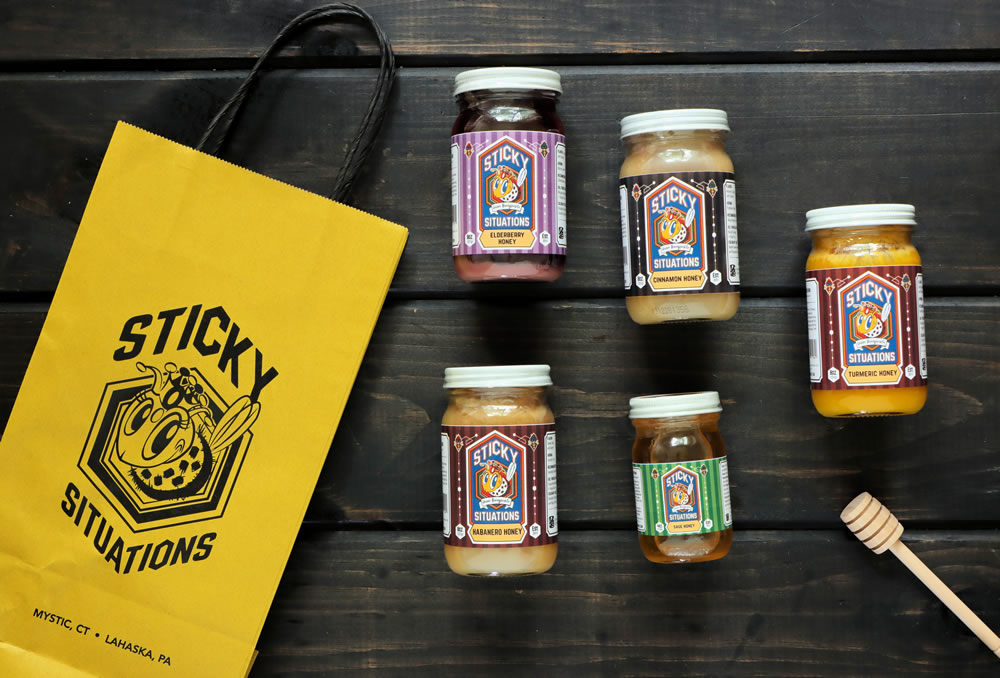 We had a great time tasting all the honey here while discovering where each was from and suggestions of what each could be paired with. We had to take home the dark chocolate, habanero, ginger, and anise honey, but their blueberry, raspberry, and green apple honey had me dreaming up ways I could infuse them into my next baking project. You're going to want to stock up for yourself (and we don't blame you), but stop in if you need a unique gift for the foodie in your life.  
Kick Up Your Cooking Game with Gourmet Infused Oils and Vinegars at Extra Virgin.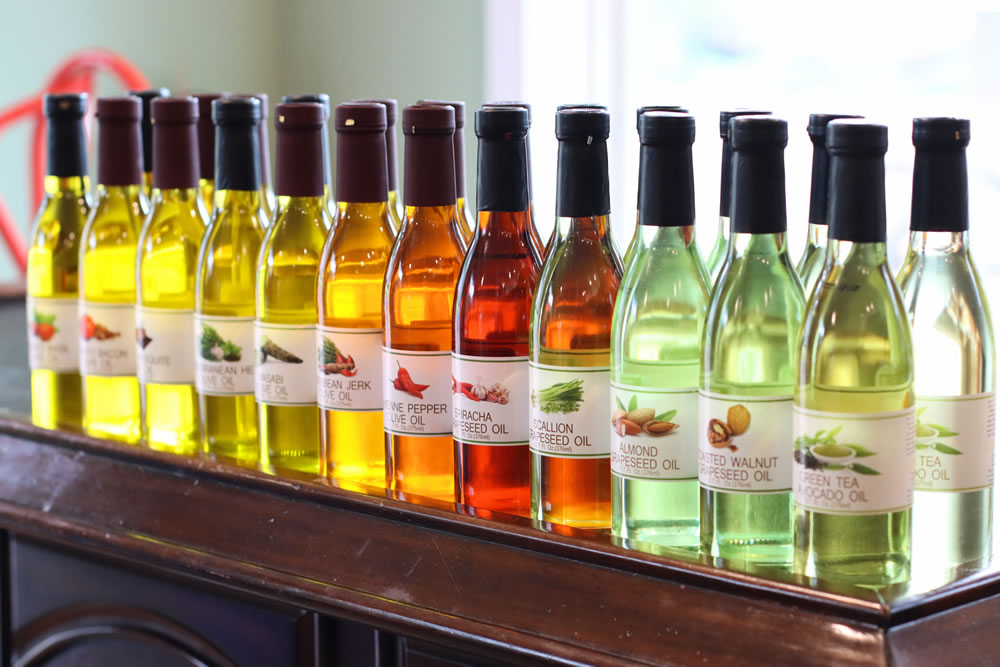 Extra Virgin
64 Peddler's Village, Lahaska, PA 18931
extravirginoilstore.com
To continue the gourmet tasting experience, we headed next door to Stephen's sister store Extra Virgin. Inspired by a passion for the fresh high-quality foods he enjoyed growing up on the Amalfi Coast, owner Stephen opened Extra Virgin with the purpose of offering premium artisan olive oils and infused bottles of vinegar. This creative shop offers an in-store experience similar to a wine tasting. It's all about the flavors here and as you browse the shop, you're encouraged to give everything a taste. When you find your favorites, you can then have your oil and vinegar selections blended at their bar so you can discover which combinations speak to your palette oil. Pretty cool right? 
One delicious flavor combination we tried that Stephen referred to as "Sicily in a jar," was a mix of their Meyer lemon-infused olive oil and their Blood Orange Vinegar. Absolutely perfect for summer! Besides olive, Extra Virgin also has a variety of other flavor-infused oils like their green tea avocado oil, guacamole avocado oil, toasted walnut grapeseed oil, and sriracha grapeseed oil. There's also imported Italian pasta in a variety of shapes and colors that will knock your socks off. 
Love Hot Sauce? Visit Pepper Palace!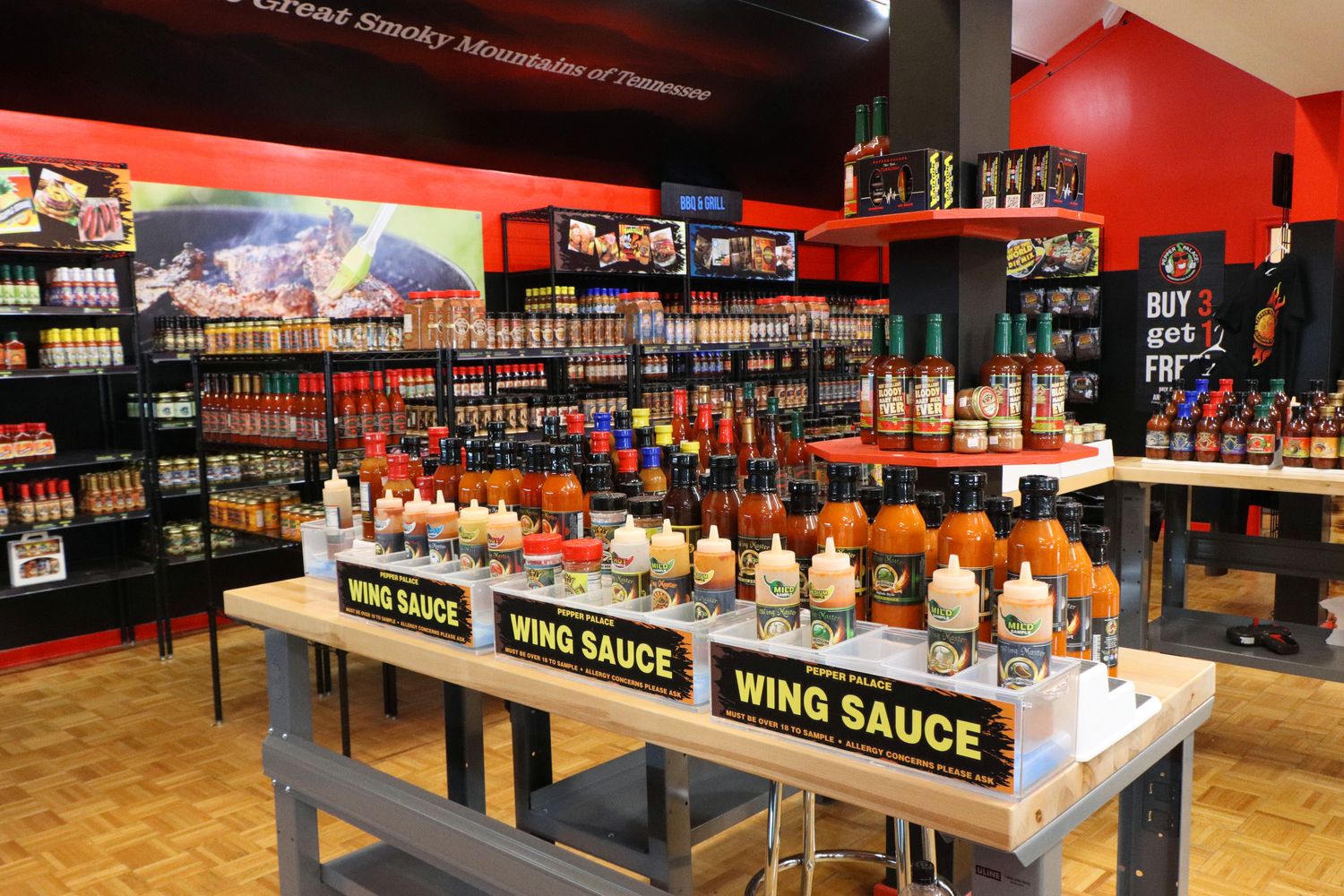 Pepper Palace
161 Peddlers Village, Lahaska, PA 18931
PepperPalace.com
Our philosophy is, the spicier the better, so when we discovered a hot sauce tasting room just a few steps from our room, we were determined to find new ways to set our mouths on fire. The newest kid on the block here in the village, Pepper Palace carries dozens of delicious hot sauces, all of which you can try before you buy. They even offer complimentary tortilla chips!
Pepper Palace specializes in all-natural products that are handcrafted in small batches. They offer Wild to Mild hot sauce, salsa, dips, seasonings, barbeque sauce, marinades, pepper jellies, rubs and more.
The hottest sauce at Pepper Palace is called "The End: Flatline Hot Sauce," and it's made with reapers, ghost peppers, scorpion peppers, 7 pot chocolate douglah and a hefty dose of pepper extract. If you crave the burn, this one's for you! To give it a try, customers must sign a waiver and be 18 years old or older.
Although we didn't go full steam ahead on the hottest of the hot sauces, we did quite a bit of tasting and found some new favorites including Serrano Lime, Scorpion Death Stalker Hot Sauce, Horseradish Oyster Hot Sauce, and their Ghost Pepper Hot Sauce.
 💡 Tip: Pepper Palace also has a great deal where you can mix & match any three items in the store and get one free.
Discover Jerky of All Kinds at the Bucks County House of Jerky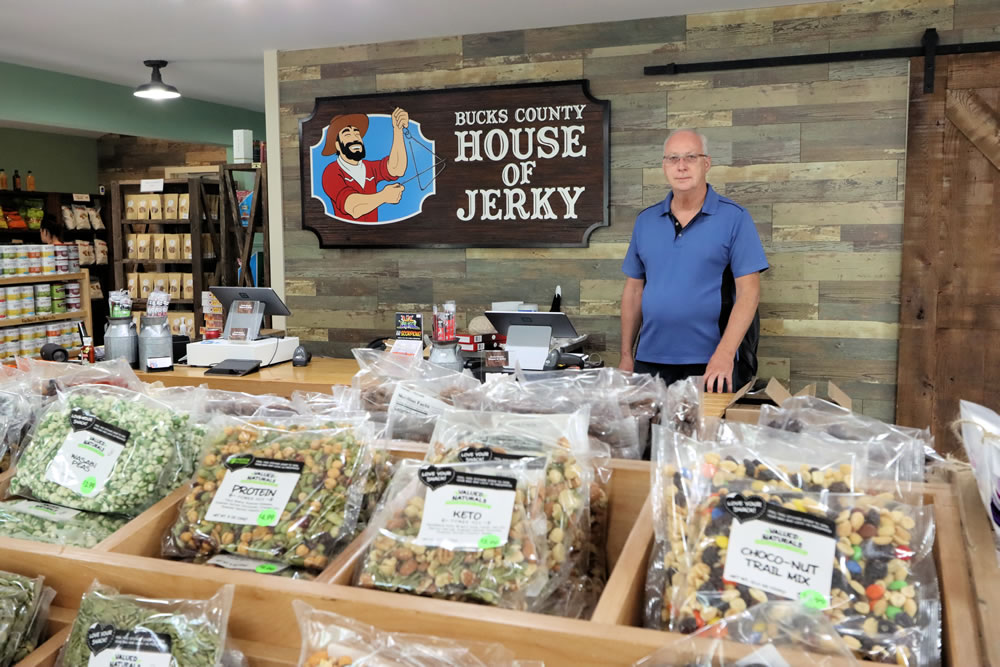 Bucks County House of Jerky 
69 Peddlers Village, Lahaska, PA 18931
buckscountyjerky.com
With more people on the search for healthy, high-protein snacks, jerky seems to be more popular than ever. If you love the stuff as much as we do, you'll be excited to find out that Peddlers Village has its very own shop dedicated to all things jerky. Perfect for gifts or stocking your pantry, Bucks County House of Jerky carries one of the biggest varieties of jerky we've ever seen. That means in addition to a variety of sweet, spicy, and savory flavors, they also offer jerky from a huge selection of protein sources.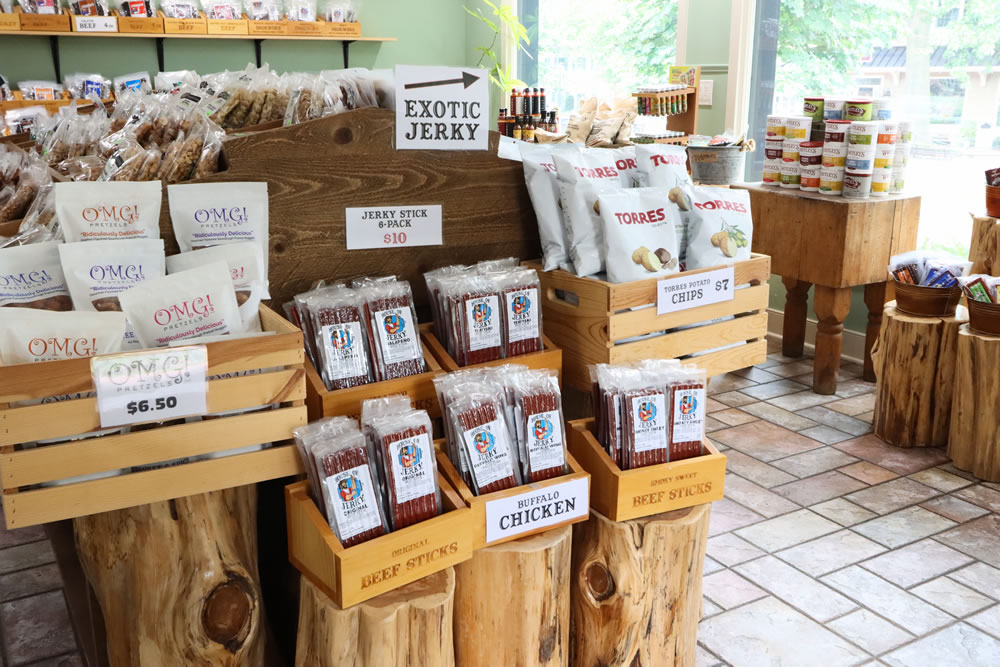 You'll find beef, bison, turkey, elk, and even plant-based varieties too. One bite of their mushroom jerky and we were shocked at "meaty" and yummy it was. If eating plants isn't your idea of being an adventurous eater, then you can stroll over to their exotic jerky section which includes alligator, python, and more. A great place to stop if you're putting together a gift, you'll also find a variety of snacks, nuts, and yummy treats.
Take Your Pantry to the Next Level with Spices from Around The World at Savory Spice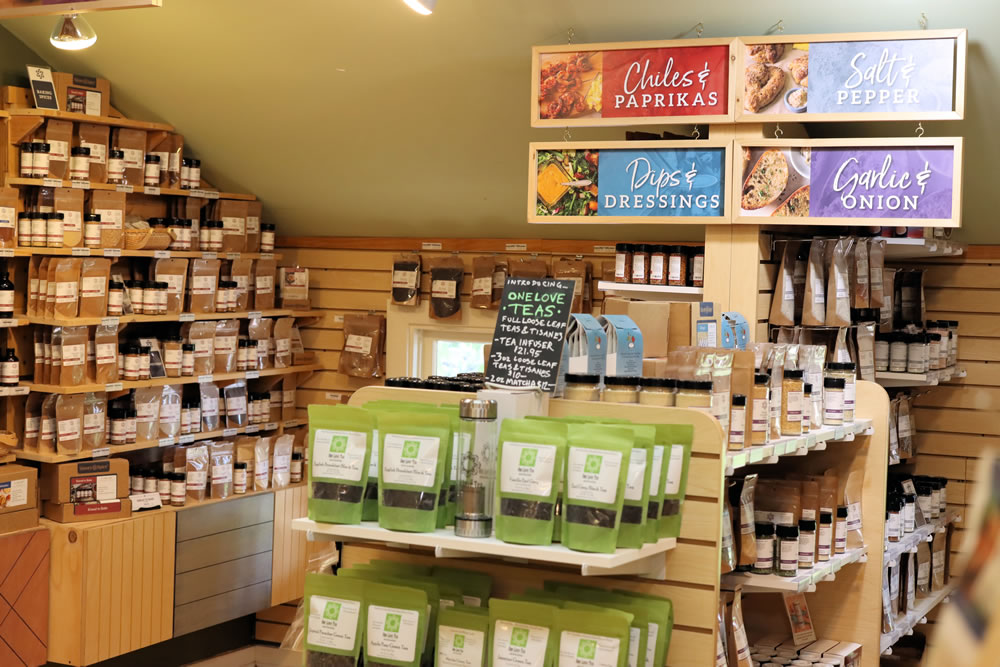 If you're on a quest to perfect your chili recipe, make the ultimate BBQ sauce, steak rub, or just looking to experiment with some new flavors, then you won't want to miss Savory Spice. Tucked on a corner, this shop carries a huge selection of sweet and savory herbs, spices, and their own spice blends from every corner of the world.  Think flavors like New Mexican chile powder, Madras curry powder, Chinese five-spice, as well as exotic flavors like Dutch Blue Poppy, black sesame Moroccan saffron, and Grains of Paradise. If you love to bake, Savory Spice also has a variety of vanilla beans, vanilla bean pastes, cocoa powders, extracts, and flavored sugars from around the world that can help you put that extra special touch on your baked goods. 
The staff here is super knowledgeable and they always give me spot-on advice when I'm not sure what to choose. What's also great is that the spices come in a variety of sizes,  so you can experiment a bit before committing to larger sizes.  Some of my personal favorite spices here are their tandoori seasoning, crushed Aleppo pepper, and Madagascar vanilla bean powder.
Where to Eat and Drink in Peddler's Village
After strolling and shopping through Peddler's Village you're absolutely going to get hungry and thirsty. But that doesn't mean you have to get in your car. Peddler's Village has plenty of food and drink options, whether you're looking for a sweet treat, a glass of wine, a casual bite, or a full dinner with apps, cocktails and dessert. Takeout meals are also available from all restaurants and eateries, with plenty of tables available around this scenic property. Here's some of our favorite options!
Relax and Enjoy a Wine Flight or a Wine Slushy at Nissley

Vineyard's

at Peddler's Village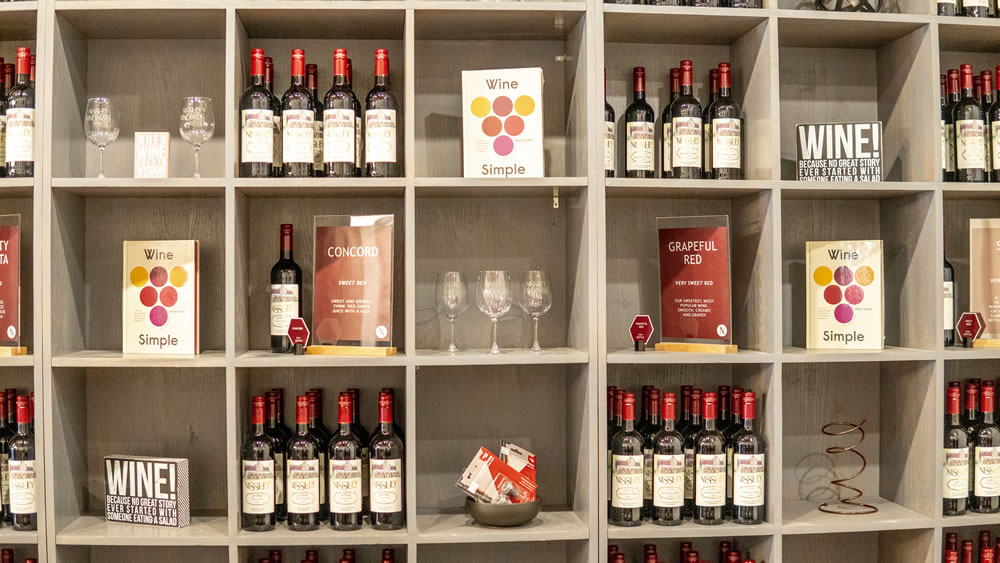 Nissley Vineyards at Peddler's Village

45 Peddlers Village, New Hope, PA 18938
https://nissleywine.com/
Any day with wine is a good day. And one of the best spots in the village to unwind with glass is at the Nissley Vineyards Tasting Room. This satellite location to the winery located in Bainbridge, PA sells their award-winning, locally loved and produced wines by the glass, and offers wine tastings and full bottles to-go.
One of the many things we love about Nissley Vineyards is that they always seem to find a way to make drinking a glass of wine even more enjoyable. In the summer that means wine slushies! When the weather's nice, we recommend you sit out front on their patio to enjoy the quaint village vibes, but their airy lounge is nice too if you prefer to stay cool inside.
Eat all the Cupcakes You Can Handle at The Lucky Cupcake Company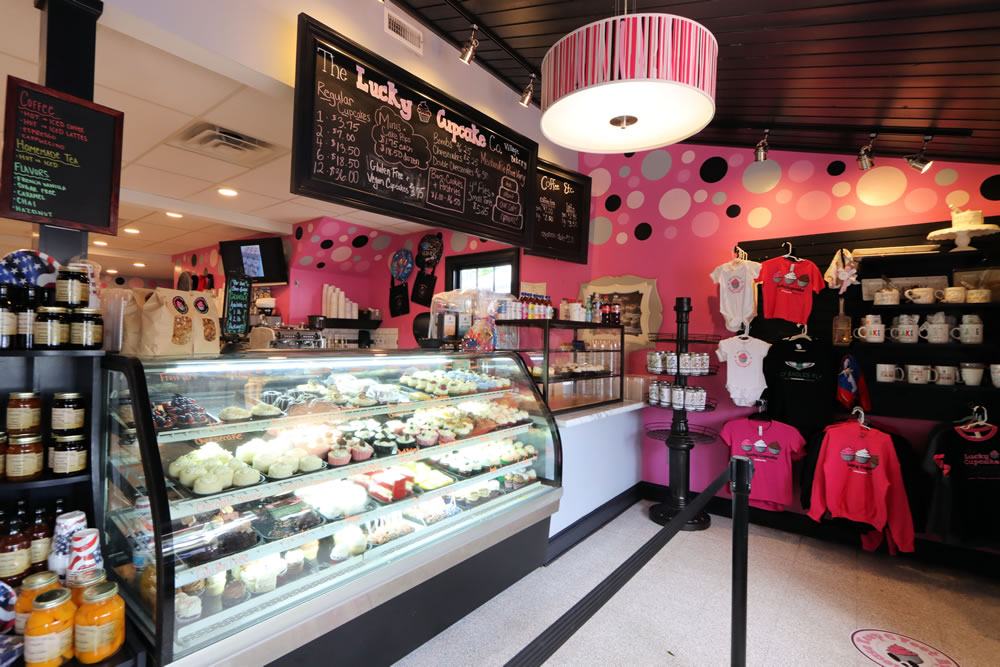 If you can't resist a cupcake ( really who can?), The Lucky Cupcake needs to be a must on your list of places to stop in Peddler's Village. This adorable bakeshop that's been featured on the Food Network's Cupcake Wars, offers buttercream topped cupcakes in a variety of traditional, creative, and seasonal flavors (think blueberry for July and Key Lime for summer).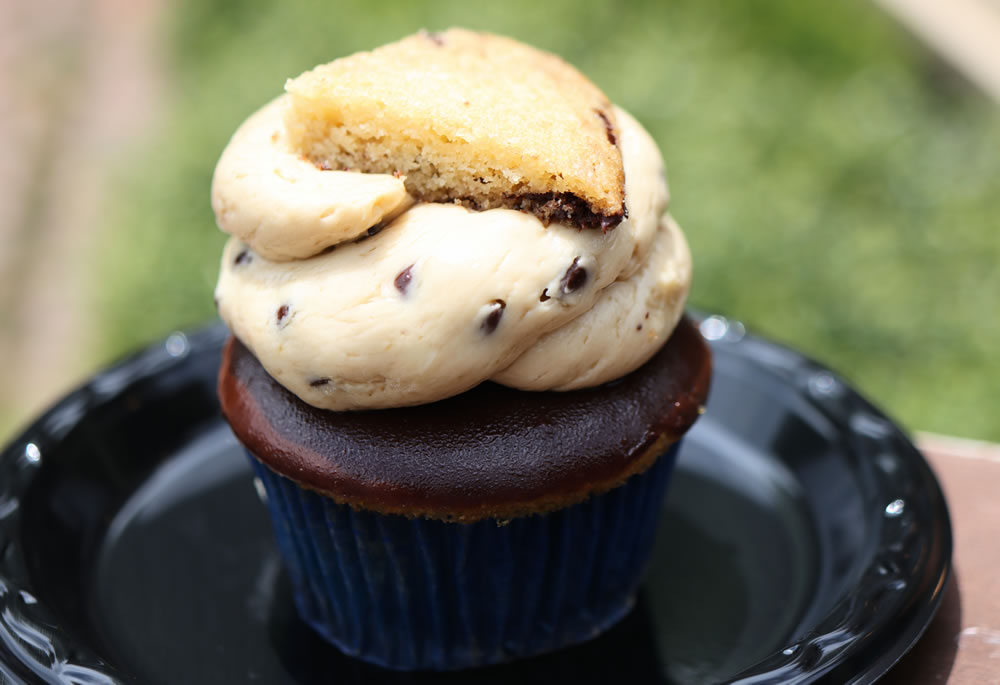 If cupcakes aren't your thing, they also carry an impressive variety of other desserts like cookies, tarts, pies, croissants, muffins, scones, bars, donuts, and individual cheesecakes. Coffee cakes, butter cakes, muffins, and macarons are also on the menu and we were blown away by their croissant-like buttery pastries which we regret not taking some home. Grab your goodies to go, or sit down and relax at one of their tables out under the shade with an iced coffee. 
Grab Some Coffee and the Best Cinnamon Buns Ever at Mama Hawk's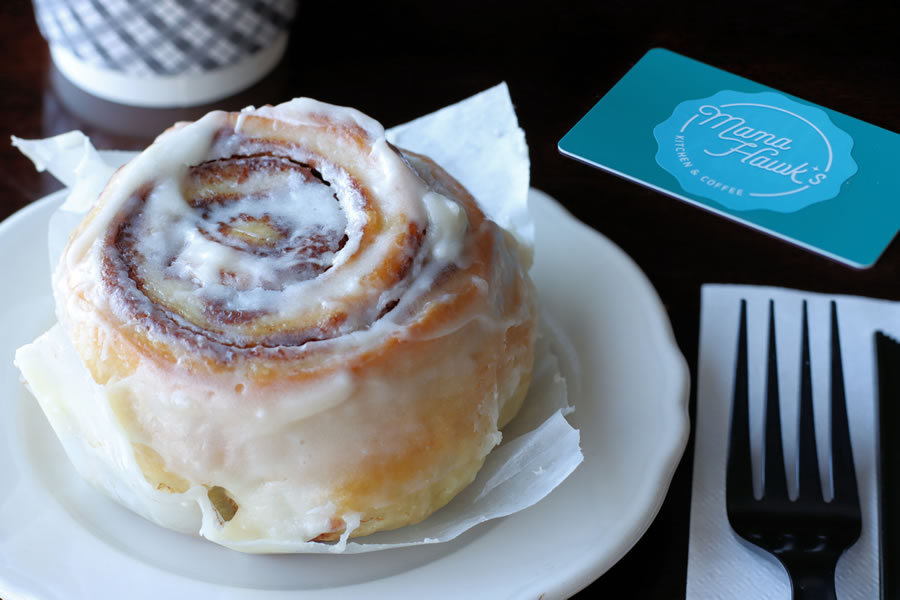 Mama Hawk's Kitchen and Coffee
58 Peddlers Village Rd, Lahaska, PA 18931
mamahawks.com
When my caffeine craving hits in the village, one of my favorite go-to's is Mama Hawk's. This adorable coffee house with modern farmhouse vibes and both indoor and outdoor seating serves up a variety of specialty coffees and delicious house made baked goods, bagels, cookies, muffins as well as paninis and pizzas. But there's one thing you can't miss here: the cinnamon buns. Fluffy, chewy, and perfectly glazed, these little pillows of heaven are baked fresh daily in a variety of special flavors. The coffee is great here, but whatever you do make sure to grab some buns to go. You can thank me later.
Visit an Updated Version of an Old-Fashioned Soda Bar at Fizzy Mama!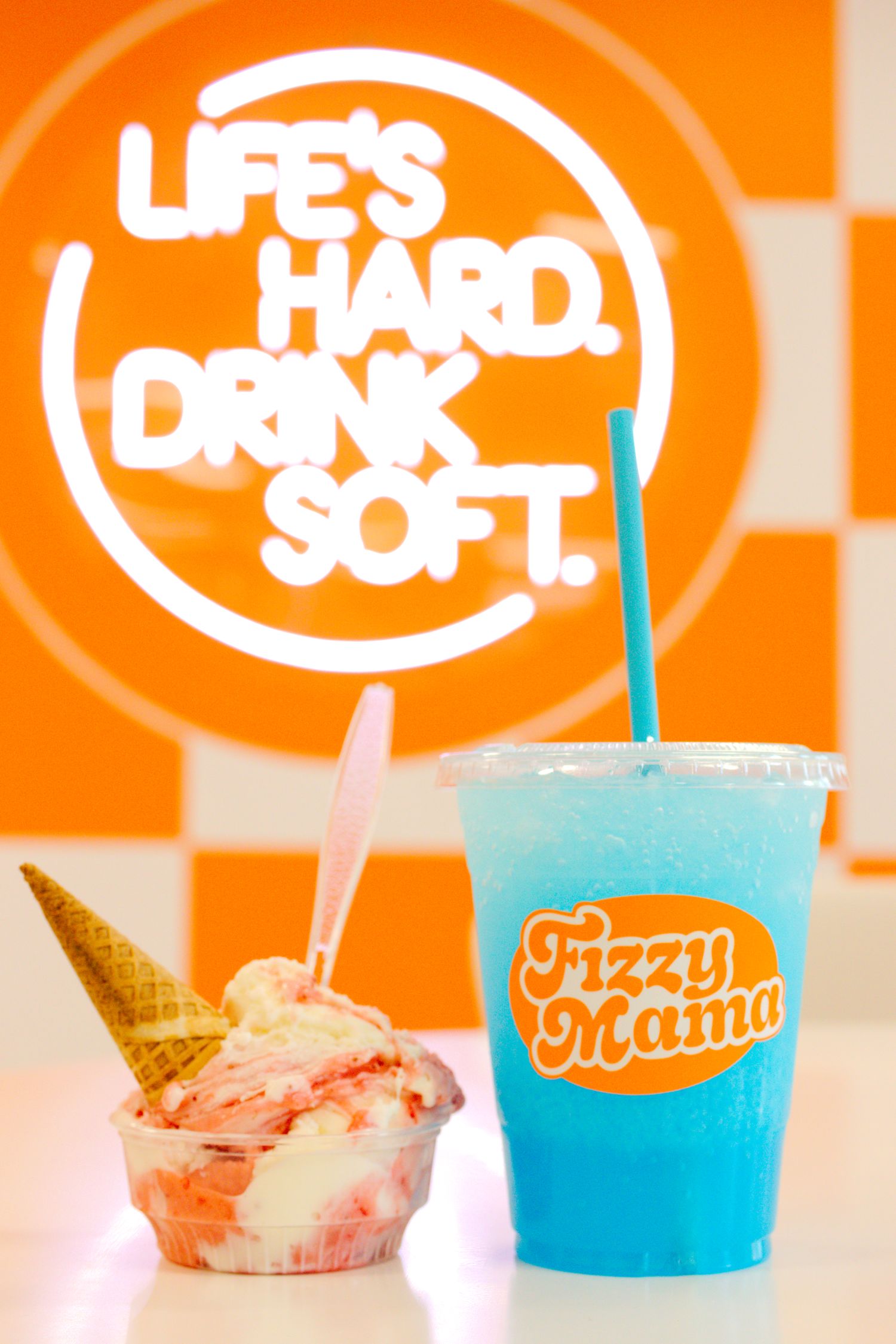 When you're walking around Peddler's Village on a hot summer day, you're bound to work up a thirst. At Fizza Mama, unleash your tastebuds on over 100,000 flavor combinations with their hand mixed sodas, fountain drinks, phosphates, milkshakes, refreshers, coffee, hot chocolate, apple cider, steamers, and more!
Fizzy Mama also serves up gelato, fresh baked mini-cookies with dips, and pretzel bites. There's even a happy hour with specialty mocktails. Cheers!
Try an Authentic Style Liege Waffle Topped With Gourmet Ice-Cream at Nina's Waffles & Ice-Cream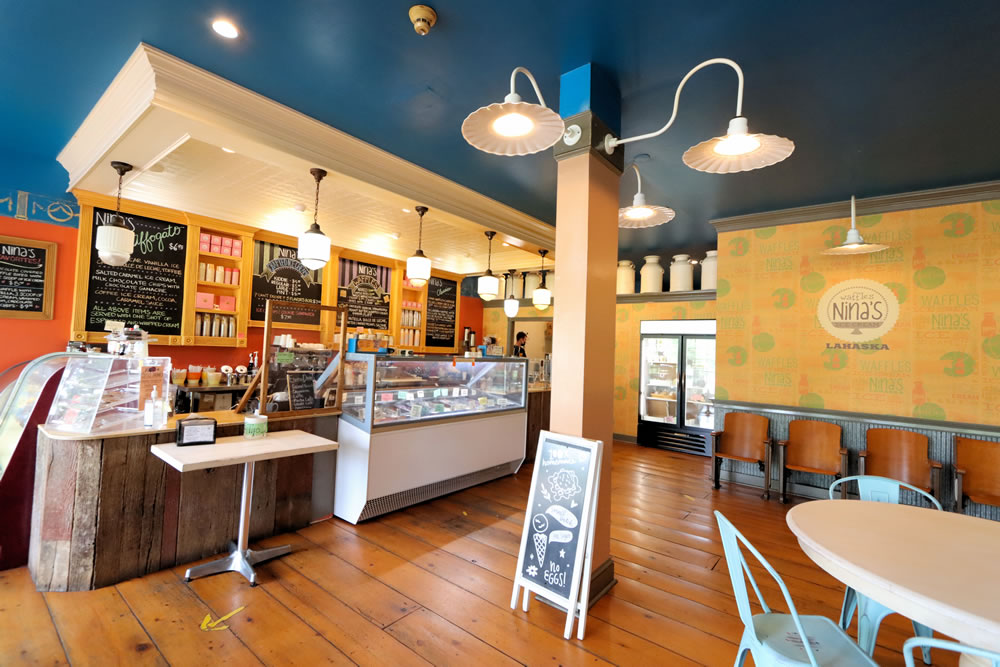 Nina's Waffles & Ice-Cream




18 Street Rd, New Hope, PA 18938


ninaswaffles.com
Walking around in the village on a hot summer day, we made a beeline for Nina's Waffles & Ice-Cream when it was time for a treat. Along with small-batch ice cream in some seriously delicious flavors, Nina's specializes in Liege waffles. Another Belgium born waffle made famous by the city it was named after, Liege waffles are made with a brioche-style yeast dough instead of a batter.
Before being pressed they're sprinkled with a coarse sugar that creates a lovely caramelization on the outside of the waffle once heated. Delightfully dense and chewy, what sets these waffles apart is the slight crunch you get from the caramelization of the sugar along the waffle's irregular edges.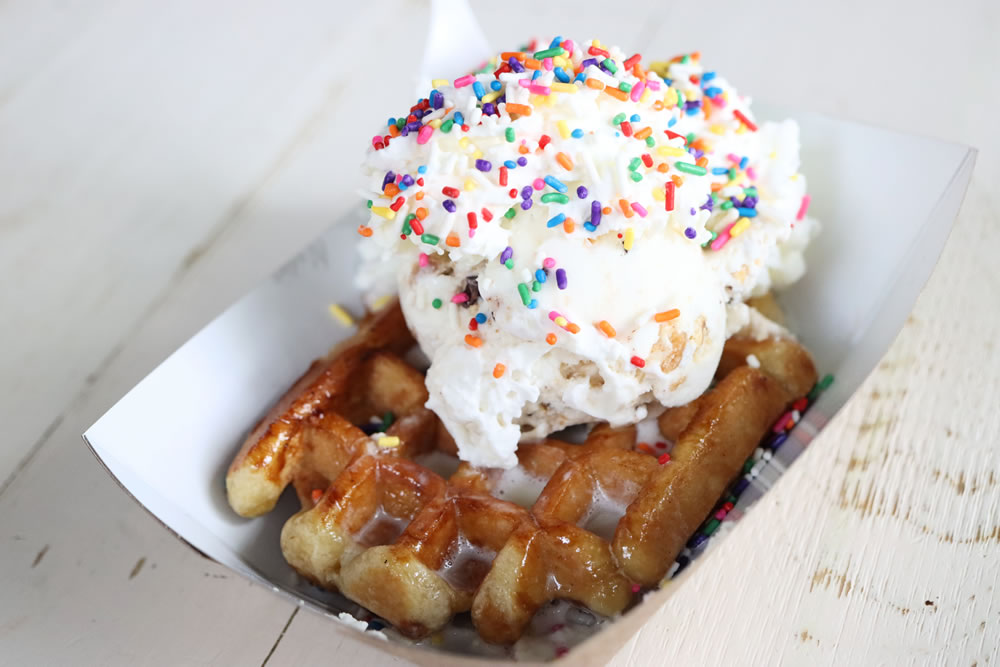 A freshly made Liege waffle at Nina's is a treat all on its own but we topped ours with a scoop of their Madagascar vanilla ice cream with chunks of saltine cracker brittle, bits of toffee, and chocolate called Mad Crack. One bite and we fell in love. If you're grabbing some ice cream to walk around with, waffle cones and cups are also available. Don't miss out on the toppings like dulce de leche, whipped cream, and sprinkles! 
Dine at Cock 'n Bull, Peddler's Village Flagship Restaurant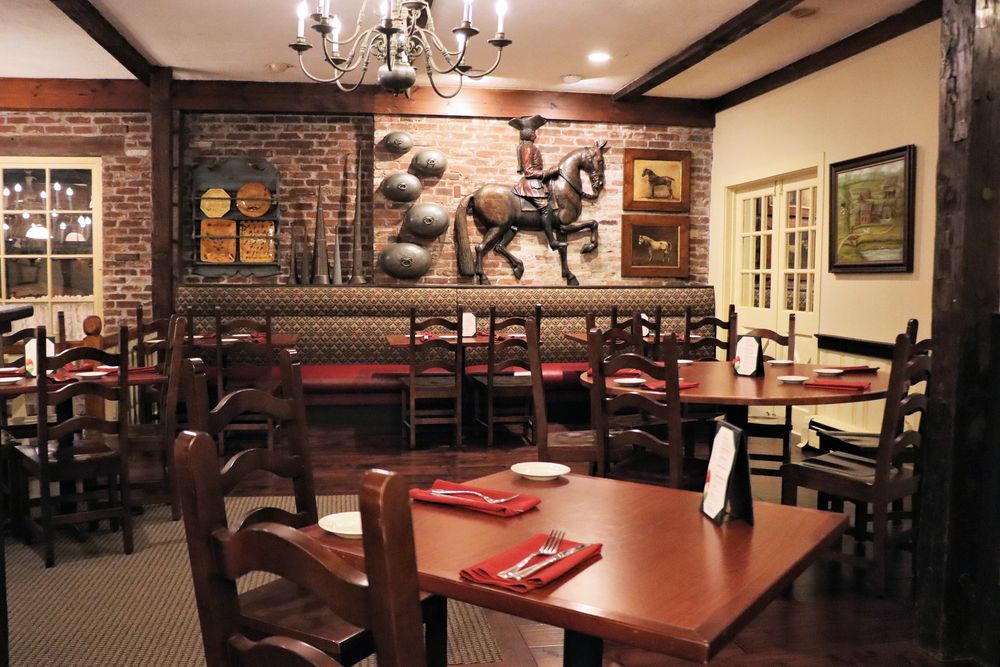 Cock 'n Bull
Route 263 and, Street Rd, Lahaska, PA 18931
Peddlersvillage.com
The first restaurant in the village, and celebrating over 60 years in business (simply amazing), the Cock 'n Bull has been a tradition for the locals here for generations. Recently they've revamped the menu with fresh, new and seasonal dishes inspired by southern and international cuisine while preserving favorite long-time Cock 'n Bull classics like their Chicken Pot Pie and French Onion Soup. We ordered and loved the Buttermilk Fried Chicken appetizer served over cornbread and drizzled with bourbon honey syrup. It's incredible.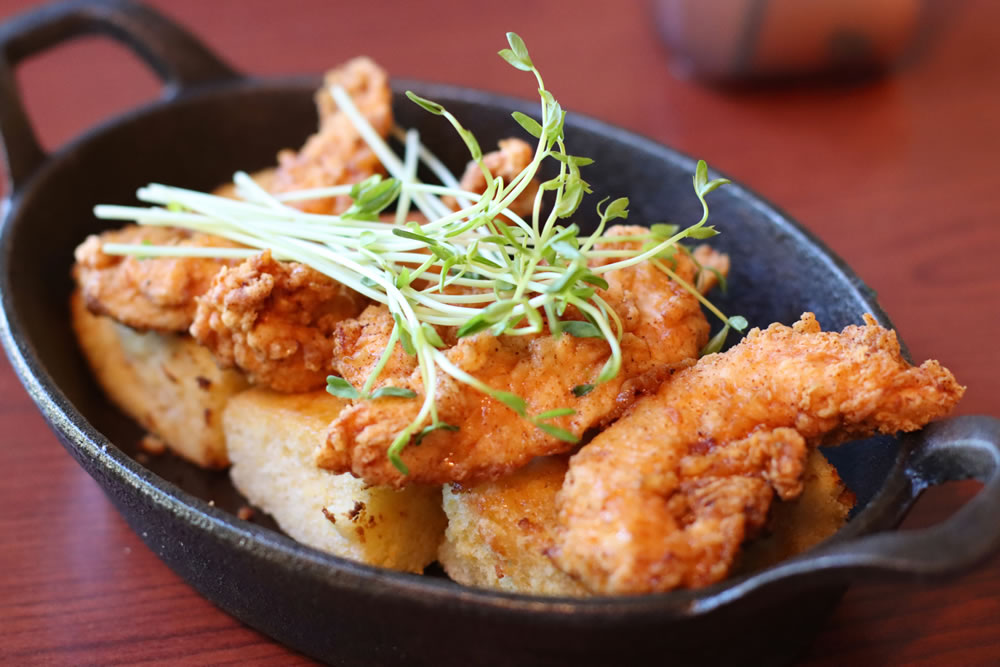 We also tried the Pan-Grill Branzino, which was fresh, buttery, and prepared perfectly. Their classic Short Rib Burgundy, which is marinated and served in a sourdough bread bowl, was also hearty and satisfying. For next time, we have our eye on one of their newest and most popular dishes – the Voodoo Pasta, made with scallops, sweet bell peppers, and andouille sausage in a blistered tomato-garlic sauce over linguini. Don't leave without trying one of their house-made desserts. We ordered the Deep Dish Apple Pie served with creamy vanilla ice cream and drizzled with caramel. It was the perfect sweet ending to a delicious dinner. With the Cock 'n Bull's colonial Pennsylvania country charm and the wonderful service we received from our server Jean, who has incredibly been there for over 35 years, there's no doubt will be making a return.
Enjoy Cocktails and Small Bites at Red Fox Lounge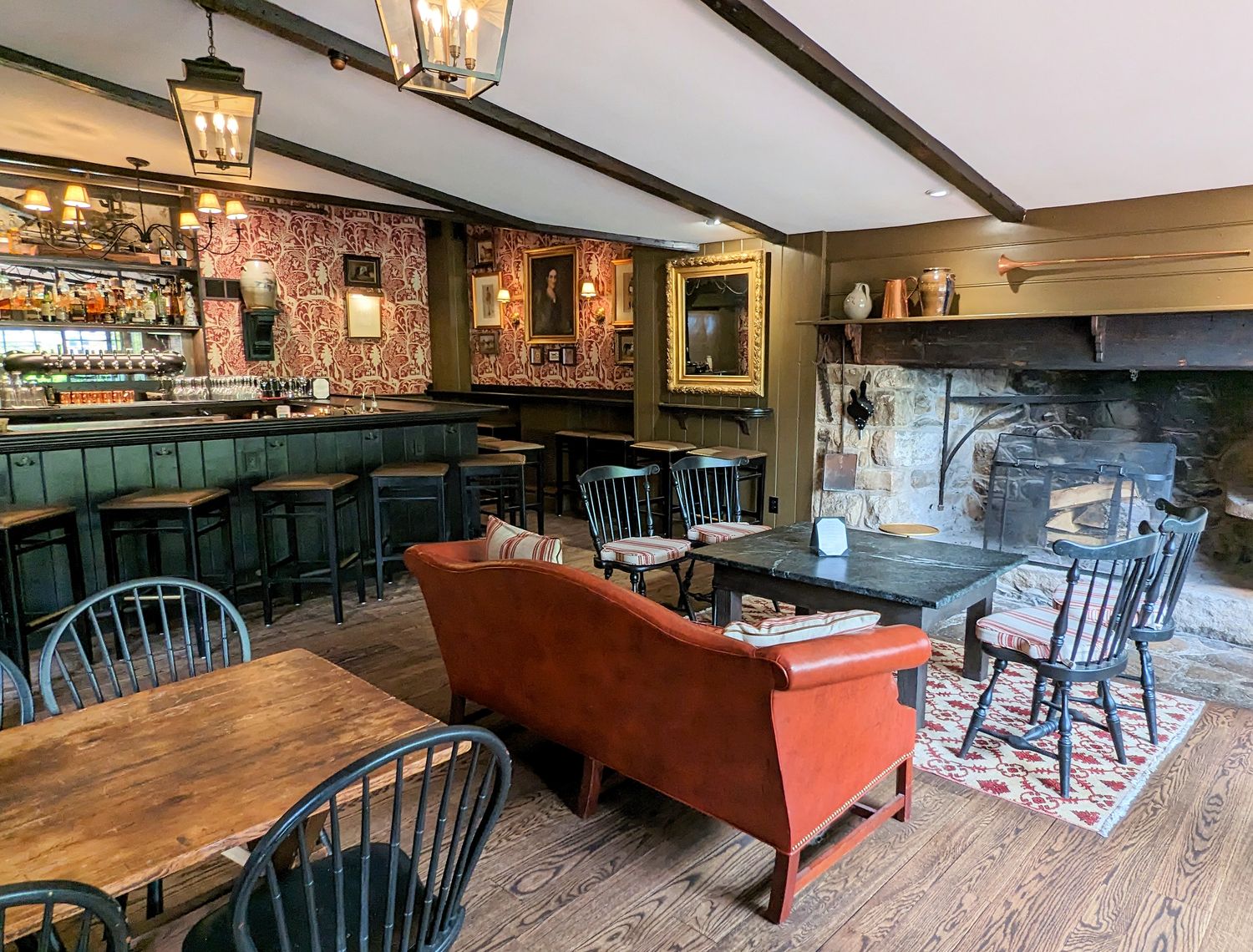 Red Fox Lounge
Route 263 and, Street Rd, Lahaska, PA 18931
Peddlersvillage.com
Let me tell you about the amazing experience we had at the newly renovated Red Fox Lounge. This casual spot, located right in the Cock 'n Bull Restaurant lobby, turned out to be so much more than we expected.
Initially, our plan was to swing by for some cocktails and a quick appetizer. However, the atmosphere at Red Fox was so inviting that we couldn't resist staying for the entire meal. It was a great decision!
I have to give a special shoutout to our bartender, Dave. He was a true expert and guided us through the cocktail and food selections flawlessly. His recommendations were spot on!
To start off, we opted for the Charcuterie Board. It was a tasty combination of cured meats, cheeses, crostini, pork rillette, glazed walnuts, and whole grain mustard.
Next up were the Jerk Chicken Drumettes – served in a skillet with pineapple salsa and lime. These were not your average chicken wings. They were large, succulent drumettes seasoned with Jamaican jerk spice, delivering just the right amount of authentic flavor and heat.
But the real star of the show was the Johnny Cakes & Shrimp Creole. The dish featured a generous portion of etouffee-style shrimp accompanied by griddled corn cakes, also known as Johnny Cakes. The combination of sweet, savory, and spicy flavors left us craving more.
And, of course, we couldn't leave without trying the Carrot Cake for dessert. Topped with pineapple coconut chutney, white chocolate raisin bark, and drizzled with caramelized pineapple sauce, this carrot cake was truly exceptional. In fact, it's some of the best carrot cake we've ever had. We're really hoping it remains a permanent fixture on their menu!
Try the New Menu at Hart's Tavern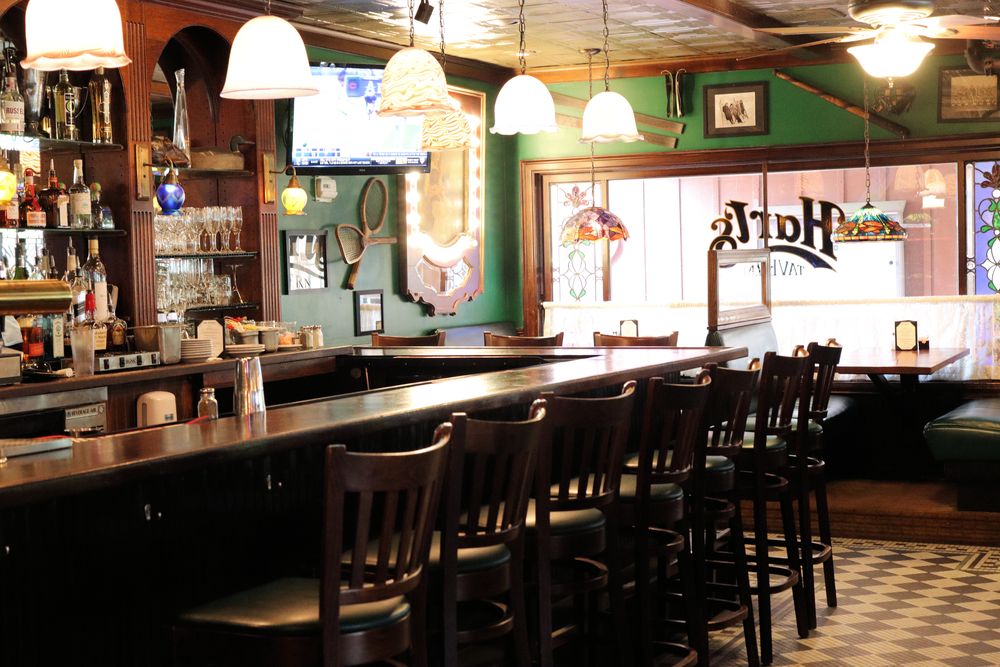 We had an absolutely delightful meal at Hart's Tavern. This place exudes a super casual and timeless old-school pub vibe that never goes out of style. As soon as we heard that their menu had been completely revamped by their new chef, we couldn't wait to try the new dishes.
To start off, we had Citrus Shrimp Tacos, which were bursting with flavor from the pickled carrots, verde slaw, and creamy avocado crema. We also enjoyed the Quinoa Arugula Salad, featuring pistachio-goat cheese medallions, quinoa, arugula, chickpeas, pickled grapes, red onion, and a zesty lemon and honey herb dressing.
Next up was the Caprese Sandwich, a true classic with a twist. It showcased marinated tomato slices, creamy fresh mozzarella, and a delightful basil pesto, between perfectly toasted brioche bread.
Moving on to the main courses, the Italian Roast Pork Sandwich is absolutely stellar. It's filled with tender pulled pork, sweet pickled peppers, a tantalizing long hots spread, aged provolone, and garlic aioli. The Buffalo Fries on the side turned up the heat and added an extra kick of flavor.
For dessert, we couldn't resist trying the Tropical Tapioca Pudding. It was a creamy coconut tapioca delight, topped with a vibrant tropical fruit salsa and finished with a delicate coconut tuile.
Every dish we tried was really tasty, and the friendly and efficient service made our experience even more enjoyable. Hart's Tavern also offers a variety of craft beers, both bottled and on draft, as well as a selection of wines by the glass and bottle. If you're in the mood for some signature cocktails, they have you covered too.
Head to the Buttonwood Grill for Award Winning Burgers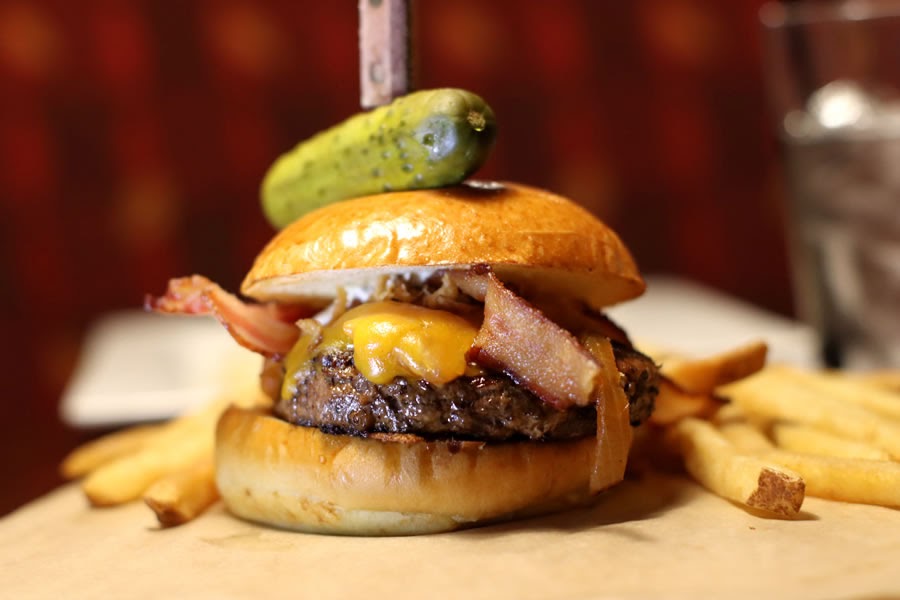 Buttonwood Grill




Route 202 and Street Rd, Lahaska, PA 18931


https://buttonwoodgrill.com/
When the craving for a burger hits, be sure to head to Buttonwood Grill, where the motto here is "Great Food…Good Friends…Fun Times." Serving a menu of their own signature award-winning Buttonwood burgers, along with delicious stone-fired thin-crust pizzas, creative salads, and a variety of delicious appetizers, there are some great eats to be had here. A spacious casual restaurant with friendly and attentive service, Buttonwood Grill serves lunch, and dinner, along with craft beer, wine, and original cocktails.
This summer Buttonwood Grill has added a few new menu items, including Clam Steamers with white wine, garlic, fresh herbs, and grilled ciabatta. And for dessert, the S'mores Brownie with vanilla ice cream, graham cracker, and toasted marshmallow is AMAZING. Give this one a try!
They also offer a yummy breakfast with some really great coffee. Later in the day when the weather's nice, Happy Hour is the perfect time to relax on their outdoor deck.
Earl's New American

 

is the Place for Prime Steaks and Seafood at Peddler's Village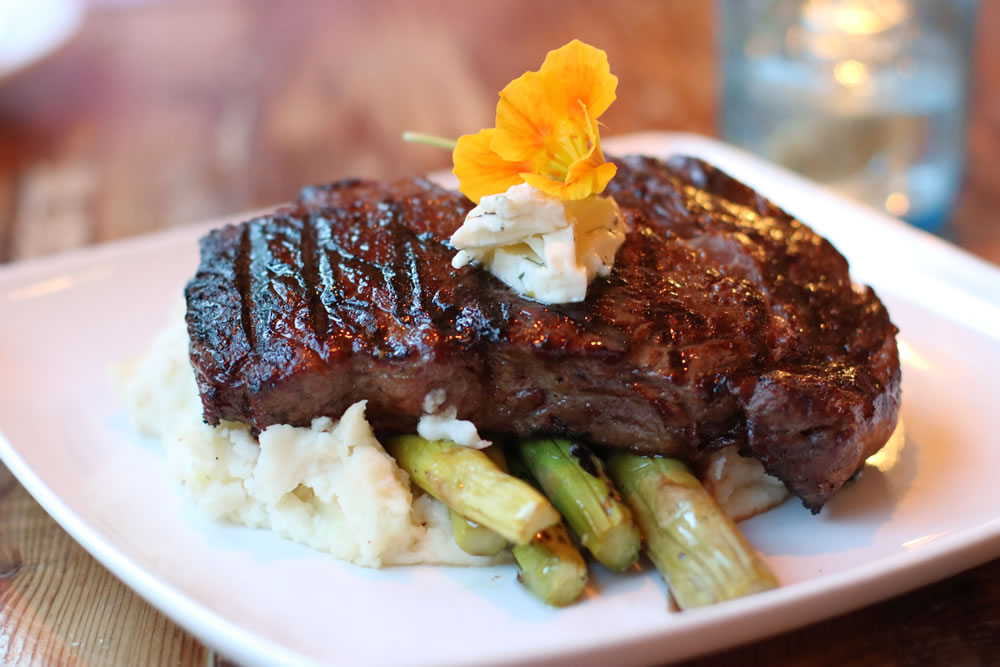 For casual dining in a refined, rustic-modern setting, Earl's New American offers a menu inspired by farm-to-table ingredients and infusions of both local and international flavors. They have everything from raw bar options and steaks, to a lovely variety of appetizers, salads, fresh seafood, and pasta dishes. Some of our favorite dishes include the lobster dumplings appetizer, the chopped salad, and the she-crab soup. On a recent visit, we found the Steak Frites – a perfectly cooked steak paired with house-made crispy hot house-cut fries, and saffron aioli totally hit the spot. 
The desserts here don't disappoint either. We love their light as air Tiramisu and decadent Vanilla Crème Brûlée served with berries. Earl's New American is open for lunch and dinner and has a lovely patio for outdoor dining. Find it right across the street from the Golden Plough's main building.
Enjoy Brunch All Day Long at FRESCAFE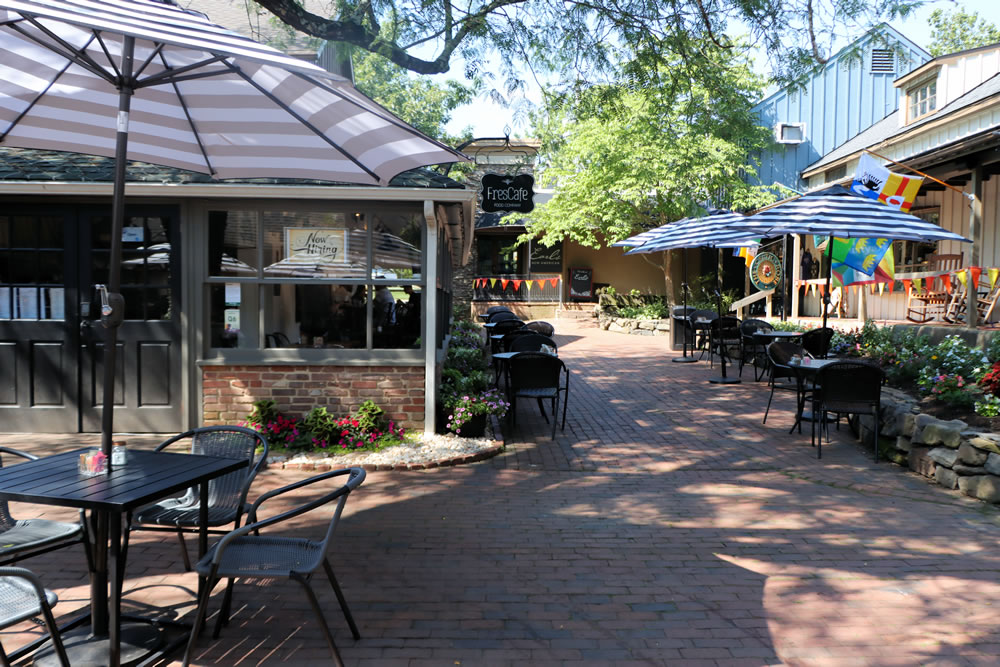 With modern rustic vibes in a cozy space as well as lots of outdoor seating, FresCafe is the spot to go if you're looking for fresh and creative casual comfort food. Located directly across the courtyard from Earl's New American, FresCafe serves both breakfast and lunch all day. You'll find a variety of creative brunch-inspired fare and healthy menu items including salads, warm sandwiches, gourmet grilled cheeses, juices, and coffee drinks. Don't miss the Cuban Sandwich here!
Where to Stay at Peddler's Village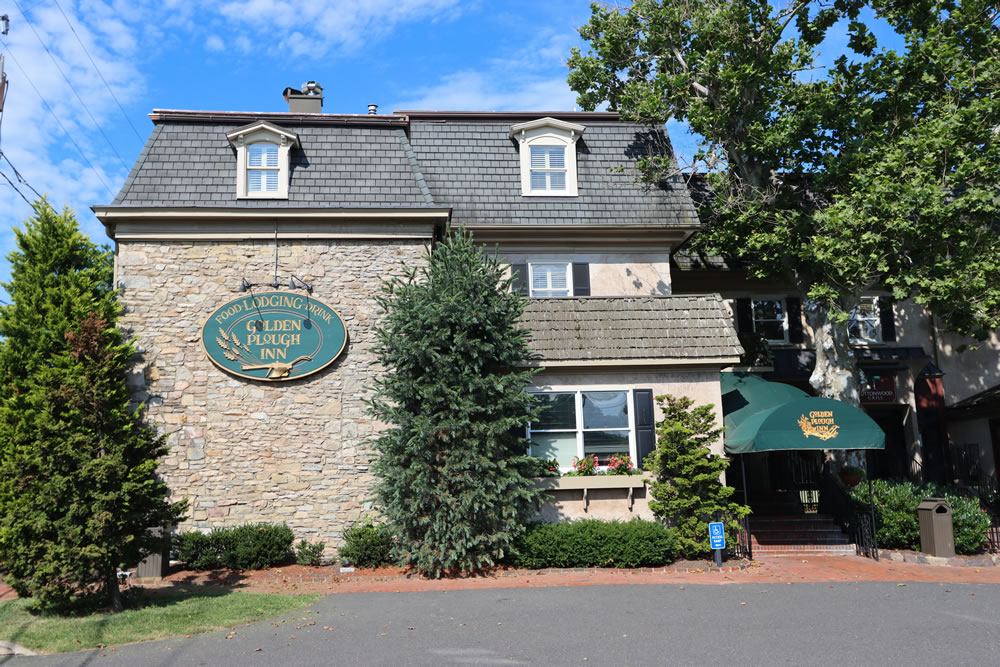 Golden Plough Inn
5883 Lower York Rd, New Hope, PA 18938
Goldenploughinn.com

 
If you're planning on an overnight stay, the best part besides more time to spend here is that you never have to leave the comfort of this charming little village. The onsite Golden Plough Inn has over 70 rooms throughout the village as well as in their main Inn building, which was originally a tavern dating back to the 1850s.
While the décor and furnishings here are inspired by fine country inns, modern necessities like flat-screen TVs, minifridges, and free Wi-Fi are also included. With a variety of room categories and sizes to choose from, the Golden Plough easily accommodates you whether you're traveling with family, friends, or for a little romance. We've always found the rooms spacious, and many have whirlpool tubs and gas fireplaces which can be a welcome dose of relaxation after a long day of shopping and eating. 
During our recent visit, we had the pleasure of staying in Room 110, one of the newly remodeled bi-level suites situated among the shops of Peddler's Village. Although it's not located within the main inn, it offers a unique and convenient experience with plenty of privacy.
Prepare to be impressed by the Bi-Level Suites. The lower level boasts a generous living area with dining space for 6, a well-equipped kitchenette with a full-sized refrigerator and a handy in-room Keurig coffee maker, as well as a cozy gas fireplace to add a touch of warmth to your stay. The suite also features a spacious bathroom with a luxurious soaking tub, a comfortable pullout sofa, a large flat-screen TV, and even a balcony.
On the upper level, you'll find a comfortable King-sized bed, a private master bath with a spacious walk-in shower, and another TV. Plus, free Wi-Fi is available throughout the village, so you can easily stay connected during your stay.
As if it couldn't get any better, Mama Hawks is conveniently located just outside your door, offering easy access to fresh coffee and delectable cinnamon buns throughout the day.
What is the Best Time to Visit Peddlers Village in the Summer?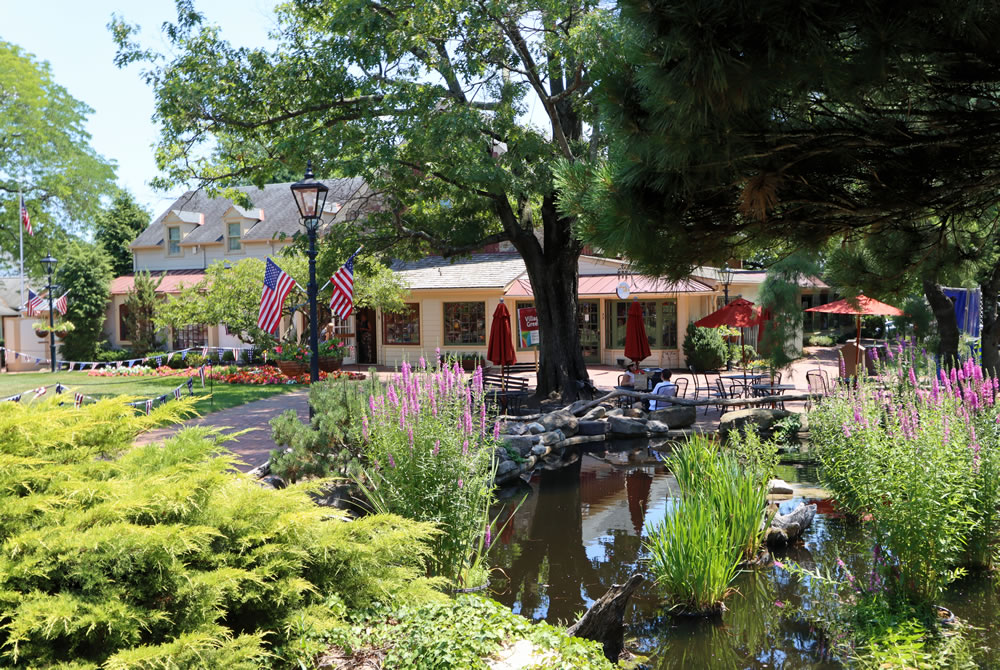 There's always something being celebrated at Peddler's Village, and the summer is no exception. 
The Red, White & Blue BBQ Bash, which will be held on Tuesday, July 4 from 12 – 5 p.m., will feature all-American grilled favorites, festive music, and old-fashioned games including sack races, a balloon toss, watermelon-eating contests, and more. During the Bluegrass & Blueberries Festival on July 8 and 9, guests can enjoy local blueberries, blueberry-themed food and beverages including pies, live bluegrass and country music, food trucks, kids' activities, and shop specials. Festival hours are 11 a.m. to 5 p.m.; Peddler's Village shops will be open until 8 p.m. on Saturday, July 8. The festival will be held rain or shine.
Throughout the month of July, Peddler's Village restaurants, eateries, and tasting rooms will also feature blueberry-themed food and drink specials. If you can't make it in July, August is Peach Month, where you'll find peach-flavored food and drink specials throughout the village as well as many shops offering sidewalk sales.
Other summer event highlights include:
a Photography Competition & Exhibit that showcases professional and amateur pet photographs (free admission and featuring a partnership with the Bucks County SPCA)

a new interactive murder mystery dinner show, Midnight at the Masquerade, on Saturday, July 29

outdoor comedy shows featuring headlining comedians from New York City on July 21 & August 25

free outdoor movie nights on June 24, July 29, and August 26

a Winnie-the-Pooh family brunch on Sunday, August 13

and the annual Peach Festival on Saturday and Sunday, August 5 & 6.
Check their full calendar of scheduled events here. 
Tips For Getting Around Peddlers Village
On my first trip to Peddlers Village, I went map-free and got a handle on the layout pretty quickly. But if you like to "know before you go" head over to their Hospitality Center in the lobby of the Cock 'n Bull Restaurant for recommendations, physical maps, and local info. 
Go Monday to Thursday to Beat Weekend Crowds
– Most big events take place on the weekends, which means lots of people. Visiting midweek had us feeling like we had the place to ourselves. Certain shops do close by 5 pm during the week, so be sure to give yourself enough time to explore.
Enjoy Plenty of Outdoor Dining – Whether you're concerned about Covid or just love being outside in summer, 5 restaurants in the village offer full-service outdoor dining restaurants. All the restaurants offer takeout that can be enjoyed at one of the many outdoor tables. Picnic blankets are welcome in designated grassy areas.
Parking is Free:  The village is surrounded by many parking lots which are all free for visitors. Guests at the Golden Plough Inn are assigned personal parking spots close to their rooms, located throughout the village. 
Make it a Getaway – Day trips here are great, but staying overnight is our favorite way to roll. There's no need to rush out to beat the traffic and we can relax between meals. The Golden Plough Inn rooms are lovely and quiet, plus in the mornings, the gardens here are such a lovely place to enjoy your coffee. It's really great for romantic getaways, families, or shopping trips with friends.
Bring a Cooler Bag – There are so many great things to try here, but honestly, there's only so much a person can eat in a day.  Instead of missing out, we like to pack a cooler bag to keep our gourmet treats or leftovers cool on the ride home. In the meantime, if you're staying overnight, the Golden Plough rooms also have mini-fridges to keep your food and drinks cold until you're ready to leave. 
Don't Miss the Annual Summer Sidewalk Sale (August 6-8 ) – If you love a good sale (and really who doesn't?), don't miss the annual summer sidewalk sale where the shops line up their best summer bargains and specials.
More Ways to Save $ – Before visiting, be sure to download the Peddler's Village mobile app (available on iTunes and Google Play) for help finding your way around, but also to access special store coupons! Check out their special summer packages for discounted overnight stays at the Golden Plough Inn. Active duty military, veterans, and seniors get 10% off at the Golden Plough Inn, Buttonwood Grill, Cock 'n Bull Restaurant, Earl's New American, Hart's Tavern, and Giggleberry Fair, Mondays through Thursdays.
Do the Peddlers Village Scavenger Hunt, Win a Prize! :  In the app, if you can find the scavenger hunt inside that will take you all over the village. Answer the questions correctly, you'll be led to a prize! Hint: it's edible so you may want to complete it before you sit down for a big meal.
Bring your Pooch – The grounds of the village are dog friendly and you're welcome to eat with your pooch outside on the patio at Earl's.  While The Golden Plough Inn does not currently accommodate pets, there are hotels & AirBNB's in the area that do. Don't forget to visit pet-friendly boutiques The Total Animal and Tails of the Village.
Is There Parking and Admission Fees at Peddler's Village?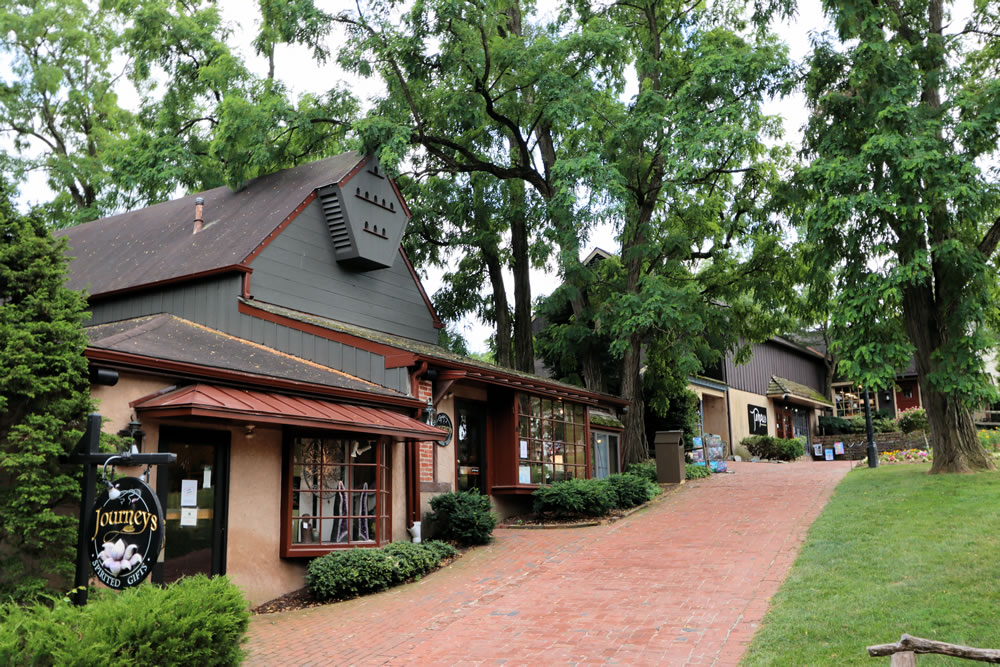 Peddler's Village has no admission fee. There's also plenty of free parking throughout the village. Every guest at the Golden Plough Inn gets an assigned personal parking space located conveniently to their room. As a guest, you're still free to drive and park anywhere you like as long as it's not reserved.
Where is Peddler's Village Located?
Peddler's Village is located in the village of Lahaska in Bucks County, Pennsylvania at the intersection of Route 202 and Route 263. Lahaska was first settled in 1701.
Address: 100 Peddlers Village, New Hope, PA 18938
How to Get To Peddler's Village
Peddler's Village is only 10 minutes west of New Hope and 15 minutes east of Doylestown. Close to many major cities, it's:
60 minutes to Philadelphia 

90 minutes to New York City

90 minutes to Lancaster, PA

3 hours to Washington D.C.
Driving tip: Peddler's Village will most likely show up in your GPS as being located in New Hope. Enter 2400 Street Road New Hope, PA 18938 and you'll be sure to get there.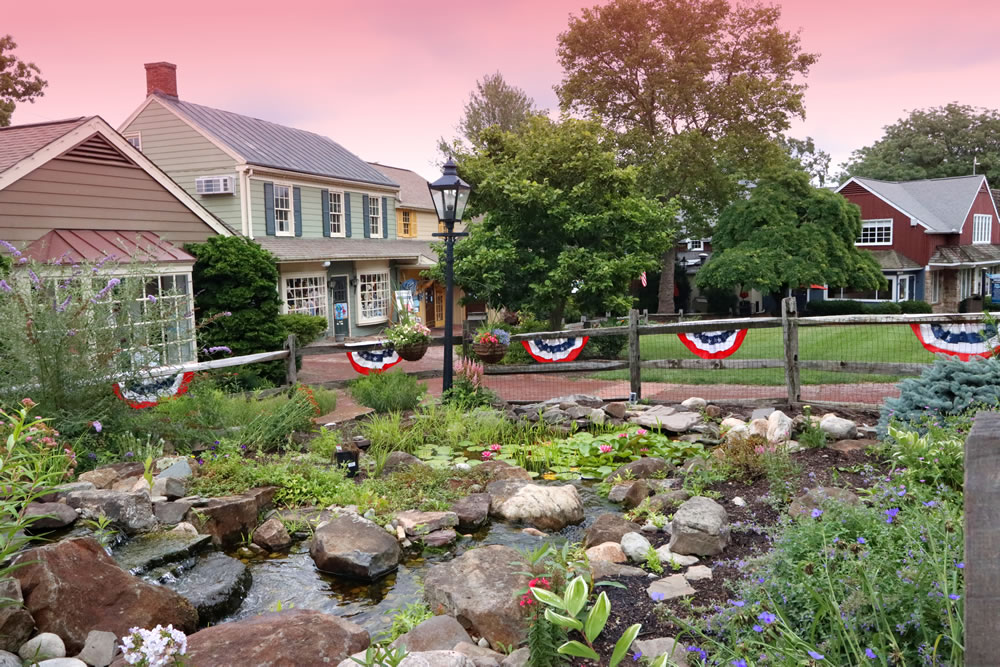 Peddler's Village is open year round and equally wonderful around the holidays.  See more below!
➡ Scarecrows, Ghosts, and Fall Fun at Peddler's Village
➡ Springtime And The Strawberry Festival At Peddler's Village
➡ For a Safe & Socially Distant Holiday Getaway Visit Peddler's Village
➡ Peddler's Village In Bucks County, PA Is A Holiday Winter Wonderland