Have a taco craving? 
Ready in under 30 minutes, these delicious Spicy Honey-Sriracha Shrimp Tacos are the perfect clean and healthy summer recipe!  Plus they're packed with superfoods like Mānuka honey, Udo's Oil 3·6·9 Blend, cabbage, avocados and cilantro.
Make them as a quick, satisfying weeknight dinner or a yummy addition to your next BBQ.
You'll toss juicy grilled shrimp in a spicy Mānuka Honey-Sriracha glaze (no cooking required) and then layer it in warm tortillas. To serve, top them with a tangy, fresh lime and cilantro slaw.
They're outstanding!
Satiating and Low-Calorie, These Tacos are Healthy Because…
They're Protein Packed
Shrimp is a healthy lean protein that provides about 20 grams per 3 ounce serving. That's about 8-9 large shrimp.
They're Infused with Healthy Fats
Most of us are deficient in these much needed omega-3's! Shrimp have a small amount of essential omega-3 fatty acids. But the Udo's Oil 3·6·9 Blend in our spicy sriracha sauce and our slaw will give these tacos a delicious plant-based boost of omega-3s, -6s and -9s in the right 2:1:1 ratio our body needs.
Top your tacos with slices of avocado for even more heart healthy fats.
They're Loaded with Nutrients
Shrimp is one of the best food sources of iodine, an important mineral needed for thyroid function and brain health (1).
The Mānuka honey in our sauce naturally contains a variety of trace nutrients including B-vitamins, calcium, copper, iron, magnesium, potassium, and zinc (2). It also has antioxidants called flavonoids that help protect cells from oxidative stress.
The cabbage in the slaw is an excellent source of antioxidants, vitamin C and vitamin K. If you're using purple cabbage, it's also a good source of vitamin A too (3). 
Cilantro can help the body's natural cleansing systems and contains vitamins A, C, and K. The leafy parts also have folate and the minerals potassium, and manganese (4) .
Avocados provide vitamins C, E, K, and B vitamins B6, riboflavin, niacin, folate, pantothenic acid, magnesium, and potassium) and antioxidants like lutein, beta carotene (5) .
Ingredients You'll Need For These Tacos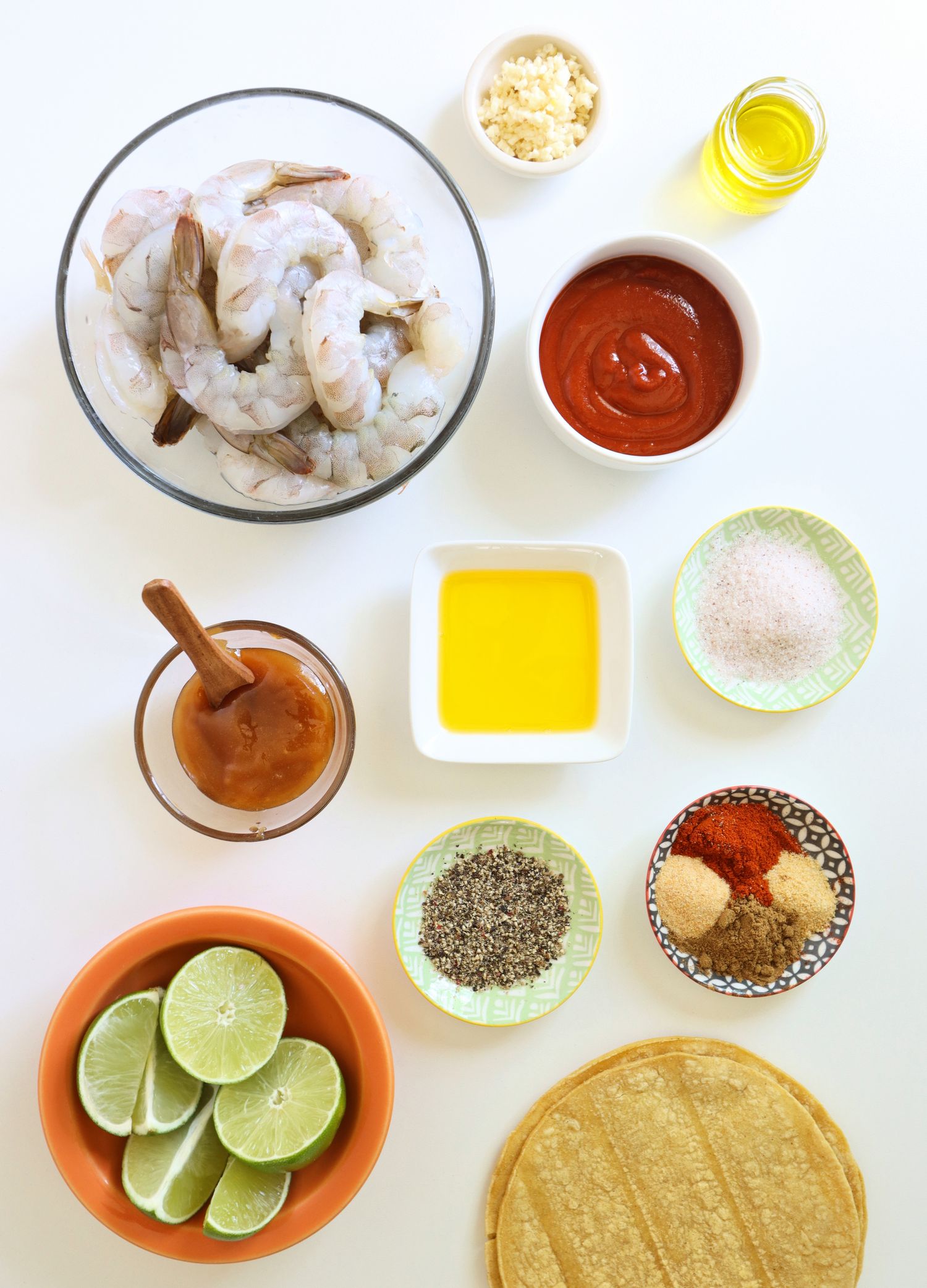 INGREDIENTS FOR THE SPICY HONEY-SRIRACHA SAUCE
Sriracha Sauce:

How spicy is sriracha? Sriracha is about 1,000 to 2,500 Scoville units and different brands will vary in their heat level. For comparison it's generally less hot than Tabasco sauce. If you can't find sriracha, substitute harissa sauce, chili garlic sauce, or sambal oelek (these will alter the heat level and flavor in your recipe.)
Mānuka Honey:

Made by bees that collect nectar from wild mānuka trees native to New Zealand. Rich in antioxidants and trace nutrients, Mānuka (pronounced 'muh-NOO-kuh') is a delicious, medium sweet and earthy honey that's thicker than traditional honey.  Mānuka will stick to your spoon rather than drizzle off of it. 
It's also a superfood. Mānuka honey contains a unique and potent antibacterial compound with antioxidant properties called methylglyoxal (MGO) that isn't found in traditional honey. 
Mānuka honey is sold in varying strengths of MGO and is measured in UMF™ (Unique Mānuka Factor). The more MGO mānuka honey has the more potent it is and the higher the UMF grade. For culinary use, try lower UMF Grades like 30+ and 100+ which are less expensive.  
Udo's Oil 3·6·9 Blend:

Certified organic, cold-pressed and unrefined, Udo's Oil is a rich, nutty, and buttery tasting plant-based blend of healthy oils including organic flax, sesame, and sunflower seed. It's formulated to provide the ideal  2:1 ratio of omega-3 to omega- 6 essential fatty acids. This will help make our taco sauce silky smooth.
Lime Juice:

For the juiciest limes, buy ones that are smooth skinned and have some give when you press down on them. Limes that are hard with a tough exterior are often dry inside.
Healthy Cooking Tip: Superfoods like Mānuka Honey and Udo's Oil shouldn't be heated to preserve their nutrients and beneficial compounds. Only add them to warm, room temperature or cold foods.
INGREDIENTS FOR THE SLAW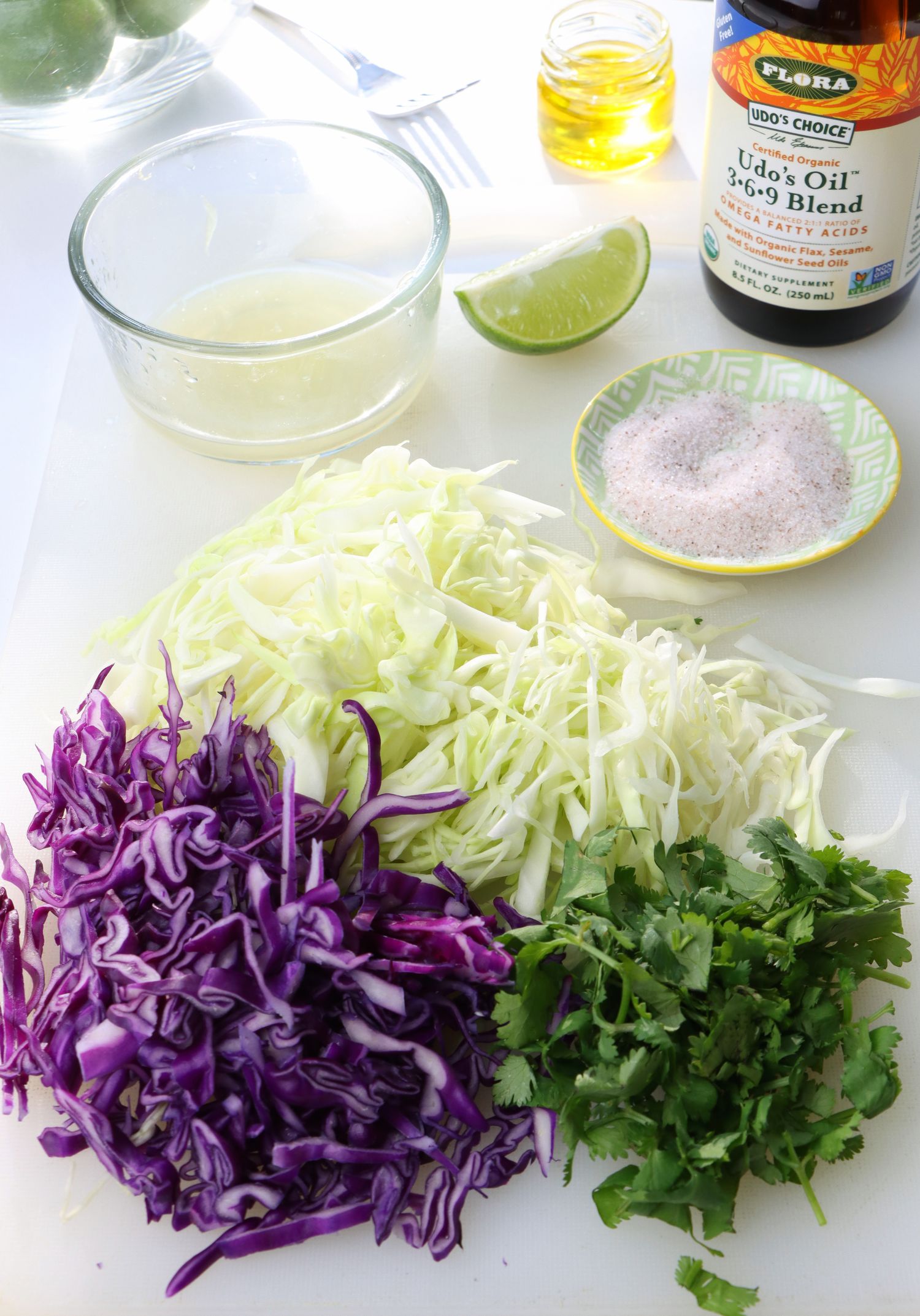 Shredded Cabbage:

Thinly sliced is best. To cut down on prep, buy packaged pre-shredded cabbage at the market. 

Finely Chopped Cilantro
Lime Juice
Salt to Taste
MORE INGREDIENTS
Shrimp:

The amount of shrimp in a pound can vary depending on their size (read more in the Shrimp Buying Guide below). Plan for 3-4 large shrimp per taco (with large shrimp you get 31-40 per pound). That should yield about 6-8 tacos.
Spices:

Before cooking, season the shrimp with onion powder, garlic powder, cumin, smoked paprika (use plain if you don't have smoked), pepper and salt. If you prefer fresh garlic, mince it finely and use 2-3 cloves.
Tortillas:

Make these tacos with corn tortillas and they'll be naturally

gluten-free. Or use low-carb flour tortillas for a low-carb and keto-friendly meal. Your choice!
Avocado Slices: 

A creamy and satisfying way to cool down from the heat! Garnishing with 2-3 slices per taco before serving will do.
Quick Tips For Buying Shrimp
FROZEN or FRESH: Frozen shrimp are shrimp that are flash frozen once caught and are often fresher than "Raw Shrimp," which were usually already frozen and then thawed at the market. Shrimp that has been peeled and deveined will save you prep time. 
TASTE: Wild caught shrimp have a cleaner, more shrimp-like flavor than farmed.
WILD or FARMED: If wild-caught aren't available, make sure they're raised sustainably and responsibly. Frozen Shrimp will have this labeled on the package.
SMELL: Don't purchase fresh shrimp that smell of ammonia (a sign it's going bad). Fresh shrimp should smell ‌slightly oceanic (in a good way).
APPEARANCE: Fresh shrimp shouldn't be limp, slimy, or breaking apart. They should be plump and firm.
SIZE: Shrimp size is indicated by the number of shrimp per pound. For example, a bag labeled "31/35" means you'll get 31 to 35 shrimp in one pound. For this recipe choose whichever size you like or fits your budget. Extra-large, large or medium-large all work well.
How Do You Know If You're Buying Real Mānuka Honey?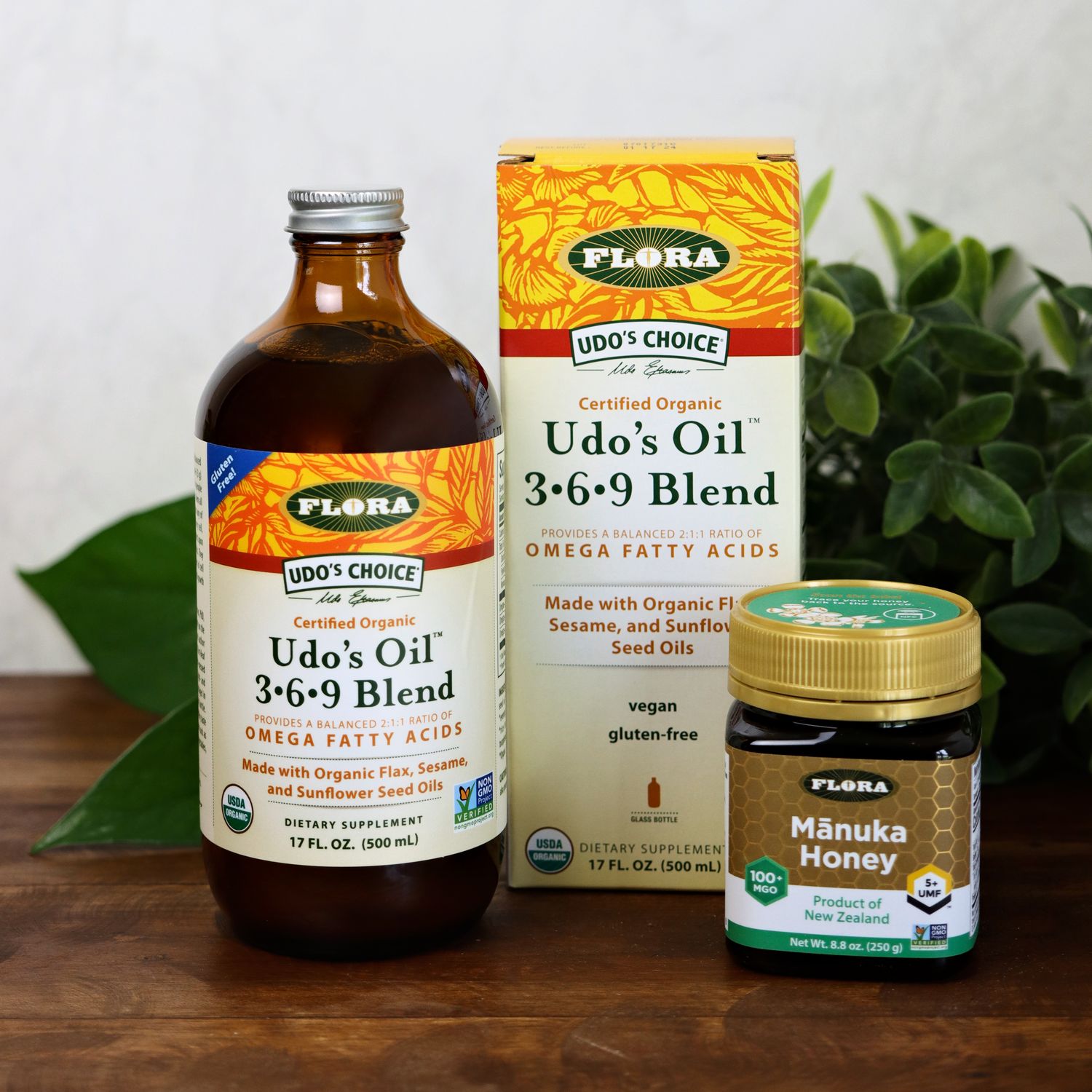 Mānuka honey is a rare product, so it's important to look for a few things when buying it. These include:
Certifications:

Authentic Mānuka honey

will have a UMF™ (Unique Mānuka Factor) certification rating on its label. If it doesn't have it, don't get it.
This grading system was established by the Unique Mānuka Factor Honey Association™ in New Zealand. This internationally recognized, third-party verification system tests for three signature compounds.
MGO (Methylglyoxal):

the antibacterial compound. 

DHA (Dihydroxyacetone):

this chemical determines the age of the honey.

Leptosperin:

It's a compound from the pollen found in Mānuka honey that can't be faked.
The presence of these compounds ensures your Mānuka honey is real. 
How do you know they're in there?
Traceability & Transparency:

The place where you buy your Mānuka Honey from should share lab testing results and be upfront about their source.
Licensed and UMF-certified, that's why we love Flora Mānuka Honey! It's also: 
Traceable to the Hive:

Every jar of

Flora Mānuka Honey

is 100% traceable back to the source. Scan the NFC code located on the side of the jar for the lab test results with the honey's MGO (methylglyoxal) content.

Sustainably Sourced:

Their Mānuka honey comes from a 100% Māori-owned beekeeping operation. The Māori are the indigenous people of New Zealand.

Award-winning:

Their Mānuka honey has also won

several prestigious farming and eco-friendly awards. 

It's Raw:

Raw honey is best! Flora Mānuka honey isn't processed or treated with heat, which can degrade beneficial nutrients. 
Flora offers Mānuka Honey in MGO strengths from 30+ perfect for everyday, through therapeutic strengths up to 800+.
For culinary use (like in this recipe)  30+ or 100+ MGO strength is perfect.
How to Make These Shrimp Tacos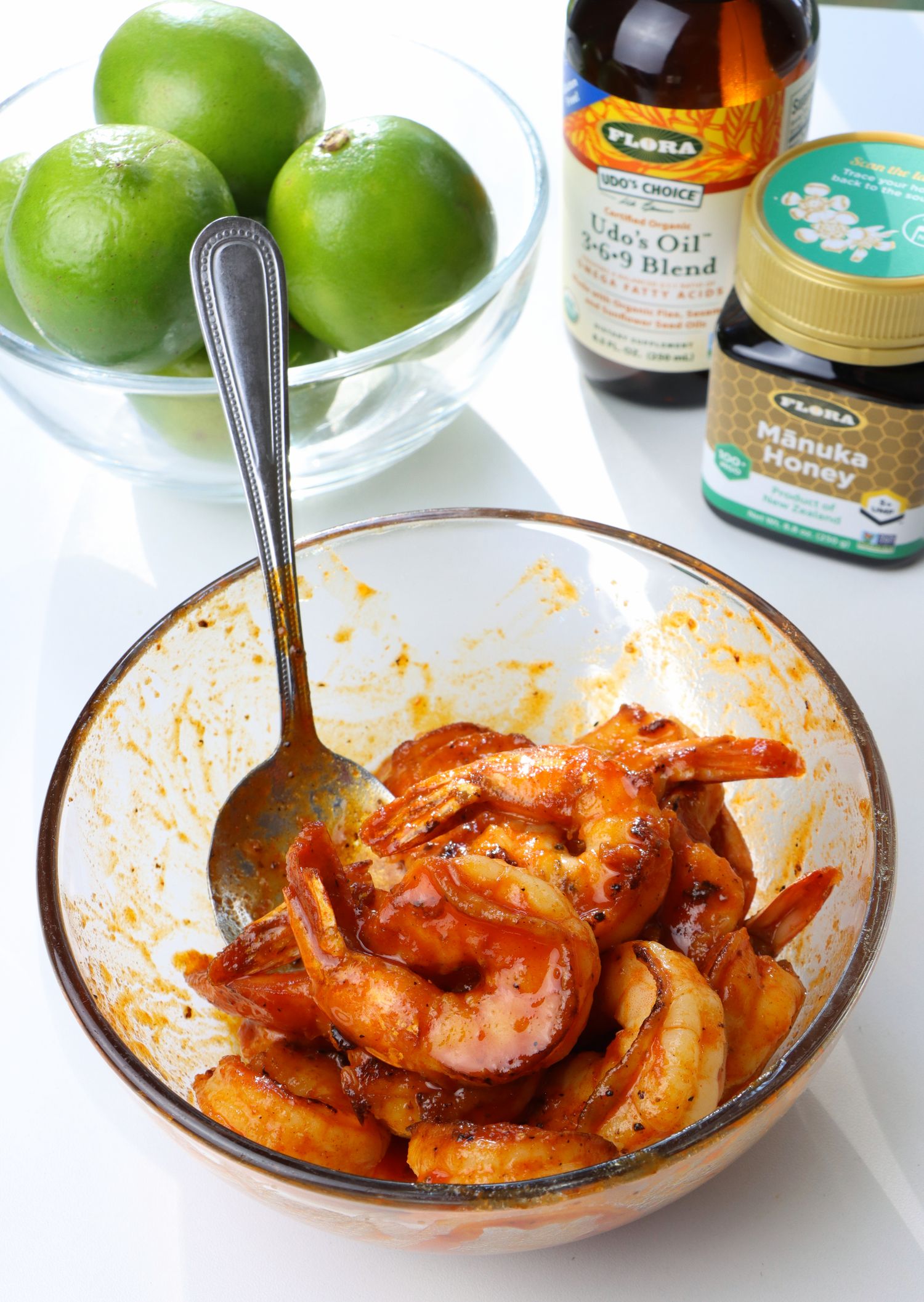 Prep the Shrimp:

If using frozen shrimp, thaw in cold water, peel and rinse in a colander. The vein in shrimp is fine to eat, but it may add a slight grittiness which can be unpleasant. Devein the shrimp if you don't care for it. Deveining the shrimp also gives your shrimp a nicer presentation. 

Make the Spicy Sauce:

Mix the Sriracha,

Mānuka honey

,

Udo's Oil 3·6·9 Blend

, lime juice and salt.

Mix up the Slaw:

Toss the shredded cabbage with lime juice, salt, pepper and a little

Udo's Oil 3·6·9 Blend

.

Grill or Saute the Shrimp:

Once you cook up the shrimp, toss it with our simple Sriracha and Mānuka Honey Glaze. If you don't have a grill, sear them in a pan on your stovetop or roast them instead.

Warm Your Tortillas:

In a medium, ungreased skillet until lightly warmed. Or microwave them for 10-15 seconds per side, or until soft and pliable.

Build Your Tacos:

Layer about 3-4 shrimp in each tortilla. Then top them with a little slaw (finely shredded cabbage tossed with cilantro, shredded carrot, lime juice, salt, and pepper. 

Garnish and Serve:

Finish the shrimp tacos with a drizzle of a smoky and spicy sauce, avocado slices and a squeeze of fresh lime. Now take a bite!
 ➡ Visit FloraHealth.com to get Udo's Oil 3·6·9 Blend and authentic, traceable and sustainably sourced mānuka honey for this recipe!
GET THE RECIPE!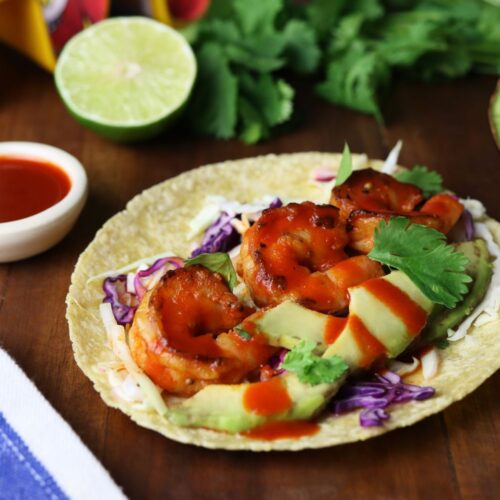 Easy Spicy Honey-Sriracha Shrimp Tacos
Ready in under 30 minutes, these delicious Spicy Honey-Sriracha Shrimp Tacos are the perfect clean and healthy summer recipe! Plus they're packed with superfoods like Mānuka honey, Udo's Oil 3·6·9 Blend, cabbage, avocados and cilantro.
Ingredients 
FOR THE SHRIMP

1

lb

450g shrimp, peeled and deveined

½

teaspoon

ground cumin

½

teaspoon

smoked paprika

may sub regular paprika

½

teaspoon

onion powder

½

teaspoon

garlic powder

or sub 2 cloves of garlic

½

teaspoon

pepper

½

teaspoon

salt

FOR THE MANUKA HONEY-SRIRACHA SAUCE

1/3

cup

sriracha sauce

3-4

tablespoons

Mānuka honey

2

tablespoons

lime juice

2

tablespoons

Udo's Oil 3·6·9 Blend

8

tortillas

FOR THE SLAW

(optional)

2

cups

shredded green cabbage

2

cups

shredded purple cabbage*

1

small handful finely diced fresh cilantro

¼

cup

lime juice

2

tablespoons

Udo's Oil 3·6·9 Blend

salt to taste

FOR THE TACOS

1

tablespoon

of olive or avocado oil

8

tortillas

warmed

avocado slices

lime wedges
DIRECTIONS 
Make the Sauce: In a bowl, combine sriracha sauce, Udo's oil, Mānuka honey, and lime juice. Whisk well and set aside.

Make the Slaw: Place shredded cabbage, cilantro, lime juice and salt in a bowl. Toss until mixed and add more salt to taste if needed. Set aside

Cook the Shrimp: Heat a skillet over medium heat and add cooking oil (olive or avocado oil). Once heated add the shrimp to the skillet. Cook for 2-3 minutes per side. They will curl and turn opaque. Remove from heat, place on a dish and set aside.

Sauce the Shrimp: Drizzle the spicy sauce over the cooked shrimp, tossing them gently to coat evenly.

Warm the tortillas: In a medium, ungreased skillet until lightly warmed. Or microwave them for 10-15 seconds per side, or until soft and pliable.

Assemble the tacos: Place a layer of slaw in each warmed tortilla. Next add a layer of 2-3 avocado slices. Top with the spicy shrimp. Add a drizzle of more spicy sauce if you like.

To Serve: Serve the tacos immediately with lime wedges and the remaining honey-sriracha sauce on the side. Enjoy!
Notes
Exact serving size will depend on how many shrimp you put in each tortilla.
We're using large shrimp, but medium or extra-large shrimp are fine too. Size is more of a preference. If you're using smaller shrimp you'll want to add more to each taco.
The heat level of this sauce is slightly higher than medium-hot (about 6.5/10).
💡 Visit FloraHealth.com to stock up on Udo's Oil 3·6·9 Blend and authentic Mānuka Honey.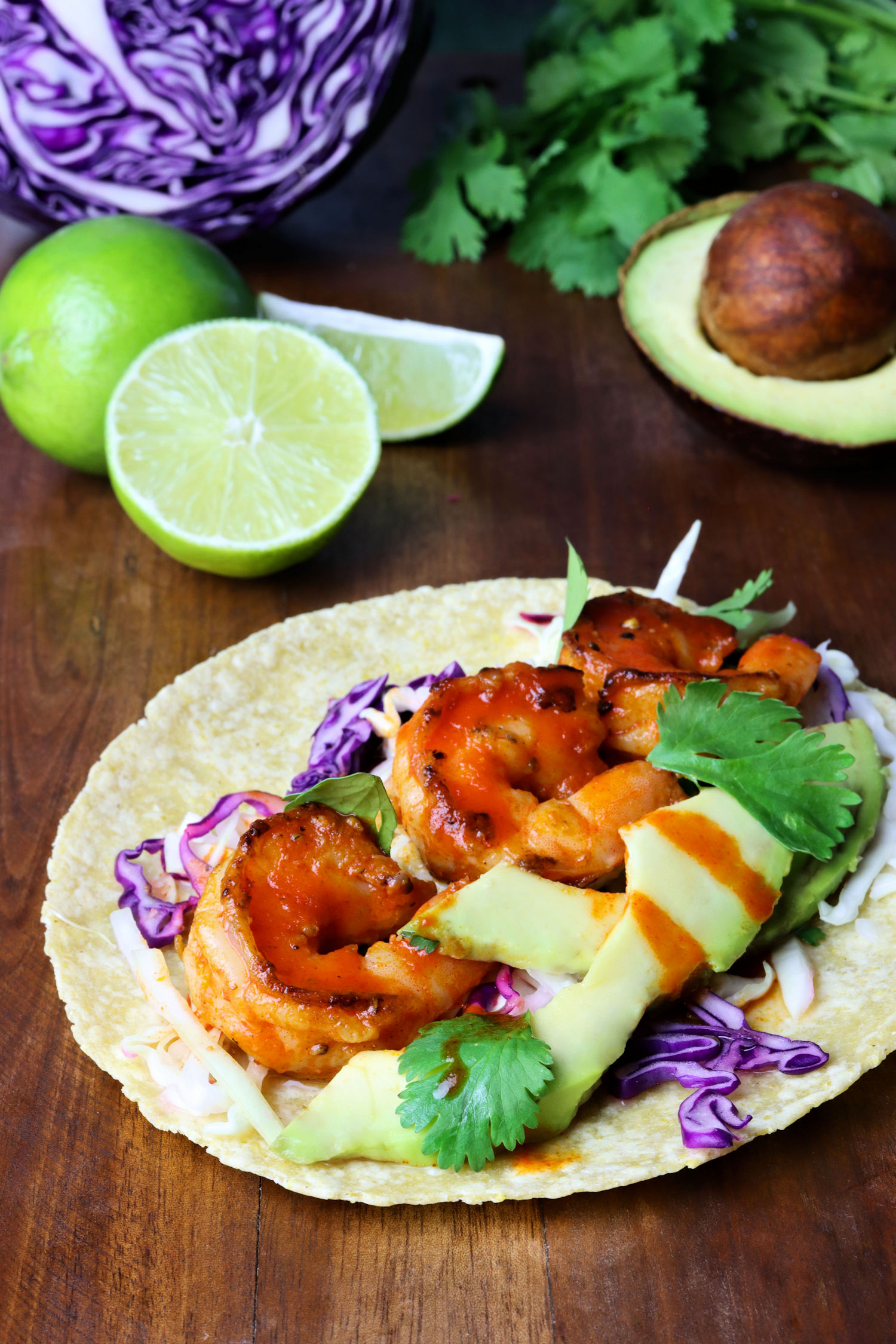 *These statements have not been evaluated by the Food and Drug Administration. This product is not intended to diagnose, treat, cure, or prevent any disease.