Renowned for his Michelin-starred creations and ingenious approach to Indian cuisine, Rohit Ghai has embarked on a remarkable journey that has now come full circle. His latest culinary masterpiece, Rivayat, nestled within the opulent confines of The Oberoi Marrakech, is nothing short of a gastronomic revelation.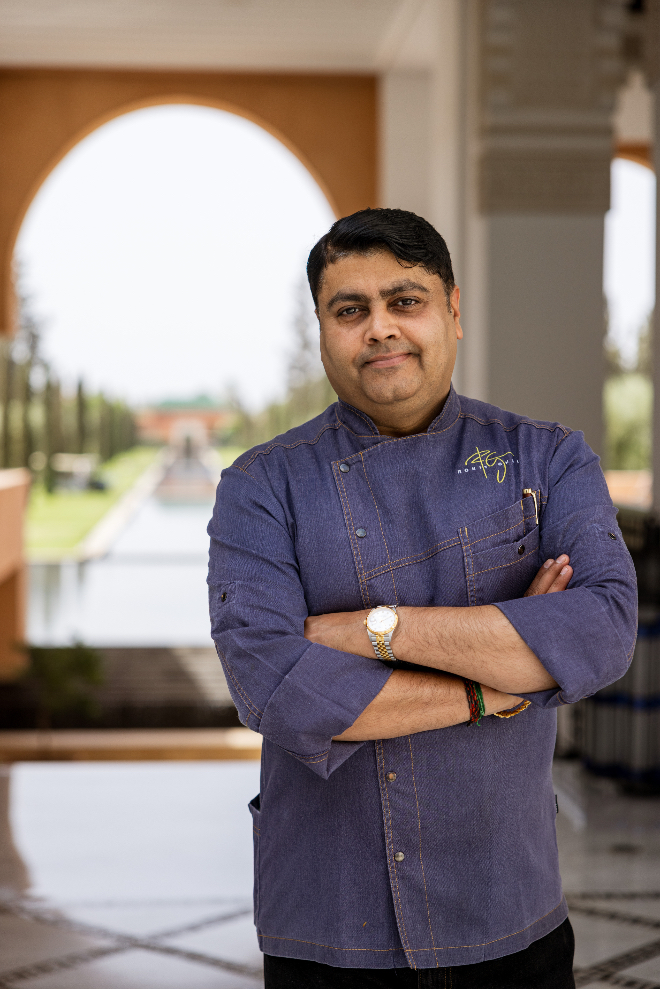 Ghai's culinary voyage began on the bustling streets of India, where he honed his skills and developed an innate understanding of the diverse and rich tapestry of Indian flavors. It was at The Oberoi brand's kitchens in India that Ghai embarked on his culinary odyssey, setting the stage for what would become a legendary career in the world of gastronomy.
Now, as if guided by the stars themselves, Chef Rohit Ghai has returned to The Oberoi, this time in the enchanting city of Marrakech, Morocco. The Oberoi Marrakech is a jewel in Morocco's crown, a luxurious oasis where traditional Moroccan elegance meets modern luxury. It is an address celebrated for its sophistication and exclusivity, making it the perfect canvas for Chef Ghai's culinary artistry.
Stepping into the restaurant, one is immediately transported into a world where Indian culinary traditions blend seamlessly with Moroccan allure. The restaurant exudes an air of elegance and mystique, with intricate design elements that pay homage to both Indian and Moroccan cultures. This harmonious fusion of aesthetics sets the stage for an unforgettable dining experience.
As we embarked on our culinary adventure, it became abundantly clear that this was no ordinary Indian restaurant. It was a culinary symphony orchestrated by a maestro who understands the nuances of Indian cuisine like no other. The menu is a testament to Chef Rohit's unwavering commitment to preserving the authenticity of Indian flavors while infusing them with a contemporary twist.
The dining experience began with an array of delectable appetisers that tantalised our taste buds. The Samosa Chaat, a reinvented classic, was a delightful explosion of textures and flavors. Each bite was a revelation, a harmonious blend of crispy samosa, tangy chutneys, and creamy yogurt.
Moving on to the mains, we were treated to a culinary journey across India, with dishes that showcased the diversity of the subcontinent's cuisine. The Murgh Makhani (Butter Chicken) was an absolute masterpiece, with succulent pieces of chicken bathed in a velvety tomato gravy that was nothing short of divine. The Keema Pav, a rustic and hearty dish, was a testament to the chef and his team's ability to elevate simple ingredients into culinary masterpieces.
What truly sets them apart is Chef Rohit Ghai's unwavering commitment to authenticity. The spices, the cooking techniques, and the presentation all reflect a deep respect for the roots of Indian cuisine. Every dish tells a story, a story of tradition and innovation, of spices and soul.
Rivayat is not merely a restaurant; it is a celebration of Indian culinary heritage. It is a place where the past, present, and future of Indian cuisine converge in a symphony of flavors. Chef Rohit Ghai has masterfully blended his expertise and soulful Indian flavors with the elegance and allure of The Oberoi Marrakech.
In the heart of Morocco, it stands as a testament to the universal appeal of Indian cuisine. It is a culinary destination where Indian traditions find a new home in the heart of North Africa. Without a doubt, Rivayat is the best Indian restaurant in Morocco, a jewel in the crown of The Oberoi Marrakech, and a gastronomic journey that promises to linger in your memory long after the last bite.
Chef Rohit Ghai's debut in Africa is more than a restaurant; it is a culinary masterpiece, a testament to the boundless creativity and passion that define the world of Michelin-starred cuisine. It is a place where flavors, cultures, and traditions intertwine, creating an experience that is nothing short of extraordinary. If you seek the pinnacle of Indian cuisine in Morocco, look no further than the masters of authentic dining: The Oberoi Marrakech.
For more on luxury dining experiences, click here.