Fresh is a beauty and skincare company that always caters Christmas to consumers in the right way. This year, they have really spoken as a brand by releasing several new limited edition sets in pretty festive packaging, including their famous 24-door calendar which has already made Vogue and Real Simple's list of best advent calendars of 2023.
One thing to know about Fresh is that once the word gets out about a good product, it often sells out fast due to high demand. It is no different when it comes to the holiday season, in fact there is a reason why we are writing this article!
From milk bodycare to sugar lip scrubs, find out which Fresh products we expect to sell out quickly below.
Advent Calendar Skincare Set ($350)
The biggest and most expensive release for the holiday season. Packaged in a sleek box to appeal to all, the signature Fresh heritage pattern is the first thing you see. Clearly the box has been thoughtfully designed for the most serious skincare enthusiasts.
Some would argue this is the most exciting advent calendar the skincare world has seen in years, a 24-piece skincare set which contains a massive selection of their most popular products, which would otherwise cost $503 if not bought as a set.
Some of the products hiding within each pull out box are as follows:
Black Tea Age-Delay Eye Cream
Creme Ancienne Nourishing Honey Mask
Kombucha Antioxidant Facial Treatment Essence
Rose and Hyaluronic Acid Hydration Emulsion
Tea Elixir Skin Resilience Activating Serum
All the items are presented in their travel sizes. We won't give away the rest, but we will tell you to order yours as soon as possible to avoid disappointment later on.
Milk Moisturizing Body Care Gift Set ($35)
Though this set is not patterned in the Fresh Christmas colors, the items it contains are so incredibly effective and so in demand that there's no question it's going to be a best-seller as the holiday season comes ever nearer.
This is a unique and highly raved about set with more than 2,000 reviews on the site – shoppers go crazy for the buttery soft texture of the milk which is an ingredient that you can't really find in many other branded collections.
Infused with plant-based milks (centella, linseed, and rice) these products deliver thorough cleansing and maintain the skin's pH and moisturize deeply. The set contains:
2.5 floz/ 75ml Milk Body Wash
2.5 floz/ 75ml Milk Body Lotion
1.7 floz/ 50ml Milk Intensive Hand Cream
The gentle and luxurious ingredients contained within these products deliver results that we are sure will lead to an early sell out.
Sugar Color & Care Lip Collection ($43)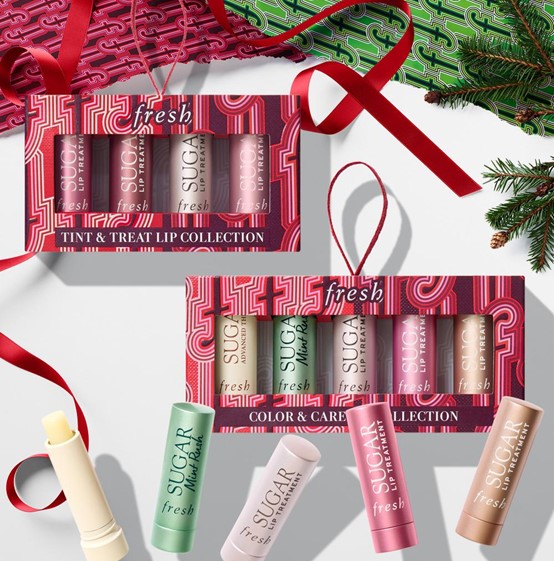 A lip care kit that provides the treatment required to protect your lips, while tailoring to a wide audience of color and scent preferences. Presented in a hangable red patterned gift box, it contains five of Fresh's most popular independently sold lip balms in one convenient set.
Sugar Advanced Therapy Treatment Lip Balm. Features hyaluronic acid to retain moisture, sea fennel to smooth, and orange extract to protect.
Sugar Mint Rush Freshening Lip Treatment. Features grapeseed oil to soften, menthyl PCA to hydrate and freshen, and a cooling encapsulation system to create minty freshness when you press your lips together.
Sugar Rose Tinted Lip Balm, Sugar Bloom Tinted Lip Balm, and Sugar Honey Tinted Lip Balm. Featuring cranberry seed oil to protect, grapeseed oil to smooth and soften, and vitamins E and C to protect.
All of these lip balms feature sugar, which hydrates, conditions, and softens and weighs in at 0.07oz/ 2.20g each.
This lip care kit delivers both moisture and color, and it's difficult to find a brand that does both well at an affordable price point. We definitely expect these to fly out of stock.
Hydrating Skincare Set ($59)
The last on our list of Fresh's seasonal must-haves is the Hydrating Skincare Set. As a true fan favorite with more than 5,000 reviews on the website, containing their most popular Rose products, we are not expecting this to still be available to buy by the beginning of December.
The set is designed to provide you with a 4 product solution to a hydrating skincare routine of travel-sized favorites that remove all traces of daily dirt and makeup, refine the look of pores, hydrate, nourish, and leave skin looking fresh and dewy. The set comes in a festive box and will be the perfect gift for a friend or loved one on Christmas morning or as a little luxury for yourself.
0.5floz/ 15ml Soy pH-Balanced Hydrating Face Wash
3.30floz/ 100ml Rose & Hyaluronic Acid Deep Hydration Toner
.67floz/ 20ml Rose Deep Hydration Oil-Infused Serum
1.60floz/ 50ml Rose & Hyaluronic Acid Deep Hydration Moisturizer
The stand-out ingredients found in this set are: aloe vera and cucumber, to soothe and protect the skin. Angelica leaf extract and hyaluronic acid to help retain moisture. Squalane to protect and moisturize. Rose fruit extract, to tone. Damask rose extract to boost natural hyaluronic acid levels and retain moisture. Borage seed oil to nourish dry skin.
Where Can I Buy?
If you are interested in ordering a few of these high-end sets to treat yourself or to bestow upon your nearest and dearest this holiday season, you can find all of them via their online store. Be quick though!
Images used for the purposes of this article have the kind permission of Fresh.
For more reads on beauty and wellness, click here.