Founded in 1917 by Cristobal Balenciaga, the eponymous label is known by many as 'The Master' of Haute couture. The brand is a trailblazer. A trendsetter. A visionary. From waist-skimming trapeze dresses to seductively sweet babydoll dresses, Balenciaga has inspired the fashion industry through its unwavering commitment to push the boundaries. 
Christian Dior even went as far as to say that "Haute couture is like an orchestra whose conductor is Balenciaga", a noteworthy statement coming from the man responsible for redefining women's clothing with the "New Look" silhouette. 
Today, Balenciaga remains fearless in its pursuit of innovation. Whether it's a smashed iPhone invitation, a futuristic NFT drop or an unexpected collaboration, the ubiquitous brand holds the world's attention. And, we for one, can't look away. 
As one of the most popular luxury brands, Balenciaga bags are also a trustworthy investment. With the rise of y2k fashion, the brand's noughties-inspired crossbodies and totes are in high demand (think studs, rhinestones, and heart mirrors.) While Balenciaga's avant-garde designer work bags add a playful edge to a polished boardroom aesthetic. 
They continue to grow in popularity. And so do their ever-increasing resale values (perhaps the most effective point to appease less-sartorially-inclined partners.) Referencing fashion archives from every era, we found the best Balenciaga bags to invest in anytime. 
Pssst…for more iconic designer bags, see the most popular bags to invest in from Louis Vuitton, YSL, Gucci, Hermes, Dior and Chanel. 
The 7 Best Balenciaga Bags to Invest In
Balenciaga Hourglass
Renowned for its distinctive shape and unique design, the Balenciaga Hourglass is characterized by its sharp trapezoid silhouette and structured curved body that narrows at the center. 
The Balenciaga bag was released in 2020, under the tenure of creative director Demna Gvasalia and immediately became a cult-favorite. Seen on the arm of Sarah Jessica Parker in Just Like That, the Balenciaga Hourglass is also a favorite of it-girls Paris Hilton and Kim Kardashian. 
The Balenciaga bag comes in multiple sizes, materials and exotic hues—including leather pastels, croc-embossed brights, y2k-inspired denims, rhinestone adorned crossbodies and gold brass miniatures—each of which represents an era of Balenciaga. 
Best for: Making a statement. 
| | |
| --- | --- |
| Release: | 2020 |
| Retail price: | $1,750-$22,800 |
Balenciaga Neo Classic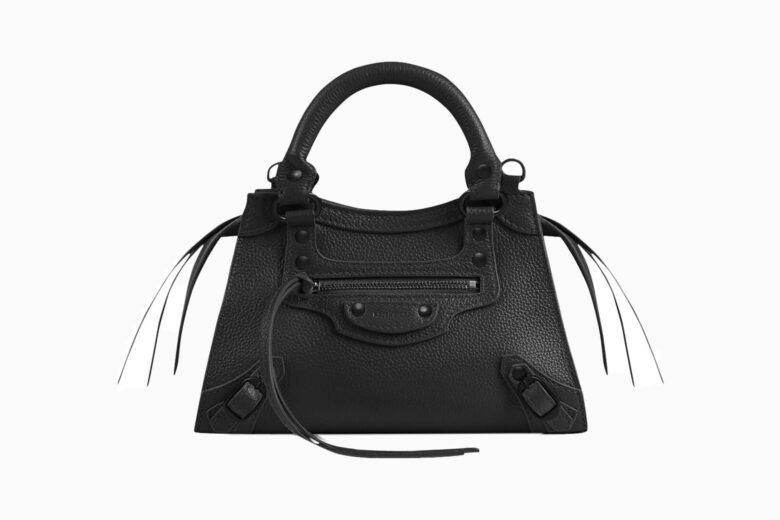 A nod to the famous 2001 Balenciaga City Bag, the reinspired Neo Classic is a contemporary take on the most popular Balenciaga bag of all time. 
A y2k masterpiece, the City Bag was adorned with metal studs, superfluous buckles, graffiti graphics, heart mirror tags, and just about everything else grunge. And while the Neo Classic retains the bag's signature rocker style, the "all-grown-up" version is much more relaxed and refined. 
Released in 2020, the Balenciaga Neo Classic is defined by its trapezoid silhouette, buckle detailing and knotted zip pullers. It's a favorite amongst avid sartorialists with a strong appreciation for the brand's punk-rock history, who aren't quite willing to commit to the full grunge aesthetic. 
Best for: The rebellious City Bag all grown up and sophisticated.
| | |
| --- | --- |
| Release: | 2021 |
| Retail price: | $1,950-$2,950 |
Balenciaga Le Cagole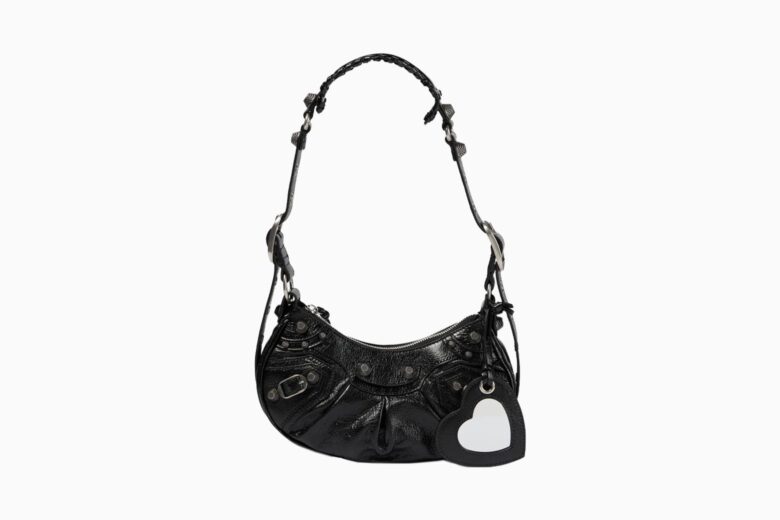 Introduced in 2022, the Balenciaga Le Cagole is a different take on the famous City Bag. And this time, it isn't holding back. A modern manifestation of the archival fashion trend, the fearless silhouette is distinguished by vibrant colorways and over-the-top grunge details. Similar to the City Bag, you can expect rhinestones, heart mirrors, buckles, chains and even safety pins. 
What makes it different? 
The lack of boundaries. The Balenciaga purse comes in every shape, size and form. It takes the form of metalized shoulder bags, mini heart crossbodies, denim rhinestone handbags and even extra small bucket bags. 
Quintessentially Balenciaga, the Le Cagole is a bold favorite amongst intrepid sartorialists such as Bella Hadid and Dua Lipa.
Best for: Embracing your individuality, Balenciaga style. 
| | |
| --- | --- |
| Release: | 2022 |
| Retail price: | $1,590-$7,950 |
Balenciaga Cabas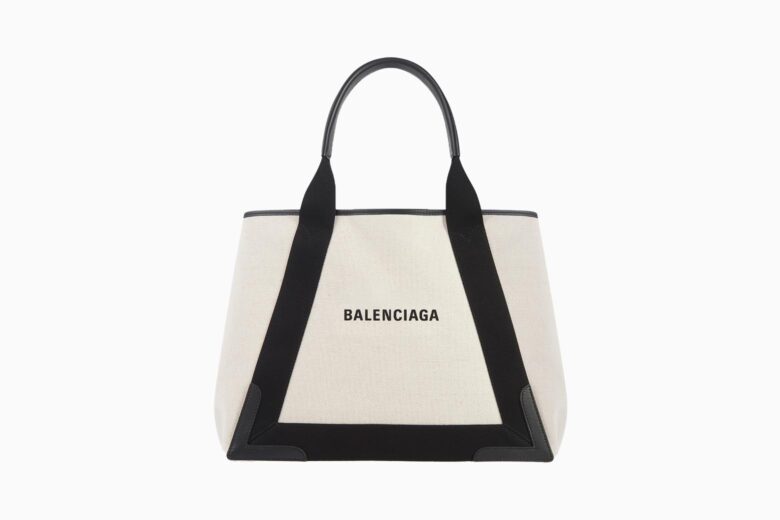 Looking for Balenciaga bags without the grunge details? We'll take it in writing. Getting behind the logomania trend, the Cabas displays the brand's signature moniker in bold capital letters across the front of the bag. 
But besides that, the bag is decidedly understated. The cotton canvas tote comes in three sizes. And unlike most Balenciaga bags, it's limited to beige and black, highlighting the tote's clean lines and sophisticated simplicity. 
The carefree carryall is the kind of Balenciaga bag that you can use every day. Plus, it's one of the brand's more affordable accessories. 
Best for: Unmistakably Balenciaga, but without the price tag. 
| | |
| --- | --- |
| Release: | 2019 |
| Retail price: | $1,050-$1,250 |
Balenciaga Ville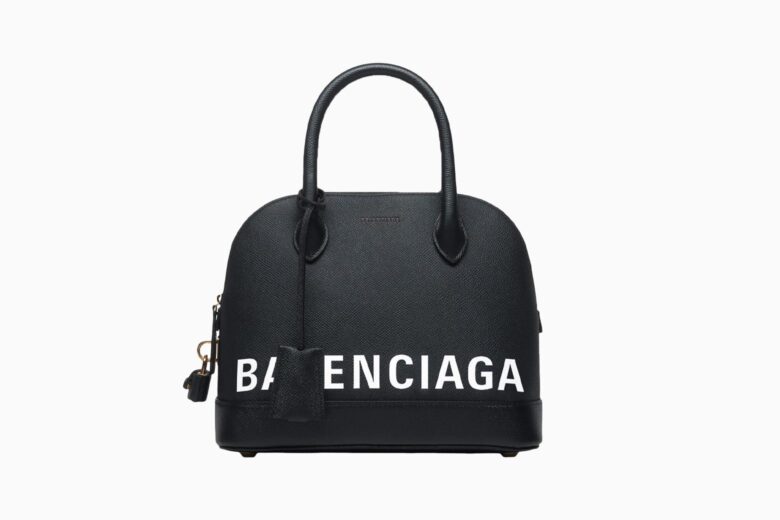 Named after the French word for city, the Balenciaga Ville contrasts the City Bag's stereotypically grunge aesthetic, perhaps showcasing how the avant-garde brand is ever-evolving and redefining the luxury landscape. 
Featuring clean lines and a curved silhouette, the Balenciaga handbag is distinguished by its bold logo and leather-encased padlock and key. Practically, it also has protective metal feet, plenty of pockets and a removable shoulder strap. 
Adored by Hailey Bieber, Hilary Duff and Emma Roberts, the Balenciaga Ville belongs on the streets of Paris amongst all the other loud-but-discreet high fashion accessories. 
Best for: Achieving a certain je ne sais quoi. 
| | |
| --- | --- |
| Release: | 2018 |
| Retail price: | $1,890-$2,250 |
Balenciaga Everyday XXS Tote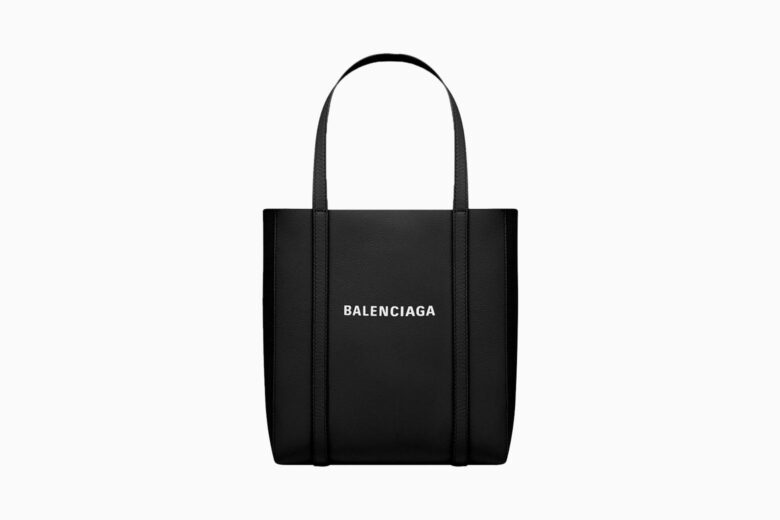 Released in 2015, the Balenciaga Everyday XXS Tote is just another example of how the brand doesn't abide by the rules. Traditionally, a tote is a larger, unfastened bag used to carry something substantial (like books or groceries). But here, it's small and compact, more like a crossbody. 
Perhaps the brand is celebrating the digital era and pointing to the fact that you shouldn't have much to carry around these days. Or perhaps, they do it just because they can. Either way, the Balenciaga tote is undeniably cute—and yes, practical too, featuring a removable crossbody strap for easy carrying. 
Elle Fanning punctuated her Cannes outfit with a bright pink Balenciaga XXS Tote in 2019 and we still haven't forgotten. 
Best for: Lightpackers who appreciate a relaxed-but-compact carryall. 
| | |
| --- | --- |
| Release: | 2015 |
| Retail price: | $1,150 |
Balenciaga Crush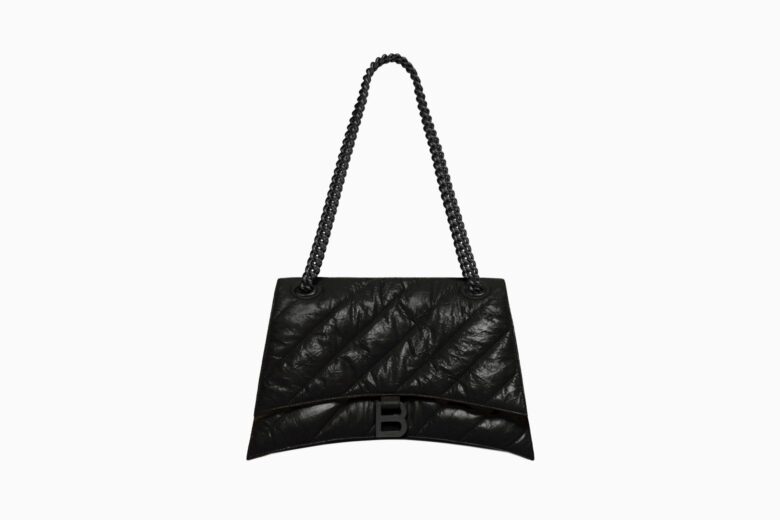 Released in 2019, this increasingly popular Balenciaga bag is our everyday crush, along with every other it-girl—Nicole Kidman and Bella Hadid included. 
Featuring a trapezoid silhouette and the brand's signature B hardware, the Balenciaga Crush is a nod to archived favorites, such as the famous City Bag, while simultaneously taking on a life of its own. 
The Balenciaga bag is characterized by its relaxed "crushed" design, which comes in various shapes and forms. There's the floral print large leather handbag. There's the metalized medium tote. There's the faux fur chain shoulder bag. And then there are the leather and croc-embossed versions. 
Reminiscent of a crumpled paper bag, the Balenciaga Crush doesn't take itself too seriously, but at the same time, it is undeniably decadent. 
Best for: Challenging traditional notions of luxury.  
| | |
| --- | --- |
| Release: | 2019 |
| Retail price: | $1,190-$3,900 |
A brief history of Balenciaga 
Founded in Spain in 1919 by Cristóbal Balenciaga, the eponymous label challenged fashion trends from the get-go. In 1937, the brand moved to Paris, propelled by the Spanish Civil War—a move that marked the brand's evolution to sleek, linear designs, deviating from the prevalent hourglass silhouette of the time. 
In the 1950s—dubbed the golden age of couture—Balenciaga became a famous name in fashion, earning accolades from icons like Christian Dior and Coco Chanel for its artistic innovations and pioneering spirit. 
The late 1990s saw a renaissance for Balenciaga with the re-introduction of ready-to-wear, footwear, and handbag collections. In 2001, creative director Nicolas Ghesquiere released the famous City Bag, securing the brand's position on every it-girl's shoulder. 
This period of revival continued well into 2015, marking a new chapter as Demna Gvasalia succeeded Vera Wang in the role of creative director. Demna fearlessly began infusing archived favorites with a modern edge while simultaneously preserving the brand's historical essence​. 
Today, Balenciaga is still renowned for pushing the boundaries with avant-garde releases, groundbreaking collaborations, and futuristic digital injections. 
How much does a Balenciaga bag cost? 
Like all the best designer bags, Balenciaga bags are less about how much they cost upfront and more about how well they hold their value. As one of the most popular luxury brands, Balenciaga bags hold their value incredibly well with some limited edition versions selling for more second hand than they did new (depending on how you look after them, of course.)
That being said, upfront costs still matter. On the lower end of the scale, you can find smaller, simpler bags (such as the Cabas and Everyday XXS Tote) for just over $1,000. And on the high end of the scale, limited edition materials and models can retail for over $22,000. However, most Balenciaga bags are priced somewhere between $1,500 and $3,500. 
Frequently asked questions about Balenciaga bags